gbeartoe
First Grow Outdoor
2020 Corona Virus
6 Mendo starting as teens, 4 4g starting as clones, 4 Cherry Kush starting as clones, 3 possible sherbert from aidz as teens.
Mendo Breath, 4g, Cherry Kush, Sherbert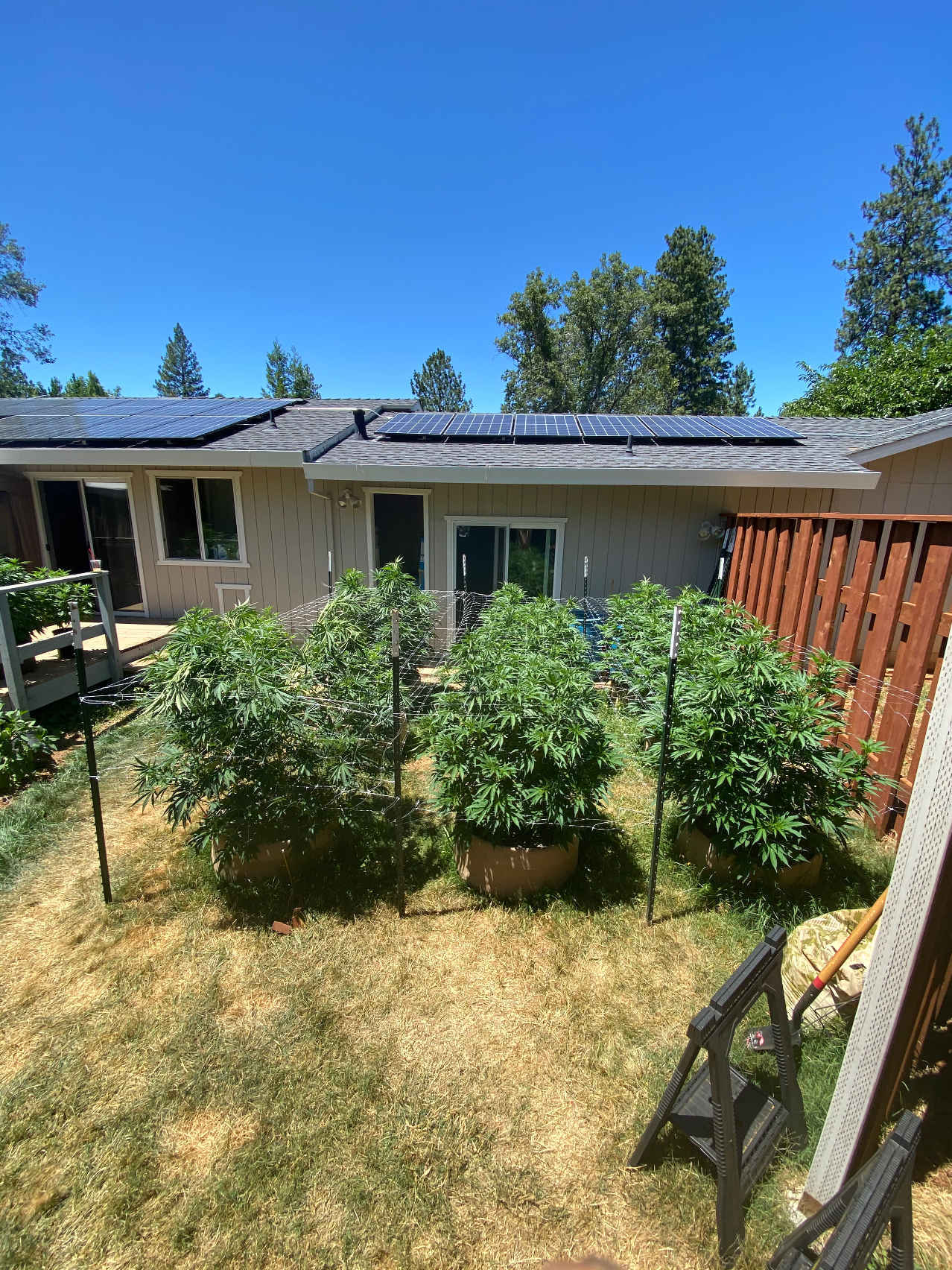 4th of July! Got the second row of netting on and started the second phase of low stress training goin. Plants are all looking healthy except for one the the clones on the deck. Branches keep falling off and it's lookin a bit thin. Only have 4 clones left to be transplanted. Fed everything nutrients today and they are looking good! Goin to Tahoe with the beezy today...I'll be back Tuesday to hit with some more nutrients. In the mean time I'll be giving myself the nutrient of alcohol and blackjack. Long live Tahoe
3 years ago
Gbeartoe P.s. had to chop down 3-2 about a week or two ago.....it ended up being a male.....think I might have shocked it into being a hermaphrodite from topping too late. You grow and you sometimes have to mow
6/13/20 - Put up the first level of netting today. Going to start low stress training these plants to get bushier. They are all lookin good. Clones are still growing like crazy. Goin to feed some nutrients tomorrow and hopefully get the fence built around them.
3 years ago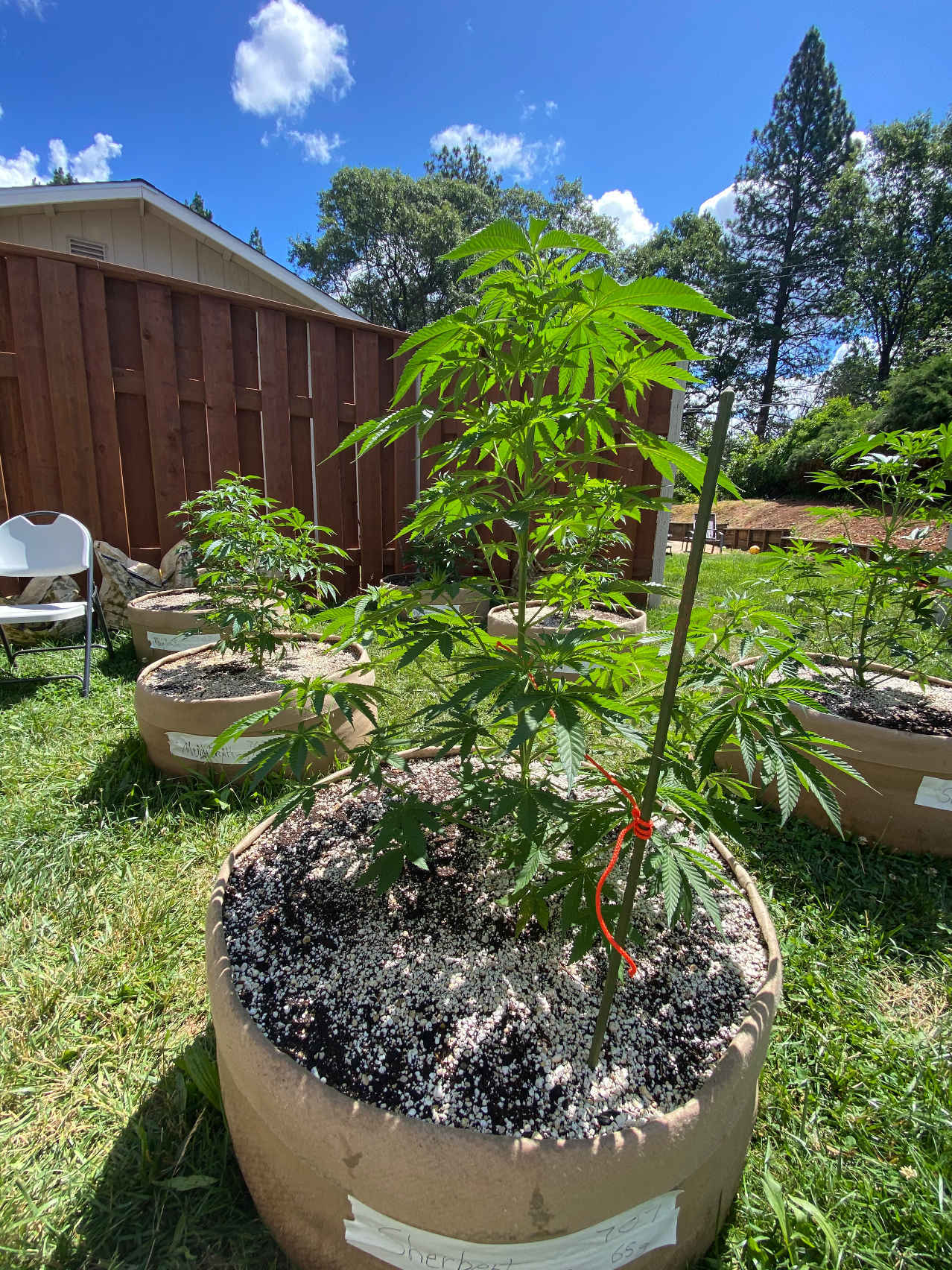 6/7/20 - Plants are all lookin good. Really starting to see some growth especially in the 4g and cherry punch. Seeming to be filling out nicely. Still only about 1-1.5 feet tall. Topped all plants yesterday.....hope they don't die. Definitely should of done it earlier but I'm still clueless and wingin it. All plants were watered with nutrients today.....it has been a couple weeks since they got any type of nutrients besides what's in the 707. Also got a new speaker. It's awesome. I think the plants like it.
3 years ago
RedEyeJedi I thought it was just me winging it lol following your grows as I'm growing outdoor also.
5/31/20 = Big day! Transplanted the rest of the teens into 65 gallon pots and put them into rows. I know have 6 Mendo breaths and 3 sherberts in their final resting place. Slapped some labels on those bitches and dowsed them all with water. All still have 707 soil but I might create a little blend for the remaining six clones that are still in 3 gallon pots. Used Athos root powder on plants 1-1, 1-2, 2-1, 2-2, 2-3 and 3-1. Will keep an eye on growth.
3 years ago
Transplanted 2 clones one 4g and one cherry into 30 gallon bags and put them on the deck. Also put 2 sherbert and 1 mendo breath into 65 gallon bags. Flushed those all with water and have not fed since transplant. All other plants except one sherbert are in 3 gallon pots. The sherbert has been in the 15 gallon vinyl pot for a couple weeks now. All plants in 3 gallon pots were given diluted nutrients and then water.
3 years ago
Gbeartoe Mendo breath teens seem to be getting a little root bound. Been in the same pot for about a month.
Fed all plants today. Fed the sherbert in 15 gallon the rest of the 1/4 dose water and topped it off with some regular water. Looks a little droopy. Been outside all night so might need more time to wake up. All other plants got a 1 tsp per gallon ratio of the new tea. Also added floralicious plus to the tea for the first time. Plants are saturated and outside. Will be brought in around 11pm and kept on a 18/6 schedule. Might increase sleeping time if the lonely sherbert starts climbing for the sky. Let us pray I don't burn the tits off these plants with the new tea.....
3 years ago
Gbeartoe Side note.....shot the bow today. Might be the secret weapon for centering chi....we shall see
All plants were moved outside in the morning. Brought them inside at 10pm but left the sherbert in the 15 gallon pot outside to see how it handles a longer sleep cycle. All other plants will get light and the fan turned on at midnight. Tomorrow I will feed all of them
3 years ago
Did some light pruning to most plants (mainly teens). Removed some lower fan leaves and some unhealthy leaves. Started to keep the room temp around 70-73 degrees and placed the fan on the plants at low speed. Weather is overcast and colder so I'm keeping them inside under lights.
3 years ago
Gbeartoe Found small thrips or white flies on the clones so sprayed all plants with the doctor.
All plants on 18/6 light cycle outdoor and indoor. Transplanted 2 sherbert into 3 gallon and 1 into 15 gallon smart pot. Flushed with regular water. All other plants got first feeding of nutrients since transplanting to 707 soil.
3 years ago