tribalseeds619
Kalashnikova Tent
GYO Seeds - Rockwool Tent
First grow, bought from GYO seeds. I'm open to advice or feedback. Currently growing 2 plants, soon I'll be attempting to build a 4 plant SOG with a continuous harvest schedule. Growing a healthy veg and then I'll be cloning from the best phenotype.
Kalashnikova - Indica Dominant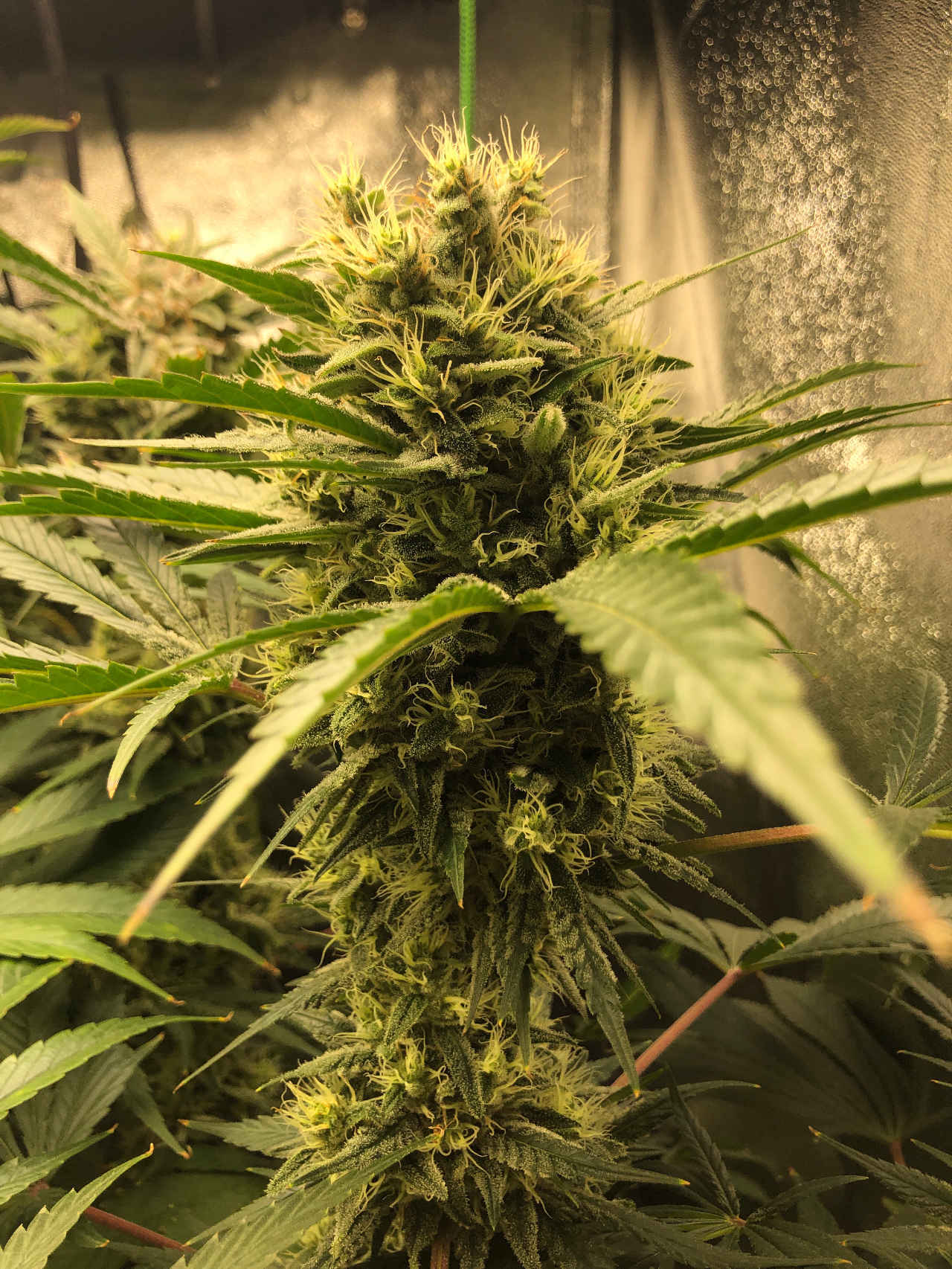 Midway through week one of my final two week flush, running Final flush strawberry @ pH 6 and I'll swap for pure water flush at the beginning of the week.
3 years ago
Closing out the end of week 5 of flower, when I fed after the flush I believed there to be a potassium deficiency so I added about 1ml per gallon more of Gro (flora series). I'll be swapping out the nutrients tomorrow, I also came home after being gone for a couple days to seeing my humidity ramping up with the serious bud production, considering getting a stronger duct Fan.
3 years ago
I need your help! I think I'm catching a magnesium deficiency my ph in the res was spiking so I'm flushing the rockwool today at 5.5pH three times @ 2min. I'm guessing this means add an extra 1ml per gallon of Cali Magic (CalMag) to support this deficiency and fix this if at all possible (mid-week 5 of flower)
3 years ago
Halfway through week 4 of flower! Plants are looking healthy and I'm still following the flora series chart to the T. Flowing my last flush I've started to notice some tip burn, considering 80% strength on my next run.
3 years ago
Bud sites are popping up everywhere now! The flush schedule I tried was way too dry for my rockwool medium, I nearly dried my plant out. Back on a normal feed schedule again and I'll probably be feeding 2x a day now that I have my bigger light in the tent and it's pushing the temps.
3 years ago
Last night at the start of the light schedule I ran my first flush (Final Flush Strawberry) approx 30 min. Shortly after I ran a normal week 3 feed again and now I'm going to let the medium dry and get as much oxygen as it can over the next 3-4 days.
3 years ago
Replaced the water for week 3 of flower last night at pH 5.75 on week 3 of bloom/flower for the flora series nutrients, I've been holding off on the Orca and Myco Chum because the plants have been (at least one) really explosive. I'll do my first flush this week with final flush (strawberry) to prep for some strong uptake in week 4 of flower. I swapped out the energy saving SP-150 LED for my TSW-200 LED's to really push it over the next 6 weeks of flower.
3 years ago
I'm a dummy and a week and half into flower realize that my light distance is still at Veg height (18") when I should have dropped it down to flower distance (12"). I fixed this today and mover the plants in the grow to maximize the space.
3 years ago
Week 2 of flower starts, water and nutrients swap out to week 2 of flora series schedule. pH @ 5.8 and canopy is filling out beautifully. I may be moving the plants soon to get the most light exposure possible.
3 years ago
My first week of flower ends tomorrow, had some issues getting the humidity below 65% luckily we've moved past that but considering options to help keep it lower into late flower. Looking pretty and anxious to start week two of flower.
3 years ago
Plants are looking healthy a few days into flower, I trimmed up the bottom to increase airflow under the canopy. I topped of my res and my pH is currently at 6.15
3 years ago
Flower light schedule begins! Just finished my first 12 hour light cycle and I replaced my nutrients, this time removing the Orca and Myco Chum (excessive root growth already blasting out of the bottom of my 6" rockwool). I prepped water at pH 5.8 and started my first batch of Flower nutrients (Flora Series standard recirculating chart). Additionally I threw my SP-150 down to 19" to start the second 12 hour light cycle strong, with the according nutrients.
3 years ago
I think it's about time to start a flower light cycle! So I had to take a trip away from my plants over the last four days and didn't know if my small early veg setup would support the growth so I setup my 3x3 and got the extra distance needed for the canopy. I setup nutrients for the late Veg flora series around 800ppm at pH5.75. My plants are just about a foot tall each and looking healthy and ready to go. I'll spray plant therapy for preventative protection and swap the light cycle soon.
3 years ago
I've noticed my Rockwool doesn't dry back as much as I would have hoped, yesterday I ran my lights with no water cycle to push my plants to grow further into the cubes and I topped my other plant. Today I minimally pruned the very bottom of the plant to clean it up and focus the energy upward.
3 years ago
Topped my first plant today, pinched it and it was pretty easy. I'll probably wait another day before topping the other one. My plants are exploding upward towards my lights that are a little too powerful for the space, currently at 21".
3 years ago
Currently getting some explosive growth, the plants responded really well to the Cal Mag and Myco Chum. Going to await a little more growth in Veg before we can start cutting clones for the full SOG run. My faster growing seedling has some funky leaves now and a bushy lower growth and my slower growing seedling now appears to be the more beautiful plant growing symmetrically and looking healthy.
3 years ago
Going into day 20 I picked up Cal Mag (GH Cali Magic) to correct the suspected nitrogen deficiency, I'm using RO water so there was definitely a gap to bridge. I mixed up a fresh 2Gal of water for the res at 700ppm and about 5.65 pH. Additionally I picked up and added Myco Chum to feed/support the Orca mycorrhizae I have been using previously. Fingers crossed for a strong rebound.
3 years ago
Fighting some nutrient deficiencies but we're looking happy going into day 18, plant is approx 22" from my SP150 and I have officially started drip feeding about four days from transplanting to the 6" block. pH is at 6.2 in the res and my ppm is around 550. Starting with quick feedings of approx 30sec (once at lights on) and we'll see where to take it from there soon.
3 years ago
Help!? Any feedback on these? I transplanted a couple days ago and plants are starting to droop and maybe some light burn/yellowing? I haven't been watering trying to let them dry back and grow into the new 6" cube so it shouldn't be overwatering.
3 years ago
Transplant day! I presoaked my Rockwool in pH 5.5 followed by a mild flora series around 280 ppm. I also used Orca on the presoak and gently dusted the transplant location with some great white. Nervous about the temps I'll be on high alert for the next 12 or so hours.
3 years ago
Today I fed with a pH of approx 5.8 and flora series at 280ppm, just a quick dunk and shook excess water off. I'll be slowly dropping RH from here on out. Currently in the 60s.
3 years ago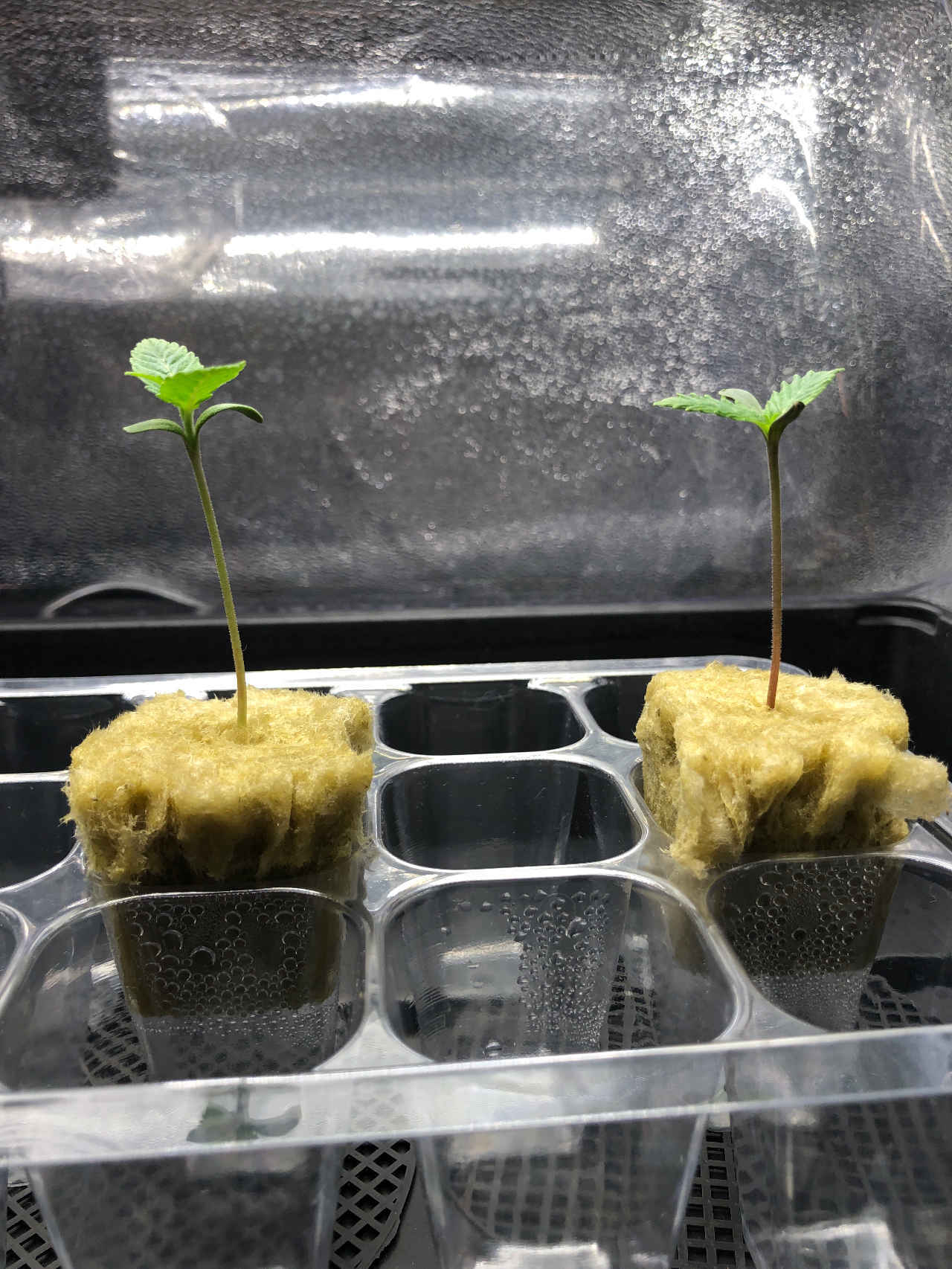 Still managing a low maintenance schedule keeping the RH between low 60s to low 90s and I fed yesterday with a couple drops of Orca on each cube. I removed my two duds and suspect to cut clones off the healthiest seedling. Temp is upper 70s to lower 80s. From today forward starting a 20-4 light schedule.
3 years ago
We have a second! Still only spraying with a water bottle 2x a day, nothing else. Ran my AC INFINITY at Fan setting 3 and the temp has remained fairly consistent around 77-80 degrees trying to keep humidity up with lows in the 60's and highs in the 90's
3 years ago
I have had very low maintenance over the last couple of days, just keeping the humidity in check and light watering with a squirt bottle. I got my first seed to pop, hopefully the others are close behind.
3 years ago
Dropped seeds into warm water in a dark place overnight, yesterday I dropped them into pH adjusted Rockwool (5.5) with a light nutrient soak (Flora Series @ 180ppm). Starting them under an active grow T5 LED on 24hrs/day.
3 years ago