In-house Genetics: Trichopath, Head Locc ( all feminized)
Second grow, hydroponics but with more knowledge
Started germinating 5 trichopath, and 5 head locc from In-house genetics
Still Vegging and taking clones. We want big mommas and knowledge!
3 years ago
They're begging like crazy. I'm going to keep a few of these as moms. They're about to go to sleep which is why they're droopy. I'll post when they wake up in 6 hours or so.
3 years ago
They're asleep right now. A couple of notes I'd like to add. I need to really flush them. PH keep rising. I made a tea I used in DWC to inoculate the root crown. It basically helps it fight pathogens and shit while the roots are wet. I can't have the same issues I had before. I don't like sterile. Not at all. So let's try it out
3 years ago
Flush Day. Extensive notes on flushing and feeding. January 4 20201 10:48 am feeding and flushing notes Out of 250 ml of water given to them on a long dryback, they retain about 125-150 ml's every-time. At a flush of +250 ml of water and fully saturated. 245 ml return to the beaker. This means every night the teens drink about 150 ml or everyday? I have to check this out. Some of them keep 50 more ml once 250 ml pass through the second time. This could potentially mean they're drinking more. But they have a retention rate. So the more I put in the more I should get out. I wonder why some keep 50 ml more second time feeding 250 ml? Brian had a run off EC of 2.0 PH runoff of 6.09 John had a run off EC of 2.0 PH runoff of 6.10 Ramona had a runoff EC of 2.0 PH runoff 6.17 Knives had a runoff EC of 2.0 PH runoff of 6.27 Envy had a runoff EC of 2.0 PH runoff of 6.27 Allison had a runoff EC of 2.0 PH runoff of 6.26 Roxy had a runoff EC of 2.0 PH runoff of 6.0 Scott had a runoff EC of 2.0 PH runoff of 6.10 Note* Scott had a high EC from the get go when being fed 1.1 EC. Good drybacks but have to bring that EC down. Claire had runoff an EC of 2.0 PH runoff of 6.10 All in all, some of them had high EC's and I have to flush every week. Most of them had a high Ph runoff to start with almost 7 on some. I corrected that issue with nutrient rich water. Hopefully I don't burn them. 🤞
3 years ago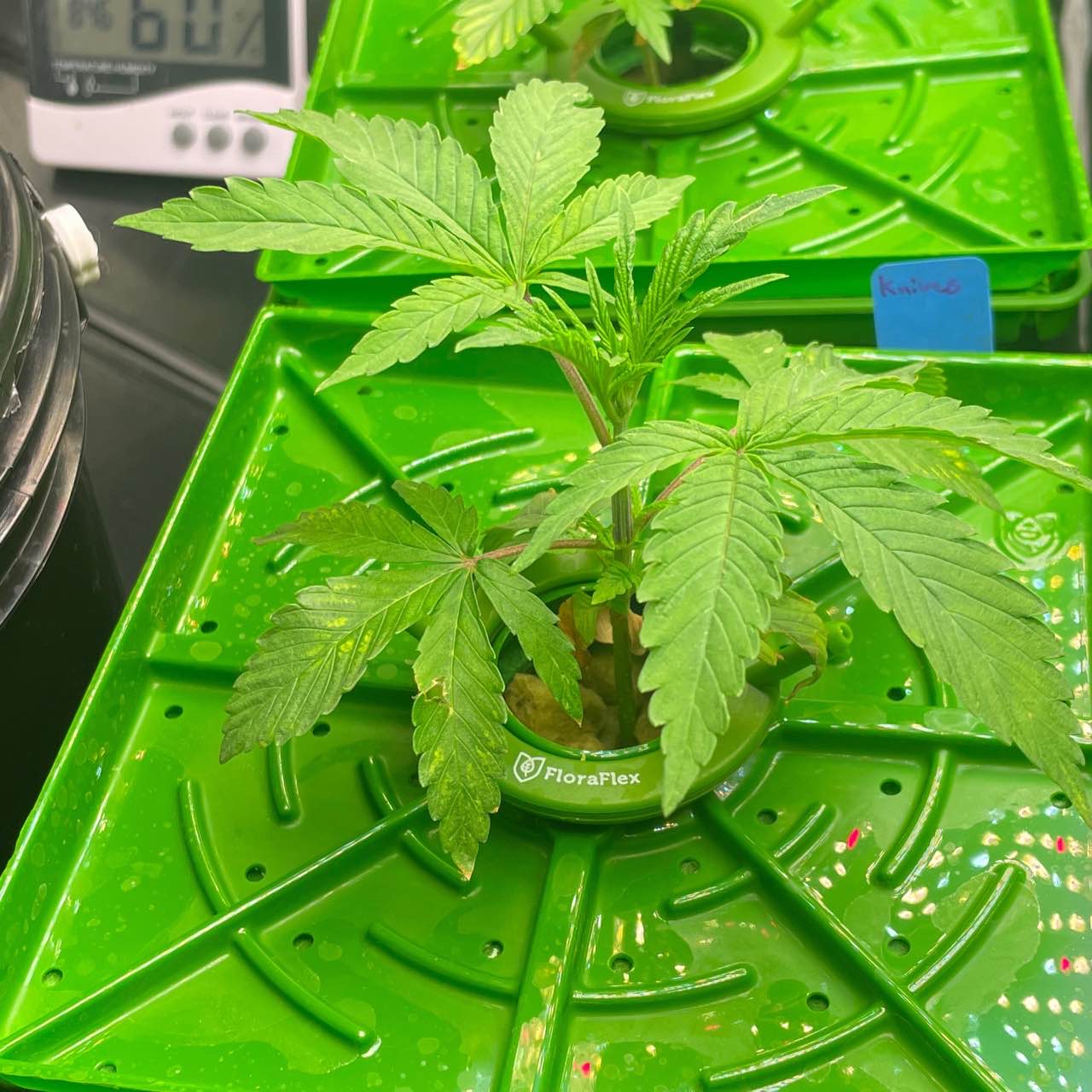 All pictures are (AFTER AND BEFORE) So, before Claire used to be droopy as heck. Her top growth has straightened more. So have the other plants. They seem to like the nutrients and light. So far so good. Brian on the other hand is weird AF. Idk. Whatever. Ramona has healthy top growth now too. And pretty much all the plants. Roxy and Scott got it pretty bad but like I said earlier they're bouncing back. Alison (Trichopath) seems to be doing great. Potential mom? John is showing a bit more of a stretch but the stalks are purple-ish. They were a bit more purple. I think They're taking well to the new environment. I repeat it again because I like reading it again lol.
3 years ago
Today's the first day of light schedule
3 years ago
They got fed this morning. All topped up. Some are showing nutrient deficiencies but they're looking like they're adjusting to their new medium. They're getting fed at 5.7 ph. One of the rockwool cubes pH, Brian is super high but that's because I didn't let it soak long enough. Rookie mistakes
3 years ago
So, this is what happened. Cubes were too wet. The system I made, which was supposed to be a smaller replica, made the cube way too wet stunting the growth, not to mention I took care of the root rot that started taking over. It was like a really bad reminder of my first run. Regardless, I was looking into rockwool and I have been doing research into crop steering. Generative and vegetative growth and this is done by holding back feeds and burst feeding through out the day and letting the medium dry. Automation is something I really like and I like the idea of a top watering system. I don't have to worry about over watering if I do it just right. Regardless I'm posting some pics. They are way healthier now after I took care of the root rot, the small seedling which replaced Andrew was taking off. The droopy plant wasn't getting water splash onto the rockwool and it completely dried out. Weird thing about the dripper that wasn't splashing is that it was at the perfect angle to not splash lol. Anyways hope it bounces back, this is completely mew to me. I should have stayed RDWC but I'm doing something on a much larger scale soon and I need to think efficiency. They're not 100% in the pictures but I'll be posting updates in a couple of days. You can tell from the almost non existent growth that they're stunted. Stupid stupid stupid I added FOLIAR SPRAY *NOTE* Skye was put straight into the RDWC system after I figured out the roots weren't getting touched by water and she started rooting immediately. Pearly white roots and fast vegetative growth. Now she's transplanted into the pot like all the others. I'm hoping it takes. I'm not going to be watering her the same obviously. I'm trying so much because this is sort of my only journal and it helps to come back and read. Also, pretty damn high off the GSC extreme from my last run...
3 years ago
They're recovering. Why does it always happen to me lol. One died but planted four more
3 years ago
Ran into some root rot. But fixed it. Roots slowed down. What happened was I had some stones and they were washed "I thought" someone put them in. Stupid mistake. They didn't wash them or at least get a new one. Then it spread to the other DWC and slowed me down for about a week. Finally see some root progress from the lone little root in the last photograph. Took out the water. Suspended them and I just sprayed them with some Athena Cleanse mixed with some nutrients. So far a rocky start but last time this happened I was stuck for about a whole month with my plants dying and and no progress. It's been a week since they slowed and they're right back up.
3 years ago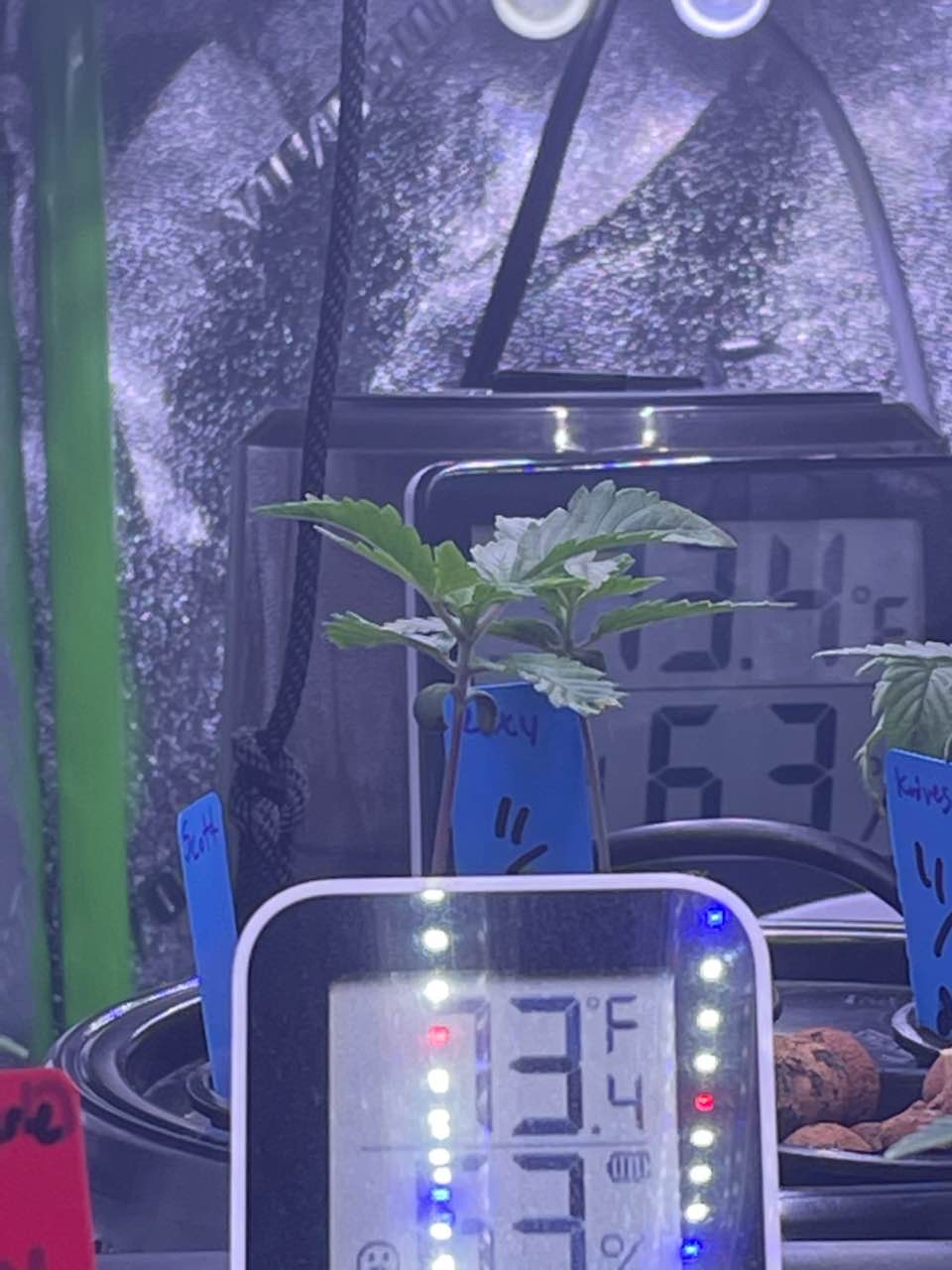 Scott is fast. Big leaves. Good root growth
3 years ago
Cannaveli Also running some in-house gen... they are great. Did you make that VPD chart? Or is it online somewhere?
Mischief There's many online. Google Everest Hernandez VPD snd the link on the video leads to this excel sheet
Cannaveli Yea I've seen a bunch here and there, was wondering if it's a chart you made that you can actually edit and keep track of your temps. It looked diff compared to others cause it's in an excel sheet. I'm really considering in just putting the money out for the pulse pro. I'll check out that link though for sure. Thx 🙏
So popsicle sticks; no no. I'm using plastic to mark their names and strains. Anyways. Gotta make these into clones because the bigger grow needs them 👨‍🌾🤘🏻. Stills Pheno hunt, but now I'm a nursery. They loved the transplant into their new homes. Using Athena and Power SI. Also brewing some of my tea for later use.
3 years ago
So Brian is a little slow, idk why. Apparently one of his sugar leaves decided to stay closed and the other one opened. Finally some healthy growth but I honestly thought it was a goner.
3 years ago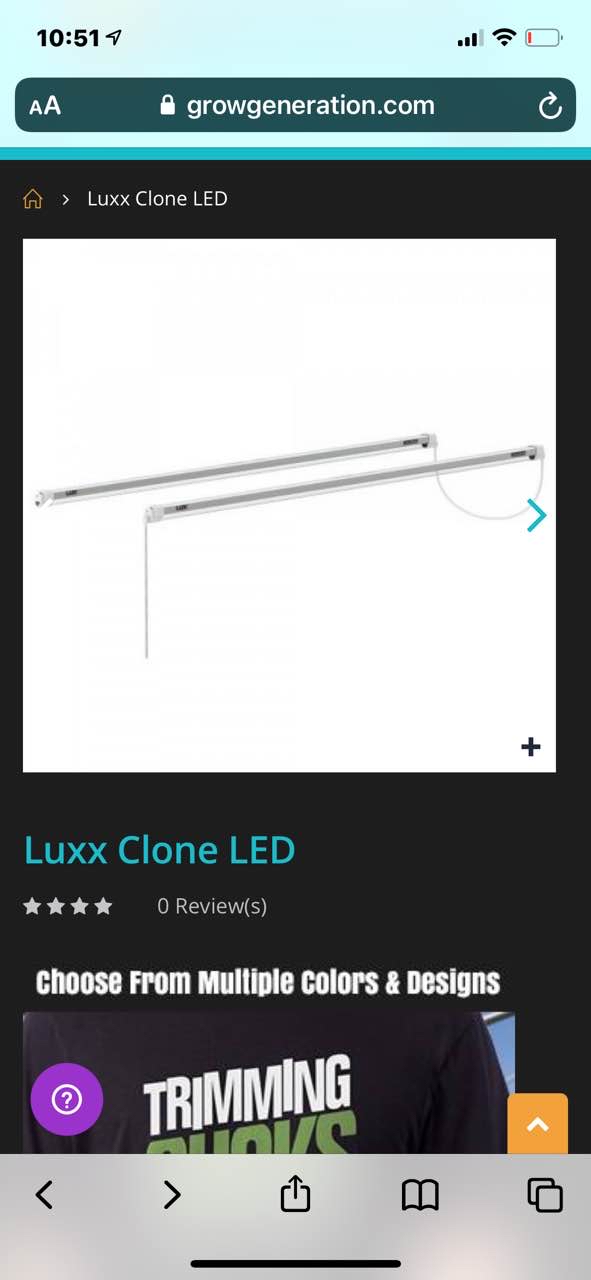 So apparently one of the Trichopath is dead. Just didn't open its leaves and little stalk turned purple. Idk 🤷🏻‍♂️ but started germinating one today at 11 am. Let's do it again I just added the pic of the LED as a reminder of what I'm going to get... again.
3 years ago
So I named them. I know they're all feminized but this will ultimately make it easier to talk about them in the upcoming Pheno hunt. First movie I named them after is "Breakfast club," Claire, Andrew, Brian, John, Allison (Trichopath) and for the second movie, "Scott Pilgrim Vs The World," Knives, Roxy, Ramona, Envy, and Scott (Head Locc). HAPPY HUNTING! I purposely names one Brian, the weak one. That's pretty much all I have to say so far about the genes. Brian hasn't opened up his sugar leaves and doesn't have the seed holding it back. Wonder what's going on. Envy had a bit of a stretch because she was under the dark part of the propagation dome and she tried to look for light. Never do that again 🤦🏻‍♂️
3 years ago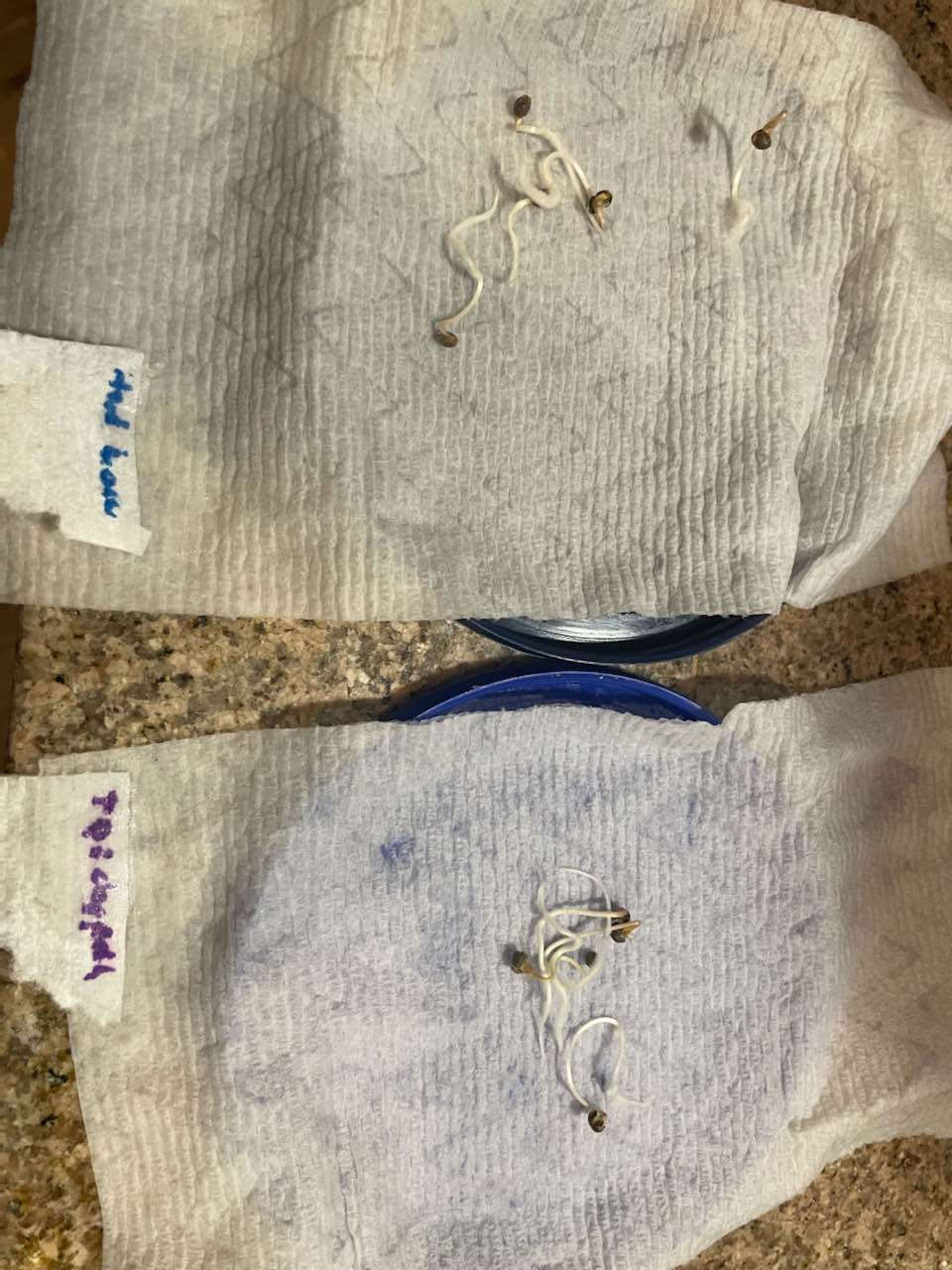 Temp: 27.8 Celsius (lid closed, tent closed, and fan blowing on vented propagation chamber. Humidity: 73% I have to monitor humidity. Fed: Jacks hydro cloning solution. ( I got the Athena line but I want to keep doing the jacks cloning solution. Super low EC and the plants respond super Well to it! Moved the ladies over to their own little prop chamber, I'm gonna have to do something about humidity. So far the humidity is great In the flower chamber, but the propagation chamber is what I have to worry about right now. Not that it's not humid enough. It's connected to my tent and I don't want to put another humidifier. It's crazy how fast they sprouted after their initial 24 hour soak.
3 years ago
So this is later on in the afternoon, they're really vigorous. WISH THEY MADE A FEATURE WHERE THEY LET YOU SHARE YOUR GROW LIKE LAST TIME!
3 years ago
First pic is of the trichopath, and second one is of the Head Locc. The head Locc has some fuzzy roots starting.
3 years ago
Just moved them into towels and sprayed them with some cloning solution at 1 EC I've had really great results with.
3 years ago
Well well well... a couple hours after putting them in towels. I'll be back in two days! ✌🏻 (this was posted 15 hours after being moved into towels.) I love how vigorous they are. Super excited about this little Pheno hunt.
3 years ago
Just a quick pic of the seeds, they're currently sitting in cups of water for 24 hours to begin germination. 8 pm PST
3 years ago
dmanous2014 Impressive genetics I'm going to follow and see how these turn out!