Kritical GB - Buddha Seeds
Spring 23
5 Kritical GB seeds in bio bizz all mix going to be transplanted outside in a mix between organic soil with worm castings and top half organic all mix from local grow shop (recommended). Each hole is 2x2x2ft
Only showing these three rn bc I'm too lazy to walk to the orange grove. They're all looking nice though! So happy with my ledge ladies🫶
2 days ago
lil update for some big girls. 3 days of rain this week… let's hope they like it 🌧️
7 days ago
Rained hard. Most look fine now but the one in the grow bag is fullll of ear wigs and looks like it might be cal deficient. Going to spray it w a spray tomorrow and just bought diatomaceous earth 🤘🏽
9 days ago
Top dressed w 1/4cup each alfalfa and kelp meal and then watered in. Also added in lavender to the base and gave them a good neem session. One of the lower grove plants that's the most eaten has split it's cola naturally 😮😯
14 days ago
Citrus peel and coffee grounds bc rabbits keep diggin 🐇(just upper level)
19 days ago
All the ladies. Ones in first plot and grow bag are by far the biggest probably because they were the first transplanted. All given pine mulch, borage and sage also neemed today!
21 days ago
Drizz Interesting I thought it was cat nip around the plant. Utilize that car piss for nitrogen 😂
LeChron James This is the most unique grow I've seen on here. So jealous of these plants' access to Mother Earth. I have a seedling that would do so well here…Ethos genetics Haze IBL. That plant would be 10' tall by August if it could grow outside like your ladies are. Can't wait to watch these progress as Summer comes and goes
View 1 additional comment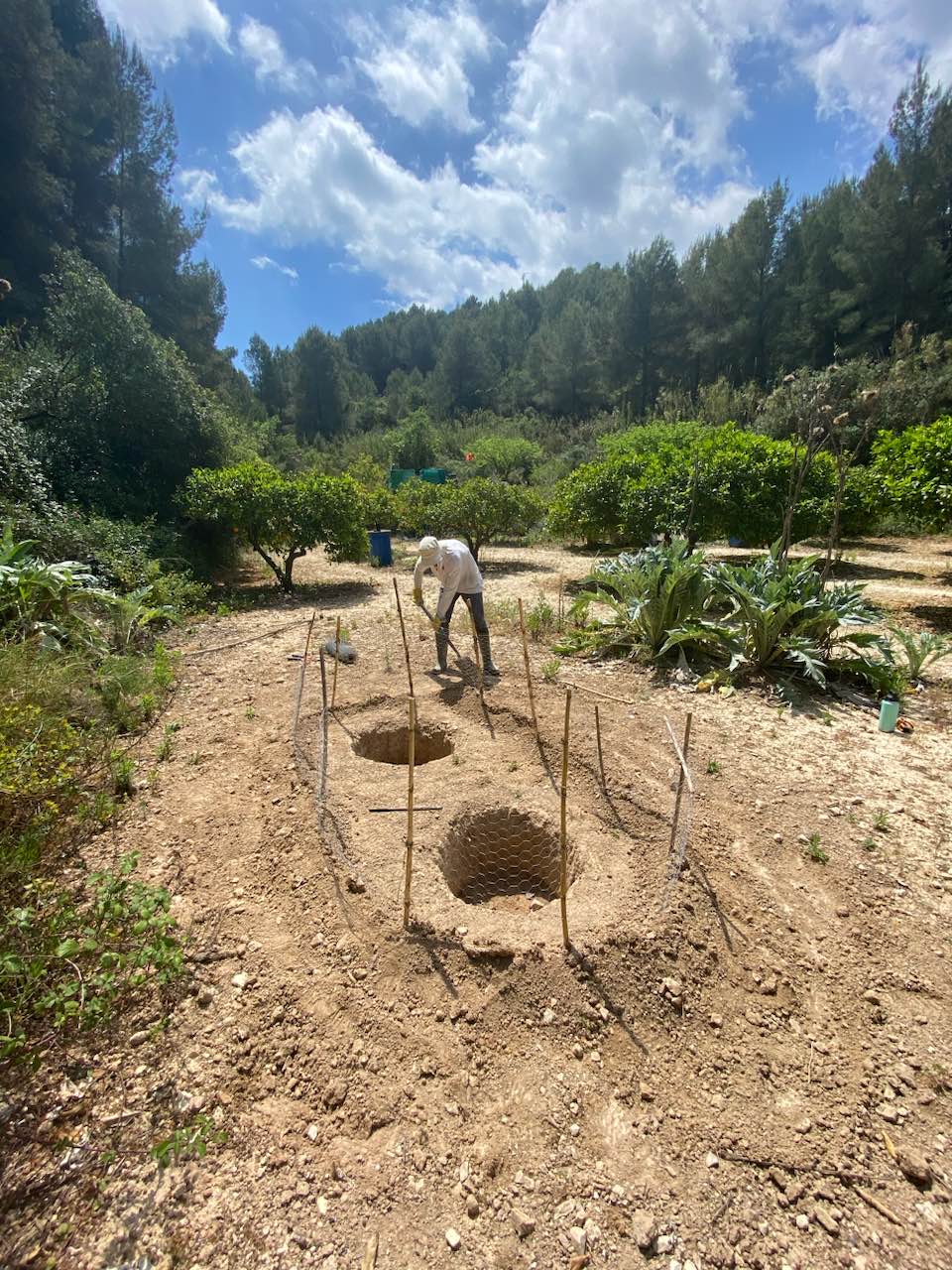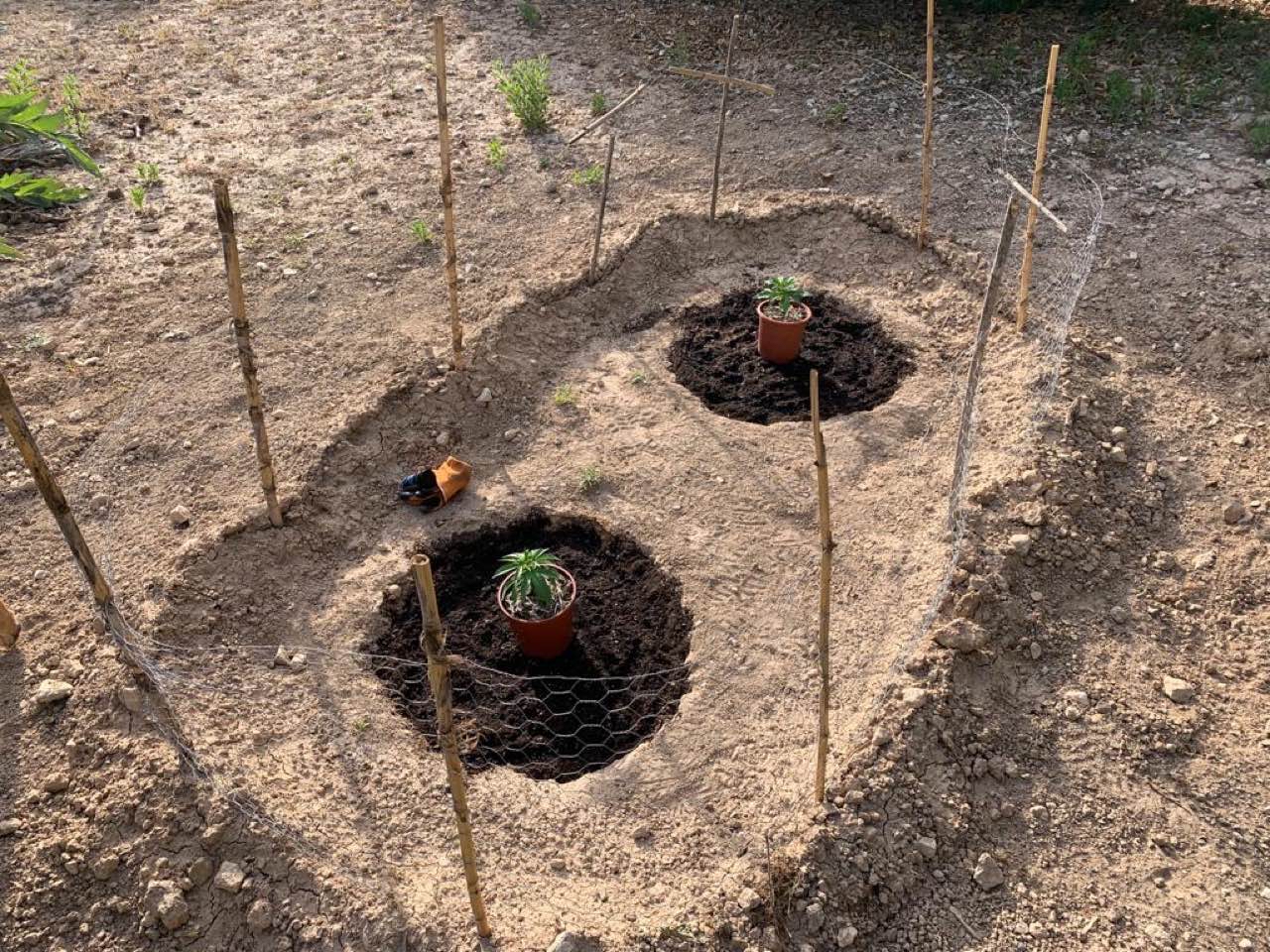 Transplanted the last two KGBs in the orange grove 🍊 Inoculated by directly sprinkling great white mychorizae onto the transplant site and bottom of plant yesterday! Today sprayed with a 3gsea salt/1Lwater mix to help control pests!
25 days ago
Tallboy2023 I'm following this one for sure. It's like Jurassic Park!
Drizz Interesting, looking forward to your grow. Is it hard for your plants to drain in the under soil or do you fluff it up for absorption? Jw
ig:@eaegifts Beautiful view and plants, definitely looking forward to seeing this run
View 3 additional comments
Transplanted three but underestimated soil…. Sooooo back to grow shop when fiestas are over! Neemed today. And fed more micorrizas for the transplants
a month ago
Drizz I'm liking this grow unique. nice job👍
Benissa Stoners Thanks we thought they were going to be 170L soil each hole but looking like 215+L soil per 😮‍💨 Used a local organic all mix for top half and bio soil w bio worm 💩 too lol we are just trying things out here
Drizz Looking forward to the updates cool🔥👍
View 9 additional comments
Survived a pop up thunderstorm last night. We were basically shaking in bed thinking too soon but they seem fine! The storm wasn't even on radar and seemed to be thru the night. 😮‍💨
a month ago
Drizz You put some work in nice job🔥🔥👍
Drizz Those storms got pretty severe where I live too.🔥👍
Benissa Stoners Yea we did and boy did we feel it after! Sore for like 3 days after we dug up 5 of these! Do you have any plants outdoors too?
One of five eaten by a caterpillar. Have been leaving them outside the last 3 nights since it's been warmer overnight temps. Neemed and inoculated 4/5 with micorriza mushrooms.
a month ago
Overwatered a little bit so let them dry out yesterday. Fed with a tiny bit of leftover nutrients from our autos let's see what happens!
a month ago
Drizz They look good so far👍
Benissa Stoners @drizz Thanks I appreciate that 😊 The real test will be putting them in the ground tho🙃
Drizz Autos work great outdoors acclimating them isn't too bad the traits come from colder climates anyways are you planting and doming or covering at night or what's the plan? Keep us updated🔥👍
View 2 additional comments
Lil post transplant update
a month ago
I think I see a second set 🥺
a month ago
Only one straggler, still proud parents.
2 months ago