jahraakhu
Winter Hydro Mix Run
Flower 600w HPS 4x4
2 - 5 gal Flood & Drain Clay Pellets/RockwoolCubes
Blue Berry Cookies, Orange Zkittles, Inner Chi OG, Purple Punch, Sundae Driver, Kosher Dawg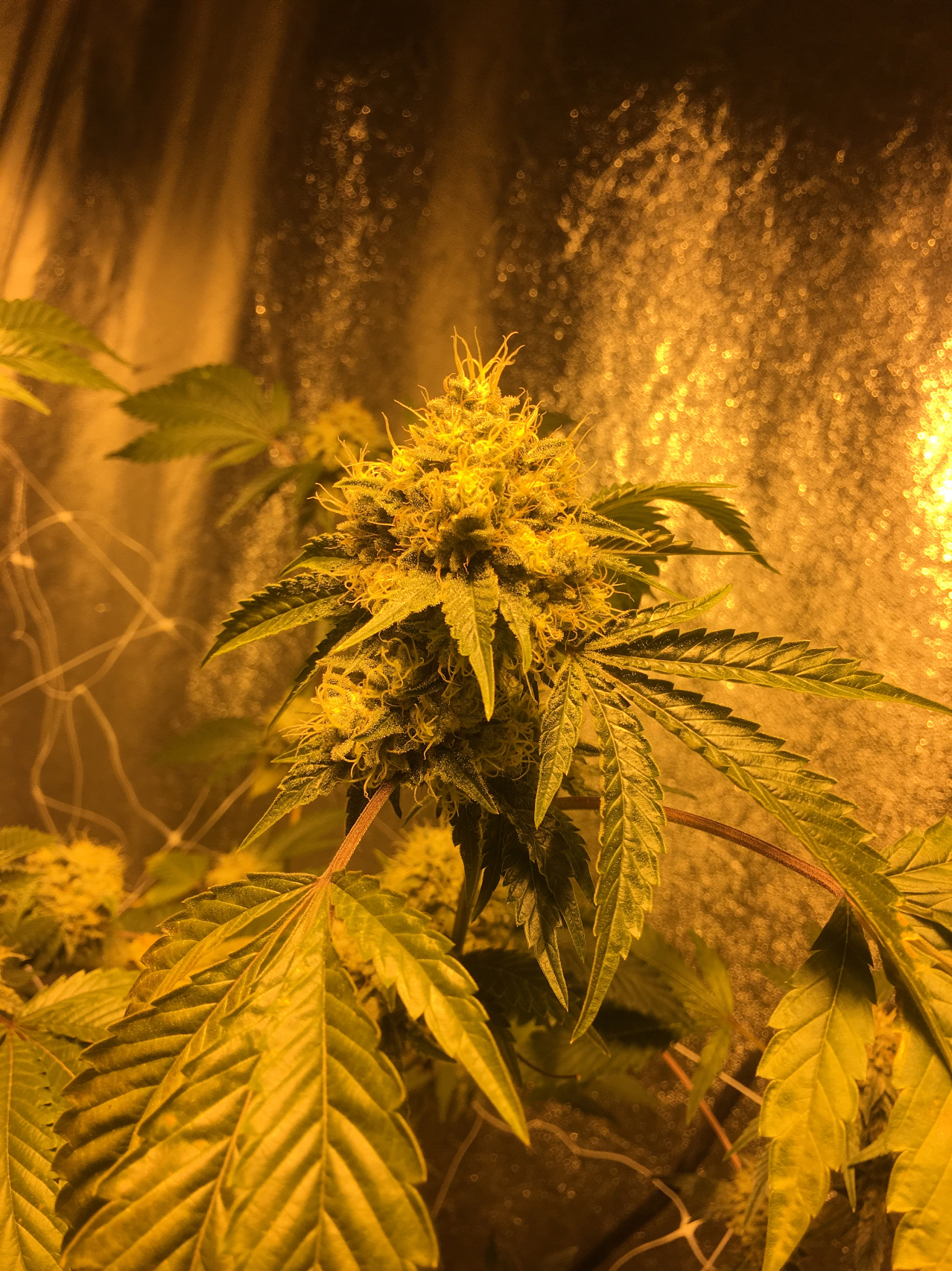 They look ready to cut. Will give them another 3 days to complete flush. RO with Terpenez and ClearX.
4 years ago
Hoober If a cop were to find this. Where might he go?
Continuing to rain outdoors, humidity is high but comfortable. Temps remain btw 62-72. ICOG and Kosher Dawg are super chunky.
4 years ago
Approximately 2 weeks out.
4 years ago
Colas are getting heavy and starting to lean. SD appears further along than the others.
4 years ago
jahraakhu Sundae Driver is ripening faster than the others.
Changing reservoir tonight. ICOG starting to plump although not as frosty as the others. Blue Cookies is gaining density and continues to frost. Orange Zkittles smells out of this world.
4 years ago
High humidity due to rain has kept the grow room moist, have to watch for mold. Will change reservoirs later this week. Topped them with RO. SDs are starting to ripen, catching a slight fade as she transitions from early to mid bloom.
4 years ago
SD is super frosty, Starting to ripen. Topped off both reservoirs, will change out with a flush Monday. Kosher Dawg is gaining density and frost. ICOG is gaining density but not as much frost. Orange Zkittles smells unbelievably like citrus candy. Blue Cookie cola is not as large as others but very frosty with potent earthy sweet aroma.
4 years ago
Continue to thin big fan leaves. Added supplements this week, waiting for results. Healthy and vigorous. Don't think Orange Zkittles clone survived, the flowering plant has incredible aroma.
4 years ago
Reservoir change today. Continuing to strip large fan leaves to allow for more canopy penetration. Added first dose of Mammoth P starting today the first day of week 4.
4 years ago
Nearly a week since last reservoir change. Continuing to strip and prune large fan leaves. LST for mid canopy, bending top of plant to adjust crowding and fill in open areas. Adjusted height to within 1 foot of canopy. Flowers are showing in nearly every node. Humidity is very high as rains continue.
4 years ago
Continuing to strip and defoliate. Temps are favorable though humidity has been as high as 89. Now hovering between 65 and 72.
4 years ago
After stripping a reservoir change using Clearx made way for the new cycle of nutrients. LST applied mainly to branches in middle of canopy to even things out.
4 years ago
Stripped lower branches and leaves along with big fans. Topped off reservoir with supplements.
4 years ago
Added trellis today
4 years ago
3ft tall start of 24hr darkness, tomorrow will initiate 12/12 cycle
4 years ago