malz
Auto grow #1
3 Auto strains
3 autos growing in 3 gallon plastic pots filled with fox farms ocean forest.
Blue Dream, Moby Dick XXL, Super Lemon Haze
Dried and ready for cure. Blue dream did 82 grams. Got 51 grams of Moby dick and 52 grams of the super lemon haze.
3 years ago
CHOP DAY! Let the ladies chill in the dark for three days and I cut em all down today (Mar 12,2020).
3 years ago
The Super Lemon Haze is pretty much done. I just want to make sure it's fully flushed before chop day. The Moby dick has about a week so go I think. And the blue dream has at least a week.
3 years ago
Still growing thank F. Entering week 6 on the blue dream and Moby dick. Week 5 on the super lemon haze. The haze is getting some fat nugs now. It's too bad I messed them up so bad. Who knows how well they could have done
3 years ago
I MESSED UP!! I've been chronically over watering the ladies. As in I was watering everyday. I noticed a copper looking spot here and there and didn't think too much of it. A week later and the plants were in full melt down. The roots were drowning and as a result I started to get a nutrient lock out. 2 of the three plants are still growing. The super lemon haze was least effected since I felt I was neglecting it lol turns out I wasn't neglecting them enough. The blue dream stopped growing all together. After letting them dry out for a week and adding cal mag she has started to put bud mass on again. She looks sad and has way too many faded out leaves. She will still put out in the end just not nearly what she could have. The Moby dick Xxl is just devastated!!! There's almost no green left in her. She isn't dying and took almost a week longer than the blue dream to show signs of life again. Not sure if she's work holing on to to be honest. She could have close to 2 months left so I'm not optimistic. All in all it was a hard lesson. I would never have done this with my houseplants or my flower/vegetable gardens. I got too excited and messed up. Keep it simple everyone.
3 years ago
Malz I have since removed a pile of useless leaves.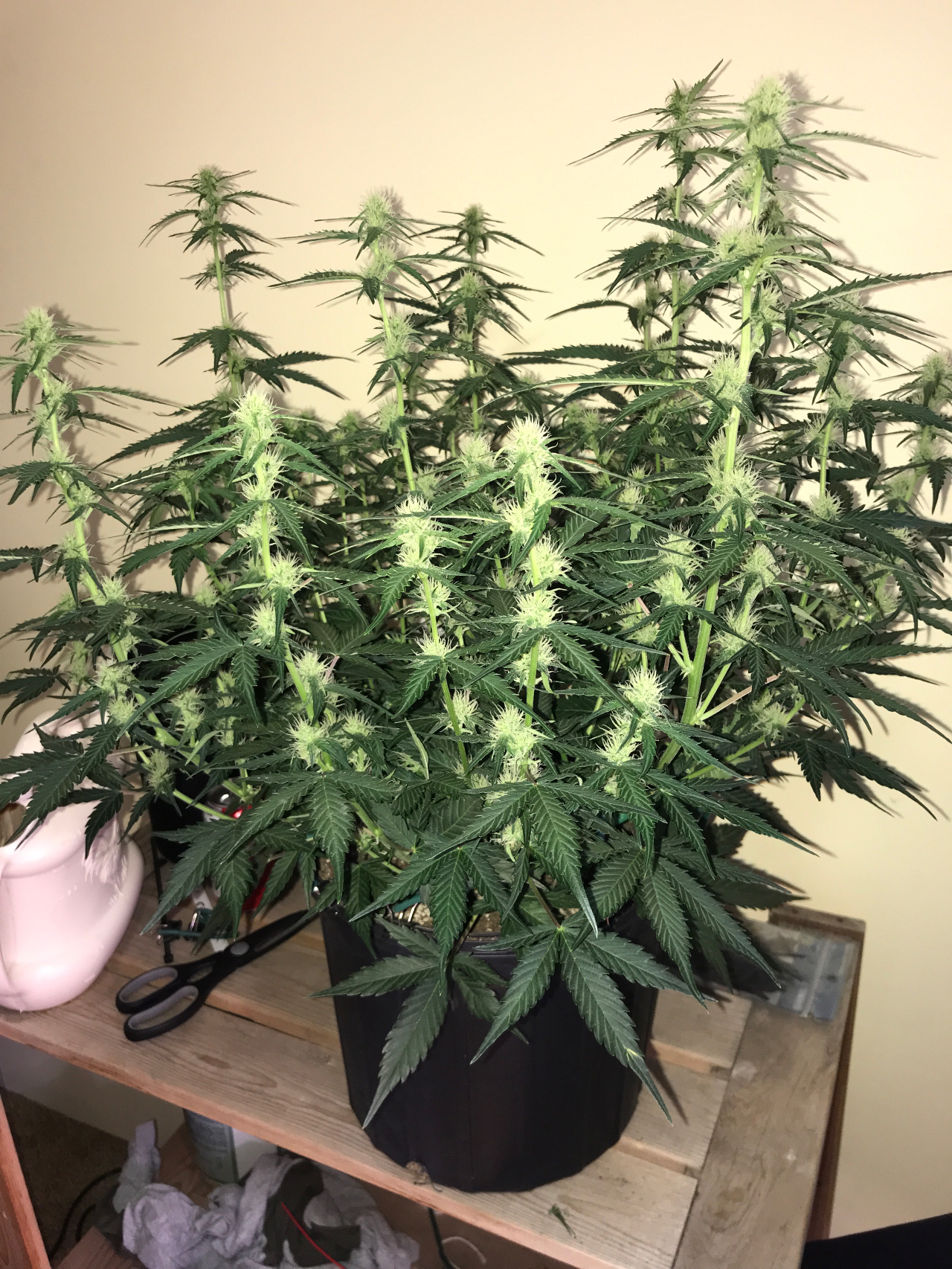 Was having light stress issues on the tallest branches so I did another round of tying branches down. I'm hoping that was the last time.
3 years ago
Still growing out of control.
3 years ago
I can't believe they're still stretching. I had to move my light up again today to avoid light stress.
3 years ago
Going well still.
3 years ago
Still stretching. The blue dream is getting really big. These picture are from first thing this morning. I'll be doing more training on them later.
3 years ago
TaylorMaan Nice bro looking super good ! I'm so disappointed, I found pods on one of my 3 plants , so now I'm only down to two
Malz That sucks man. I had one outside that went hermie on me last summer half way through flower. Always upsetting.
We are definitely in flower and the growth has been explosive!! Almost time for their fist feeding.
3 years ago
Another round of LST. Before and after pictures. I only did leaf tucking on the Super lemon haze.. it's too bushy to tie down. The Moby dick looks like it will go into flower I. The next day or two and the Blue dream is definitely into flower already.
3 years ago
The girls are hitting a growth spurt. Before and after training today. The first one is Super Lemon Haze from Canuck seeds. She's extremely bushy. With a node spacing of under 3/4 inch. She didn't need any more LST since she's super short. The next is Moby Dick XXL (Dinafem) She's somewhat stretchy and is growing the fastest of the three. Last is Blue Dream from Humbolt Seeds. She's growing like crazy and is super bushy. I'm looking forward to seeing how she turns out!
3 years ago
I had to tie them down more this morning already. And now this is what they look like tonight. They're starting to grow really fast.
3 years ago
Day one of LST. Before and after
3 years ago
Up to 3 nodes now and number 4 should be fully grown it tomorrow. Almost time to start LST on these girls.
3 years ago
Been having a hard time controlling the temperature and humidity in the tent during this cold snap. I've notice the growth has slowed a little.
3 years ago
Starting to get side growth. They're all very short plants so far.
3 years ago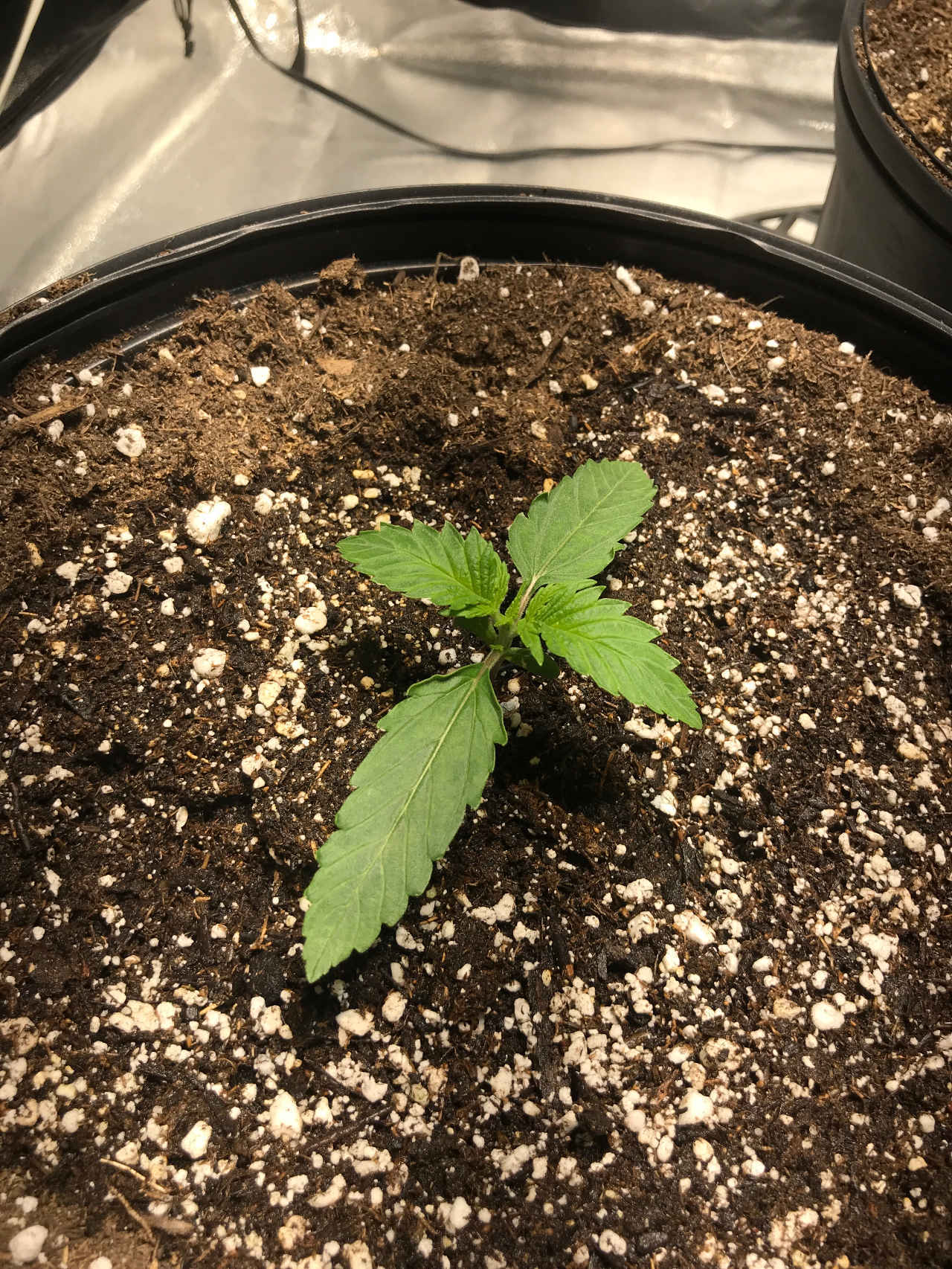 All three are up and growing well so far
3 years ago
Moby Dick XXL and the Super Lemon Haze have both sprouted today. Still waiting to see signs of life from the Blue Dream.
3 years ago
Planted seeds today directly into their forever homes
3 years ago