thehuncho
Hierbas de Huncho
F the police
Added three more plants gonna try to fulfill as much potential this growing tent offers. Placing all grows on one post; the bigger plants are 21 days older. (Wish me luck got swept by the jakes last grow)
2 Sour diesel og/ UkWildcat og/ Purp og/ critical og / blueberry og
Two down four to go.. (feeding)
2 years ago
Been all ov the US past few weeks will bring these back tho!😣 (feeding)
2 years ago
Gotta stay on top of watering 😫
2 years ago
Yanno just a lil watering ya feel me
2 years ago
Exfoliated em a bit
2 years ago
Watered again looking less jank
2 years ago
Light flush/water boys was acting up.
2 years ago
Gonna water tomorrow
2 years ago
Flowering update.
2 years ago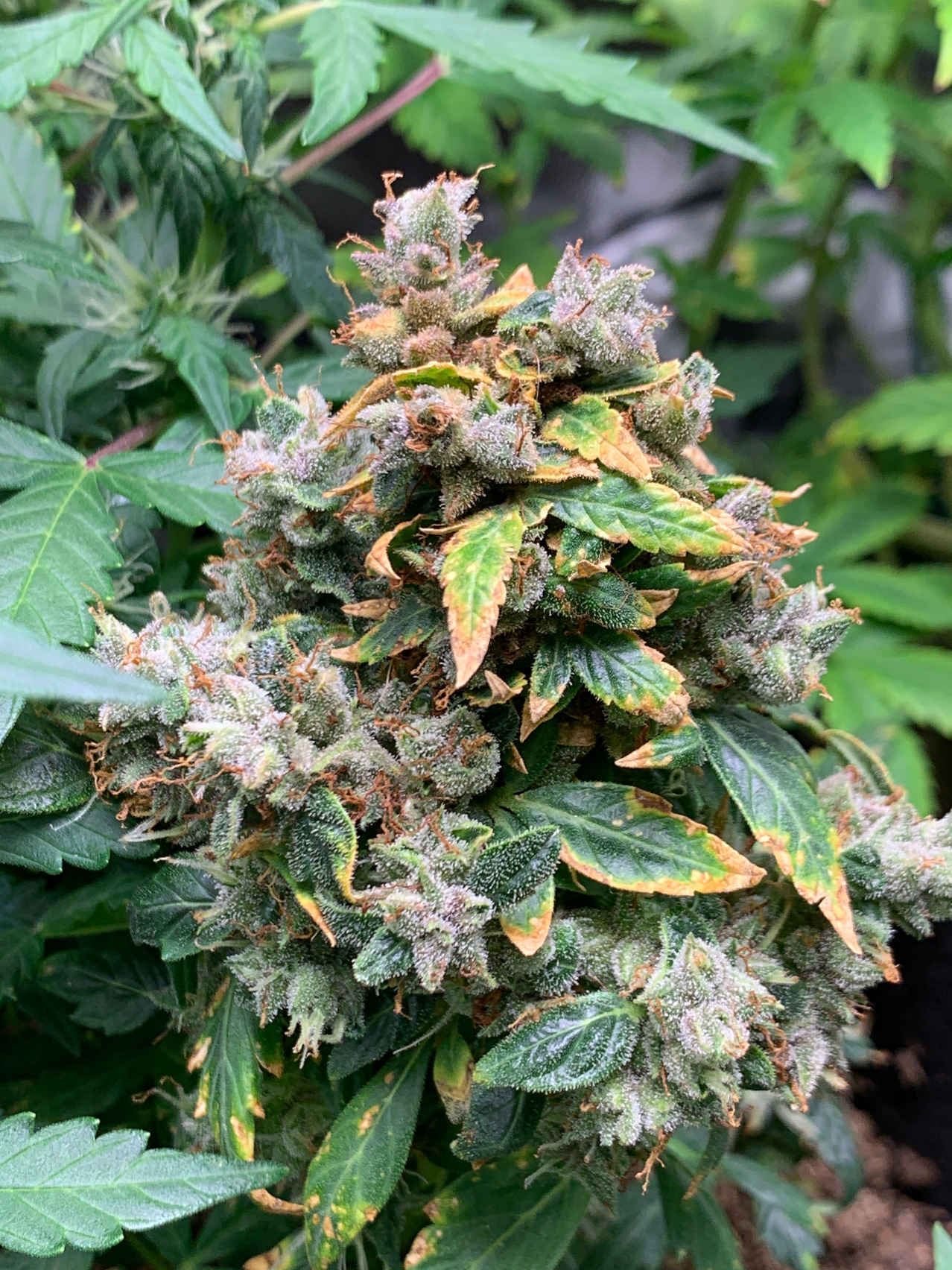 Pistols starting to show on all plants now.
2 years ago
Neem oil treatments much better.
3 years ago
Flushed last night looking beautiful
3 years ago
Defoliate and secured.
3 years ago
JosieK1100 Do you bend the stems to get thicker plants?
Neem oil application (w insecticidal soap this time) under low light low air flow rn
3 years ago
Update. Fed mg organix
3 years ago
All slowly recovering from soap burn. (Dr. Bronners should not be added to your Neem oil solutions FYI ) bend and securing two big sour diesels to have even canopy. Taision og is flowering and coming down within a 30 day duration. Blueberry reg is showing explosive growth; topped today as well. Elevated a smaller gg#4 girl to try to slowly dissolve any size differences.
3 years ago
Used the wrong Neem oil formula burnt em up a bit but we progress. Also having a pest issue presumably due to the lack of air flow at night. Will keep fans on 24/7 monitor closely. Taision coming down in a week or so
3 years ago
Defoliation and Neem application
3 years ago
Stood my sour diesels and taision og up and replaced the two small auto with some much stronger gg#4 genetics. Updated list of plants is 2x sour diesel 1 taision og 2x gg#4 and a blueberry reg
3 years ago
Bend and secure Lst
3 years ago
Some Lst on both sour diesel girls, fed mg organic and molasses 1/2 & 1/2
3 years ago
Replaced a plant that wasn't looking too good. Watered w molasses.
3 years ago
Some bud sites forming..
3 years ago
Mars hydro ts600
3 years ago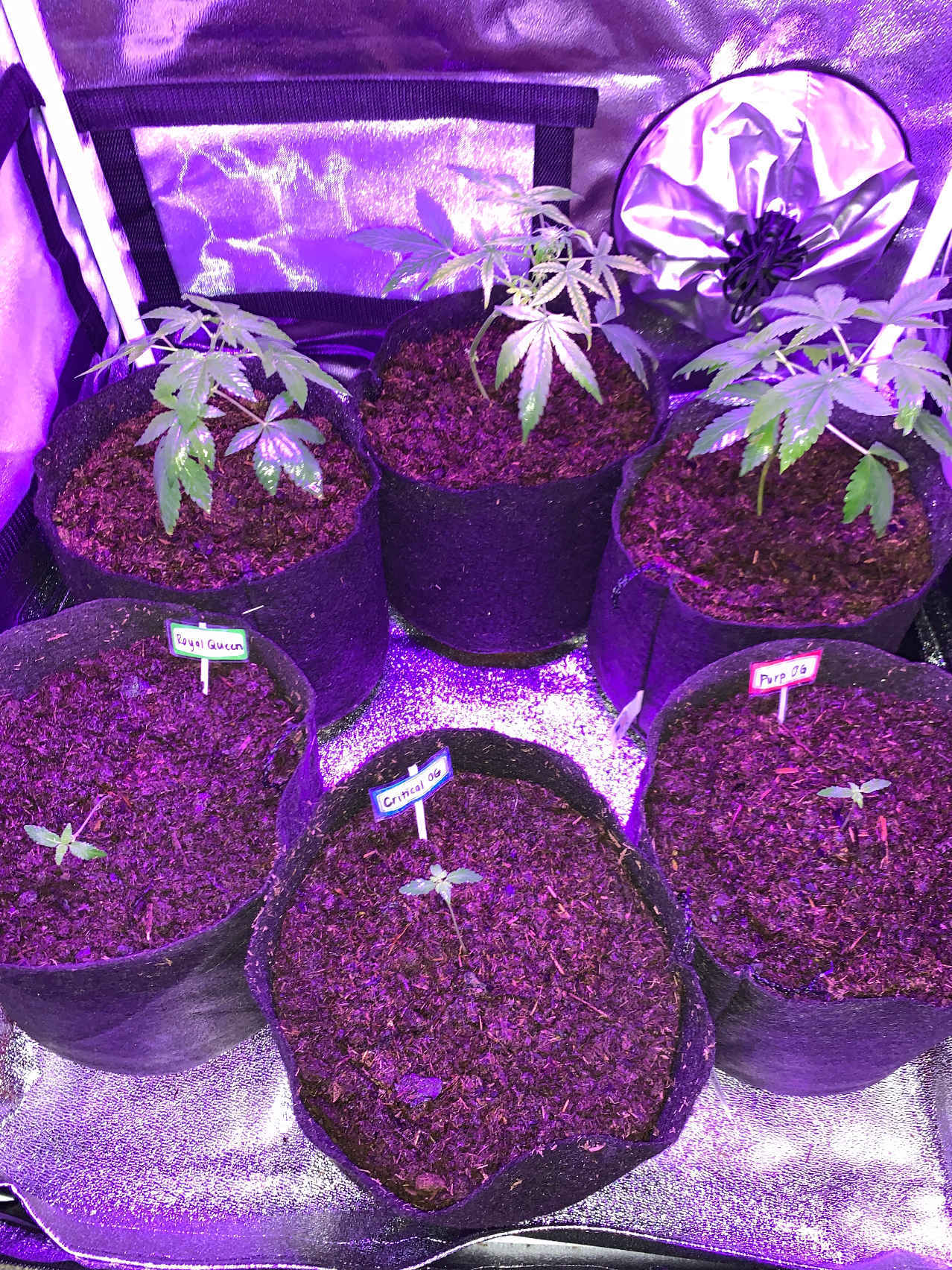 Squeezing 6 in a 4by4😬 fed mg organics today
3 years ago
Fed the boys some molasses today n they loved it
3 years ago
Brought my plants outside into the sun but the cold shocked em a bit. Stunted growth ehhh but we move on..
3 years ago
Transplanted a few. 18/6 cycle shows much better results. Fed mg organic nutes
3 years ago
Switched from 24/0 18/6. 24 hour lighting caused too much stress leading to a few plants getting sick
3 years ago
Watering tomorrow
3 years ago
Fed with some super thrive update ya in 5..
3 years ago
Update (light watering)
3 years ago
Transplant seedlings finally left medium
3 years ago
Just left the medium seeds still attached
3 years ago