catphish217
Mystery Bag Seed
1st Grow - Fall 2019
The only one of 8 mystery seeds I germinated that ended up surviving. Luckily for me she also turned out to be female. Started the grow process outdoors but ended up moving indoors into a small custom box I made capable of holding two plants. Lots of low stress training went in to keeping her short and stocky. She also ended up getting really fried one day while in the yellow ceramic pot because the light timer got stuck on and a missed watering.... almost killed her. But transplant to a new pot and switch to better water saved her.
Finally gave her the chop. Ended up harvesting just over 68 grams after wet trim. Looks pretty decent, smells like berries and skunk. Not bad for my first grow from a bag seed with some CFLs. Really fun learning experience overall.
3 years ago
Flushing right now. I estimate she's about 1-2 weeks away from harvest. Smells wonderful like citrus, pine, and funky gym bag.
3 years ago
Week 7 of flower: Removed the divider in the grow box so she's now getting double the light compared to before. Hoping it will help her stack on some more density to the buds. Been battling some high humidity over the last week due to Mother Nature but haven't seen any signs of bud mold. Looking pretty good otherwise. Putting off some nice odors of citrus, pine, and funk.
3 years ago
Stealthboy95 I'd cut off a lot of those burnt tips leaves. Let it focus on bud instead of repairing..?
Catphish217 Thanks for taking a look. I'm just going to leave everything as is until I harvest though, usually not the best to do any defoliation during flower from what I understand. The leaves are turning so yellow because I didn't give her any nutrients at all throughout her life, probably wouldn't be so bad if she would have had some more nitrogen. But this is also a natural process during flowering stage as the plant puts more energy into creating buds and becomes nitrogen deficient, so I'm not too worried. 👍🏻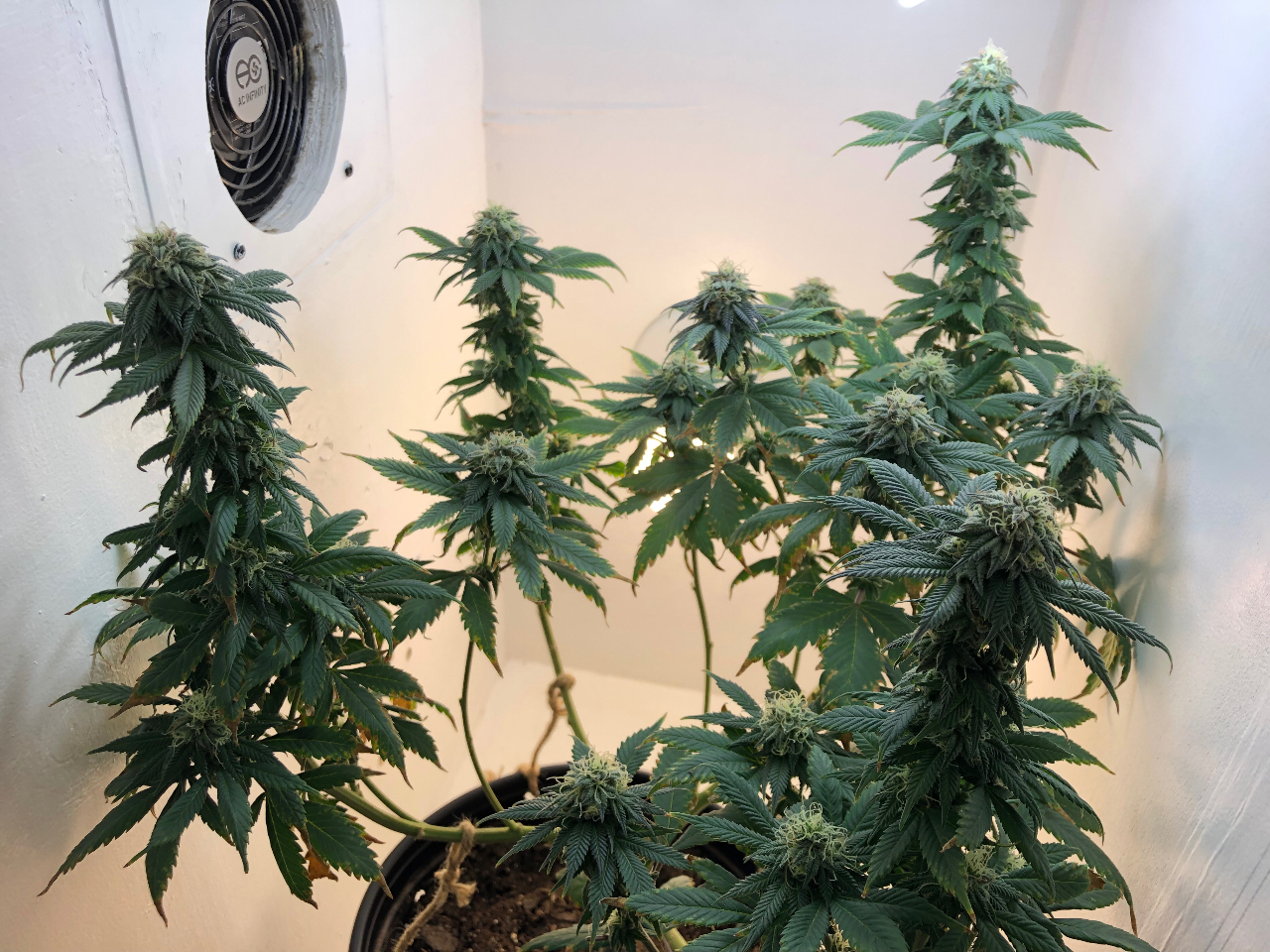 Plant is taking its time building up buds. But she's looking nice and starting to put off some nice smells.
3 years ago
Bud sites filling in and stacking up nicely.
3 years ago
Buds fattening up some more. Not as fast as I'd like but still fun watching them grow.
3 years ago
Fattening up nice. Got some close up shots of the pistils with my loupe. Defoliated some of the larger inside fan leaves to help get light through to the bud sites better.
3 years ago
Bud sites stacking up and getting fat.
3 years ago
Just noticed the first bracts starting to form. Yeehaw!
3 years ago
Stacking up pistils nicely. Sure seems to be taking her time with it though.
3 years ago
Week 2 of flower done. Rolling into week 3 with more and more pistils. Unfortunately had to move the grow box out to the garage so hoping the less acclimated environment doesn't affect flowering too much.
3 years ago
More pistils stacking.
3 years ago
Rolling into week 2 of flower. Re-tied all of the main stems as they were growing closer to lights. Nice pistils starting to cluster at all of the bud sites. Some yellowing happening on tips of fan leaves, but most of the new growth is looking healthy. Any tips appreciated.
3 years ago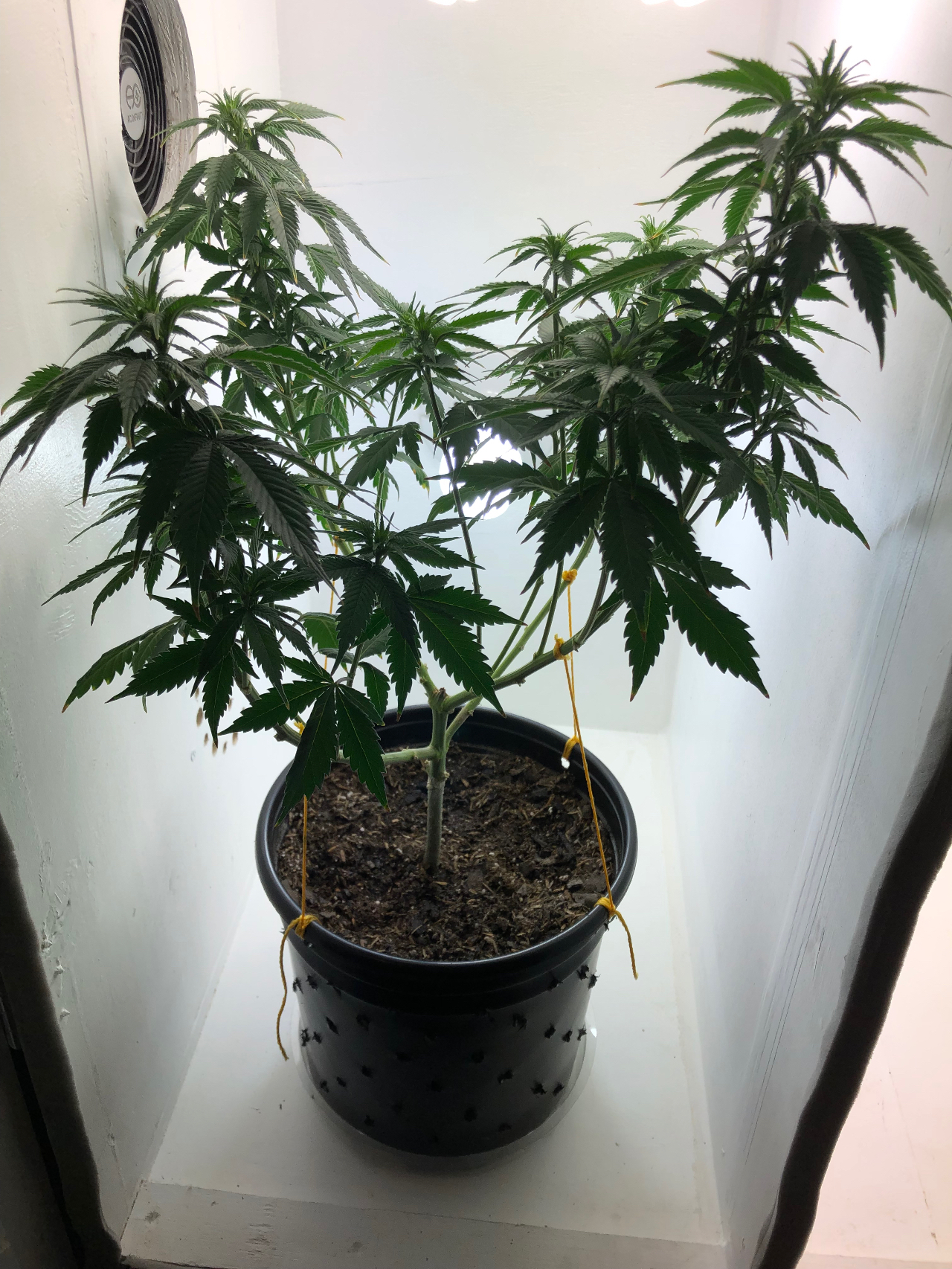 More pistils! Almost through week one of flower.
3 years ago
Still in flower.
3 years ago
Still in flower. A lot of new growth and pistils around bud sites. Did some stress bending of the smaller inner stems to center them towards the light.
3 years ago
Day 3 of flower.
3 years ago
Plant went through some serious over watering shock as I had my buddy watching it while I was on vacation. Revived her by stopping water for about 5 days, and fertilized her and gave a healthy dose of water on the 6th day. Just switched over to flower with 12-12 light schedule. Did some serious lollipopping to focus growth to the four main colas. Also tied back the main stems to help get more light to the bud sites and prevent from growing to tall.
3 years ago
Plant is showing signs it's super close to time to switch over to flower. Tiny white pistils popping here and there but not too many. I could switch over now but I'll be gone on vacation so going to wait to make the switch to 12/12 until I get back Christmas Day. Looking super healthy though and giving off some nice little foul, earthy and cakey odors. Can't wait to see what this mystery lady blooms in to!
3 years ago
Defoliated some lower nodes to promote stronger and more focused growth at stronger bud sites. Still vegging nicely and probably 2-3 weeks from switching to flower.
3 years ago
Mystrain420 She looks great. I like that u put holes in the pot I do that also to air prun the roots 👍🏾👍🏾
Same light cycle. Snipped the top of the plant about two and a half weeks ago to promote stronger bud growth at alternate sites. Steady watering and no added nutrients. Showing lots of pre flowers and good bud sites.
3 years ago
Same light cycle, transplanted to a new pot after an overheating issue with the old ceramic. Plant fried and looked dead, but is on the up and up.
3 years ago
Moved plant into homemade grow box and transplanted into ceramic pot. Not ideal but was only pot I had around at the time and was on a budget. On 18-6 light cycle with a standard soil base of at 5.5 pH, added nutrients of bat guano, dolomite lime, blood and bone meal.
3 years ago
Moved indoors. Started sprouting new set of leaves. On 18-6 light cycle now.
3 years ago
Outdoor light cycle still in small pot.
3 years ago
Outdoors at this point still. Showing good growth.
3 years ago
First signs of growth.
3 years ago