hippysoule85
Strain unknown - scrog n lollypop?
September 2018
So I've dabbled in growing naturally in soil for the first time this summer being up from the Carribean and seeing my island buddy's do their thing. I have been following many of the YouTube videos and to tutorials on how to go about achieving best end results hopefully I have not butchered this plan throughout its life cycle this is what I am left with September 6, 2018 . I would also like to note areas that have a brown scale are areas from bending and broke completely that I fixed with gorilla glue applying a light mist with a spray bottle and as little as possible as the product . It grows when it dries it was very useful and repairing split and broken branches
Final note this was Alot of fun and exciteing took lots of patience and trust but it helped me with many day to day struggles and I felt it is a good life building experience. The lollpopping and scrogging was cool when it was in a pot but in the ground it looses its effect. The bending and monster cropping is best in veg and should not be done after transplanting depending on time of year guessing .the plant is stressed and take well over a month to rebound properly. I felt I would have had bigger colas and bud growth if I left bonding out of the equation after transplanting during the time of year and area. It was nice to see the products by fox farm work well and will use and try on my clone that has taken and is now in veg.
5 years ago
Cut first thing this morning , nice full moon last night time will tell how we did!
5 years ago
Cut and hanging dry set to 65 will decrease to arrow
5 years ago
Cut a small piece scoped it out
5 years ago
Goodmorning today is wed the morning before our full moon for October and these are the photos I got today. I put the scope on it and 80% is milky and 20% Amber threw out the pestols or hairs are soaking up the rosen and will be interesting to see how the moon makes it finish up. I'll add photos under 172 1/2 for scope pics.
5 years ago
So it's been getting cold and some bud rot was present before the frost I cut and discarded rotten areas and then cut two lower branches before it turned a nice dark purple. I dried them for five days hard them for four days and results were par for the course. I then cut a small stem to see and is still cureing. It is octuber 22 and almost a full moon as expected I will allow the night to take it course and get up and cover before day break in a bag or cover of some sort for two days after then cut whole plant down and harvest. More photos to come photo taken today .
5 years ago
Jewelry scope to scope tricombs, mostly milky and ambers are showing up lil bit by lil bit.
5 years ago
Spike in her stalk tricombs mostly milky and 15% Amber color
5 years ago
HippySoule85 When near end or if have to cut flower times down , this tells the pant to die and produce more flower n tricombs. YouTube taught me a lot of stuff and type in spike or cut stem on pot plant
Put a spike n the stalk today have many jobs coming up and don't have time to tend to her most tricombs are milky and sum Amber would like more but given the time of year I told her it's time . Next photo will be the spike at day 161
5 years ago
Removed top bamboo frame no use left supports for cover I put on when we get lots of rain. Backed off on nutrients did a water and hydrogen peroxide water flush today. Will hit with nutes mid week. Travis hippy Soule is my Facebook to see more photos Instagram Hippysoule
5 years ago
Been moving and training branches to get optimum sun light. Also smaller branches and colas I have been bracing and twisting into form one large looking cola ,with smaller branches.
5 years ago
Filling out re positioned ties and lowered main brace.rain yesterday sunny today no water ph level was 5.1-6.1 , been de worming the inch worms every day for a week now.
5 years ago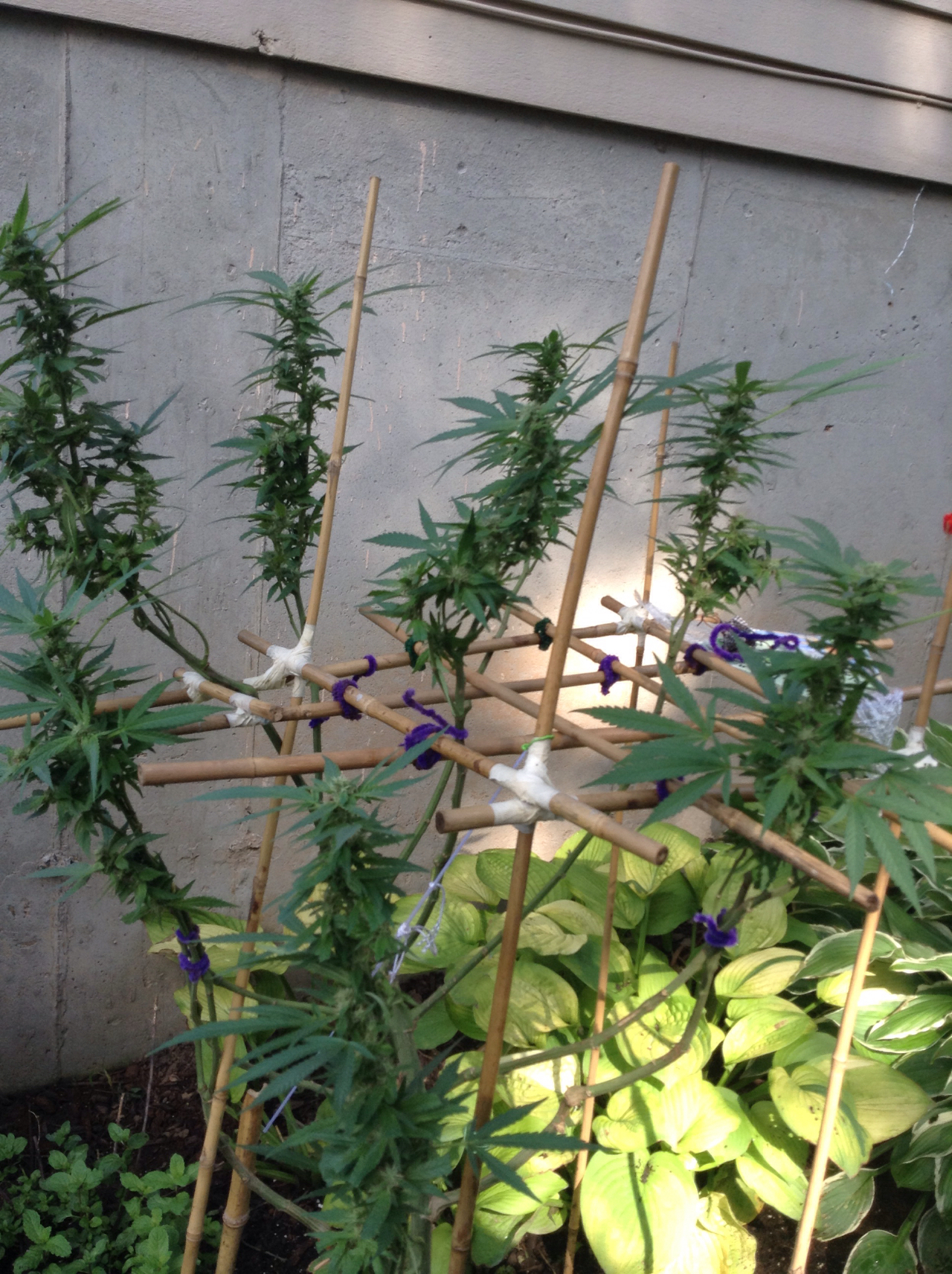 Braiding small stems to main branches and braiding the small branches with small colas to form larger
5 years ago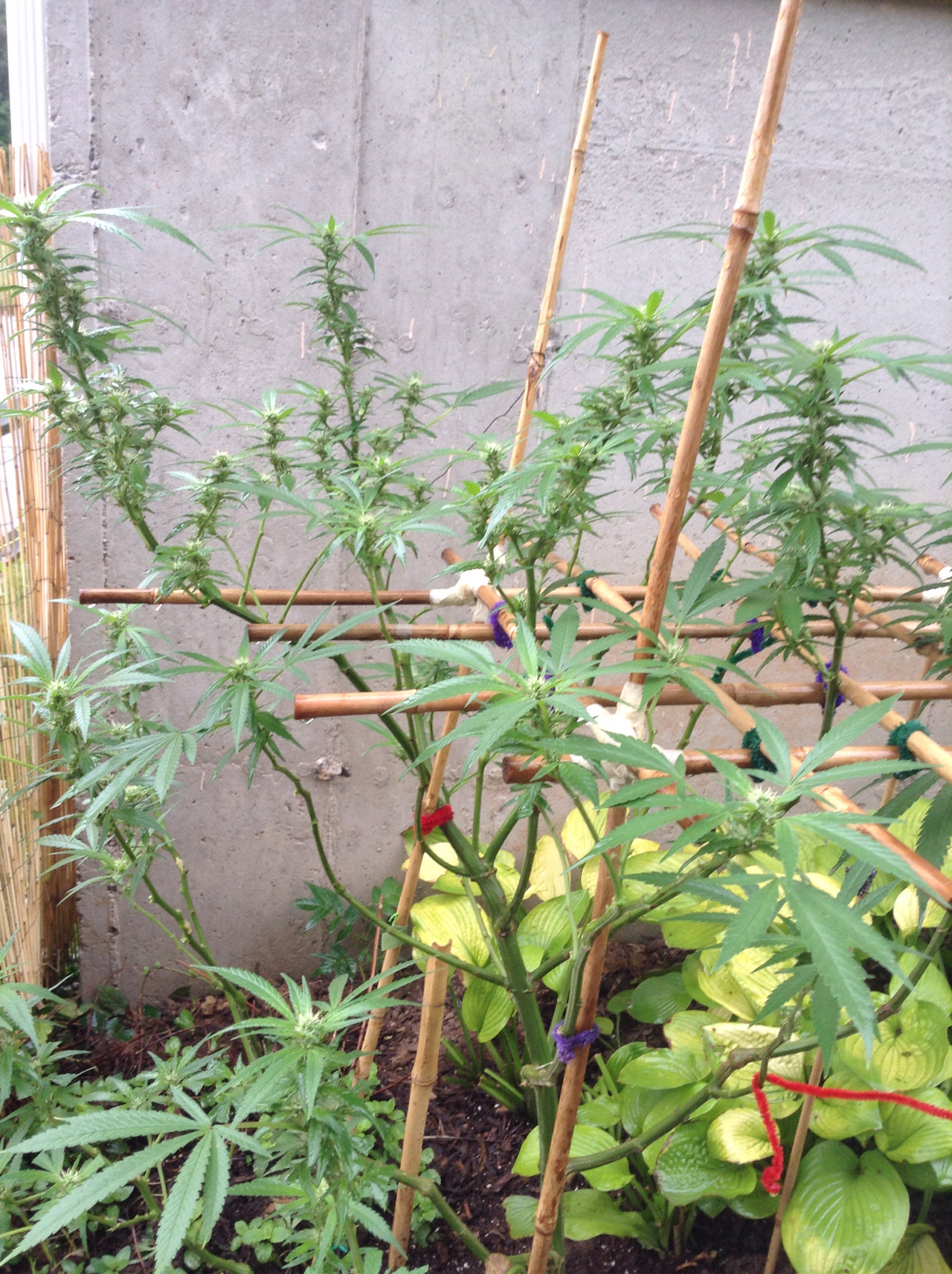 Today I will clear remaining week branches and bud sites that will not produce much hoping the colors or ends of the branches will fatten up
5 years ago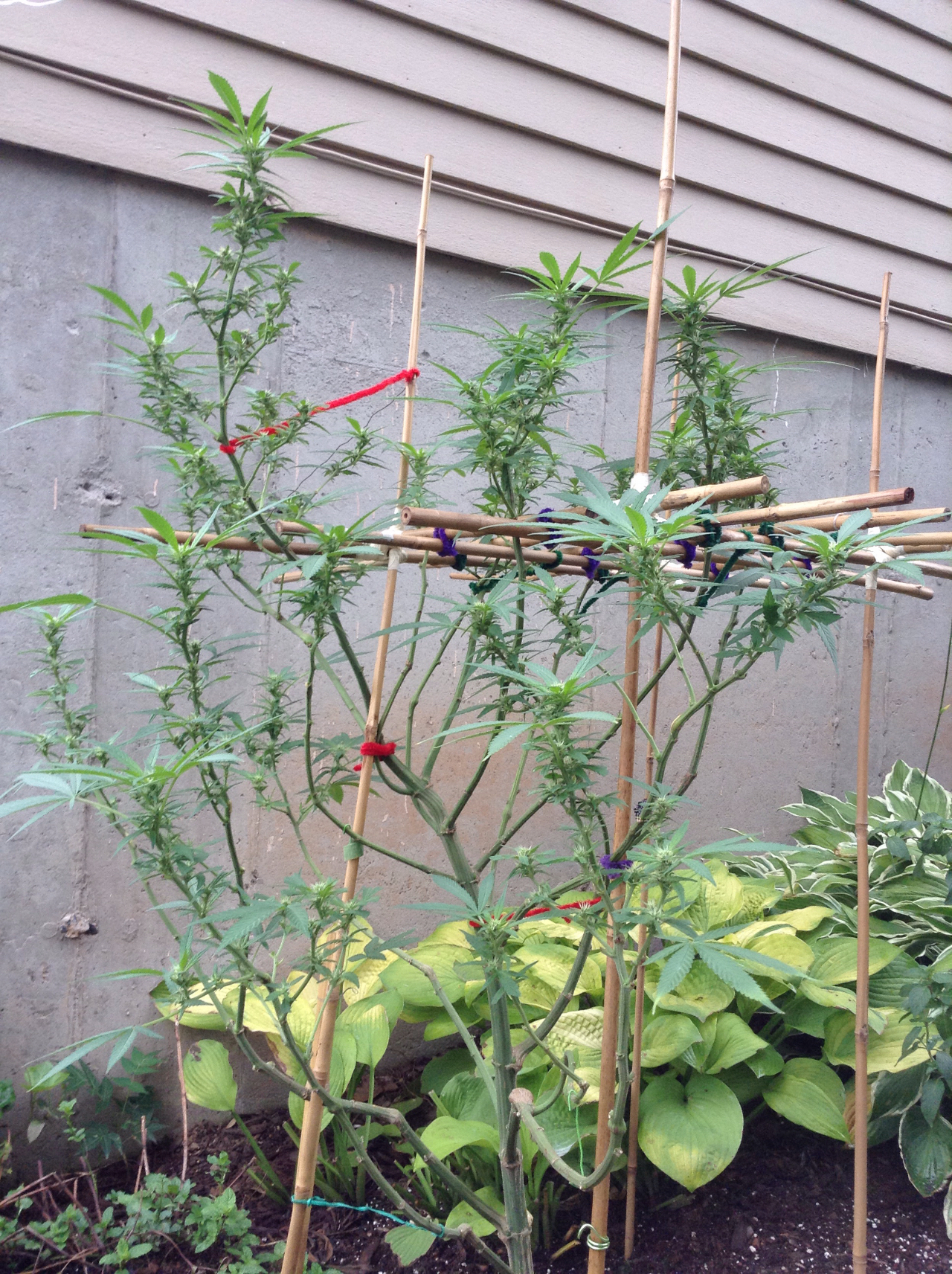 Started this back in June right before I left down to the Dominican republic she survived with the care of my girlfriend when I came back I jumped headfirst into YouTube videos on soil grow outdoor grow along with technique to lollipop and Scroggin . the strain is unknown believed to be in an Indica family started using Foxfarm nutrients about a month ago we are on day 10 of flower did a final defoliation and trim three days ago.
5 years ago