Cherry Pie x GSC or Triangle Mints ? Who knows…
April '21 Clone
Purchased clone from Sky 0707 nursery (down-under industries) So what do you feed a monster? Alternating now between Seagrow Bloom & Flower the lovely kelp and yucca it's got innit really make a difference. I alternate with Fox Farms Tigerbloom and include a drop of blackstrap and a teaspoon (ish) of Epsom salts With a pinch of calcium added once a week. We're having a run of warmer weather with daytime highs in the high eighties and nighttime lows in the low-fifty's The big girl's drinking about 2 gallons a day now.
A 4oz pile of green goodness, still a bit of nip tuck left to go & onward to the curing jars. So far we have just under 14oz already curing
a year ago
kolchak707 Thanks! I kept reading that the smell would be unsatisfactory on some level , the sweet vanilla scent not coming through was the leading gripe. Genetics rule! This girl smells fantastic both freshly trimmed and under cure.
Well, it took two days of cutting and trimming to get roughy 2.2lbs wet weight from this eight foot monster. And I'm still not done LoL. Just took the larger buds on my first pass.
a year ago
Sure the fall colors in Vermont are nice, but the fall blooms in Nor Cal are simply mo-betta
a year ago
So this is me standing on my toes with my arm extended holding the Iphone up as far as it will go to take this photo of the apex bud. I'm 5'11". Baby got big
a year ago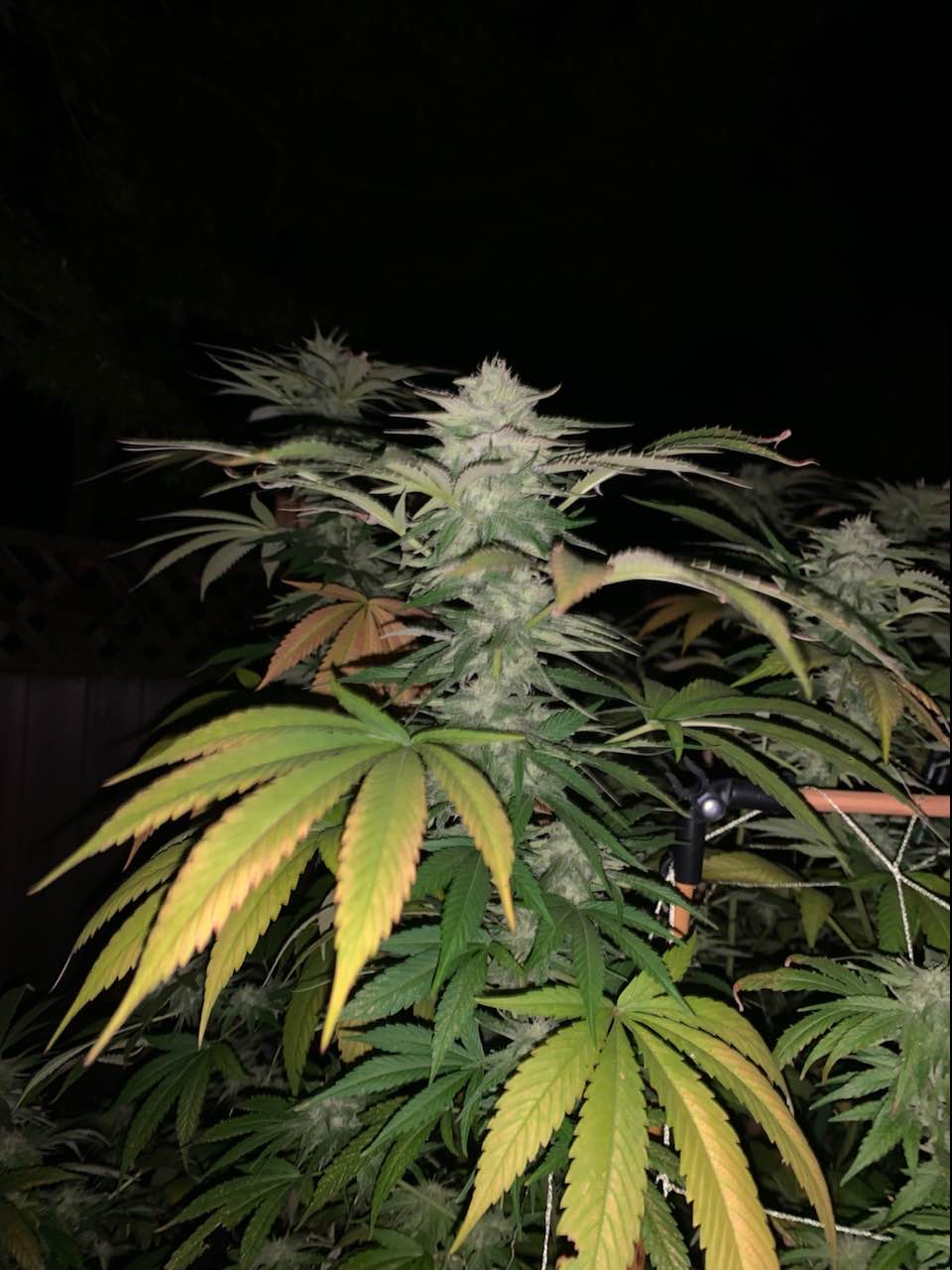 Mmm fall colors😜
a year ago
Three inches diameter. Sucker got big LoL
a year ago
I've read that the best photos are taken with a flash, they're right
a year ago
Flowers are developing nicely
a year ago
turacept Canada? mine are at a similar point in flowering
Coming along nicely
a year ago
Flowering nicely
a year ago
Roughly a foot taller than me as of today.
a year ago
Bloom baby bloom
a year ago
Looking good I'm 5'-11" and today I had to stand on my toes to reach the top of the beastie. So I threw a net on her… Rowrrr
a year ago
Good morning Starshine, the earth says…WTF is that a tree? A tall 55" this morning
a year ago
…out here havin' fun in the warm California sun…
a year ago
Good morning ladies
a year ago
Prodigy Looking happy and lush, almost taller than the fence 😄
Caliban Trees!! That makes me smile like an idiot!!
kolchak707 Yeah, so glad we added that privacy screen to the top of the fence. My wife's not too thrilled about the height but it is what it is. Anyway, I'm just pleased that she's healthy, can't wait for her to start flowering
View 5 additional comments
Lovely 😊 Note to self, next year I'm putting a smaller profile plant into this 25 gal gro-bag
a year ago
doctorg Yeah wow she's not even pre flowering yet lol. Shesgonnna be ducking massiveeeeee
View 1 additional comment
Getting a little too tall @ 49",that's 6" vertical growth in 8 days
a year ago
Getting a smidge large…
a year ago
Such a big girl
a year ago
Ok, for perspective that's a chopstick at the base of the stalk.
a year ago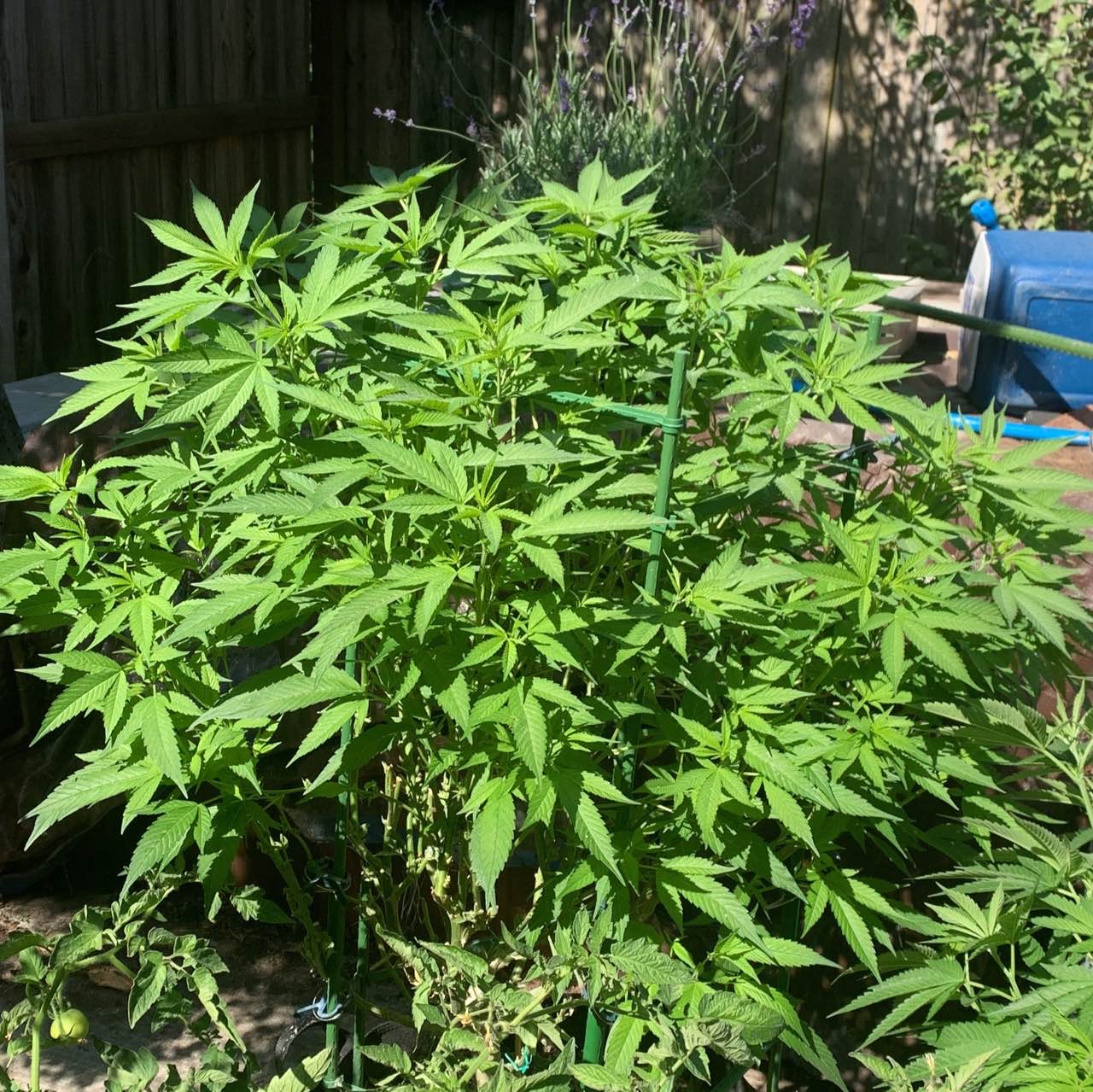 Sweet! She measures at 44" wide by 43" tall with an 1.5" diameter stem😜 I forgot to remove the chopstick after having used it as a support for the tiny (at the time) clone and unfortunately it's now fused with the plant's root system ala' sword in the stone.
a year ago
Forty Two Looks fantastic. Nice and healthy🔥🔥🔥
So yeah, may have gone a bit overboard with the 25 gallon container but it is what it is. She's going to be a monster 😉
2 years ago
kolchak707 Yeah & growing like crazy. Oddly, neighborhood pets started disappearing around the same time she went out into the greenhouse. Coincidence? Perhaps… But I've become a wee bit suspicious ever since her leaves grew larger than my hands.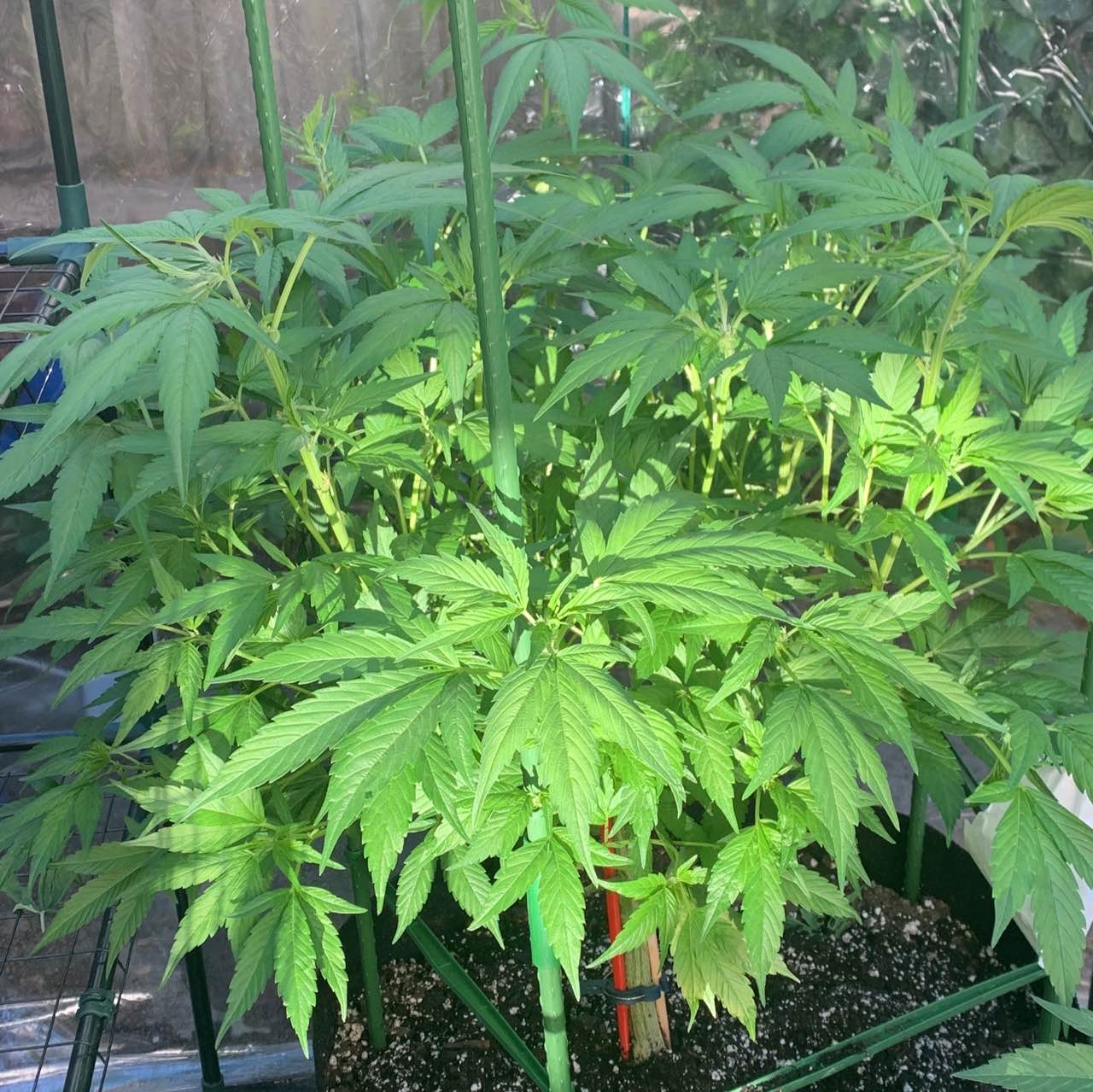 Nice, starting on an experiment with recycled sunlight. Tracking the setting sun with mirrors and bouncing the light back at the girls (see photos 2,3,4)
2 years ago
28" tall with a stem nearly 1" diameter, doing well.
2 years ago
Extensive haircut last evening
2 years ago
Wow, someone likes her new home.
2 years ago
Groovy, guess she likes the new 25 gallon pot
2 years ago
Days are getting hotter @ 90+F so have the girls well protected and monitored . Decided to transplant her into a roomy new home, just in time the root ball was massive
2 years ago
Seems to be doing better after I started controlling humidity
2 years ago
Lots of new growth after the recent haircut
2 years ago
Thinned her out quite a bit yesterday . All of the girls went into their new home last evening so no more nights under the lights. The new greenhouse seems ok but I'm concerned about humidity so need to look into solutions, probably use a few tabs of desiccant to bring down the damp
2 years ago
Thinning her out
2 years ago
You go girl. Noticeably a darker green since we started on blood meal and got the ph dialed in just right. The new greenhouse arrives today so the girls are getting a new home
2 years ago
Nice overall growth, noticed a new, deeper shade of green color today.
2 years ago
Started on blood meal additive yesterday, worked a small amount into the soil before watering. Also added a "halo" to support growth
2 years ago
Nice development. Using Sea Grow nutrients 16/16/16
2 years ago
Bigger every day! She measures roughly 12" tall by 14" wide @node to node
2 years ago
Explosive growth in the last 24 hours. Going to start measuring tomorrow to keep a running daily record of growth since switching to the up all night lighting scheme. One more note, I've started using hemp twine to pull down the larger of the stalks to open up the main stem to greater light penetration
2 years ago
Screwed up on the lighting so sending the poor girl back to veg now. Outdoor sun from seven am to roughly seven pm then into a small enclosure with two broad spectrum LED bulbs 90CRI @ 1600 lumens each.
2 years ago
kolchak707 Growth exploded today, picture coming soon