MMXX
MMXX first photo grow
2 MMXX photo . I am starting them out in 2x4 tent for veg. Coco coir perlite 70/30 mix general hydroponics nutes . Debating on scrog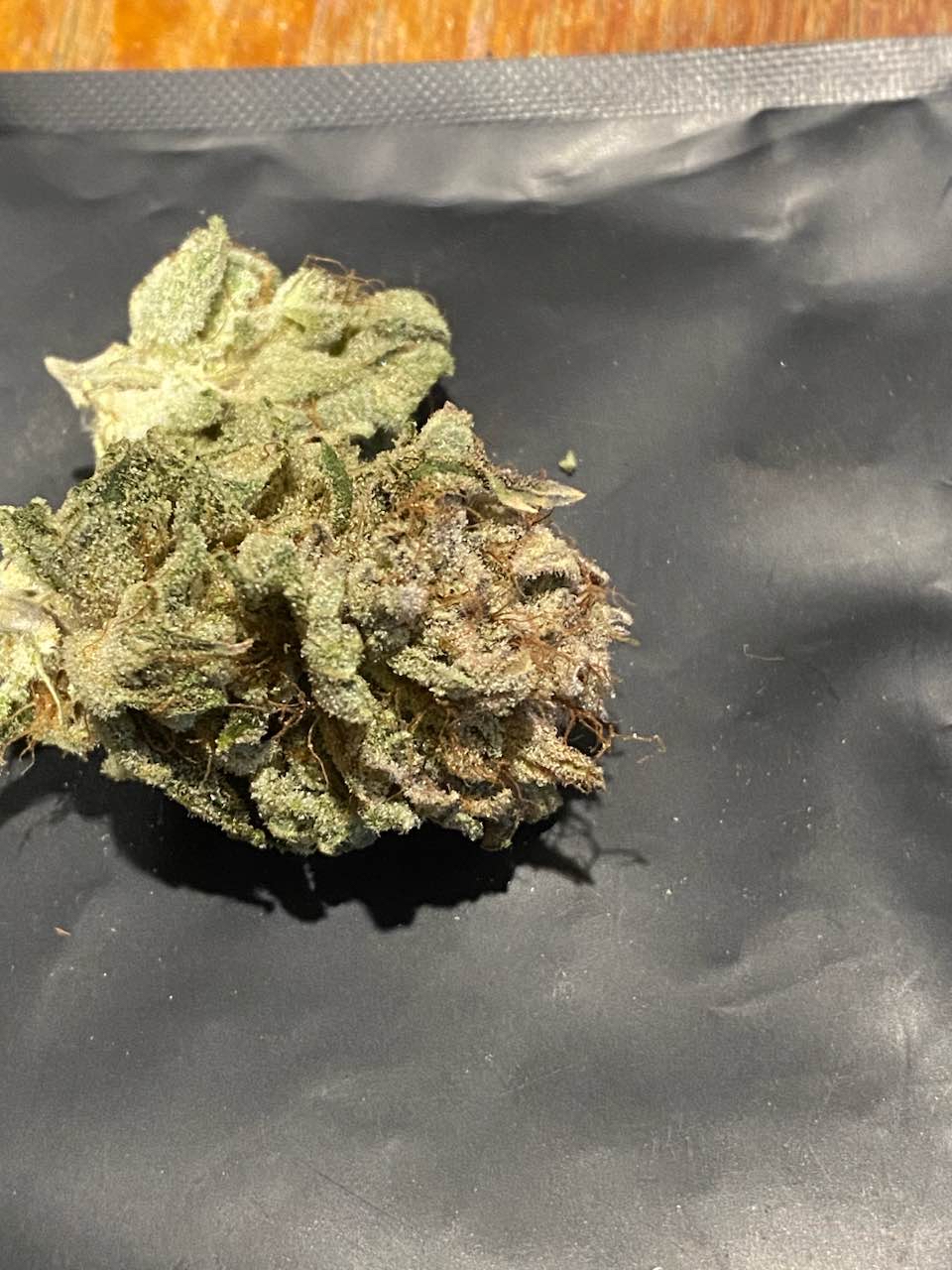 Been in grove bags couple months now posted finished product.
9 months ago
View 1 additional comment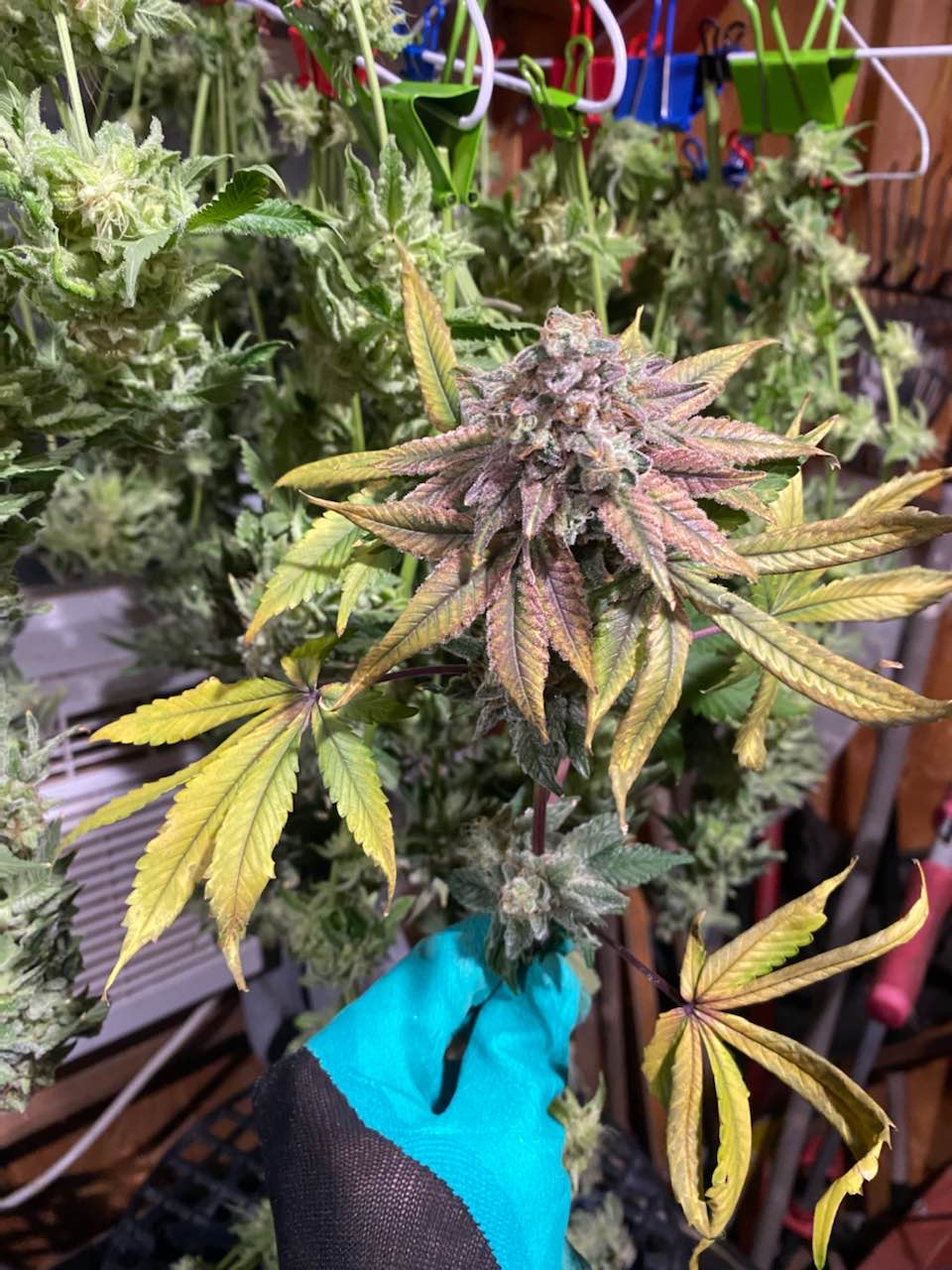 Chopped all three plants down over past 3 days. One at 24 hrs darkness one 48 and the other 72 . I notice big difference in smell between the 24 hour and the 48 hour but not much of a difference that I could tell between 48 and 72 .
a year ago
63 days since flip . Think I will 🪓 and hang tomorrow. 🤔
a year ago
61 days since flip . Starting to fade plan to 🪓 sometime this week.
a year ago
56 days since flip . Maybe chop this weekend second grow for me trying to time it based off trichomes . What y'all think be ready by Sunday ?
a year ago
Pushit Looks ready to me. Depends on what you want for end product. You're probably at peak THC levels. Seeing a few ambers. Start flushing if you haven't already.
jheilaman Thanks guys . I have not completely went to pure water yet but I'm down to about 175 ppm atm . It's coco coir so shouldn't hold much nutrients and been watering daily 20% runoff . Will start my flush today . 😁
View 5 additional comments
55 days since flip . Getting closer maybe chop this weekend . What y'all think ?
a year ago
46 days since flip
a year ago
42 days since flip.
a year ago
jheilaman Thanks OG . Yours is looking good as well. Your scrog setup is nice 👍🏼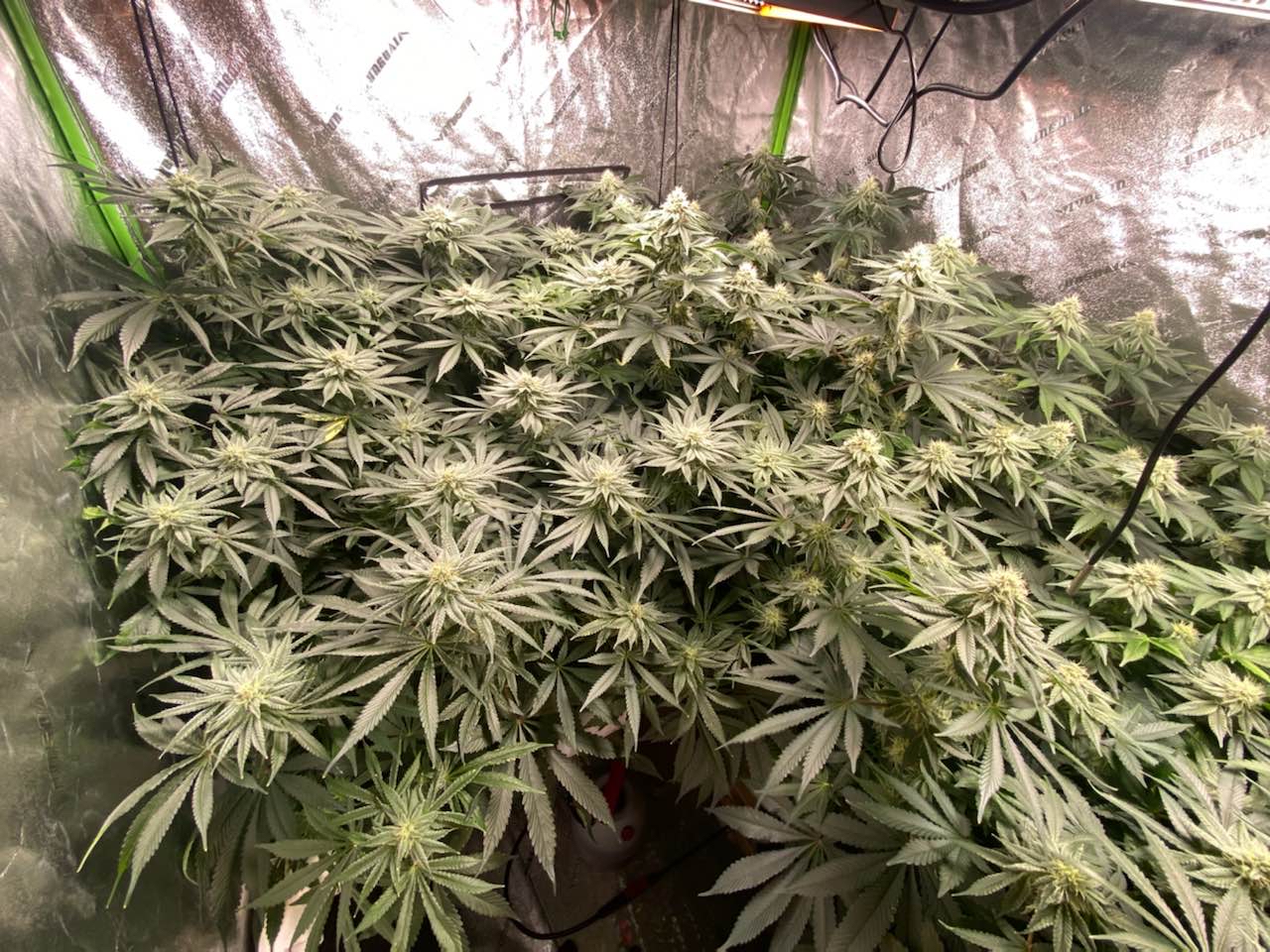 36 days since flip 31 days first pistils
a year ago
jheilaman They are really bushy I've been able to keep the humidity in the 50's so far . Am I safe to trim upper fan leaves this far into flower to get better air flow and expose more light to bud sites . Any advice would be appreciated they seemed to take trimming and lollipop good but have not done any trimming since I lollipoped after fist week of flower
34 days since the flip .
a year ago
28 days since flip 23 days first pistils. Getting frosty 🥶
a year ago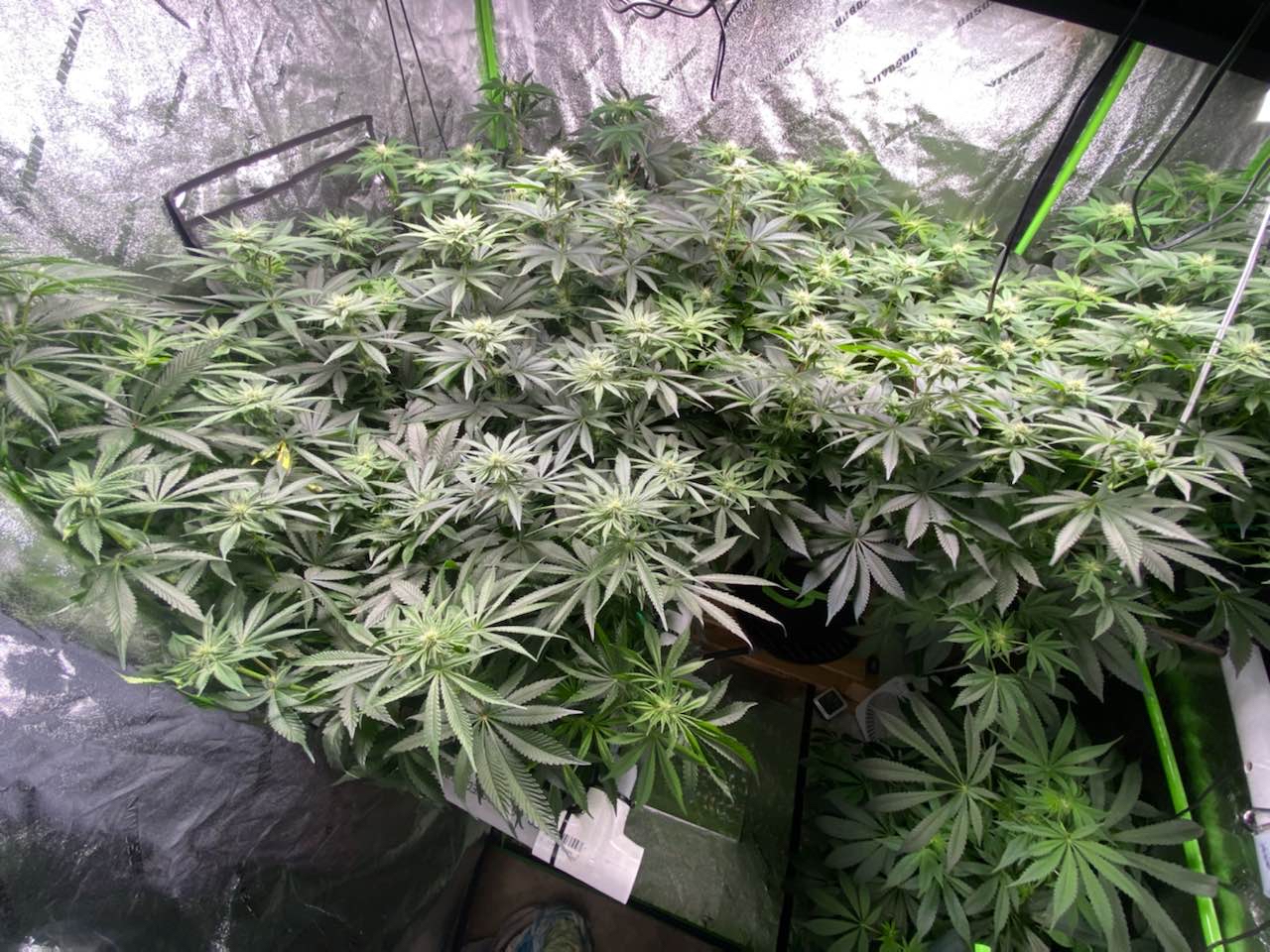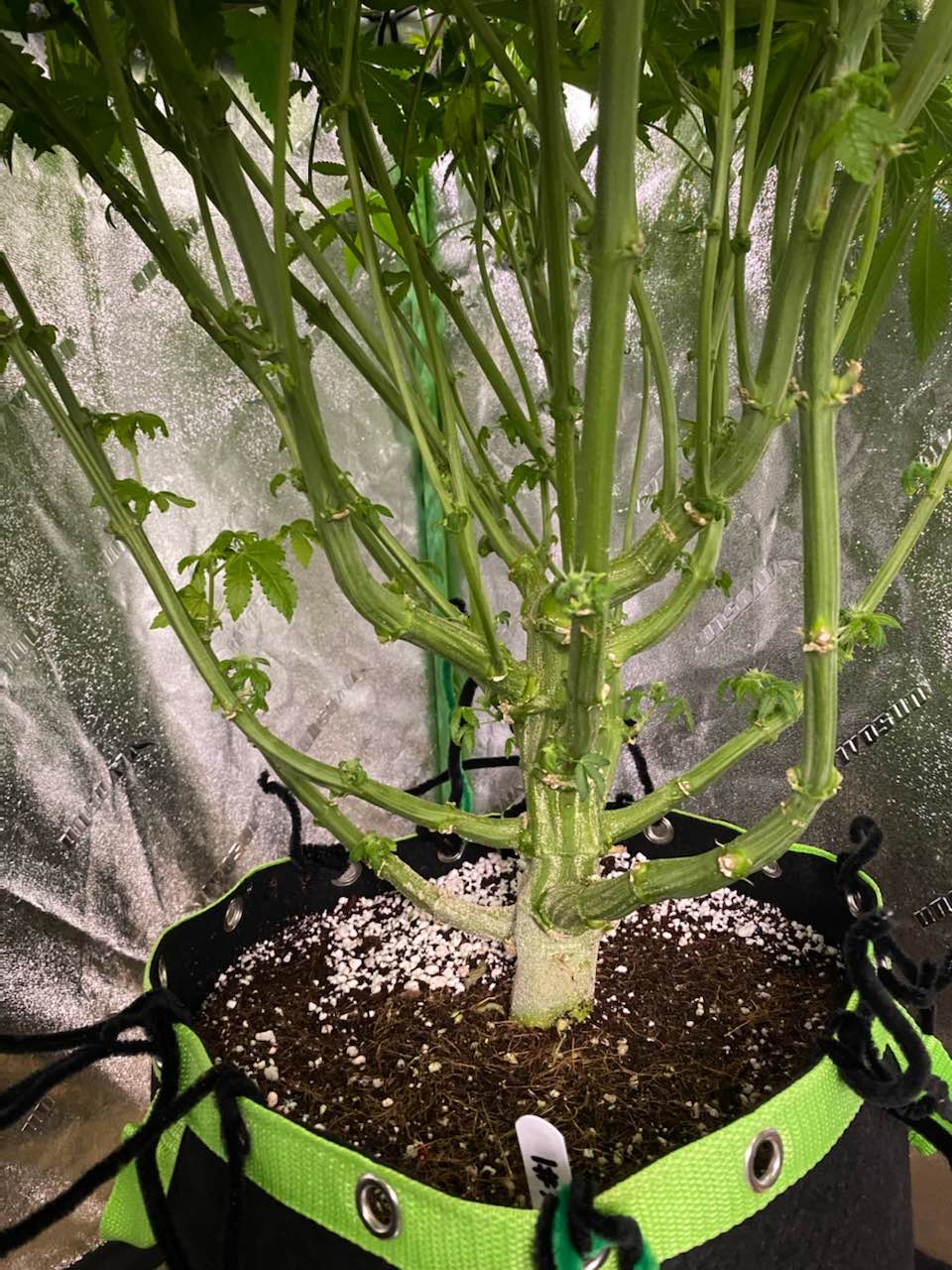 22 days since flip . 17 days since first pistils. This is my first lollipop I have done . Lollipoped all the plans 15 days ago but have small bud sights showing back up . Am I good to go ahead and trim those off being about 2 weeks into flower ? Also should I be trimming leaves above the net at this point ?
a year ago
ig:@eaegifts Some ppl do a trim around day 21 within the canopy but the small stuff that's back after the lollipop can definitely go, that stuff won't receive light so won't develop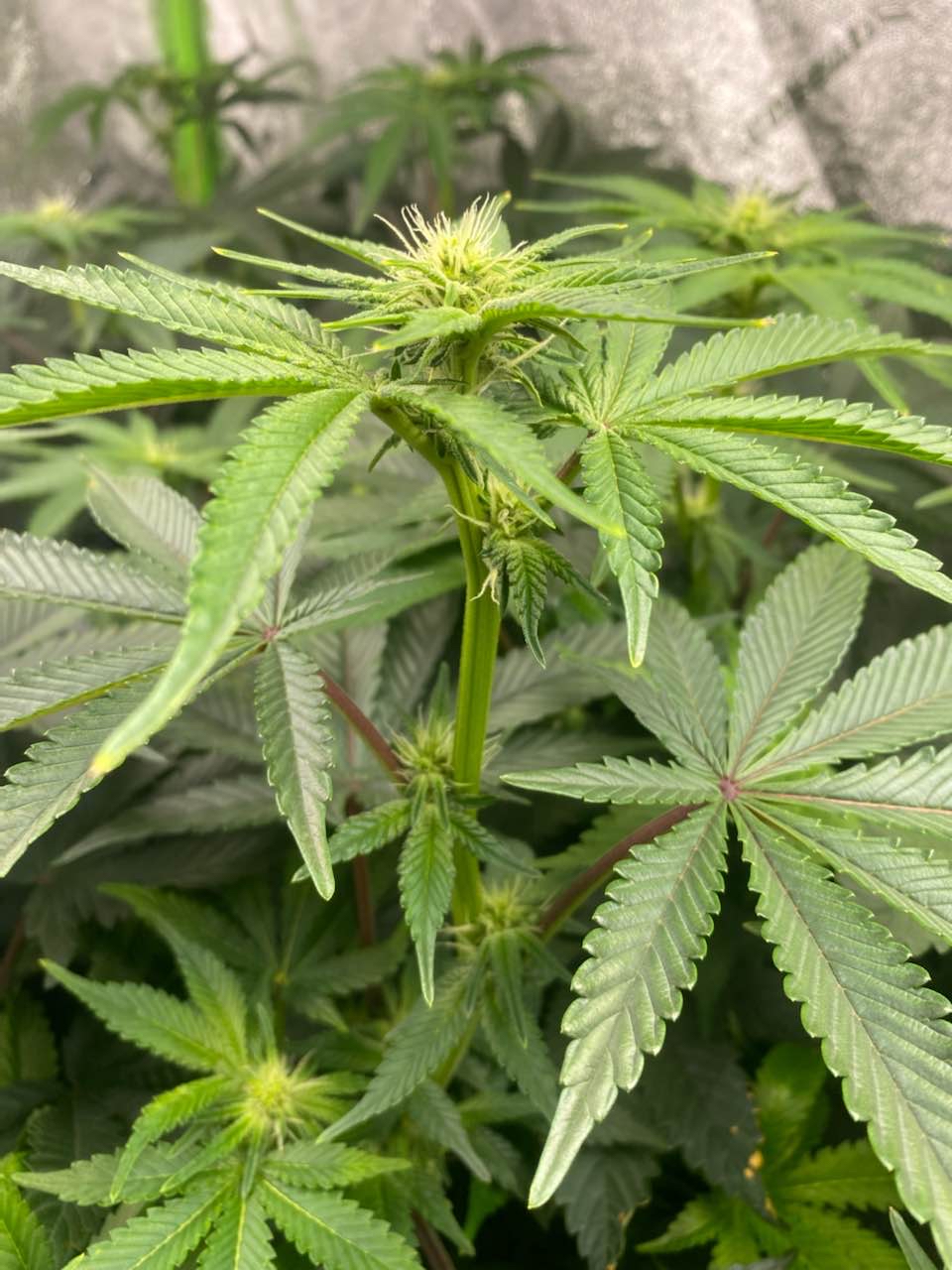 19 days since flip 14 since first pistils. Seem to be happy
a year ago
17 days since flip 12 since first pistils. I have another net been debating if to add it or if they are about done with the stretch .
a year ago
jheilaman Thanks OG appreciate that . I'm starting to get lower bud sites again under net when should I trim those off again to keep plants energy focused on the tops ?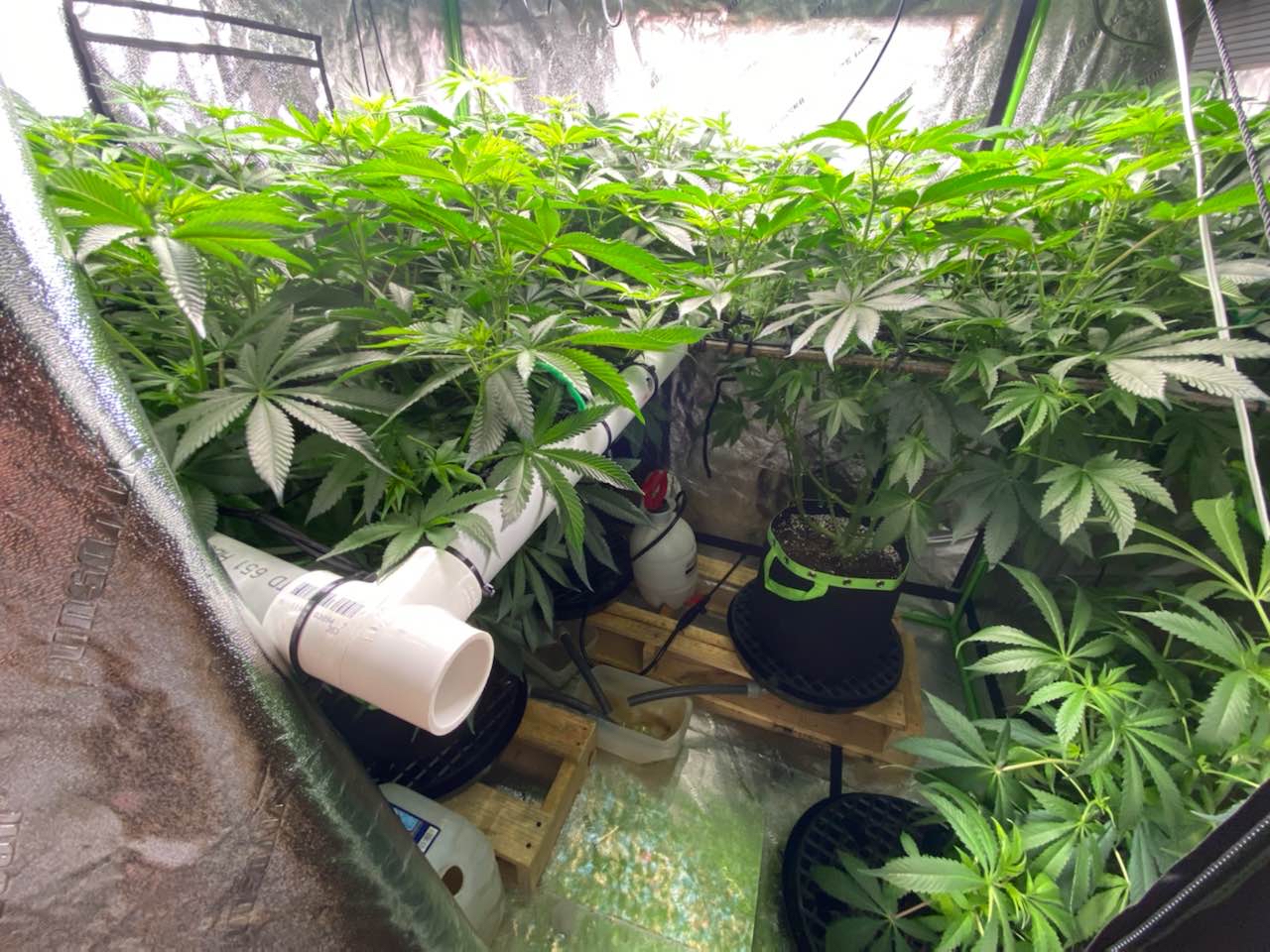 15 days since flip and ten days since first pistils
a year ago
Been about 20 hours since lollipoped the other 2 girls . All seem to have taken it well and chugging along .
a year ago
Lollipop one plant yesterday. Wanted to wait to see how she reacts before completing other 2 . Pics were before lollipop the one plant . 🤞🏻
a year ago
Pics from couple days ago . So I was planning to finish lollipop on Friday . I flipped to 12/12 5 days ago and when checked on the plants yesterday I noticed they were already showing first white hairs at nodes…… so my question is am I too late to finish up lollipoping them ? Also these are photos not autoflowers
a year ago
jheilaman Anyone that maybe has some experience at this . Any advice would be appreciated. The stuff I have looked up some says to not do it after signs of flower and some say it's fine during early flower stage 🤷🏻
jheilaman Ok thanks . My worries was stunting it and having small buds at harvest. First time to lollipop and did not expect them to start showing pistils so damn fast . Next time I'll lollipop before flip .
Long time since update . These girls have been topped and LST . I was not able to add a net until today . It's day 3 since the flip was planning to lollipop in a week . When do y'all guys lollipop your plants ?
a year ago
Transplanted to five gallon pot Saturday and topped 2 bigger plants this morning.
a year ago
Started LST waited little too long stalks are fat and feeding 385 ppm and rising daily
a year ago
Growing 320 ppm general hydroponics full cal mag
a year ago
Doing good couple rust spots top left plant new growth looks good hopefully stress from transplant
a year ago