Purple Lemonade Auto
420 Fast Buds
2 x 3 gal smart pot. Coco - Perlite mix. Hesi nutes.
A bit overdry but i will fix that with humidity packs in curing. 108 gr total second plant.
a day ago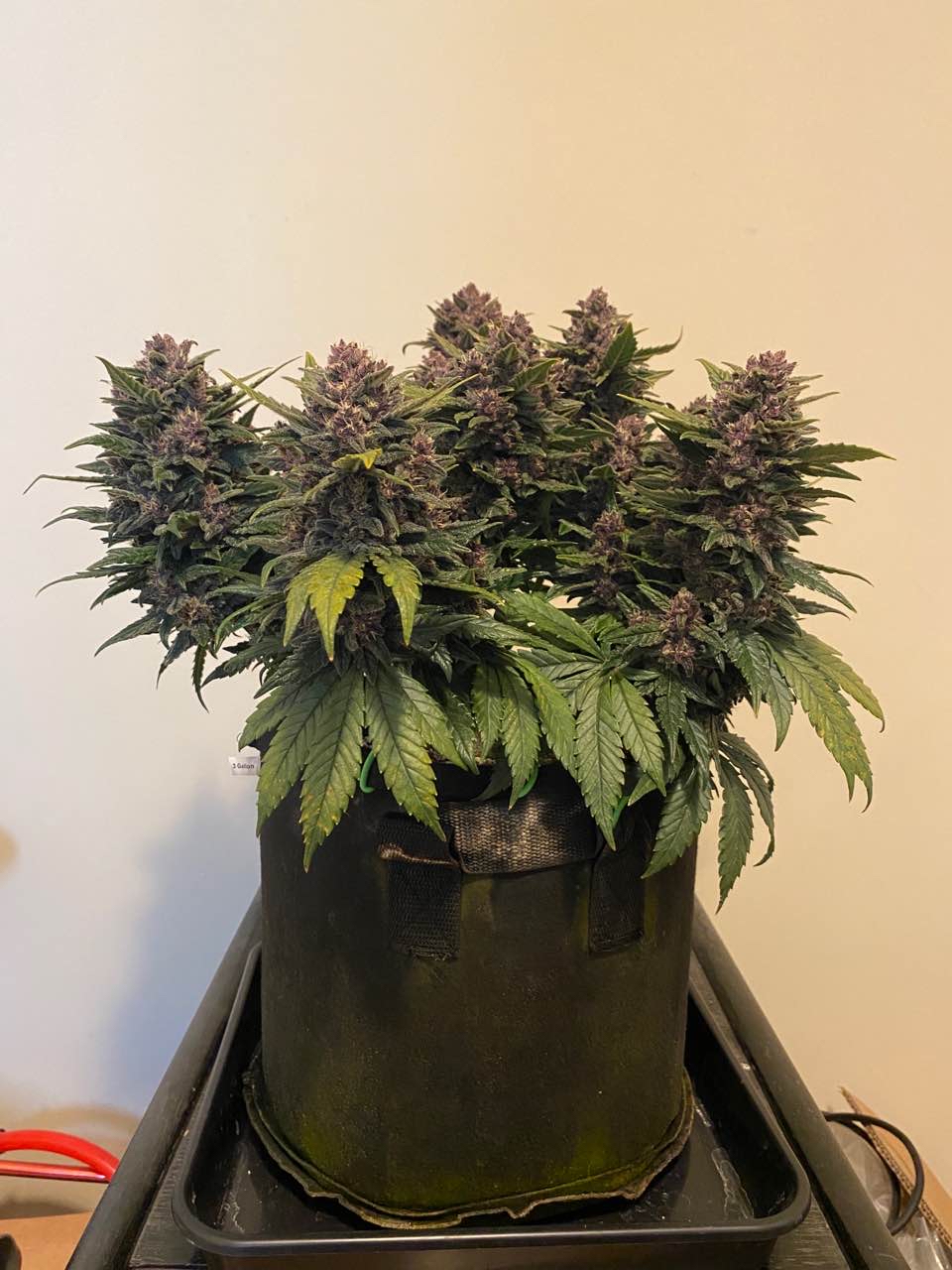 Chop 🔪 day. Just light trim for drying. Smell is strong and sweet.
9 days ago
Small plant dried 43,6 gr.
12 days ago
Final days. PPM runoff reduced to 350. Just RO water.
14 days ago
First plant harvested today. Drying at 50 RH / 20 C.
16 days ago
organic_grower Looks awesome man! 👏 Be careful for mold at the center stalk when drying in those big nugs.
GreenElf Thanks guys. I have good air circulation but for sure i will watch them carefuly. 🙏
View 6 additional comments
Second plant defoliated 2 days ago to open lower buds. Starting flushing today. Few more days and harvest. This one smells very sweet and fruty. Lemon and berries.
15 days ago
Flushed with final flush today. I am harvesting in day or two.
18 days ago
GreenElf 😎 she smells and looks totaly diferent than second plant, same strain diferent pheno.
View 2 additional comments
Small plant just RO water. Drain at 330 ppm. Big plant full nutes. Removed some fan leaves yesterday.
21 days ago
Big plant 2/3 bloom nutes plus big bud, pk calmag full dose. Small plant flushing with RO water
24 days ago
Big plant full strenght feed. Small one starting flushing
a month ago
New pistiles and fatening on small plant.
a month ago
They love more PK. Light moved down at 16 cm from tops.
a month ago
Flushed with 5 ml calmag in 3L water.
a month ago
Left plant started full flower. Need more cal-mag. Starting some dark purple flowers and sugar leaves. Right plant fatening buds. Temp reduced to 21 C @ 50% hum.
a month ago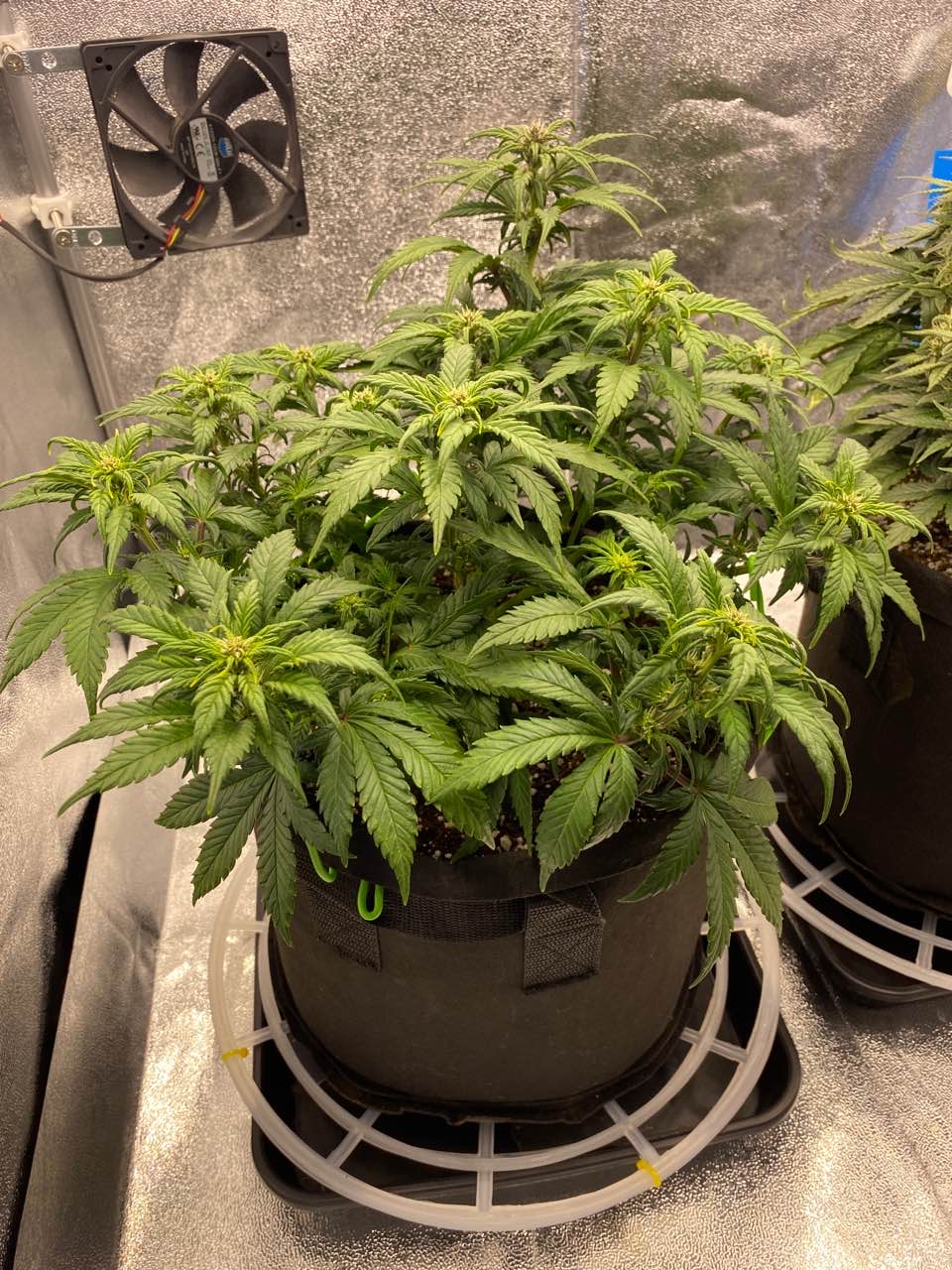 Some defoliation and lower buds trim on bigger plant. Light at 100% @ 25 cm. Temp 25 C Hum. 55 %
a month ago
Feeding today with bloom set of nutes. 2,6 L each plant.
a month ago
GreenElf Left plant laging in flowering about 2 weeks
Left plant that was lagging in start now looks great, streching and entering flowering. Right plant was small but forming nice buds full of trichomes. Feeding later today
a month ago
3 liters each. One flowering and one 70:30 grow flowering nutes. Left plant finaly starting preflower.
a month ago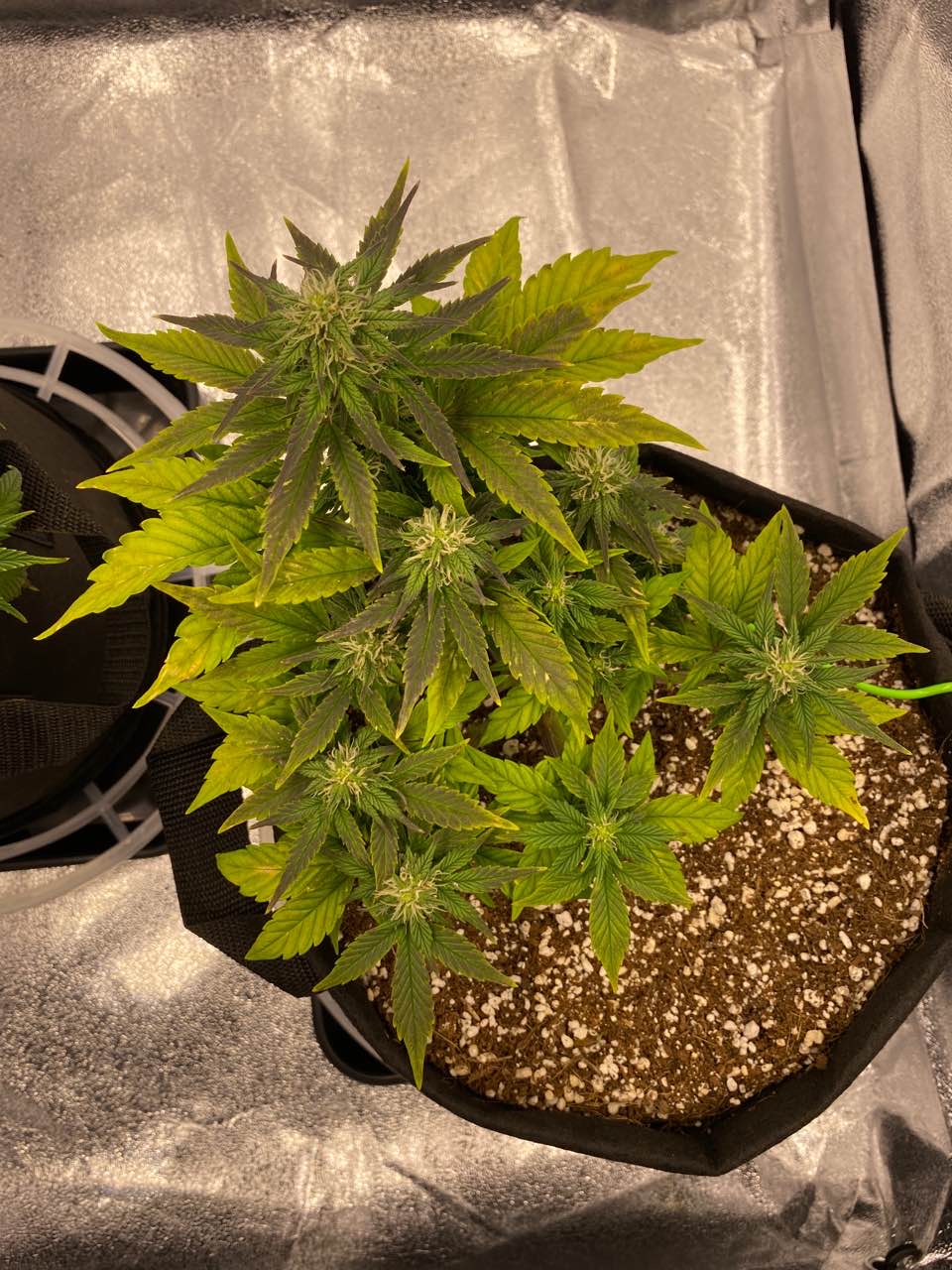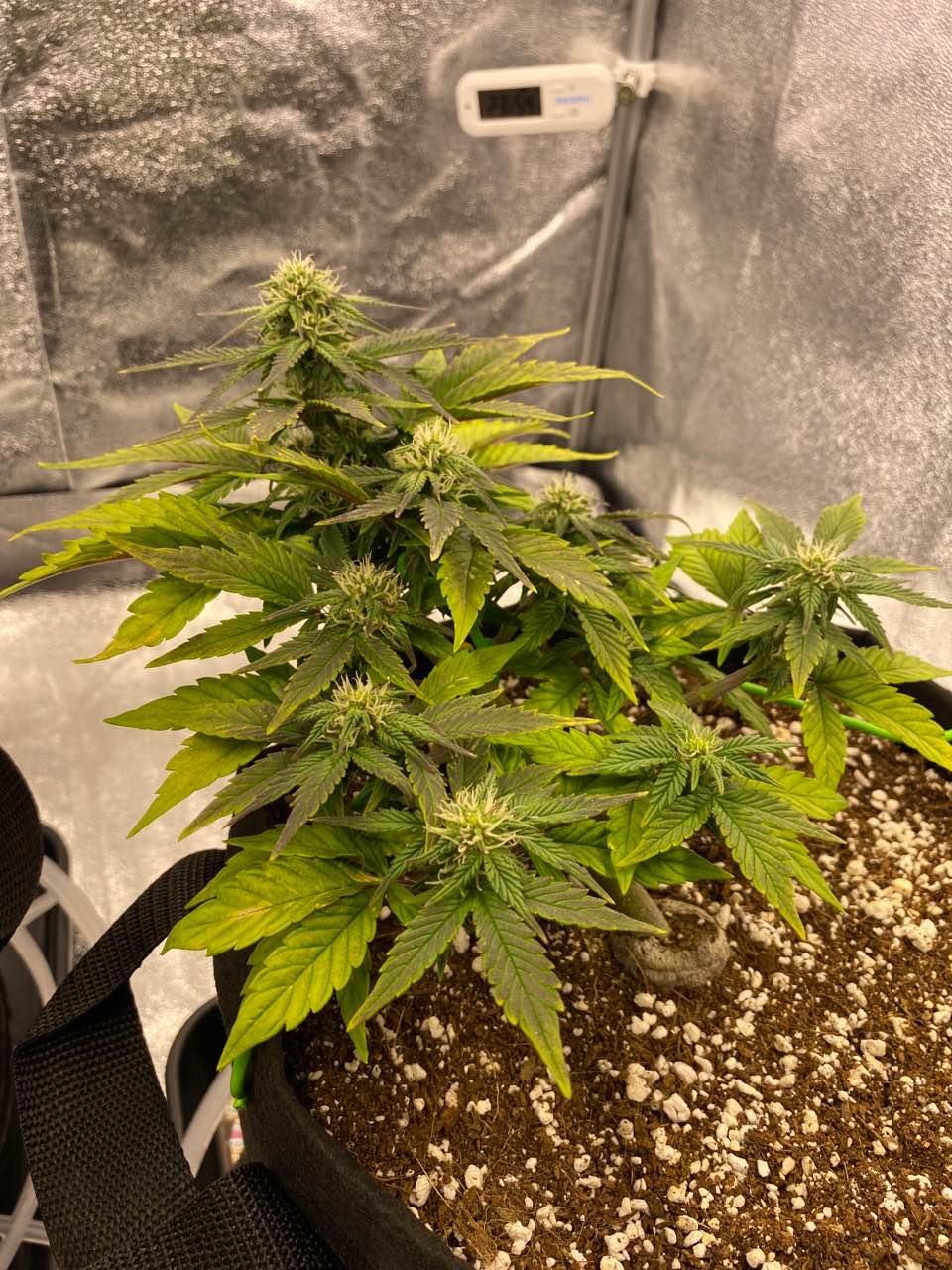 Right plant stayed small and flowering. Left plant looks great now. I hope for more streching before flowering in next few days. Feeding tommorow with more calmag and nutes.
a month ago
They look much better today after flush and new calmag. Trimed and ready for flowering.
2 months ago
Flushed yesterday.
2 months ago
Left plannt very bushy, no preflowers yet. Right plant recovering green after epsom salt and molases spray and ferteigation.
2 months ago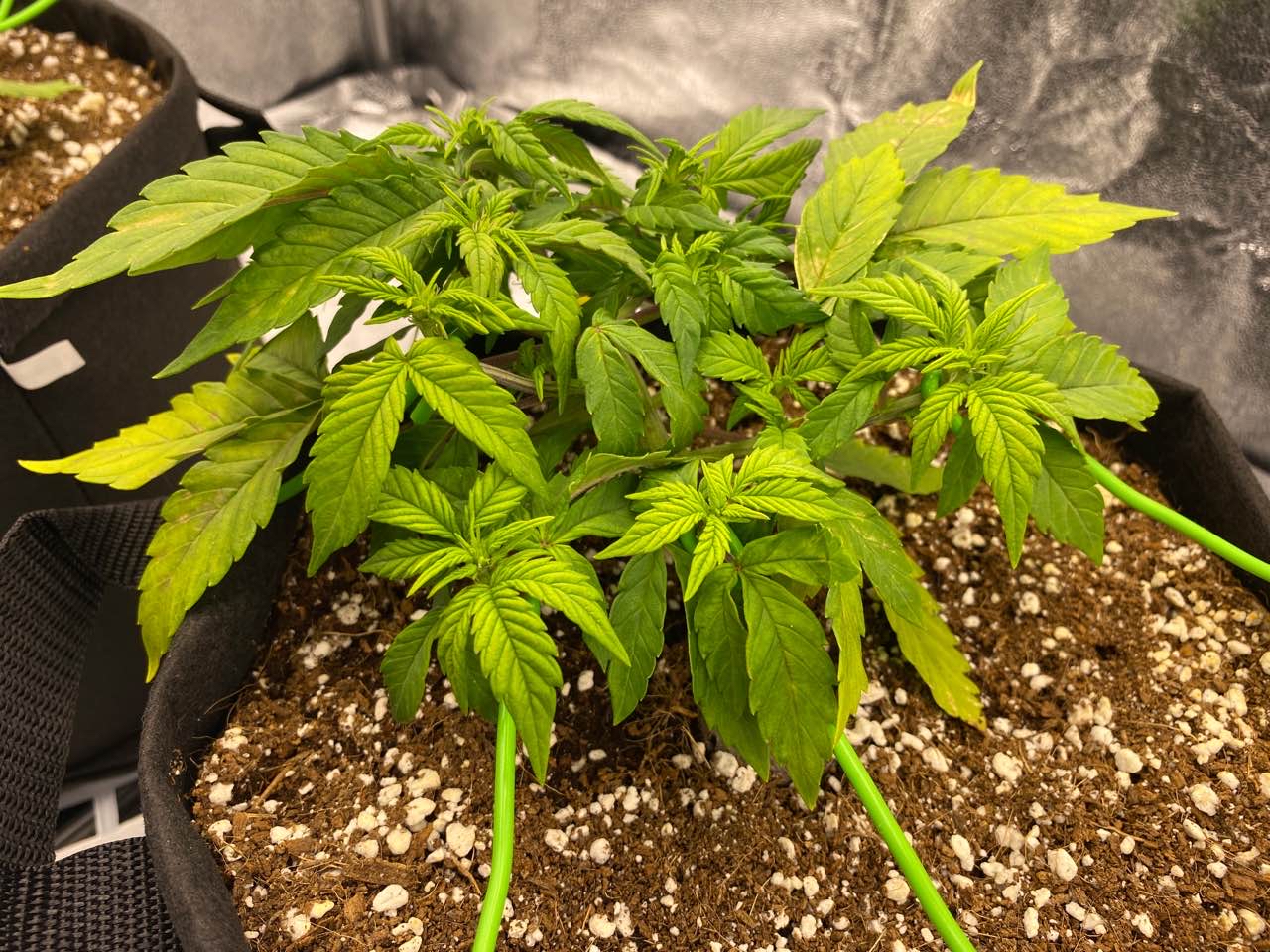 Problems with calcium deficiency. Sprayed with some eggshell in vinegar
2 months ago
Lights at 25 cm / 75%. Right plant preflower left not yet.
2 months ago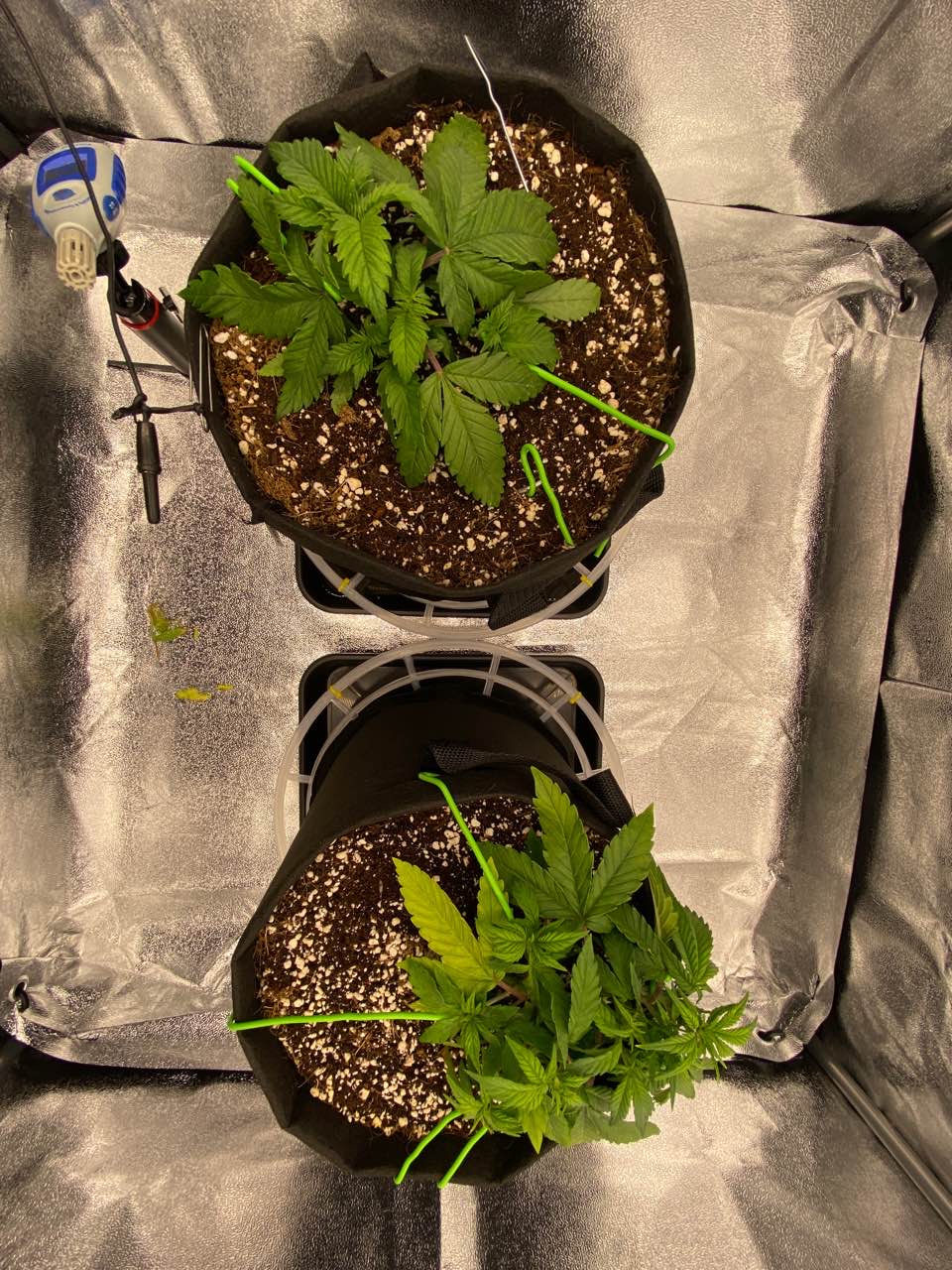 RO with root complex and enzimes 2 L each pot.
2 months ago
LST in progres
2 months ago
Add more airflow inside. Temp 23 C Hum 60%
2 months ago
Left plant looks great now. Fully recovered. Right one likes LST.
2 months ago
Left plant fully recovered colour and growth. Right one started to push nodes so i started easy LST. Tomorrow feeding day.
2 months ago
They like new light. Restoring some colour on bleached parts.
2 months ago
New lights arived. Set at 40 cm @ 60% power. Those old purple leds burned and bleached plants in 3 days 🥺
2 months ago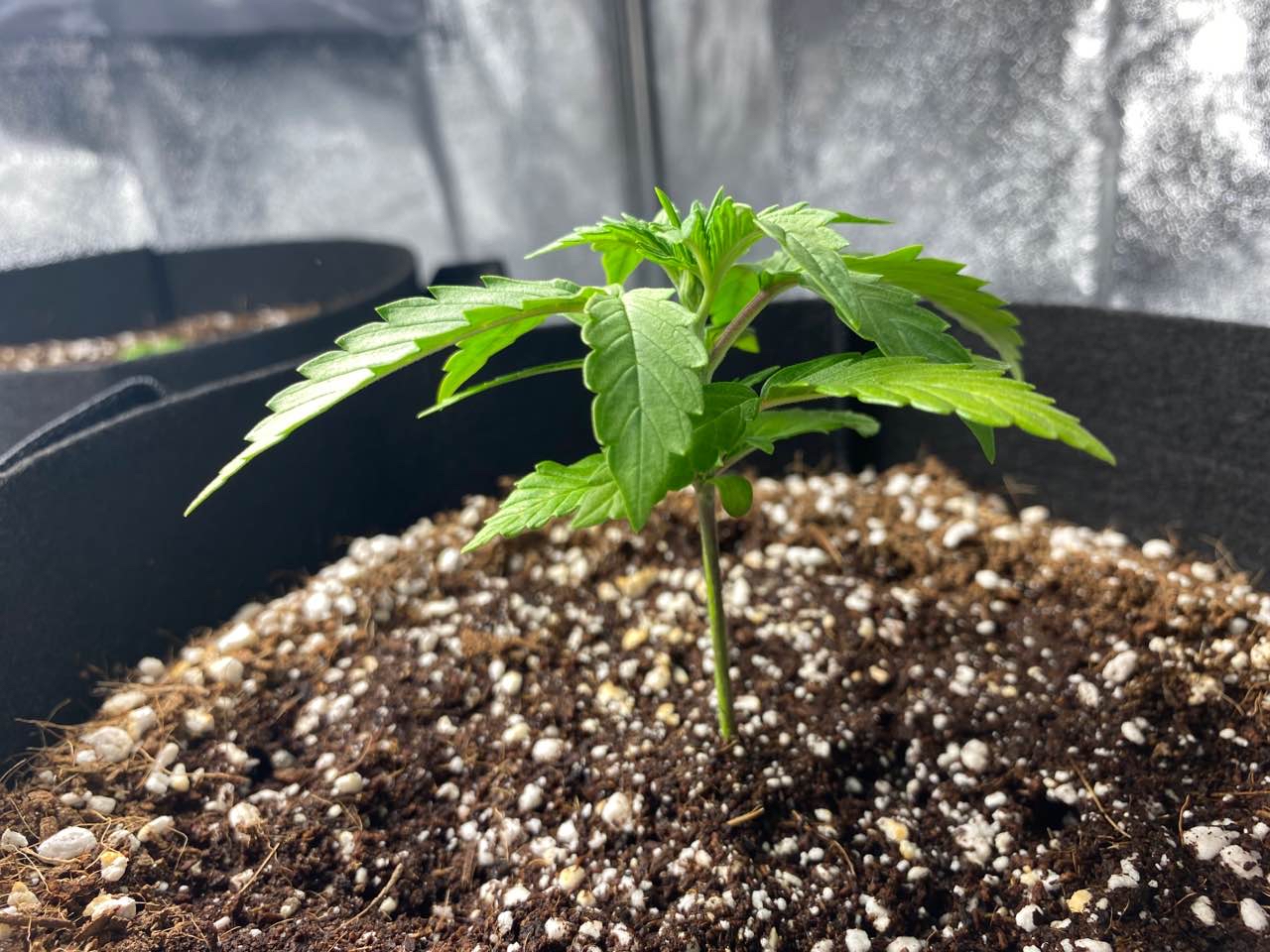 2 days ago switched to old purple LED light at 40 cm height. Left plant looks much better but i think she have light burn on new grow so i moved light 5 cm higher. Right plant pushing 3rd node out and look great. RO 1 L with 1,5 ml TNT, 2 ml Root complex, 2 ml Power Zime and 1 ml Cal Mag per plant. Ph 6.0-6,1
2 months ago
Left plant laging but picking up.
2 months ago
Hum 80% temp 22,5 C
2 months ago
Light is 5 cm close to top and 1ml/l TNT. They love it.
2 months ago
Right plant doing fine. Left one finaly showed signs of life after she had problems with rooting in bad jiffy. Feed them yesterday super vit, root complex, fev drops of TNT, Cal-Mag and bacteria. Still on PL-L 2x55 W lights.
3 months ago
First light nutes for big plant. Small one have 3 more days to bounce before i replace her.
3 months ago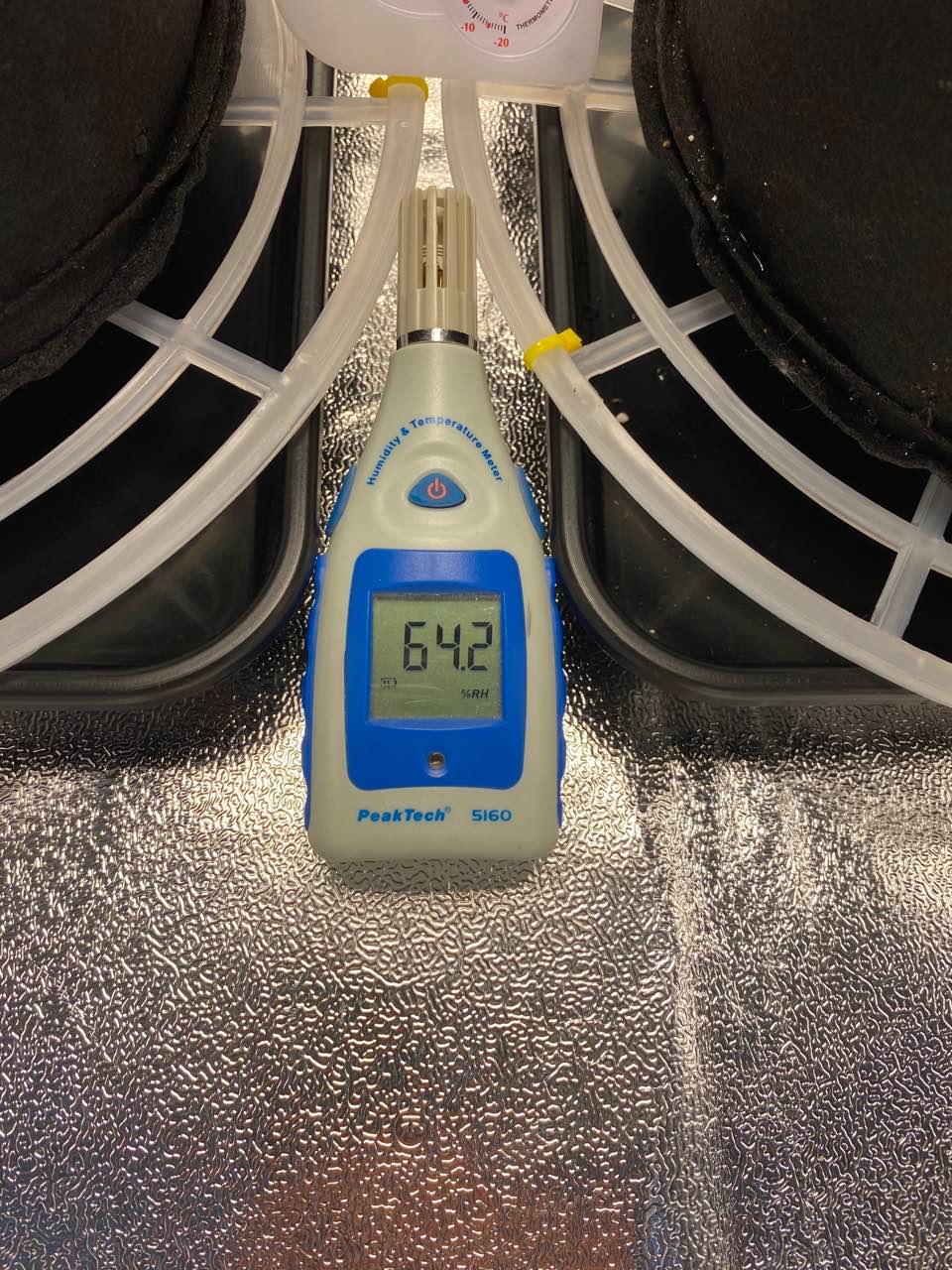 Moving to 3 gal pots
3 months ago