Banana Daddy Auto
Summer 2022
3 pots 3.5 gal pots with perlite, only 1 seed surfaced.
Bud density could have been better, not sure if the plant didn't mature all the way / drying process was incorrect / I was too light with the nutrients.
8 months ago
She's been 🪓.
8 months ago
Almost day 80! I also got a brand new 2x2 from AC Infinity! It wasn't too pricey but 100% worth it. I'm still trying to figure out the controls and shit but I'm getting there🤣This girl should be ready to chop any day I'm just waiting mostly on the bottom half to finish flowering 😎
8 months ago
RhysDaShoota Also gonna be starting some stardawg and runtz 😮‍💨
She's been a lil sick with some deficiencies so I gave her calmag for the first time and believe it or not have her the first Ph'd water. She's gonna look amazing in the morning. Not a lot of amber trichs yet tho I'd say no more than 2 weeks? What y'all think 🤔
8 months ago
Sinewygbm Great pix. You're trichomes look white and clear. May be ready in a couple weeks more.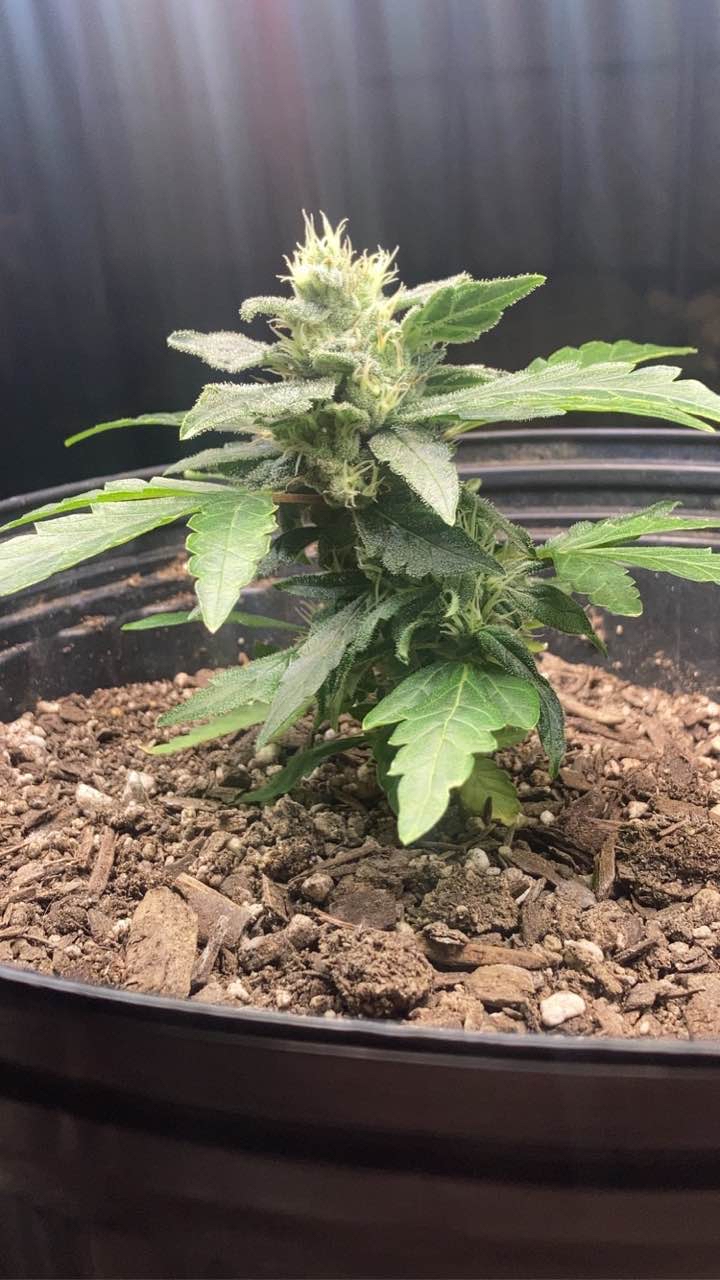 Coming close to an end, just waiting on those hairs to turn orange and some more thickening to happen to the buds‼️Trichome production is 💪
8 months ago
Brohaim Crazy that such a small plant is in this stage!
View 2 additional comments
8 days later 😵‍💫
9 months ago
already seeing trichs 🙌one of my biggest fears as I'm trying to grow cannabis was not being able to have any trichomes whatsoever(because an old school buddy of mine couldn't achieve it) but looks like I'm doing some things right🤔this banana daddy from Ethos might not be MUCH bud, however I will make sure it's POTENT bud😎
9 months ago
Hoping that these white hairs are just the plant showing it's sex, it is an autoflower, and not that its budding up ALREADY.
9 months ago
stick e fingerz At day 38 it's probably Preflower. Autos flower based on time not light so yeah probably gonna be dwarf
RhysDaShoota That's disappointing, but atleast I've learned a lil something, I'm thinking it's either underfed with nutes or the light I have just isn't enough for it to blow up with growth 🤔
drdave1 Don't be disappointed it will grow up fine
Kinda had a little growth spurt… are those white hairs in the middle pistils ?🤭
9 months ago
getting there🙌
10 months ago
Week 4‼️ I'm thinking by now she should have a lot more growth🤔she's either stunted or stacks knodes really short,or both 🤣
10 months ago
WhoKnows420 Over under watering will cause nut intake to slow or stop, blue light shrinks plants legit and some plant are weird small but with dense thick collars, or they spread during flower, true pheno hunters would hesitate to grow most females because growth doesn't directly apply to terps and taste
I was under the impression autoflowers did the best under 24hrs of light, however I did a little reading and found out they need to rest and recuperate, as we do. So I'm starting 6hrs of darkness now and 18 of light later🙌
10 months ago
New leaves are coming in kinda quick
10 months ago
Watered her yesterday😮‍💨
10 months ago
Maybe it's a little stunted? 🤔can y'all lmk what y'all think.
10 months ago
A little growth. Y'all think it's a little stretchy?
10 months ago
Gave her MINIMAL amendments (4-4-4 and glacial rock) and also very minimal water. Accidentally spilled a little on top of her and tried to clean it off, hope that doesn't burn her or anything.
10 months ago
Gave her some to drank 🤔
10 months ago
I'm just watching closely 👀
10 months ago
24 hrs a day lighting
a year ago
True leaves pretty much completely opened they getting that light now💪
10 months ago