Unknown reg seeds + some wedding cakes from dark heart nursery
Winter 21-22
Picked up some wedding cake clones from dark heart nursery and have created some more from the strain I have those in with three regular scenes I had from my buddy.
3 Unknown regular seeds + 4 wedding cake clones
Update the wedding cake almost done at only 6 weeks 😳🤣😝 "correction" 5 weeks wth
a year ago
Really stacking the flower coming into week 4
a year ago
Peeper Very nice and looking great 😊
The biggest wedding cake clone kind of got pushed to back left but she's still doing alright!
a year ago
Caliban You should read Neil Stephenson.
View 19 additional comments
Will get something off these little clones lol
a year ago
Definitely some blue dream genetics in this random photo lady!
a year ago
Flowering coming along nice 👍🏻☺️ should be about week two today!?
a year ago
LazerusLong88 Yeah its one of the cheapie chinese full spectrum led with ir and uv seriously sooooo amazing for the price. 109$ two lights one driver
View 2 additional comments
Hoping were getting near the end of their stretch, trellis net for this tent should be here Tuesday
a year ago
xXTheWolfXx Next time don't defoliate that hard. Leave the leafs alone and just selectively defoliate some of the leafs that are blocking budding sites.. the fan leaves are solar reflectors..then after week 2 after the flip, you can go a little harder with the defoliation, but spread it out over the duration of flower..your lollipopping looks good though…check out my newest thread I have going to give you an idea. Follow it. I have been growing since the mid 90s. My style of grow is for big buds, not overall yield..with my style, I loose about 1/4-1/3 of my overall yield, but to make up for it, I stack more plants in there, instead of 12 plants, I do 18, and over veg them, cutting many of the lower branches off and lollipopping the remaining branches.. I'm only after the grade A, B and C buds..larf sucks to trim. Happy growing bud, overall your plants have a nice shade of green.
All of em loving that first week of flower, they all praying to "Ra"
a year ago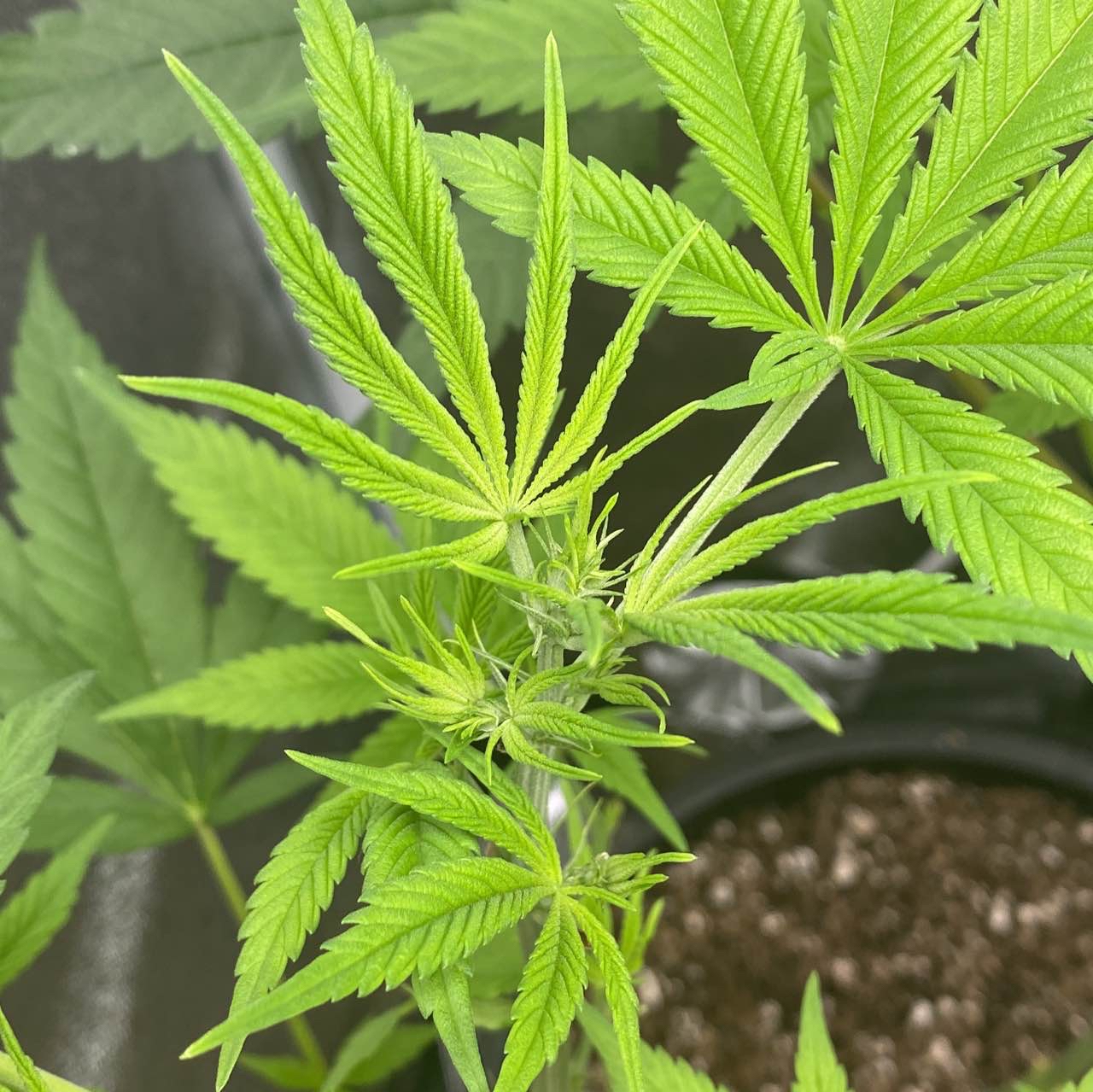 Pre flowers coming in
a year ago
All showing fem so far thank God
a year ago
Only one im slightly worried about
a year ago
Seriously! Sometimes technology is cool af
a year ago
Switched to flower three days ago. First one pictured is the og dark heart nursery wedding cake clone i picked up.
a year ago
Self taken Wedding cake clone
a year ago