Tangie
First indoor grow!
This is my first real time growing aside from a clone I have outside that's a few weeks ahead. Growing 3 plants in a 3x3 grow tent and a Vivosun vs1000. Feeding organic nutrients in fox farm ocean forest.
Life has been in the way and I've been a bit off my game and missed an couple of waterings. Plants don't seem to mind at all though. I fed neptunes harvest fish and seaweed with some cal-mag yesterday (calmag being 2-0-0) and did some work trimming up these huge fan leaves. I def see why people complain about trimming with a scrog net now lol, I'll try to keep more on top of it going forward. Real close to flower time!
a year ago
I was bored so I put in my net. Wishing it was a bit tighter with smaller holes, but hey, it was free with the tent
a year ago
Today I topped any side branch that had taken over the center stems since previous topping, and defoliated some of the lower leaves. I'm all but convinced at this point that I'm not growing Tangie, and bottom right plant is showing some different traits than the other two (bigger leaves with less points, more rapid growth). I ended up topping more branches on this plant then the other two so I moved it to the back to give it more space and keep a more even canopy when I add the SCROG net.
a year ago
Took off the top fan leaves on top and left plant so the side branches have room to grow. Bottom rights fan leaves hang out so far that I could leave them attached. She's definitely pulling ahead of the others in growth.
a year ago
Watered a day earlier then I expected. These girls are using more water then my outdoor plants. New leading stems are slow on the more squat plants, but bottom right wants to grooooow.
a year ago
torlivdo Thanks! I've started noticing that they absorb water faster than my outdoor plants, that canopy is going to fill out in no time.
They shrugged off the trimming no problem. It's interesting watching how distinctly different the bottom right plant is growing. The other two shorter plants have started putting out 9 point leaves! Whatever was causing the spots on the top plant must not have caused too much damage.
a year ago
Trimmed bottom fan leaves two days ago and then today I made the somewhat stressful decision to move a couple of the top fan leaves. I also noticed that with the extra stretch of the bottom right plant that I had topped a node behind the other plants so I retopped to even out the canopy. Hopefully I haven't stressed the plants too much.
a year ago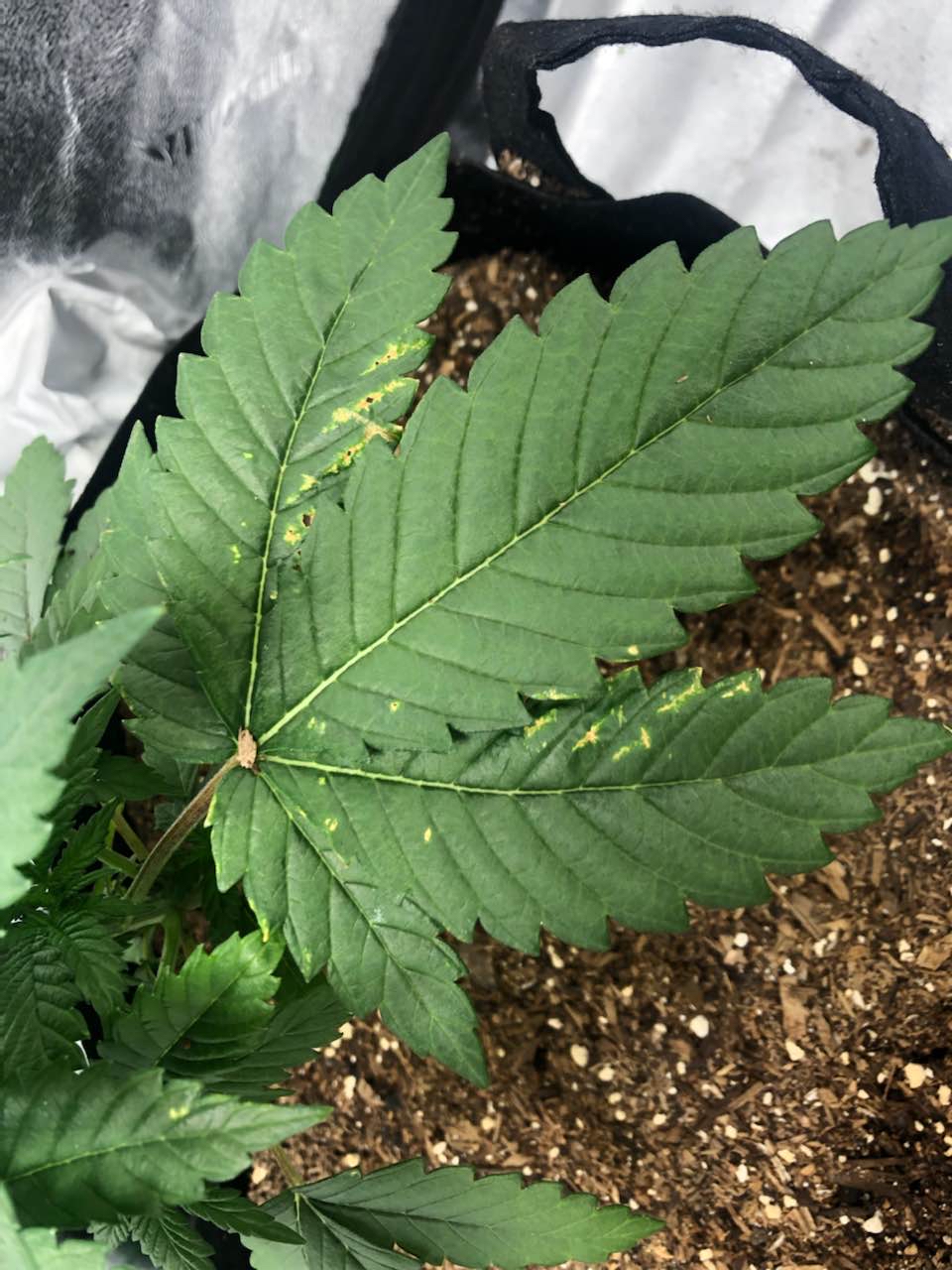 Whelp, I take back what I said yesterday… spots on this plant multiplied overnight after topping (at least I hadn't noticed them). Closest pictures I've found to compare online are still from PH jumps, but I would think I'm passed that at this Point? The issue is still isolated to this plant.
a year ago
torlivdo Just discovered the same spots appearing on my auto flower plants outside. They were all watered at the same time several days back with ph adjusted water. Im going to water again today with new water phd a little less aggressively and cross my fingers.
Topped. The plant with the leaf problems never progressed and they took to the replant no problem 👌
a year ago
Repotted. I'll be topping in a few days once I'm sure they're adjusting to their new homes
a year ago
Back from my hospital stay and plants seem healthy. Exception being the patches on the plant featured above. I did a fairly harsh ph change shortly before I left so I'm putting it down to that. None of the other plants are showing symptoms and I'm doubtful it's a watering/nutrient issue so I'm keeping an eye for now and seeing if anything progresses. Watered again with the same phd water
a year ago
Plants are looking beautiful. Over the past week I started seeing some discoloration on their stems, which reversed very quickly after finally adjusting my waters PH(probably from a ph of 8+). They've arguably taken over the autos in growth now and have much thicker stems then a week ago. I finally don't feel anxious about all my plants falling over!
a year ago
They seem to have taken to the LED light without much stress. I lowered it down a little bit today to get the light intensity closer to where I want it and plan to lower it the rest in the next day or two. I also watered
a year ago
Seeing faster development now. I topped off all of their pots to bury a bit of their stretchy stems. I also began transitioning to my main LED grow light.
a year ago
Second light seems to have worked and slowed the stretching
a year ago
Plants are going strong. I added a second light to help control stretch and continue to water about every other day.
a year ago
3/3 successful seedlings. Watered lightly with a dilution of neptunes harvest fish and sea fertilizer
a year ago