Masterkush/unknown
December 25,2021
Germination of Masterkush/unknown strain. Day1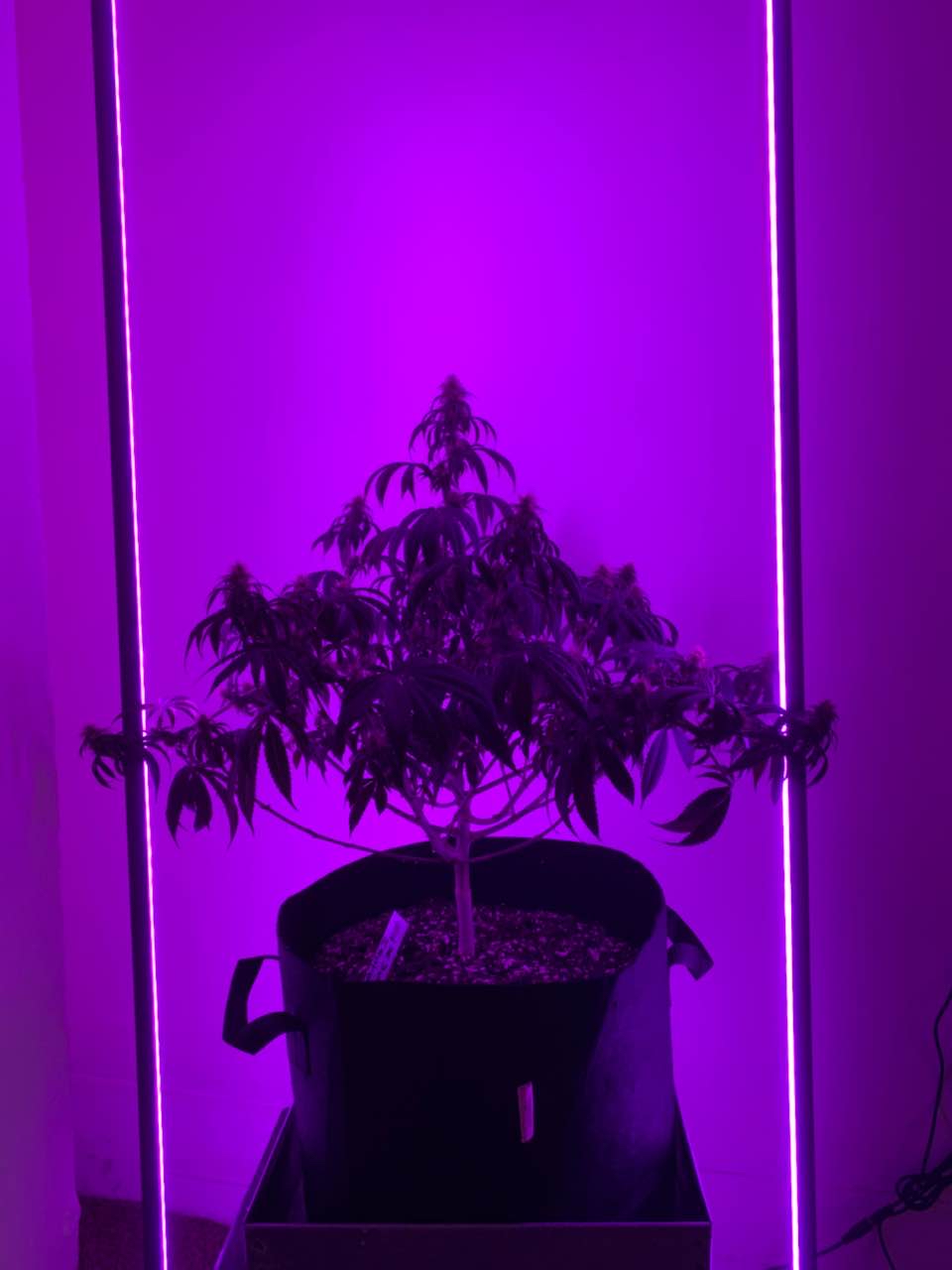 Not much going on. Fed 3,2,2 with fox farm trio on Monday and yesterday gave more water.
a year ago
HammertimeAZ I like the lighting! Are those just LED strips?
pipolor Hammertime: these are actually just decorative lights that I had laying around the house. This plant hermed so I pulled it from my tent and started using these as a backup. Idk what the output or anything is but I believe they are led. There is many different color combos or solid color choices.
This plant started to herm so I pulled it from the tent but now it will become an experiment in my hallway with two led multicolor light posts. There decorative lights but I'll see how they do for now. Also now I will be using house temp since it's not in the tent. Should be fine
a year ago
Roughly two weeks into flower. Trimmed today. And doing a flush week as well.
a year ago
Is it possible to determine if it's male or female yet?
2 years ago
Can someone explain this? Same plant but two different leaves.
2 years ago
D B Some times feeding with too much kelp or anything with plant growth regulators can cause weird leaf mutations. Also it could be genetic, what does the overall plant health look like?
pipolor @DB I have pictures posted from a few days ago. The plant has been very healthy and it only gets the trio package from fox farm.
D B Your nutes are good, I looked at your previous photos the plant looks great. I just read that occasionally this can just be an error in the dna when the cells are forming. I think it's just a fluke and your good.
View 4 additional comments
Switched to 12/12 two days ago. No changes yet. Fed today 3bigbloom, 2growbig, 2tigerbloom.
2 years ago
No hairs or sacks yet. Fed about 3/4 of a gallon 2tsp of each bottle nutrients. Today was the first day for tiger bloom.
2 years ago
Gave her almost a gallon of water with nutrients yesterday. 2tsp of big bloom and 2tsp of grow big.
2 years ago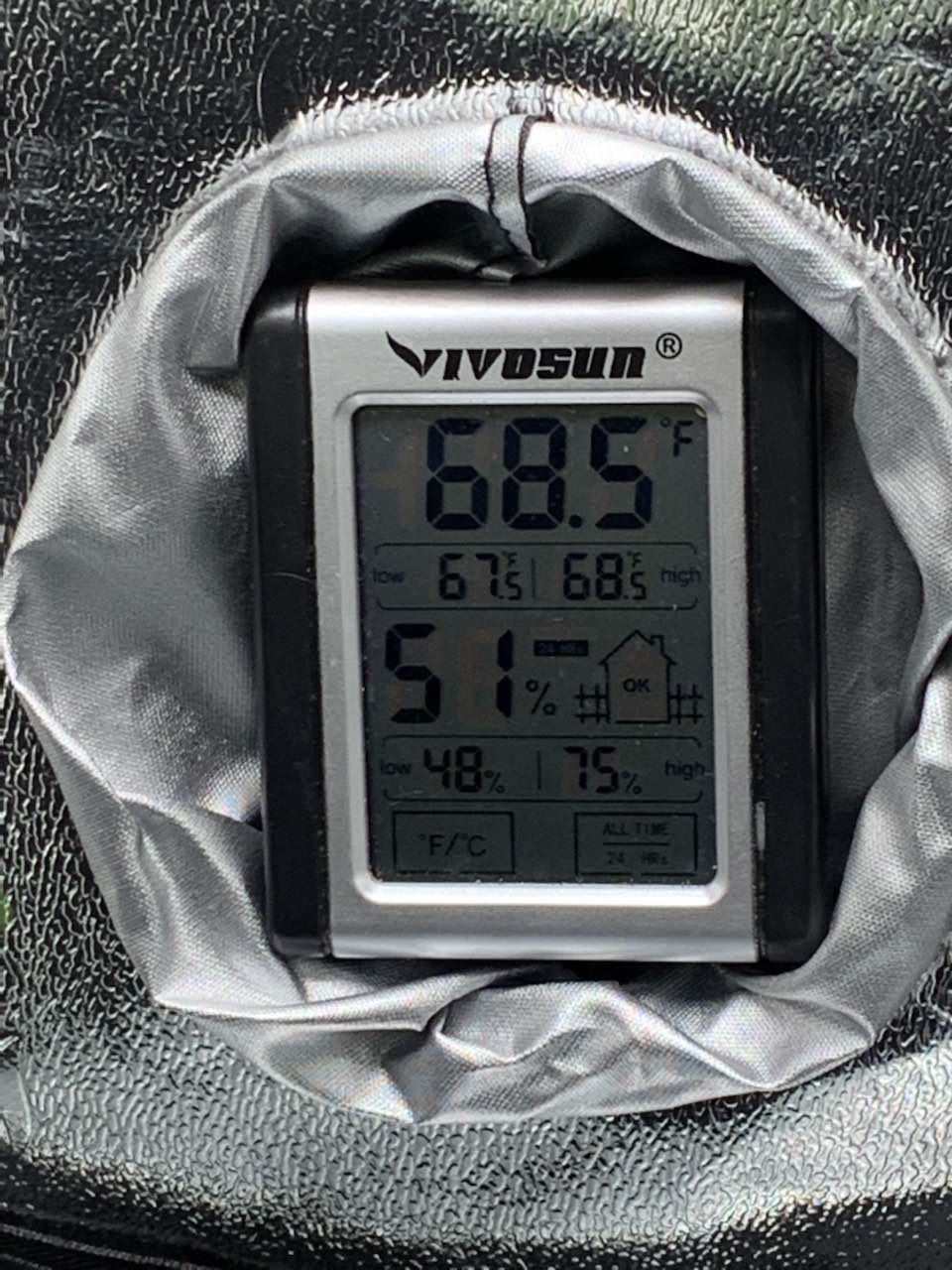 TEMP:69.1*F……HUMIDITY:80%…… I've decided to remove the leaves to let her breathe some more and also I want it trimmed down some to get ready to switch to 12/12 soon. Maybe a week or two.
2 years ago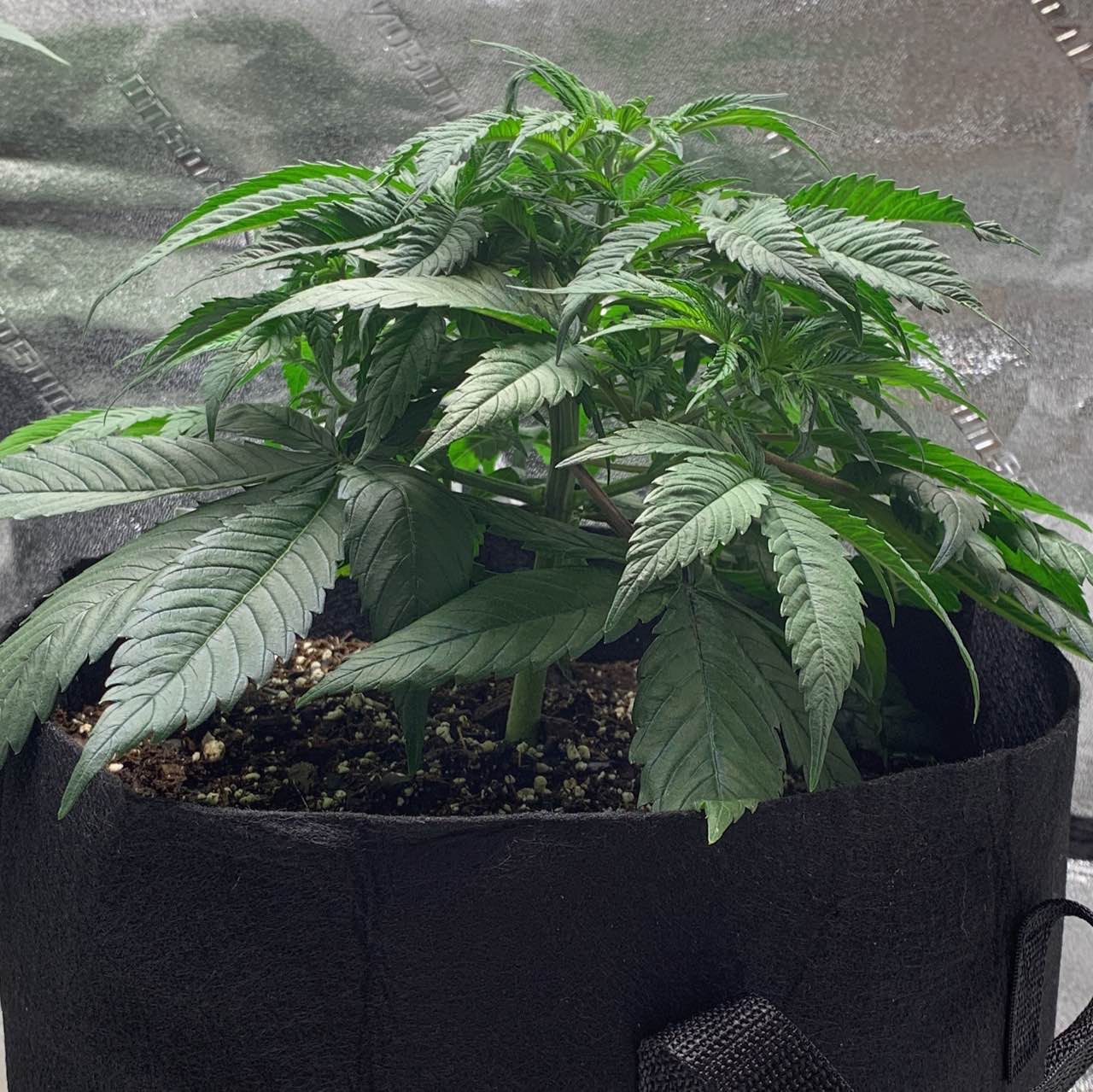 TEMP:64.2*F…….HUMIDITY:33%…… kept inline duct fan running for 24 hours after feeding to help with controlling the humidity from getting to high.
2 years ago
vet19vet75 You can start pruning and LST on this one. Clear out the fan leaves, and too your plants. This will spread the plant out and make it more bushy than tall.
TEMP:71*F……. HUMIDITY:54%……I've decided to move the light a little higher than what it was at. I think that may be the cause of this plant being so short after 50 days. But other than that a very healthy plant. I've also been "low stress training" this plant.
2 years ago
TEMP:74.5*F…….HUMIDITY:50%
2 years ago
TEMP:74.5*F………HUMIDITY:42%……. Just started big bloom and grow big by fox farm for this plant and my sour diesel. I used 1tsp of each but this plant got more of the feed due to the fact that it's in a bigger pot and will likely disperse the nutrients better without harming the plant.
2 years ago
TEMP:68*F…..HUMIDITY:56%
2 years ago
TEMP:70*F……HUMIDITY:45%
2 years ago
TEMP:67*F…..HUMIDITY:55%…… I started training the plant to help with keeping it from falling to one side and also to control its rotation as I wish.
2 years ago
TEMP:70*F…..HUMIDITY:66%
2 years ago
Caliban I would increase temp a bit. 70 ok the low end
TEMP:72*F…….HUMIDITY:62%…. It's tipping to one side more than I would like. I probably should have rotated the pot a few days earlier. As of right now the plant sits at 3" tall.
2 years ago
TEMP:67*F……HUMIDITY:65%
2 years ago
VERY SLOW GROWER. For some reason these seeds seem to grow much slower than other strains. That's if this is actually master kush. I mixed a bunch of seeds but the majority was master kush. TEMP: 63*F HUMIDITY: 54%
2 years ago
Growjay Simpson I'm guessing it's a slow grower because of the low temperature! Any way to bump it up 10 degrees?!
JG705 At least 10 degrees, poor girl is freezing 🥶
DIFFERENT GROW BUT SAME STRAIN!!! This is a clone off of my mothers plant that is already flowering. This was taken from the bottom of the plant about a week ago. Instead of just clipping and tossing the bottom low production branch I figured I'd try and see what I could do with it. TEMP:63*F HUMIDITY:55%
2 years ago
cyril You make a monster cropping ? :D
Moved to 5 gallon bag that has fox farm ocean forest soil. Moved in hopes of plant growing slightly faster and getting better water drainage.
2 years ago
mystrain420 _@eaegifts Bigger pot with a plant that size=worse water drainage. If it's not an auto smaller pots to start are the way to go 👍🏾
G-Thang Yeah, I agree. You want to stage them up as they grow, try not to over water the seedling. Underwater is better than over when it comes to seedlings IMO.
Masterkaush/unknown strain. 65.5*F light on 25% at 28-30in off the top of cup.
2 years ago
Masterkush/unknown
2 years ago
Masterkush/unknown strain germination
2 years ago
WHAT LIGHTS DO YOU GUYS USE? Right now I have the vivosun vs1000. I've heard mixed reviews about it. I can't find out if this is good for the flowering stage of the plants life cycle. The wattage out the wall is 100w but I can't find the output of the lights themselves. I plan on getting another light to daisy chain this one with but I wanted to know what light you think I should go with? My tent is only 2'x4' and I'll have around 3 plants maximum at a time. THANK YOU FOR YOUR HELP!
2 years ago
Discpimp Depends on the budget but I would suggest either a HLG 300L R or a mars hydro tsl-2000. Both would be good pics and work great for a 2x4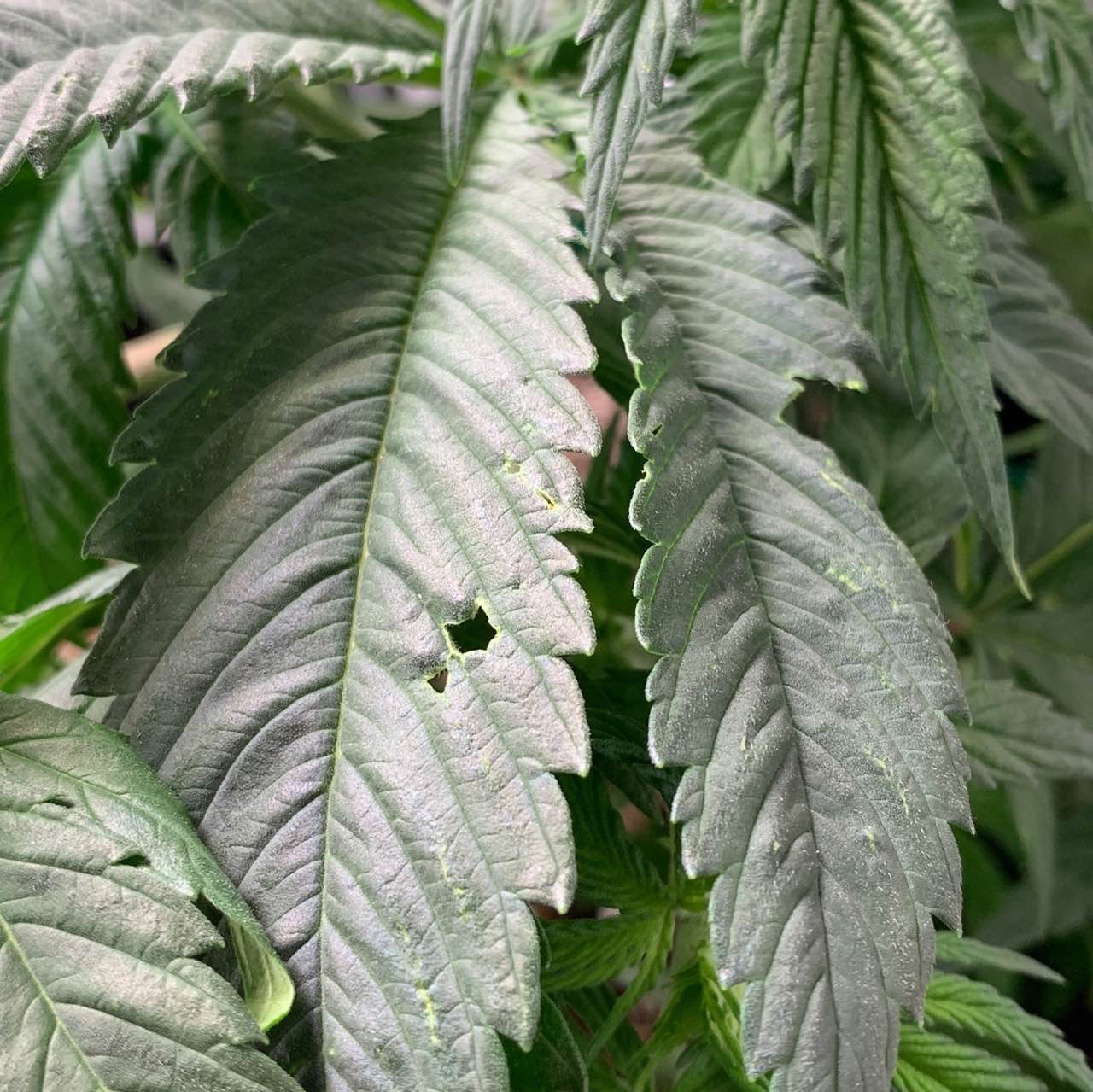 Can someone explain what is happening here? There is no bugs around, no sign of nutrient burn, and this is the only leaf that's like this. Is it just something odd that happened or is there a reasoning?
2 years ago
BINAII More than likely it's from nutrient water dripping on the leaves when you water your plants. Nothing to worry about. Those leaves are still do what they're suppose to do. If it bothers you too much, just wipe the container or just water a bit more carefully.