First indoor Grow
Spring 2020
5'x7' grow space made in a room I built. Mars Hydro TS 3000, Duraflame infared heater, LG ac and dehumidifier, Inkbird ITC-608T, 6 inch carbon filter with exhaust fan, Holmes humidifier with a big stand up lasko fan. The dimensions are 12' W x 7' L x 9' H. I keep all of my temp control equipment on one side while the grow is on the other. This is my first indoor grow with good equipment so I'm starting with technaflora recipe for success, Terpinator, and organic fish and seaweed extracts. For soil I'm using 2 big bags of FFOF and 1 big bag of happy frog. I added 3 cups of crushed limestone and added 1:3 perlite per bag of soil.
OGKB 2.1, Grape Skunk, Bagseed
Day 73 of flower. All plants are getting purple. Gonna harvest in a couple days or so. Waiting on a good flush.
3 years ago
Day 72 of flower. Waiting for a good runoff ppm. Leaves are just starting to turn colors. Huge nugs. Very good smells
3 years ago
Grow is coming to an end. I chopped the grape skunk yesterday and one of the OGKBs today. I forgot to get pictures of the grape before I chopped it but I got the OGKB
3 years ago
Day 59 of flower. Doing a flush on grape skunk and OGKB, looking so good.
3 years ago
Officially week 7. Last night after watching one of my favorite weed youtubers (ZP HomeGrows) I decided I'm gonna let them flower for atleast another week maybe 2 before I chop. Maybe another 3-4 for the bonfire kush. I want the most I can get out if the beautiful babies and who am I to cut their life short.
3 years ago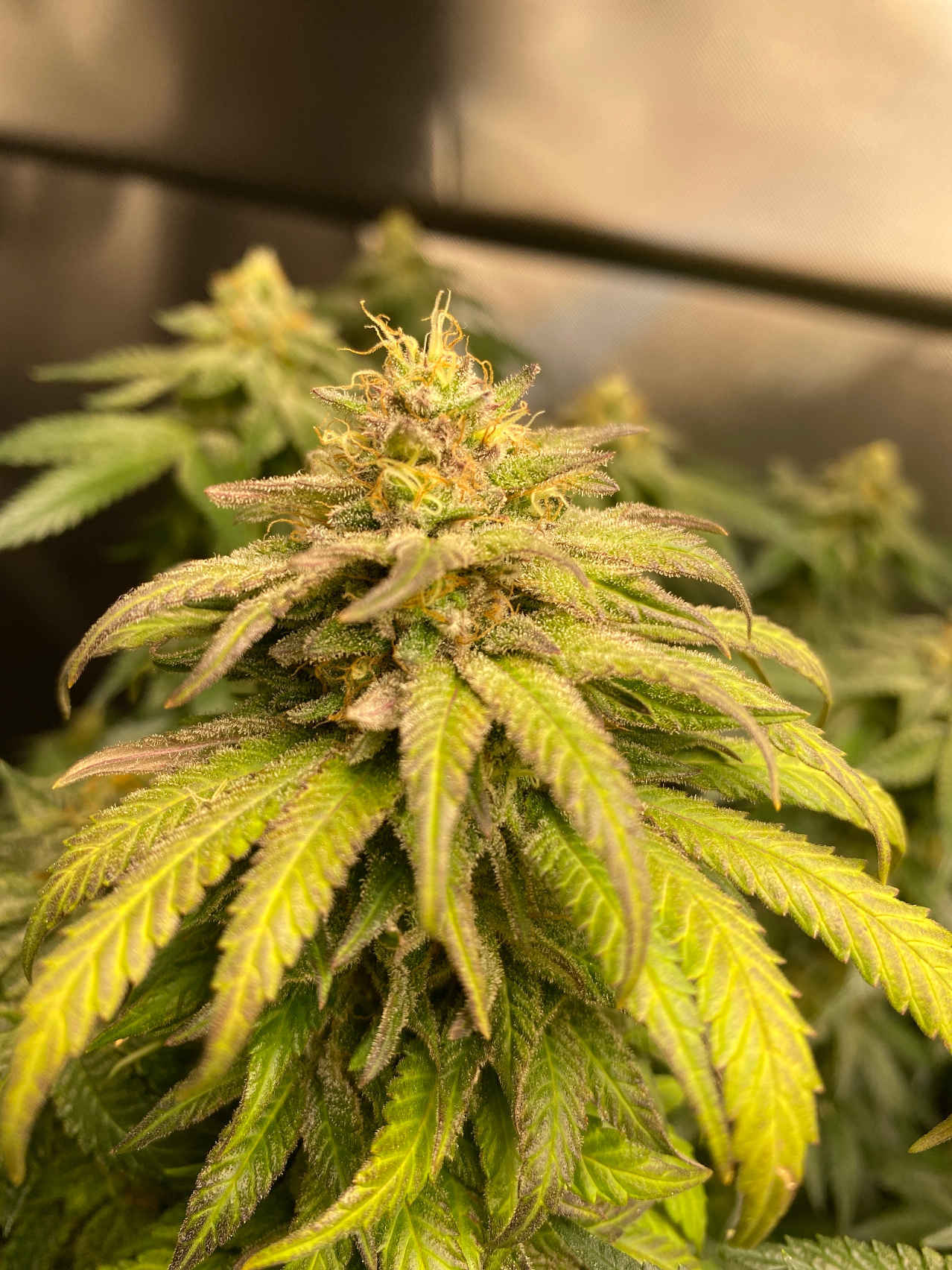 Week 7 of flower. Starting flush today for grape skunk and OGKB. The bonfires still have more time. All plants looking healthy
3 years ago
Week 6 of flower. I moved the plants around to get best light coverage for all of them. The grape skunk and OGKB Look like there gonna be ready earlier than the bonfire kush.
3 years ago
Day 39 of flower. Starting to lean off nutrients. I want a good flush and the plants are more frosty than I expected. Today I watered with plain water and tomorrow I'll do a 3/4 mix of nutrients. Nug shot 1 is grape skunk, 2 is OGKB, 3 is Bonfire OG
3 years ago
Day 35 of flower. Shits changing quick. The shed reaks and I know this stuff is gonna be the best weed I've ever smoked. Looking at the first nugs forming. Grape skunk is leading in nug size and frost production. OGKB is a close second.
3 years ago
Fed with full strength nutrient mix yesterday. I will slowly start to bring down the PPM untill flush. They're frosting up and getting bulkier. Gonna be some gas
3 years ago
Day 32 of flower. Colors and smells are changing like crazy. I may start adding support pretty soon.
3 years ago
Day 27 of flower. The buds are starting to show color and crazy trichome production. I'm very excited.
3 years ago
Day 18 of flower. Looking good but it's really humid here right now so I'm worried about bud rot forming. I have the ac and fan running full blast.
3 years ago
Plants are starting to frost up on day 17 of flower.
3 years ago
Week 2 of flower and it's showing. The grape skunk is farther ahead than all the rest but they're startin to catch up.im very excited to see how all these turn out
3 years ago
Day 8 of flower. I moved the plants to try and help with this uneven canopy. All the smaller ones are now more under the light than before. Hopefully can get some good veg growth this next week. Went full strength on technaflora nute formula along with terpinator.
3 years ago
Day 7 of flower. Small flower sites have started to show. I'm spraying with Castile soap and neem oil because I saw a small amount of flys circling the light. After the spray I haven't seen anymore bugs. I also add some pepper oil to further deter the bugs.
3 years ago
Day 3 since flower switch. They're gonna be beauts I can feel it. They're drinking so much I have to water each day some days.
3 years ago
Day 2 of flower. Did some training to the bushier plants. Gonna be a big harvest. Looking forwards to seeing these buds mature!
3 years ago
Did some major defoliation today. Hope to get some more node sites in the next week before I switch to flower.
3 years ago
Did the last topping yesterday. Gonna wait a week for them to pop up then switch to flower. Exciting times in the shed grow!
3 years ago
9 days till flower switch. Took ones off my favorite plants. 2 off each pheno. Made a makeshift dome for them to stay in untill they root.
3 years ago
Been watering with half strength nutrient mix for all of veg. Hasn't shown any downsides. The smells are evolving and the grape skunk is intoxicating. 15 for days till flower.
4 years ago
Topped the grape skunk again so it doesn't grow uneven and I did some defoliation to help with airflow and energy consumption. Gonna wait till mid June or so to switch to flower.
4 years ago
One plant I forgot to declump the root ball and it wilted this morning so I gave it a little water and it started looking decent again tonight. 2nd pic Grape Skunk. 3rd pic Bonfire OG
4 years ago
Chiles420865 Looks really good man! I'm doing my first indoor grow. How you think I'm doing?
Grape skunk is getting huge compared to the rest. Smells like a sweet wine and rubbing the stems alone makes ur fingers sticky. It's lookin primo. I hope to the rest start bulkin up as I want to flip to flower mid June.
4 years ago
Lookin good no complaints
4 years ago
I found all 6 females I want to keep. All were transferred into big pots. Hasn't been much new growth since i topped then transplanted so they're under lots of stress but the foliar spray keeps them from getting Droopy.
4 years ago
They aren't stressed from the topping anymore. I gave them a foliar spray I made with seaweed extract and that helps them with the stress a lot. There bulking up and I'm sure in like 3 days I'll be able to tell the sex of all the plants.
4 years ago
Transferred 2 confirmed females in big pots today. Chopped 3 males yesterday. Waiting for the rest to show their sex. Topped for the second time today aswell and they're looking good. I've been doing some LST to bend the plants how I want and I even have some that are just pure LST and they're looking very good.
4 years ago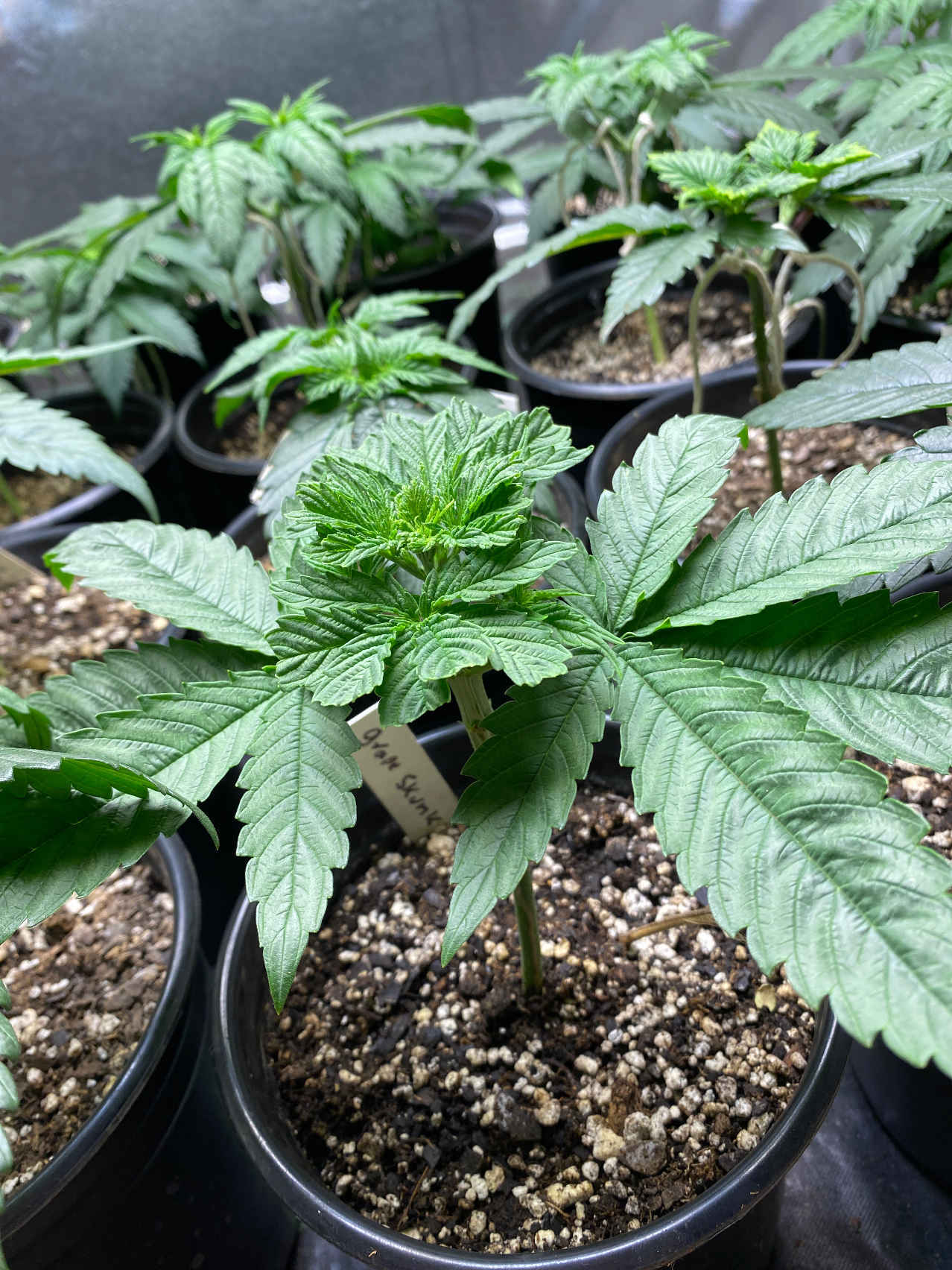 All topped plants started their 3rd node from the cut. But look at this grape skunk. FIM'd it but it's looking promising. I only have 7 ft of room upwards and I can't have it shooting up more than the rest during flower or they'll be uneven lighting. Might have to be tossed outside if she goes crazy.
4 years ago
They are starting to branch out. Any input on these first 2 pictures? Is this good or bad? I must've cut to far up and fimmed but will this be ok for indoor?
4 years ago
I decided to get rid of all the lower growth. Hopefully in a day or two I can start to LST
4 years ago
I topped the plants yesterday. Maybe a little too early but they were all above the 4th node and they look to have recovered and I'm curious to see how they beef up. The size of these plants is growing exponentially (as they should) but damn when I had my plants outside last year they were 1/2 the size. Tomorrow I'm gonna water with ph adjusted water as they are gettin a lil dry.
4 years ago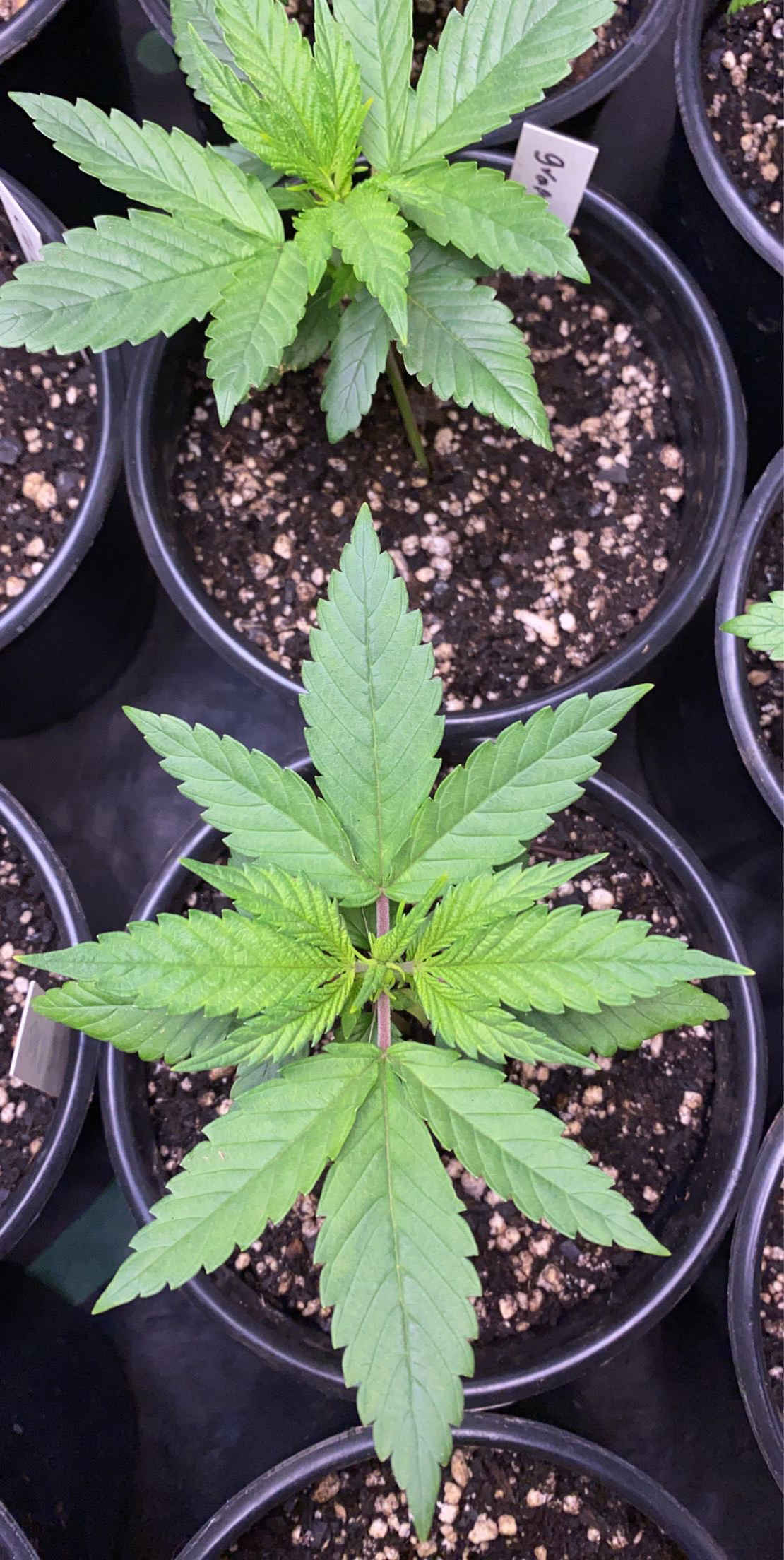 This plant is actually one of the bagseed plants I have. My friends tried to grow 4 plants last summer and I think one turned out to be male. They were outside untill it got down to 40 and they totally all got pollinated. They brought the 3 females into a basement with no fan, barely any water, and a 250 watt light hung at the ceiling. They called me over when they wanted to harvest and I helped them cut the plants down and trim what I could. Spider mites and bud rot was the majority but behind all the boof was purple dense buds.It was filled with seeds so I took about 100 home with me and now I've been trying them out. In hope to see what these seeds can be under the best conditions. Anyways that's the story behind this plant and I asked my friends what they wanted to name the strain and they said Bonfire OG. So Cheers to Bonfire OG!
4 years ago
They are starting to shoot up! The mars light is doing wonders. Tomorrow I will water with the vegetative nute mix. You can totally see the difference in the OGKB 2.1 (top) and the Grape Slunk (Bottom)
4 years ago
Today I transplanted into 1 gal pots. You can see easily which plant is which by the type of leaves. This made me happy because the seed genetics match up to they're characteristics and I got these seeds for the low. The grape skunk is a long more lanky and skinny while the OGKB is bushy and fat. No new burns and the plants are looking mighty fine. After transplant I used 10ml of sugar daddy and 10ml of root 66 from my technaflora kit.
4 years ago
The plants are starting to outgrow the seed starter. I will be doing a transplant into 1 gal pots soon. I hope by the time I transplant to 7 gal fabrics I will be able to tell m/f and pick plants I think will be good flowers. Let me know if I wrong!
4 years ago
This was day 11 for the OGKB 2.1. After this I noticed burns on my plants and realized my dumb ass wasn't checking the ph of my spray bottle water. I fixed and only the first set of serrated leaves were damaged. You can't see it on the OGKB very well because they have been very resilient compared to the rest of my seedlings. I am starting these plants in a greenhouse type box I made with a 24 inch t5 and a heat mat for the roots.
4 years ago