Tent 1 (1.5m)
Main Flower Tent
1.5m x 1.5m Tent, 16 plants in 11L fabric pots. Indorsun 400w Nova LED light including 20w Far Red. 60% coco buffered in Calcium Nitrate 20% worm castings and 20% perlite. 3 part EHG synthetic hydro nutrients, with Plant Elixr Humates and fulvates. Using Flora flex in flower
8 x The Church, 5 x Frosted Apricots, 1 x Wedding Cake, 1 x Blunicorn
Day 40 of flower. Starting to pack on some weight. Some stems are struggling a bit with the weigh. Could be due to the lack of fan capacity mixed with genetically. Church not affected. Mildew setting in on the forested apricots like mad. Church is fighting it off incredibly. I wonder if it's the sweetness that attracts the PM. F#@ck PM! It makes me so mad. Trying to keep it at bay with regular foliar sprays. Working slightly. Need to find another solution. sulphur? One frosted apricots at the back is not looking happy at all. I have no idea what's going on but the leaves are curled in and hard and are browning. Anyway. It's a bit late to do anything. 1 more feed of nutrients and we start the flush.
2 years ago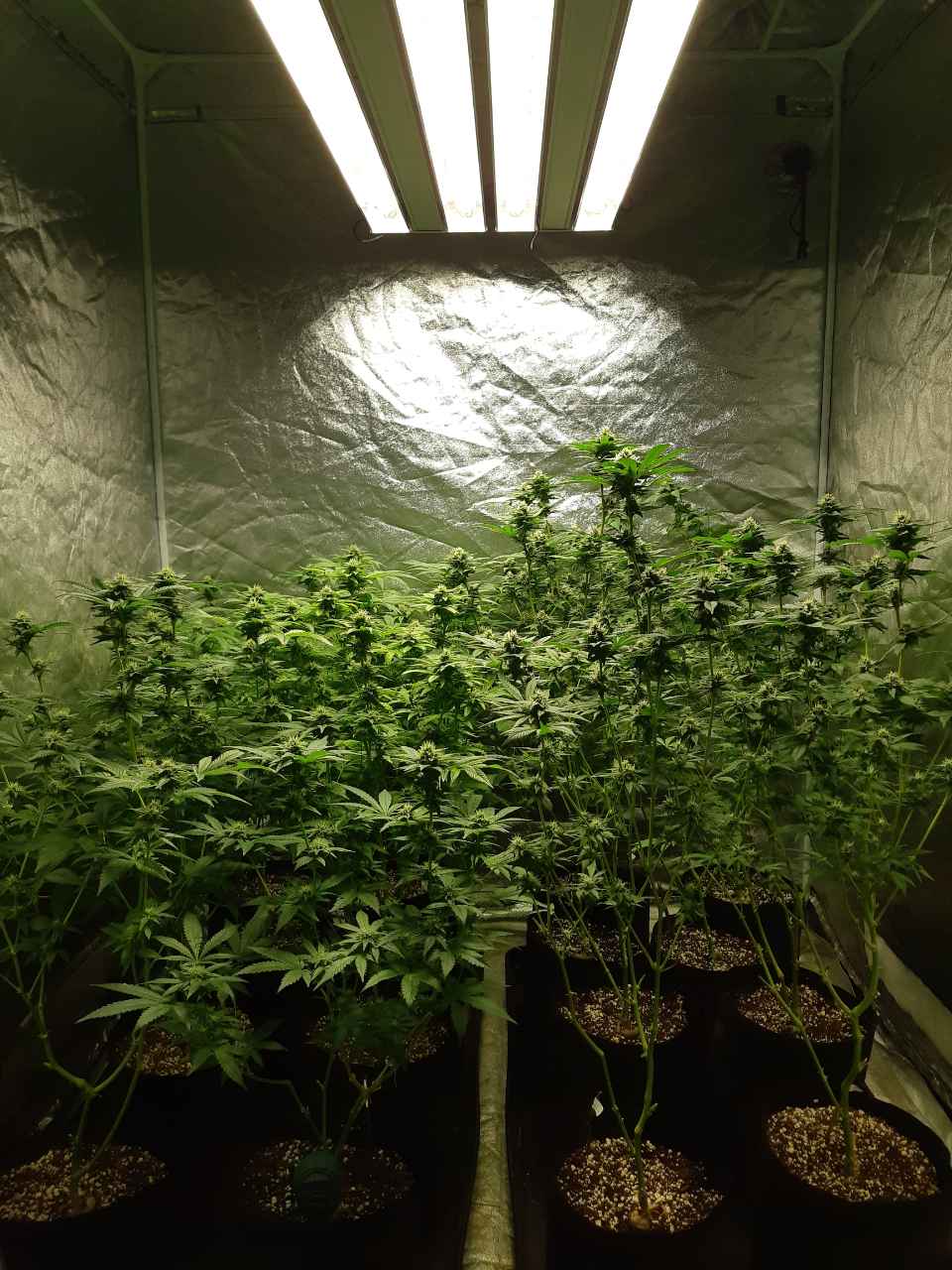 Day 33 of flower. Ladies are pushing. I've sprayed some organic NTL stuff for PM. Fighting it back successfully every week. Busy doing 3 flushes before I start adding nutrients in again. Aromas coming through are sweet, fruity, earthy and woody and the tiniest hint of gas. Super keen to see results.
2 years ago
Did a defoliate 4 days ago and the bush is starting to come back. Bud sites are starting to fatten up nicely. Feeding Flora Flex and EHG at PH 6.0. Give me some comments on whether or not to defoliate some more.
2 years ago
Hitting week 3 of flower. Big defoliate tomorrow!
2 years ago
@eaegifts Oo I know that last pic is bedtime, killing it bro. It's all about learning them light spectrums 💪🏾💪🏾
mikki1time Is that uv to simulate red shift in sunset?
View 5 additional comments
Week 3 of flower. Spray Horbiscus hormones last night. Bid sights are starting to set in and stretch is slowing down alot. Going to be feeding tomorrow and then defoliating 2 days later. All is looking pashash 🤘
2 years ago
Week 3 of flower incoming. Ladies are looking amazing!!!
2 years ago
Jitterbug They are Loving the Mix of Nutrients!
View 6 additional comments
Week 2 of Flower coming up. Sprayed preventative for PM today. Watering EHG half and Flora Flex Half. Experimental.
2 years ago
Ladies trimmed and flipped to 12:12
2 years ago
Ladies are starting to look lush
2 years ago
Next training Day
2 years ago
2 days after training
2 years ago
Training starts 6am Sharp!
2 years ago
Hitting Growth Spurt
2 years ago
Clones going into pots
2 years ago