squadpacks
Squad Packs
4x4 Tent grow
Started with 6 Germinated seeds in a 4x4 grow tent (LOW STRESS TRAINING)
PURPLE LAVENDER (indica dominate)
Plants have adjusted to the light.
3 years ago
"Fim" 2 of 4 plants, all plants are in low stress straining as well even the Fim plants.
3 years ago
Plants and been doing well Remixed nutrient mixture, and PHed to around 6.5 and watered.
3 years ago
Plants began low stress training Pictured is our healthiest plant of the bunch which is planted to be mother plant for our Indoor (Purple Lavender Strain)
3 years ago
plants transferred to new 3gal fabric pots
3 years ago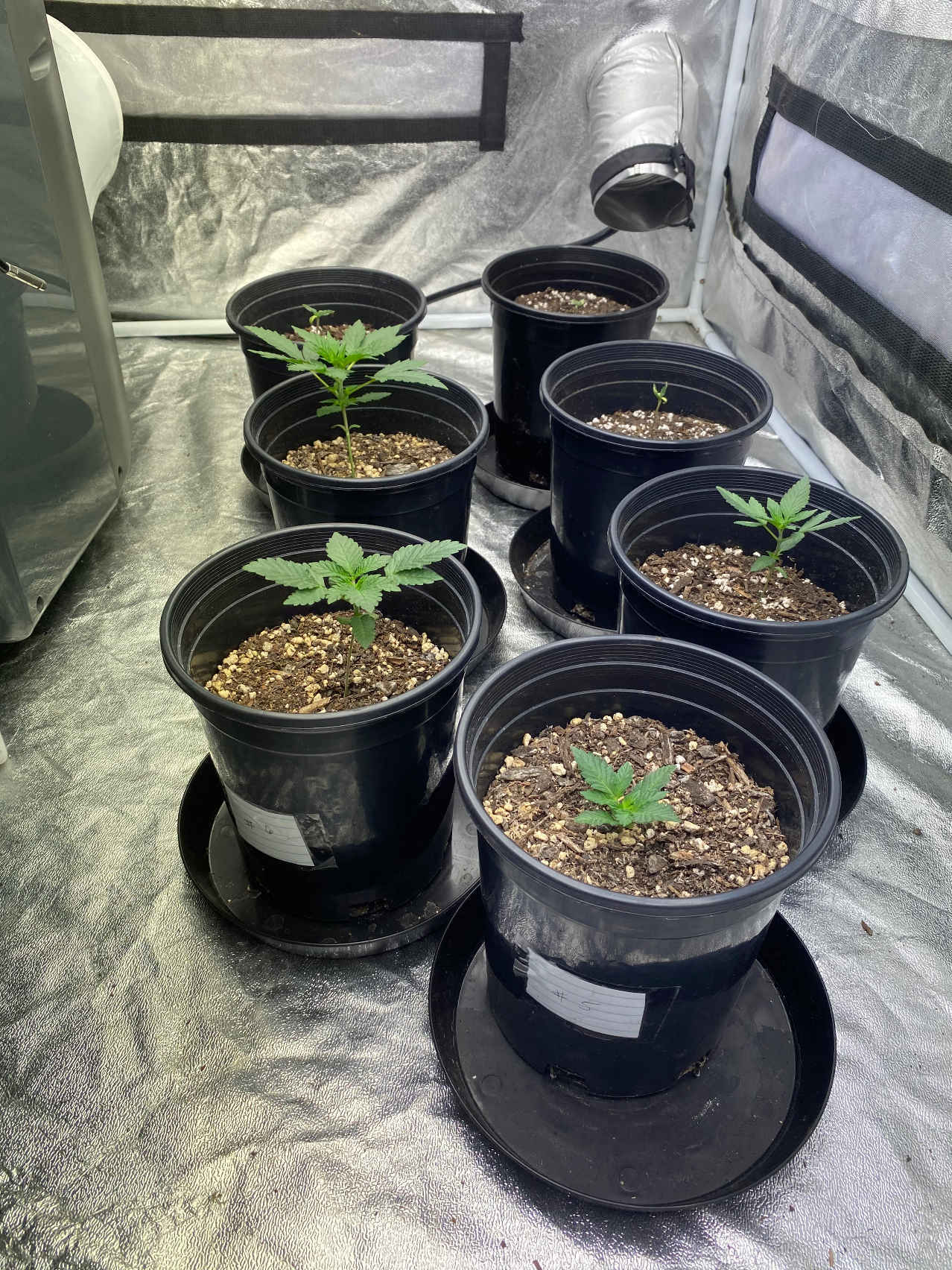 Plants are 3 weeks old no added nutrients. Light schedule (18on 6off) under T5H0 Watered about 1-2 times per week planted in 1 gallon pots Day temp 76-78 (deg.F) Night temp 69-71
3 years ago
Ran Ac infinity system over (correctly this time) Installed Portable ac unit to control heat and maintain controlled temp. *Everything finally working as it should (Tent tuned in) Watered plants today Only 4 Surviving plants of original #1 4cm ,#4 5.2cm, #5 .5cm #6 6.2cm
3 years ago
Having heat issues Installed Ac infinity dual vortex system And nice clip fan •Turned off HPS lights •Turned on - (sun blast T5H0 lights with just hyper white bulds) ≈ 12-18in above plants
3 years ago
PLANT MEASUREMENTS #6 3cm, #4 2cm, #1 >1cm
3 years ago
Planted seeds into plots and placed into grow tent (happy frog soil) (No air ventilation just fans and lights) Sun blast Hps 8:55pm 18hrs on 6hrs off.
3 years ago
Germinate seeds before planting
3 years ago