c-dubb506
Jack Herer
Spring 2020
Growing: Easy - Moderate Flowering Time: 9 Weeks Indica/Sativa: 70% Sativa, 20% Indica 10% Ruderalis Effect: Sativa High THC: 16.25% (Estimate)
Indoor/Outdoor AutoFlower Feminized
Before flush, looking awesome smells amazing 🤙🏻 other two are a week behind this one roughly
3 years ago
Girls are looking awesome almost ready to start flushing one the other two are just behind by a week or two roughly in growth. Full nutes for two more water cycles then straight flush until harvest. Took a few pictures with the lights off.
3 years ago
The 3 Autos are budding nicely, the two single regular seedlings in the same pot are gaining height and signs of being female but are not quite budding yet I'll put them outside soon. Nutes full strength watering @ 2L per plant until further development occurs.
3 years ago
Full nute intake, week 7, Pistils are showing signs of budding for about a week now, won't be long till harvest. One picture I turned off the bloom light for better quality.
3 years ago
The girls are doing great they're starting to show signs of budding and happy growth after being lollipops and trimmed. May need to trim small leafs here and there to require more growing space. Full dose bloom nutes water when needed.
3 years ago
The girls are starting to show signs of more bud sites. I lollipop'd them and started early bloom nutes half the normal dosage strength. Seedlings are doing great I pruned them as well so they wouldn't crowd each other quite yet. Stocks are getting THICC with lots of branches. Roughly 10-11" for my main two girls in height. The bottom fan leaf I pruned was almost the size of my fist already.
3 years ago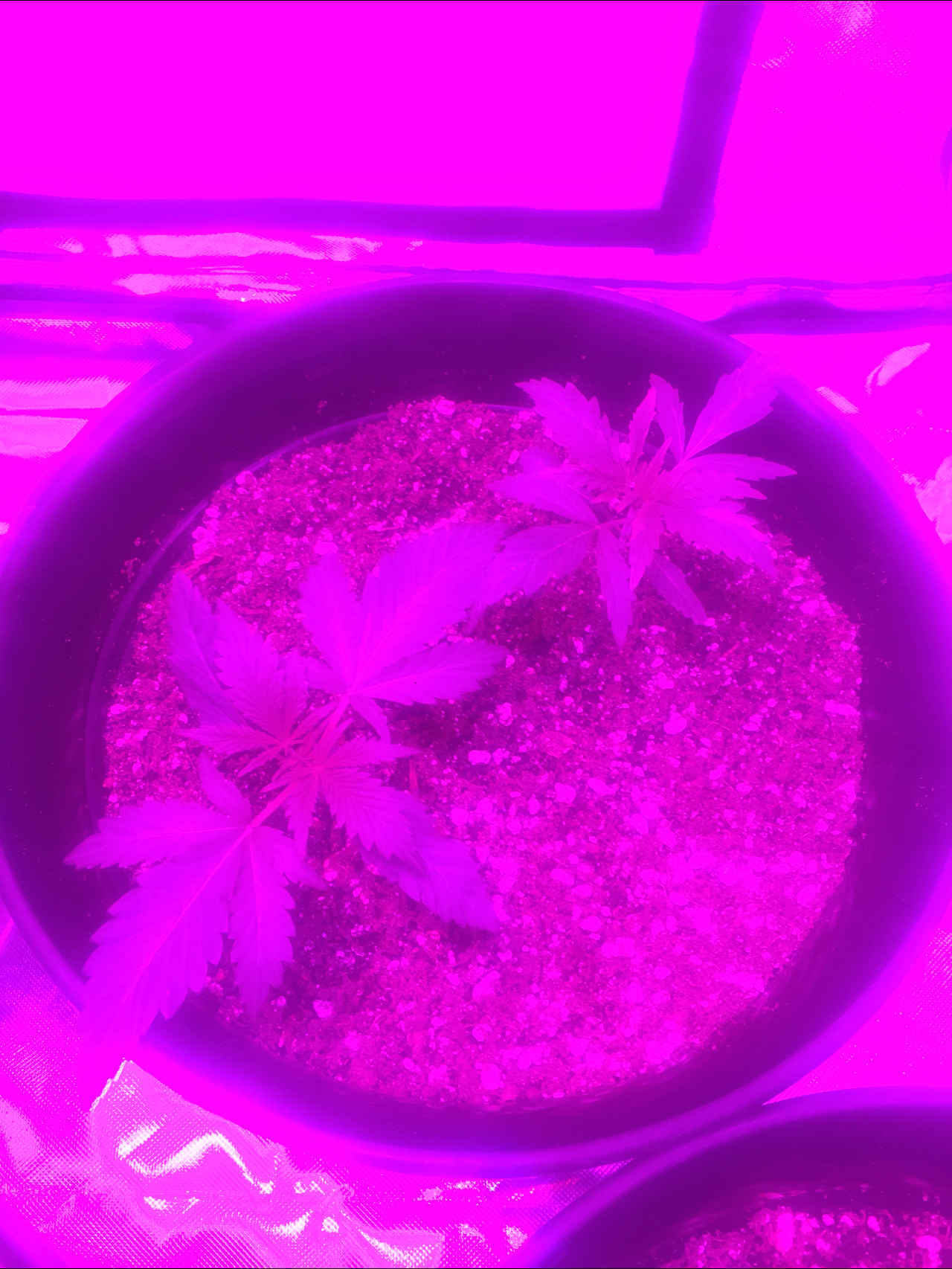 End of LST, added wire to prevent leaves from dropping down and/or bending on the side of the medium. Multiple new branches and nodes forming. The bottom right girl is the one I lollipop'd, she's showing huge signs of growth compared to before. Top two seedlings are approx 2 weeks old (I consider this as week 1 of Veg) I'm planing to lollipop those as well and grow a small bush. I believe one is an Indica strain and the other Sativa i'll know for sure when the true leaves become more mature.
3 years ago
Started to LST two of the girls and lollipop'd the smallest one, also two more starting together still in seedling stage. I'm only going to LST for another two weeks during veg and then raise the light for a week before I start flowering to help stretch them. I wanna make sure they get lots of undergrowth and give them time to transition before they flower.
3 years ago
Notice a bit more height and width on the Autos, Seedlings are coming along good. I noticed the stem on my biggest auto is Thicc asf she's gonna be a Queen for sure.
3 years ago
2 growing strong height 4-5 inches, 1 slowly catching up roughly 3 1/2" I presume genetics weren't in this ones best favour, started using full spec instead of just veg, I noticed they've appreciated the change dramatically. I started more for my outside grow just random seeds from various strains I've smoked in the last year or so.
3 years ago
Getting bigger day by day, Gonna start adding RapidStart Rooting Enhancer soon for approx 2-3 weeks. The smallest one on the left is gonna be iffy I noticed she has some defects but still slowly gaining more grow so I'm gonna keep her going and see what she yields. They're looking good so far.
3 years ago
Down to 3 on day 10
3 years ago
Just planted 5 Jack Herer Feminized AutoFlowers, I have a 3x3x6.5 BlackBox grow tent with a 100(truwatt) Phlizon LED full spectrum grow light (Bloom and Veg) this is my first grow indoors full term.
3 years ago