My First Grow Ever
I have three plants two are Auto Flower Wedding Cake the third is still unknown.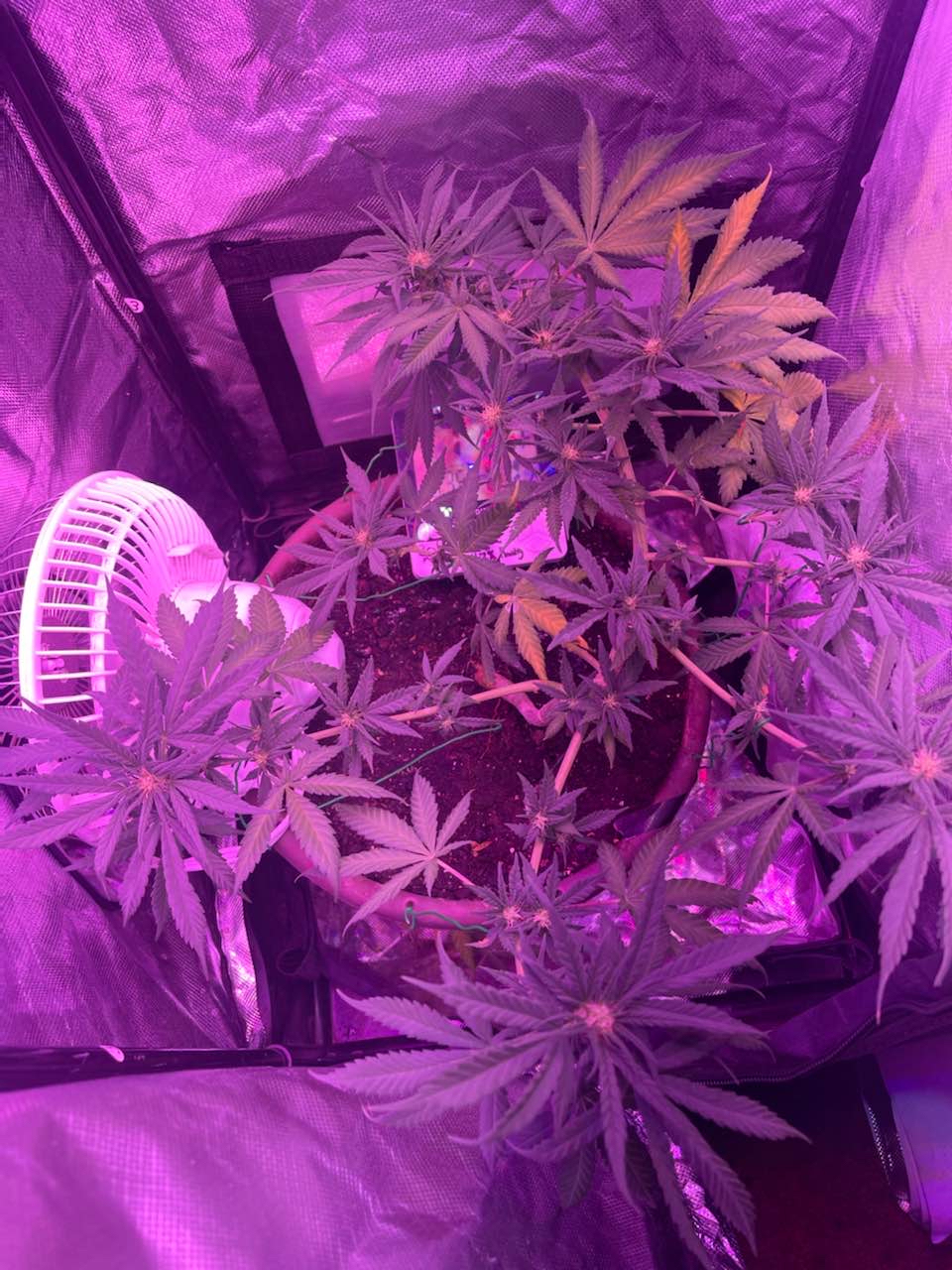 Why are my leaves turning yellow?!?! I thought they were doing so well.
a year ago
locker105 Looks like light burn, just raise them 5-10 inches.
locker105 Or dim the brightness of the light if you can
MikealMallula Thank you I thought the same thing so i lifted the light a good 6" inch's. Could under watering cause the yellowing?
View 1 additional comment
The Wedding Cake was hung for five days to dry, and now are Curing in a Mason jar. I feel I learned a lot for my first ever grow and Thank everyone for their input and advice they are so beautiful I'm so happy even though it wasn't much it's still much more rewarding than I'd ever expected.
a year ago
Marmaduke's Mom Good job! My second "successful" grow is curing right now in mason jars and I have her clones flowering. This def looks better than what I got from my first grow. 😁
Can anyone help me I think they are close but not sure and has announced grown any Autoflowers that looked like these?
a year ago
She's really starting To change, but i feel like they don't have tons Of Trichomes like many other plants do though anyone know why or are auto flowers just like that?
a year ago
But the little late bloomer third one is now flowering beautifully and the LST is obviously paying off. Plus I'm only using epsom salt "for plants" not scented or anything like that and some bone meal potash. Also i forgot to tell everyone that I used some organic Blood meal during veg and it was miraculous how much it thickened the stem and also made it twist like I've never seen. But i put the nutrients in the pictures for anyone wants to know more about them.
a year ago
So they are starting to look like two different auto strains but regardless they are looking beautiful just still not sure if they are ready for 48 darkness or not? Probably another week or so yeah?
a year ago
She's not ready yet right?!?!
2 years ago
So this was the third girl That wasn't an auto flower is it to late to Clone her!? I took three little ones off the bottom that weren't going to get any light anyway but they are really really little hope that is okay?? Anyone have any pointers on how to get a bigger yield out of her?
a year ago
moneymike1983 Flowering has started. I'm a bit out of my realm here because I'm in my first grow. But. I believe it's too late to clone. As far as production/yield, potassium... langbeinite is a good option but don't overdo it. It's basically sea salt but with a ton of extra minerals your plants need.
moneymike1983 I've also read you can revert s plant back to veg stage. But I didn't read any detail in it. Maybe search it up.
I trimmed and pruned her also did some more low stress training same question as last post does anyone have any pointers on how to get a bigger yield from her?
a year ago
And now they are turning purple and yellow anyone? Plz I'm afraid they're going to die without any fan leaves!?!?
2 years ago
So are my leaves supposed to be this yellow?
2 years ago
Does anyone think they might know what Strain I may have?? So do I run both grow modes on my light for Bloom or just Bloom switch? And has anyone noticed a change in growth from 18/6 light schedule to 24 hr? Kept the other plant in window sill and Moved the Auto Flowers to my tent they seem to be doing much much better now. So I have never harvested like my journal title doesn't make it obvious but I don't know when I'm close when I need to flush and whatnot. So I'll just keep posting for the amazing community and hope someone let's me know if and when I need to. Thanks again everyone for the knowledge and patience.
2 years ago
breal01 Ok so strain I have no idea as far as your light you can run just bloom but I always run both for extra light penetration. As far as lighting time I haven't noticed to much different but I can tell you trichrome production mainly happens during the dark period for photoperiods not to sure about auto's. Mephisto genetic ( major breeders of auto's) suggests to run light 24/7 with awesome results. My experience with auto is most take about 10-12 weeks after planting but that can differ get a microscope or just jewel loupe and check trichromes for color for best harvesting time. Clear not ready, milky with fat heads peak thc and amber is when it starts to degrade. I usually do a 80% amber to 20% cloudy ratio. Hope that helps happy growing.
breal01 Oh I usually start my flush a week or two before harvest so when the thrichromes are about 50-60% milky is when I'll start. No less then one week.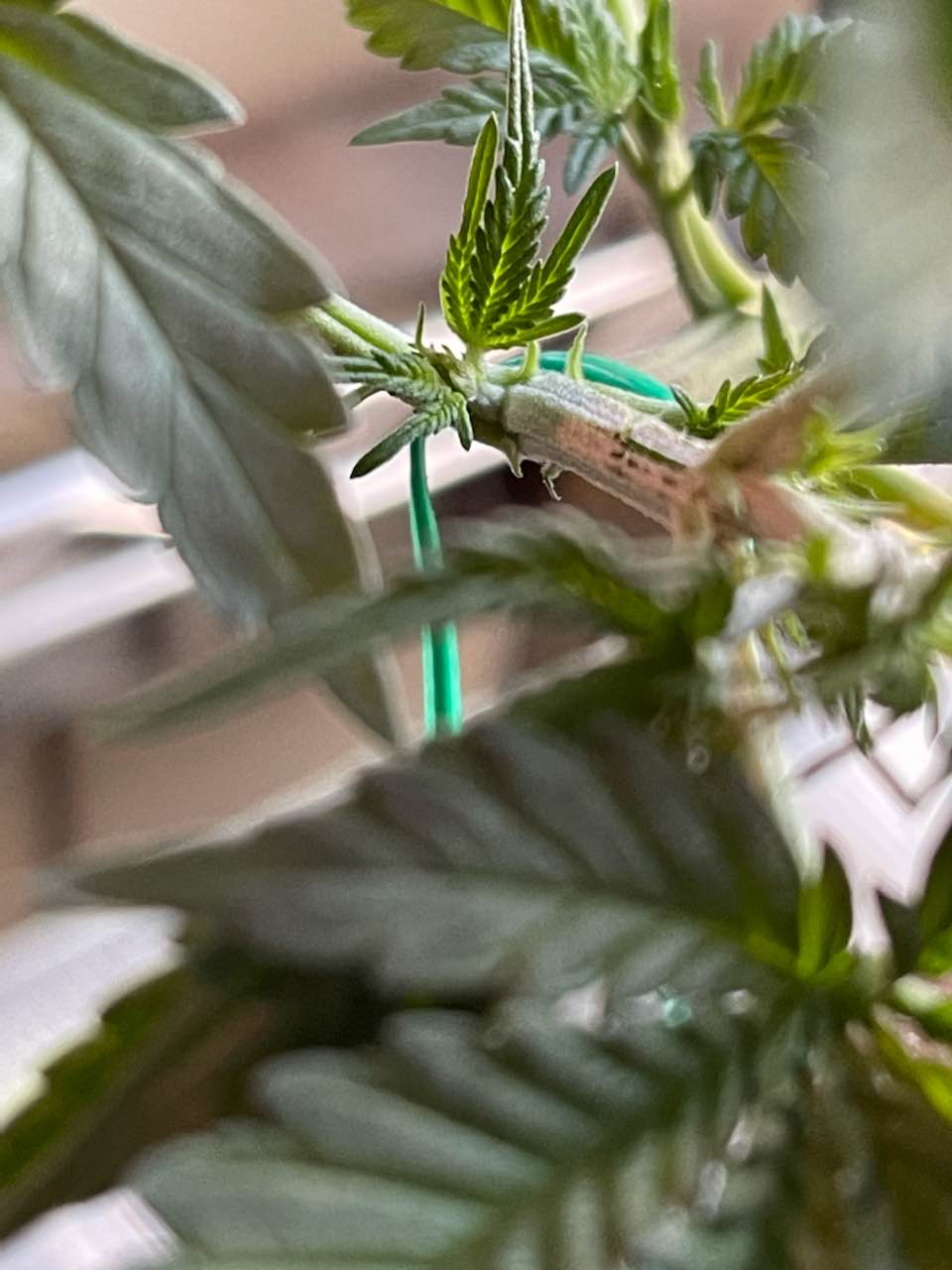 So week six anyone wanna help me identify sex? I still can't see any Pistils but I figure if it were a male it for sure would be showing by now right?
2 years ago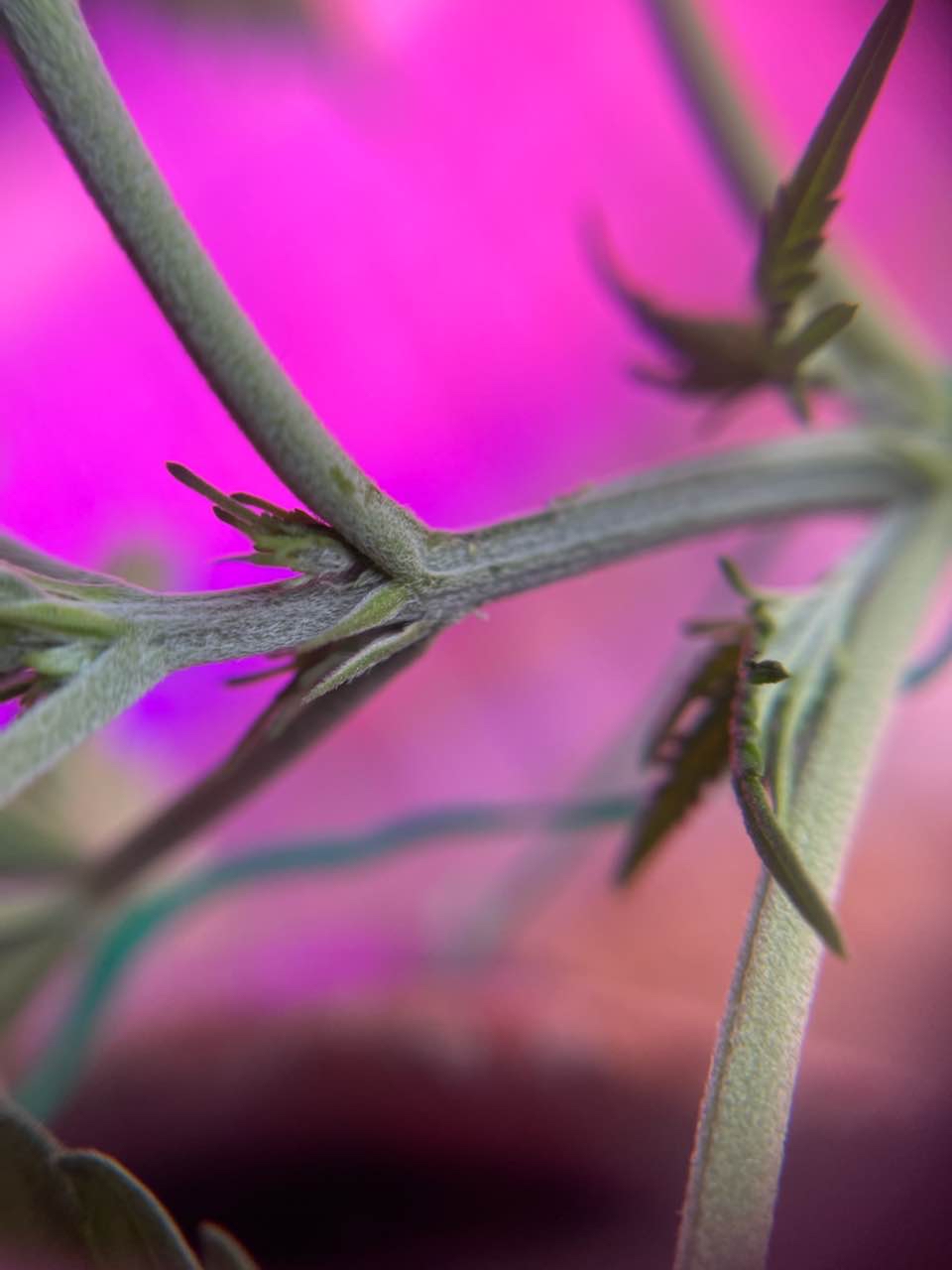 It's official!!!! ♀
2 years ago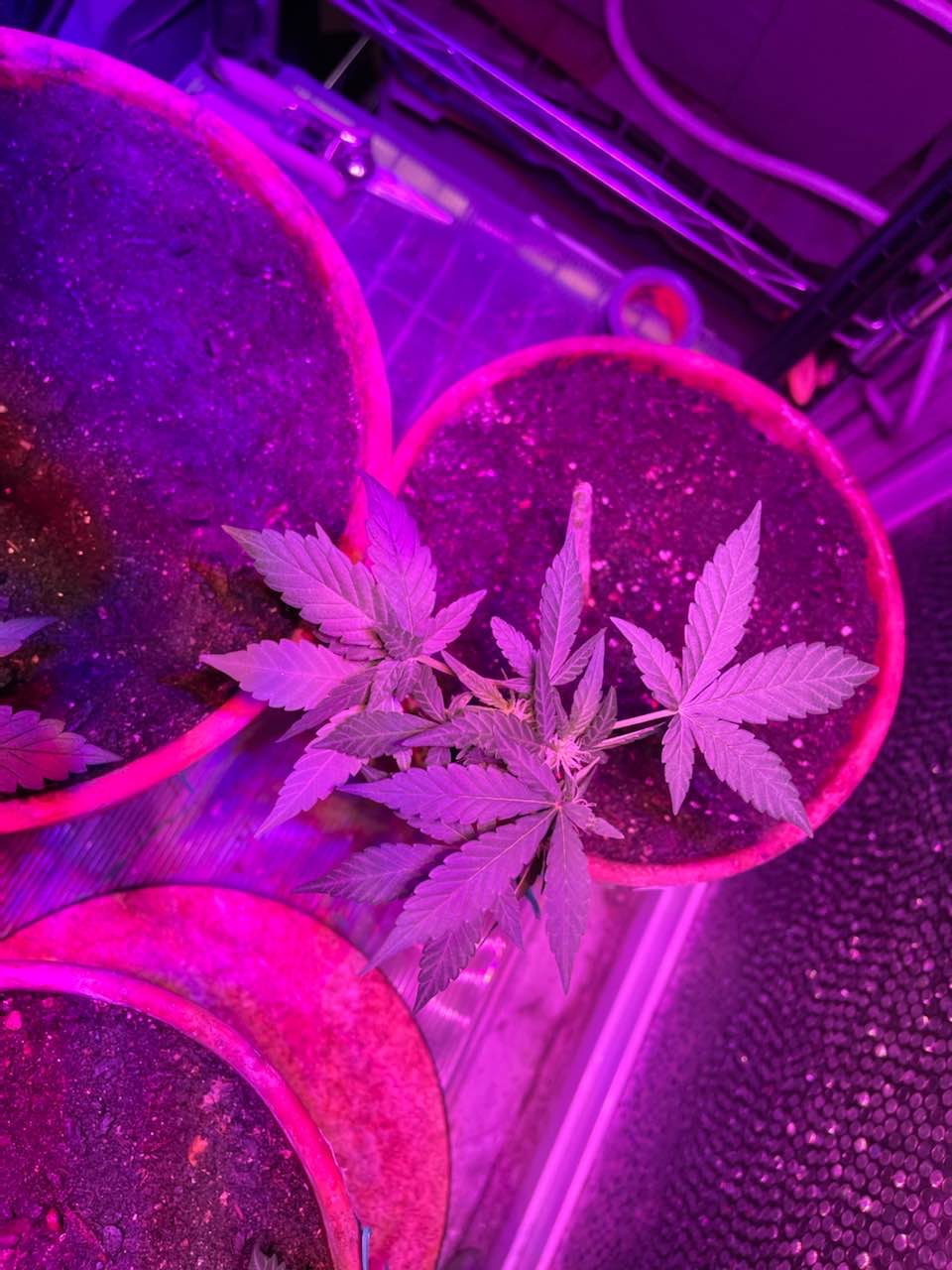 They are growing again finally
2 years ago
They seem to be growing again!!!
2 years ago
Decided to continue low stress training, they were very happy before I let them go two days ago.
2 years ago
I stopped low stress teasing them and the growth almost stopped completely it seems, or I should say the new growth is coming in really really slow. Any suggestions!?
2 years ago
DannyPH Looks like an auto flower that been went into flower, which it is what it is. Just rude it out and don't kill it.
adamsgrow What Danny said looks like an auto with how it's flowering already. I've had that issue with LST and it was to much for it for some reason and stayed short. It could also be genetics that kept it short. Just let it grow out you'll get a few grams off of it.
Can anyone tell me why my plants are flowering so early in growth? I don't give them less than 16 hours of Light a day?!
2 years ago
MikealMallula I'm not 100% just got them outta some flower I had it may have been Birthday Cake or Gelato or possibly HeadBand.
View 2 additional comments
Second of three
2 years ago
This is my grow from day 1 to day 28 not sure if I should put them in a grow tent or what?! Any suggestions?
2 years ago
Sweet & Sour Chicken I use a tent for various reasons such as humidity control, light management, hide suspicion of the grow and pest prevention you should consider getting a tent even something small like a 2x2 however I've seen successful grows like windowsill grows that are successful I hope this helps you are at a great start👍
adamsgrow I would suggest a tent just to be able to control the entire environment they live in but they look good for being in just the windowsill.