Zurple Punch
Hyped cuz Zurple is a super rare starin
Is a clone from my friend, I got her on the 21st October 2020, super high THC indica
She's been flowering for quite a while now, just watered 2L amended with coffee grounds, white fertiliser, epson salts. smells insane, anyone know how much longer until she's ready to be chopped?
2 years ago
Mcmuzzy Probably 5 or so weeks still
Flowering very nicely, yesterday watered 6L and she looks very happy :) I'm happy
2 years ago
Watered 6L this morning with coffee grounds and 1 tsp of white fertiliser... the flowers coming along nicely, overall I'm moderately happy, still bummed that she didn't grow bigger before flower but oh well...
2 years ago
Unfortunately I'm certain she's budding, overall very healthy and happy, today I watered about 3Litres of amended water. Amended with 1tsp white fertiliser, 4 tsp epson salts, coffee grounds on top of soil
2 years ago
Mcmuzzy Your in aus hey? Which part man! No stress thats its started to bud its a good time for the outdoors to start (depending where you are) Theyre lovely plants you e got
tseknoujake Thanks bro, no not from aus, I live in Cape Town South Africa... I'm just a little disappointed cuz I wanted her to veg a little more and get a little bit beefier
She is really flowering... I wish it haven't have been as soon as it was but, oh well... overall very happy will probs water tomorrow. Quick question: when should I flush??
2 years ago
1naushaad About ten days before you plan on harvesting, switch to just water
Mcmuzzy Are you growing in soil? Are you growing organically or using nutes? Rx med did some studied recently and found that theres no real effect from flushing!
View 1 additional comment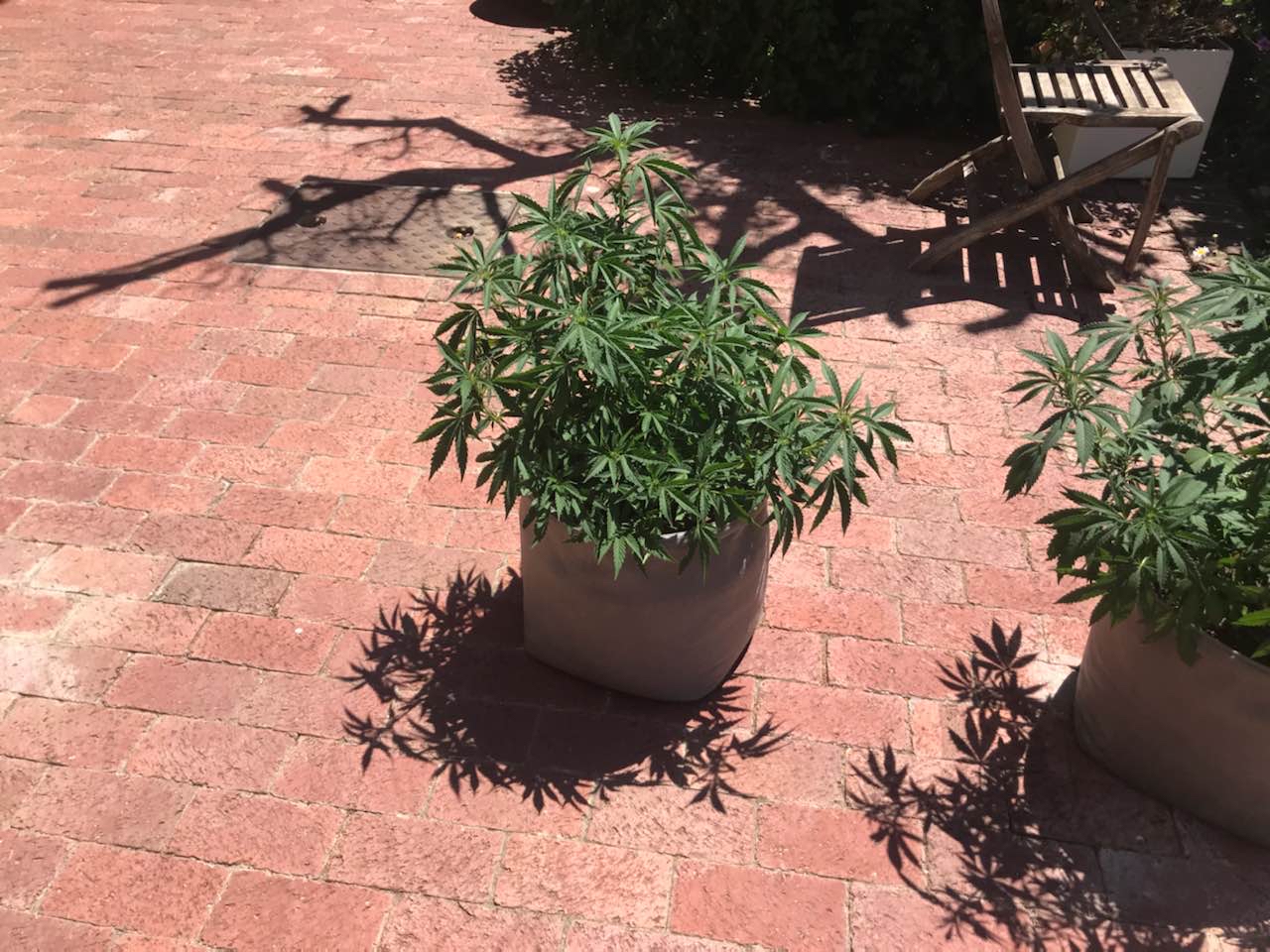 Looking very good, unfortunately I thinks she's has started budding, I'm a little bleak, I was hoping she would grow a little bit bigger before starting to bud... overall the LST is coming along very nicely. Will water tomorrow
2 years ago
Insane LST started today on Zurps, I wanna try create an even canopy throughout the grow... overall I'm very happy and excited to see how she grows... I also might cut a few lower branches out and try clone them in a couple of days. Watered today 5L, amended with a tsp of white fertilizer, 3 tsp epson salts, along with 5 tps of coffee grounds on the surface of the soil when I watered, will get someone to water in 3 days as I won't be home...
2 years ago
Overall very happy, the LST is still in Progress, will water tomorrow
2 years ago
Very happy with how they're going, today I watered them 5L amended with a teaspoon of the white fertilizer, 4 teaspoons of epson salts, 1,5 teaspoons of the fish oils and a large amount of coffee grounds on the soil. Will only water again next year in 3 days time. She's looking very happy and healthy and smelling insane...
2 years ago
Will water tomorrow with coffee grounds, she is looking very good, I tied down a bunch of her lower growths so that they can receive more light, overall very happy, she's doing very well
2 years ago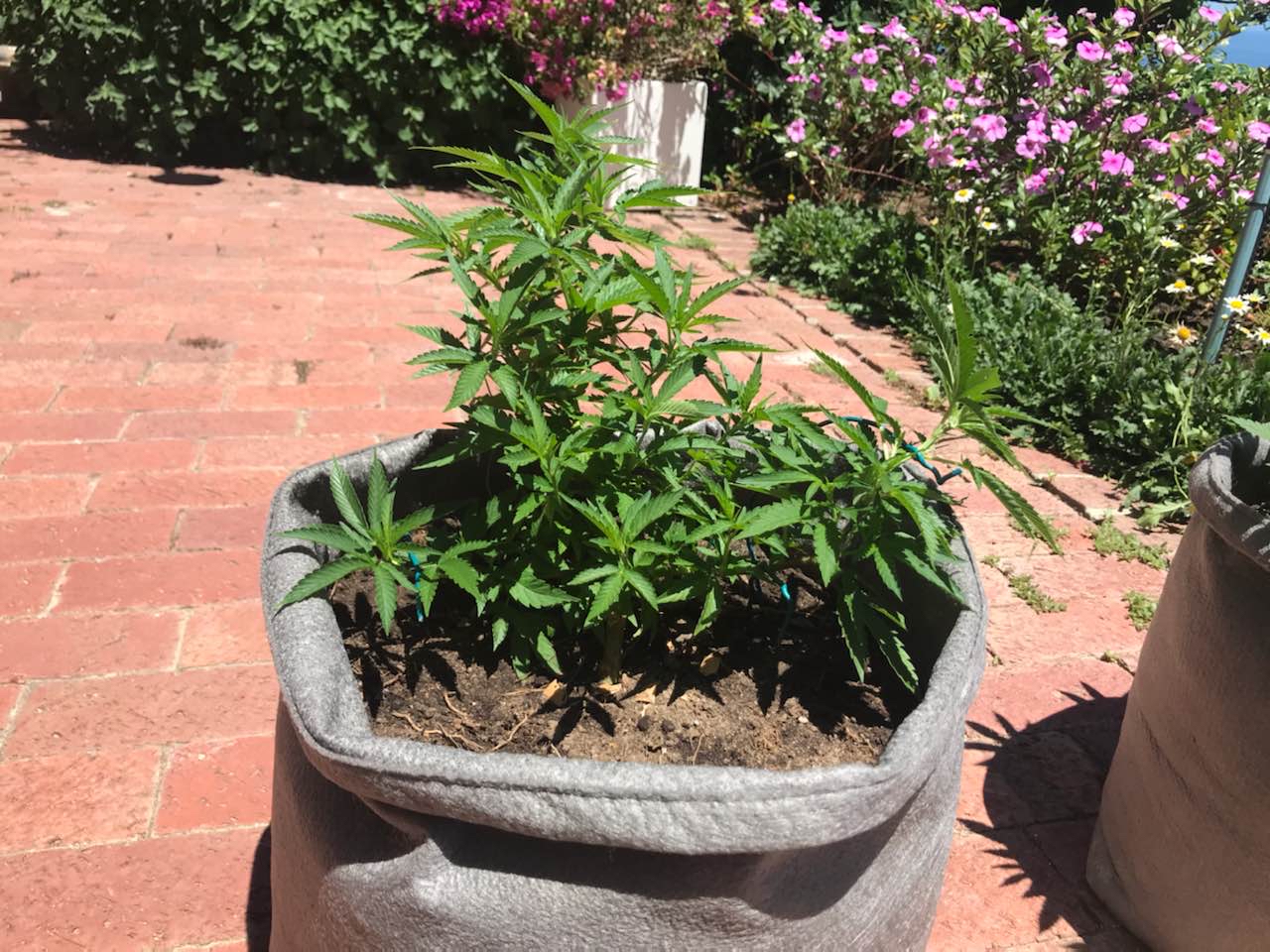 Watered 5L this morning 2L of the water was mixed with 1,5 teaspoons of epson salts, half a teaspoon hydroponic nutrient powder and coffee grounds on the soil. I will water again in 3 days. Very happy with her, she is growing rapidly... very healthy
2 years ago
Also smooth sailing, there seems to be something nibbling on her right arm, will play by ear and search for little terrorists. Will water 5L tomorrow
2 years ago
Looking very good, will water in 2 days
2 years ago
Looking very good, lots of growth happening very happy, will water in 3 days
2 years ago
Smooth sailing over here, also had a good flush yesterday and I'm overall very happy
2 years ago
Looking very good, LST coming along nicely, very happy
2 years ago
They're both looking healthy, watered with 5 liters each, of of those 5 liters had nutes in them. I don't think any additional nutes are required from this point out because the new leaves seem to be looking really healthy. I will water them again in 3 days... Photo 4/4 is a photo of her snap and it doesn't look like it's bothering her because she is flourishing...
2 years ago
Gave 1 liter of amended water as well as had fert on the top layer of soil when watered.I'll give her a proper 6l water tomorrow... her colour is just looking better and better. I need to watch out about her little battle wound tho. Hopefully it heals despite the low stress training... I'm a bit worried tho. Overall looking happy
2 years ago
Started LST again, a little worried about her open wound, but I think i might stop the LST later on... overall looking good also had the same amount of water and nutrients as Kali. I'll give her water in 2 days time from now... Her colour is also looking a lot better...
2 years ago
Just watered 4l with amended 20ml of nitrogen fish oil. This is the day after transplant into 40L fabric pots. Shouldn't have to water for another 3 days... Started LST her a couple days ago, accidentally snapped the main stem, waiting for recovery before LSTing again
2 years ago