fozzybear99
Gorilla Glue x G13
Organics
13 Gorillas growing organically outdoors using Nectar For The Gods nutes.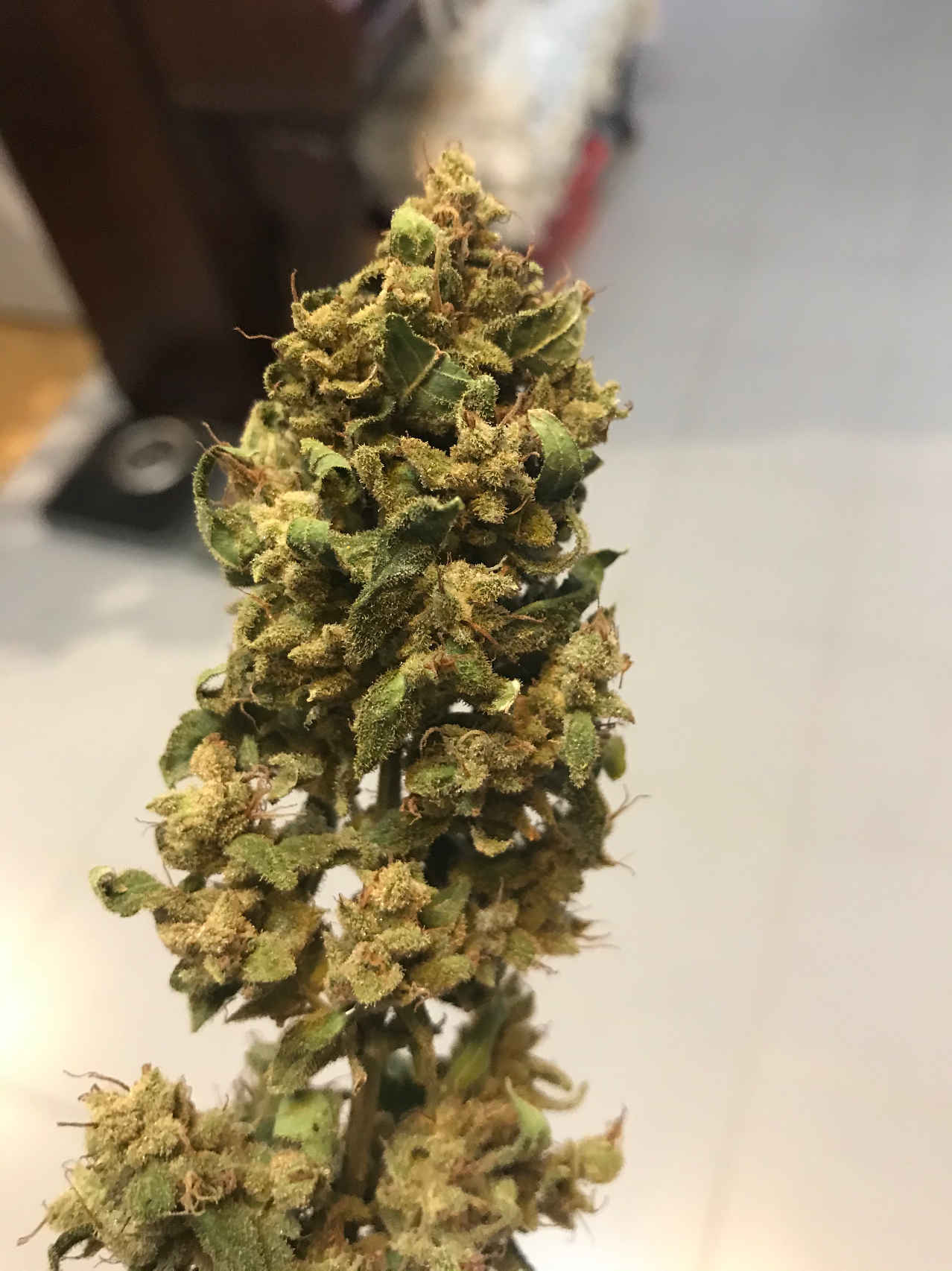 Almost all dried up. A few more days and into the jar she goes
3 years ago
fozzybear99 Wow! First comment ever! Haha!! Thanks Ill light one up in your honor 😊
leapietope Yeah. It's quite hard to see/get comment on this interface is it? How is your experience with the add so far? Let's follow each other
View 8 additional comments
Almost 100% cloudy but still very little amber. The cut day is coming quick. Will be monitoring every day.
3 years ago
leapietope Damn look at them triches. Nice job man. Was it the genetics or simply your skills? ;)
Couldn't wait. 🤣 Used a lope and saw its about 80/20 cloudy to amber
3 years ago
Starting to see a few amber trichs. Finish line coming up quick! Just fed her some tea and water.
3 years ago
Stacking it on. Tomorrow is tea brewing day. Will also give it its last top dressing of castings and all purpose mix.
3 years ago
Starting to get some spider mite problems. Hoping to finish her off strong for the final weeks.
3 years ago
Still stacking
3 years ago
Getting dense.
3 years ago
Think she liked her last watering. Had fulvic and humic acids, myco, some calcium powder, and BioAg TM7. Will be top dressing with more all purpose from Down To Earth today.
3 years ago
Top dressed with a bunch of dry amendments and watered fulvic acid.
3 years ago
Top dressed with frass and castings. Just watered today with BioAg ful-power. Its also been stormy again and not much of a good day of sun.
3 years ago
Gone into flower. One female and others were male. I fimmed her a few days ago and also transplanted into a 10 gallon pot. Bokashi soil with One Shot and perlite.
3 years ago
Chickens attacking the plants. Also mites starting to become a problem. Will be making natural insecticide. Besides those issues, they're just chugging along. They seem small for being 3 weeks. I want to fim all of them this or next week. Make some bushes and increase my yields. Last 2 grows were quite pitiful.
3 years ago
The sprouts looking very happy. Still only watering with myco. 3 out of 3 all have their own unique traits. Top dressed with bokashi bran to get some good balance of microbial and fungal life. Im excited because I have compost teas lined up. Will be getting some dry amendments like rock dust, ewc,
3 years ago
Water + myco jordans + Bioag ful-humix. Growing really strong. All of them. Need to start feeding them soon. Maybe next week.
3 years ago
Plants are starting to show their little unique traits. 2 seem more indica while one seems more hybrid. Will continue to water with myco and ful-power
3 years ago
And then there were 3. Gave one sprout to Sinj. Today all sprouts got a water with Myco Jordans.
3 years ago
Gave it a myco + ful-power watering. Just waiting for the veg state to begin.
3 years ago
They've taken well to their new homes. New growth happening. Its been raining a lot and soil has not had a chance to dry out yet. Keeping them under a roof tonight.
3 years ago
Day 2 brings a Typhoon. Hoping for good weather soon.
3 years ago