jflatnote
Dawg Cookies - PWRC Clones
Spring 2019
Added these two beautiful ladies to the same grow room (evolving) as the Dr Who grow. Sorsha and Mad Martigan
These plants have suffered quite a bit. I have been gone too much away at the hospital while they have been flowering. We had several times that they got way too hot. In spite of that, they seem to be doing pretty well.
4 years ago
Had several long days of trips back and forth the the hospital and wasn't able to make it in during light hours for several days to check on the plants. They were wilty and had lots of dry dead leaves. Have watered and picked off the dried leaves. Have buds.
4 years ago
Was gone for 6 days with my son in the hospital. Plants were very thirsty when I got home. Watering daily at this point. Don't have room for it, but should probably use bigger pots next time. Fed bloom nutrients two days ago. Today cleaned up lower leaves and switched to 12/12 schedule. Expected harvest in 70 days on Monday, 9/7/19
4 years ago
Had to top these girls again today to keep them on pace with the indicas. They don't seem to take any harm from it, and really seem to bush out in response. Watered them yesterday with my new can. Was supposed to feed but forgot in the excitement of having a can big enough that I don't have to bring water in twice.
4 years ago
Sorcha and Mad Martigan. Soil surface temps were 75.2 and 76.4. Ph 6.8 and 7. Moisture reading at 1 for both - watered and fed with fish emulsion and cal-mag. May have to prune MM again in the next couple days. Three of the cuttings from the first pruning have rooted and I transplanted them to 9oz clear solo cups this morning.
4 years ago
Have been responding well to being cut down to the height of the other plants. Installed thermostat yesterday and temp is holding at 78-82. Fed with fish emulsion and with cal-mag yesterday. Gave more water than normal.
5 years ago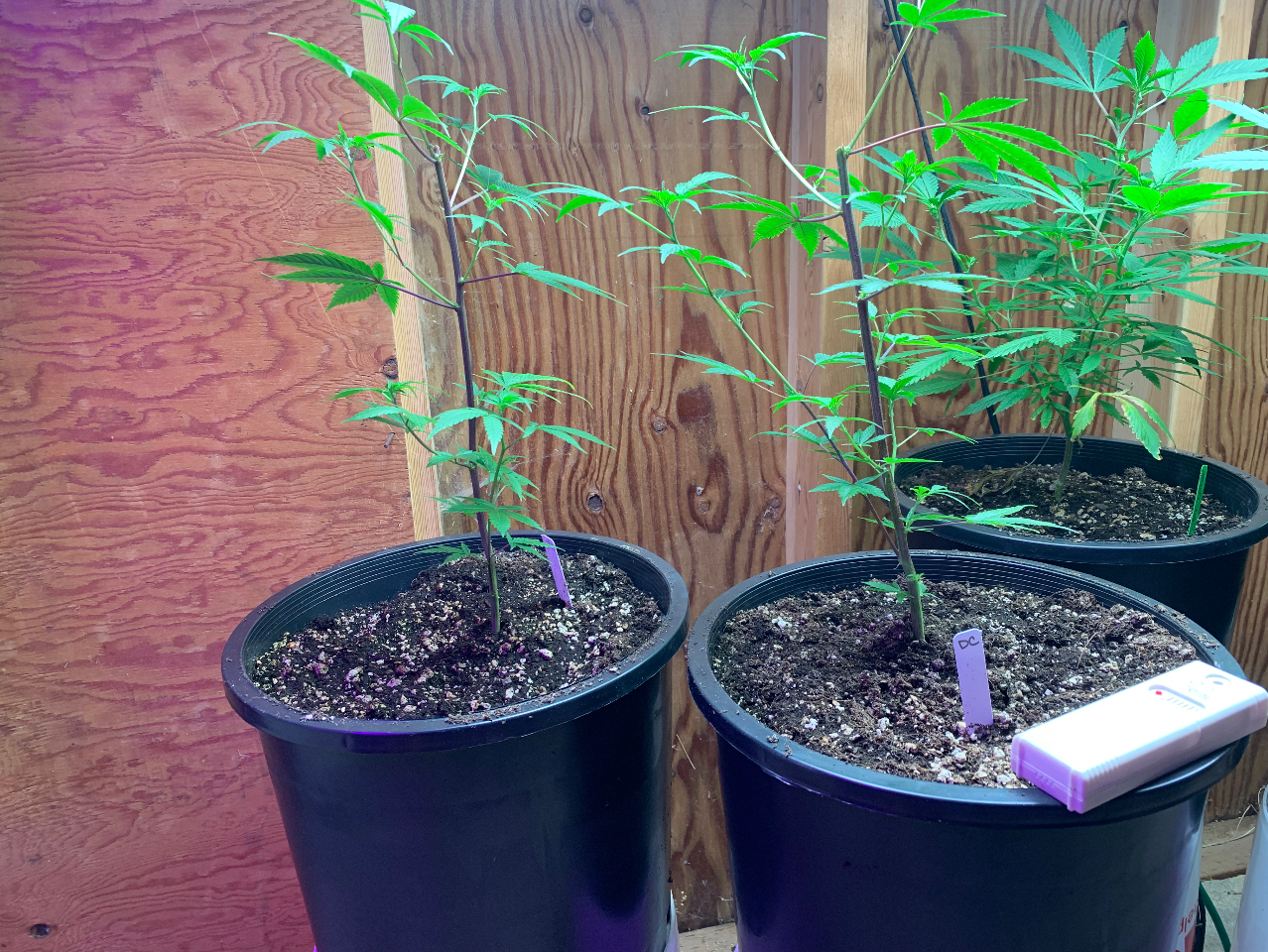 After a very distasteful encounter on a reddit grower forum, my me tor growers recommended pruning these two down to the height of the other plants so that I could lower my lights down for all of them. Also that I bump the heat to 78-82. I did both today.
5 years ago
Have been growing well, adding observable height every day. Stems have turned purple/red. Could be nutrients or shock from the transplanting. Or could be the way the plants are.
5 years ago
Sorcha and Mad Martigan. Transplanted today to 5 gallon pots, fed and watered, and put down under new, brighter lights. The root development was very nice, but I think there was quite a bit of root damage for these two during transplanting. We will have to see what happens.
5 years ago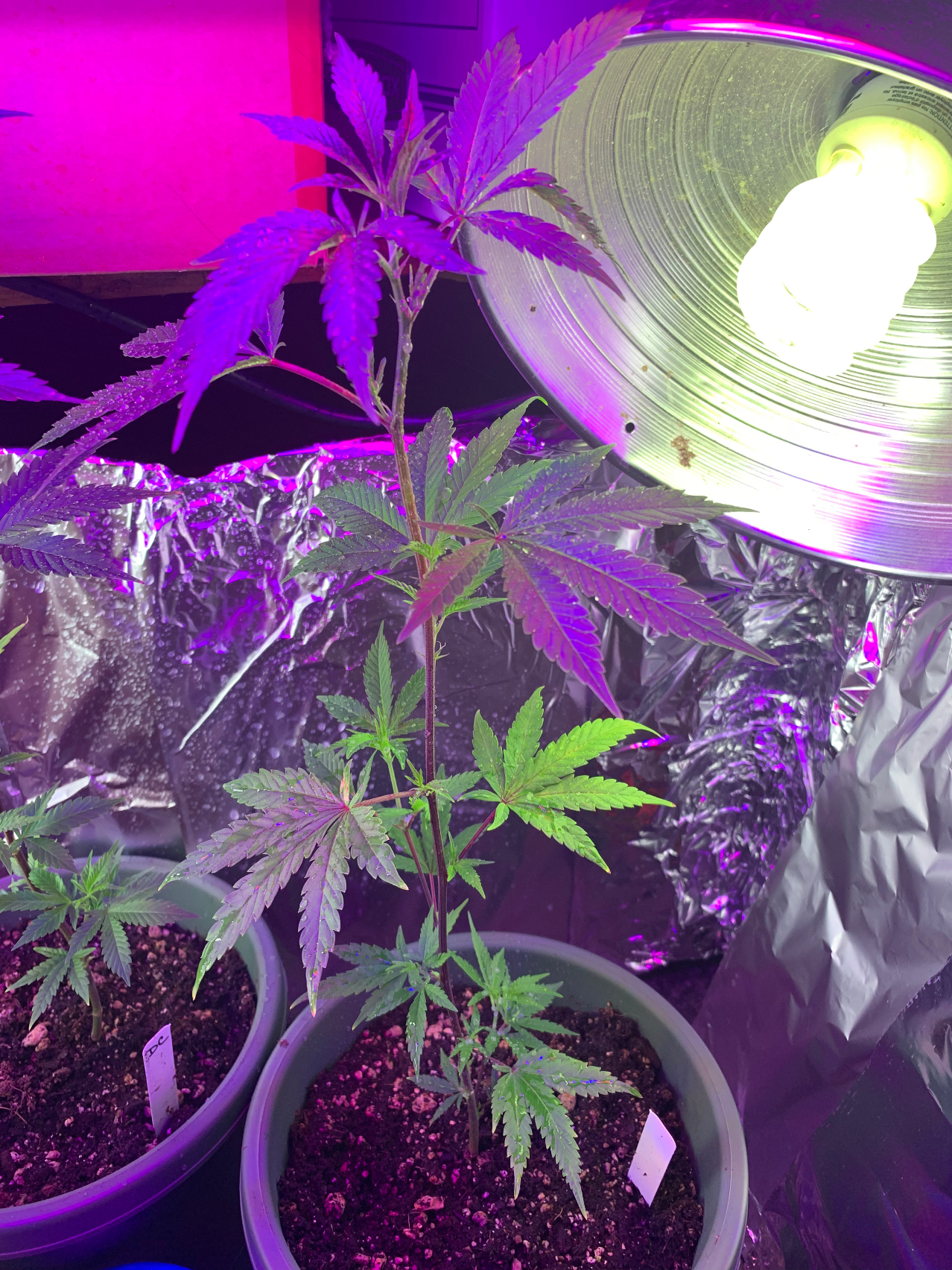 Yesterday I added a second CFL. Worried that on many of the older leaves this looks like it might be a K deficiency (and also because it was time to water), I watered the plants with a few teaspoons of fish emulsion added to the liter and a bit in my elephant watering can. We'll see if that helps at all. I also, and I worry about this, sprayed the two plants with a commercial insecticide. I probably should have waited, but I found a few strands of web in the leaves and was worried about spider mites. And I didn't have the ingredients on hand for soap spray. I do have several clean, empty spray bottles, so I may make some up in advance.
5 years ago
Sorcha and Mad Martigan have both very much benefited from the increased air temps and their soil temps coming up (from having the heater with its built-in thermostat running to keep things above 65). Also, yesterday I added a CFL pointed at the Dr Who plants. It has had good benefits to the DC plants even though they really too far to get much extra light.
5 years ago
The plants were several days waiting to be transplanted because of life stuff, and seemed to suffer a little nutritionally because of it. But seem to be responding well in spite of the humidity. Have been running a heater in the room to keep it at 65-75 degrees. It is still pretty chilly on the Oregon Coast.
5 years ago