nate
Old Toby
Winter 2019
Three Old Tobys from found seed.
Jan 13th Growing strong!
5 years ago
Jan 7th Repotted in 5 gallon planters
5 years ago
Jan 5th No update today. Letting them be, I'll be potting them in their final homes tomorrow.
5 years ago
Jan 4th Seeing growth almost as I'm watching them. Weed is a fitting name. Temp maintains ~76•-80• between night and day, soil is still a little moist and I'm thinking of potting in their final containers within the next couple days. I'll time it with their next watering and try not to shock them too much.
5 years ago
Jan. 3rd Day after lowering and nitrogen supplements. Already feeling the relief and looking better. Temp has risen a bit outside and the grow room maintains ~76•
5 years ago
Jan. 2nd Learned what it meant to be in veg state and I'm late. Haha, I swear I learned about this. Too many coals in the fire! I have not been keeping track of my timeline yet and the holidays were busy. Sought out some advice, my plant's were looking rough and growth is slower than I expected. Watering is on point but this is when I lowered the plants another foot. First nitrogen supplements.
5 years ago
Dec 22nd. Finally finished the grow room. I'm a cheap bastard and if I can make it myself I will. $22 for 10'X25' 6 mil heavy duty plastic sheeting, reclaimed wood from our property, a box of short nails on hand, a box of screws on hand,a $6 roll of duct tape, three $2 survival blankets, an old bed sheet, an extra 24" wide door also on hand (I think originally only around $20 when new) and some tinfoil from the kitchen. Dimensions are 4'X6'X8' located in my outdoor office. It's cold here in Portland, I'm able to maintain the grow room at ~70•. The light heats up the space just fine with the fan set up ventilating out to in to the main room, helping keep the rest of my office a few degrees warmer as well for my other plants to benefit! I took the starts and moved them to gallon containers.
5 years ago
Dec. 12th My wife is going to kill me if I don't get this out of the bedroom.
5 years ago
Dec. 10th New leaves. I look back at the beginning already and am incredibly glad these beautiful plants are so hearty.
5 years ago
Dec. 8th I couldn't help but snap a photo of the mother leaves. They grow so fast!
5 years ago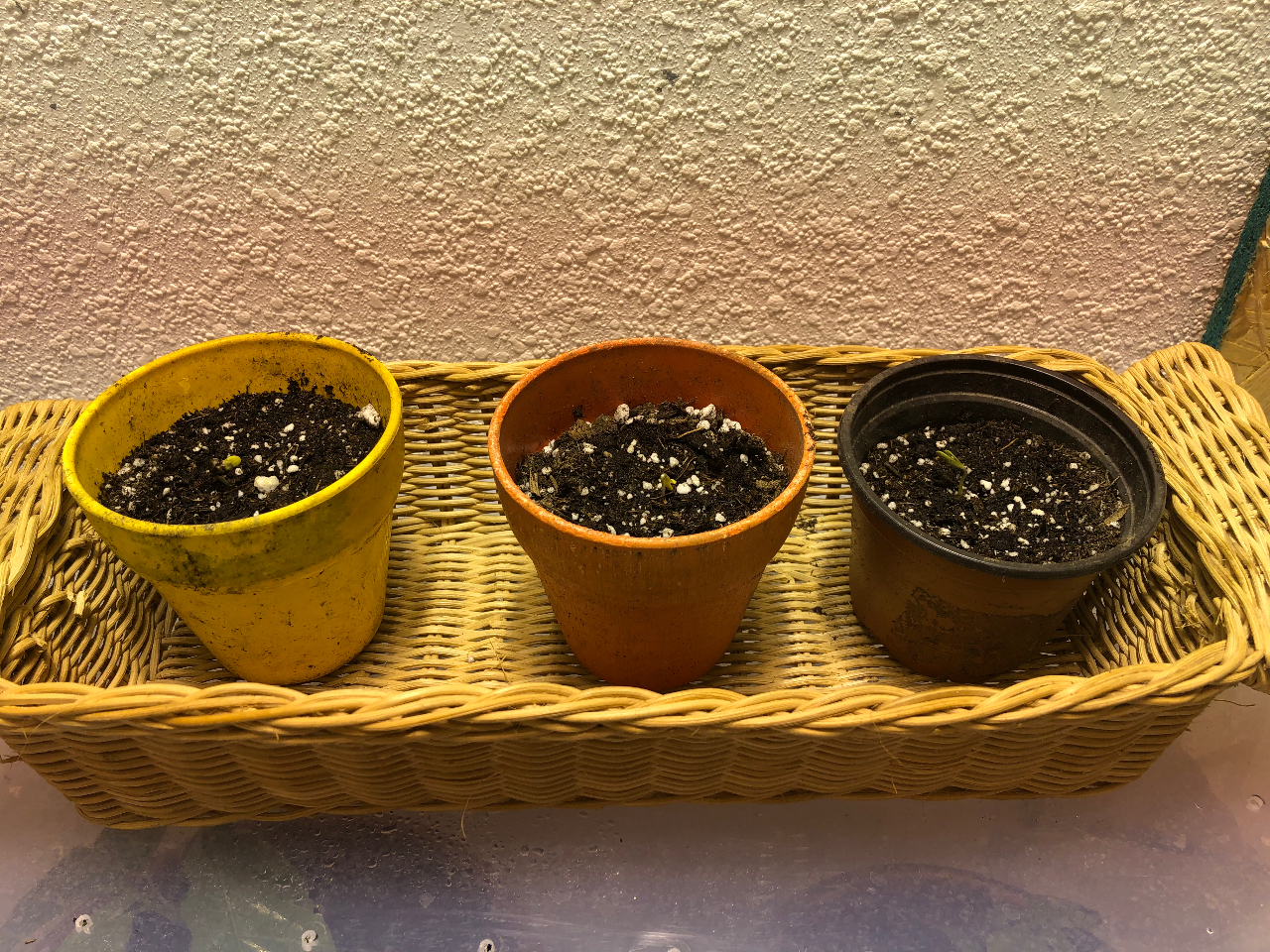 Dec. 7th Popped out of the dirt! ~24" from light. I'll later find out through sage advice that this is about a foot too close.
5 years ago
Dec. 6 2018 Tap roots are out already and we're ready to plant. Unfortunately didn't grab a photo. Grow room isn't ready. Picked up a pair of 1000w HID set ups and fans with large carbon filter free from Craigslist. I was ready to try my first grow without. Right time right place! Fella didn't need them anymore and was moving. Only used them for a couple seasons but they were originally his parents. Rad! The grow already seems blessed. I set one up in the closet temporarily.
5 years ago
Dec. 5th 2018 Began germination using paper towel method. Folded in wet paper towel in small Tupperware container and left under warm ventilation indoors. Room temp ~72•
5 years ago