Mid-summers dream grow
Summer 2022
Grown in #7 hydrotable pots in FoxFarm Ocean forest Mix. Grown under Atrum 3200. Using Mills nutrients line with calmag+ and some Advanced nutrients supplements in RO water. Environment is stable at 80.5 degrees lights on at 80% power with an RH of 63% and VPD at 1.35. Night temp at 73.4 degrees and an RH 68%. Scrog grow. Foliar feed daily until buds develop with vitalize and seaweed extract. PM green clean once a week all through veg. All were topped down to the fifth node once they had 7 nodes. And the G-Unit is small cause it's actually a week or so behind the rest and it had a very dramatic incident moving things around about two weeks into her life, her solo cup got flipped over and dumped completely out once I replanted she didn't grow for like a week and change. So she is pretty far behind the rest but she is also in my old style soil mix which has two layers of hydroton with down shaft for extra oxygen to the roots system for vigorous growth. She was replacing pyramid seeds galaxy which I say never buy 1 of 6 seeds germinated and it was so weak I trashed it so never buy Pyramid seed company seeds they suck. G-Unit OG is a friends strain not available to the public sorry but I'll see if that's really something to be sad about lol. 6/6/22 Flipped to 12/12
The White OG, Black Sugar momma, G-Unit OG, Jagg Kush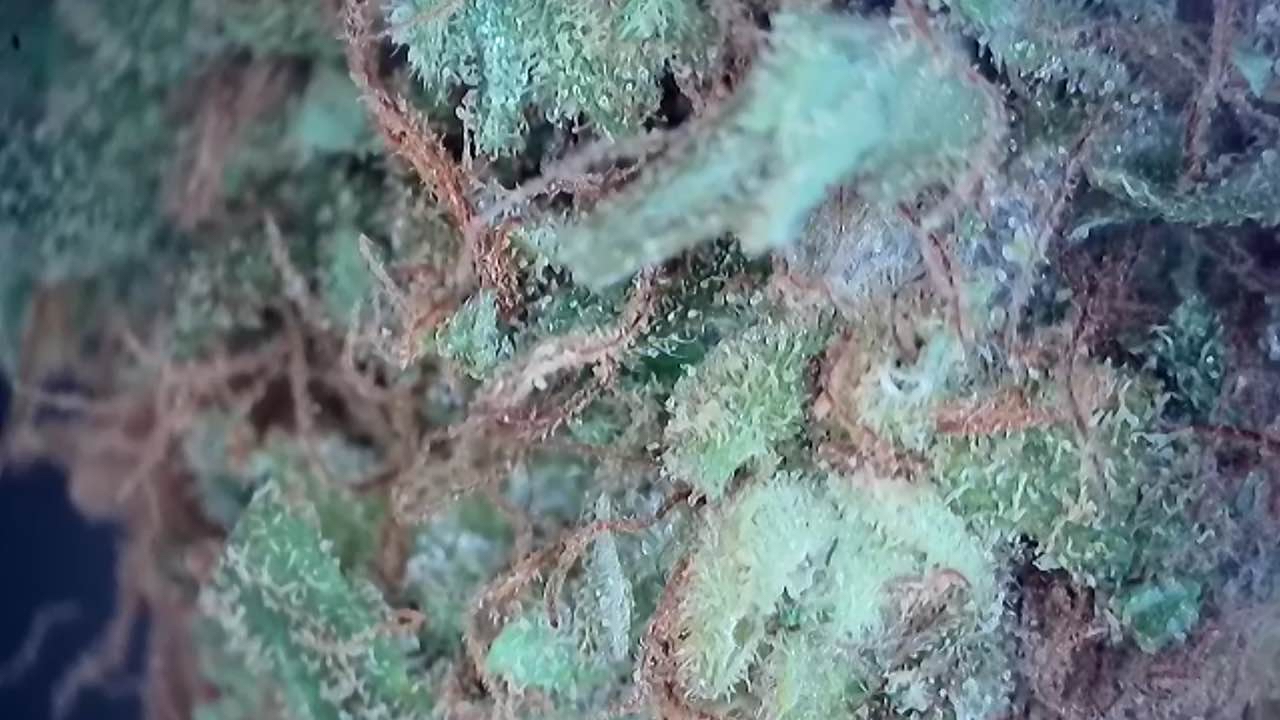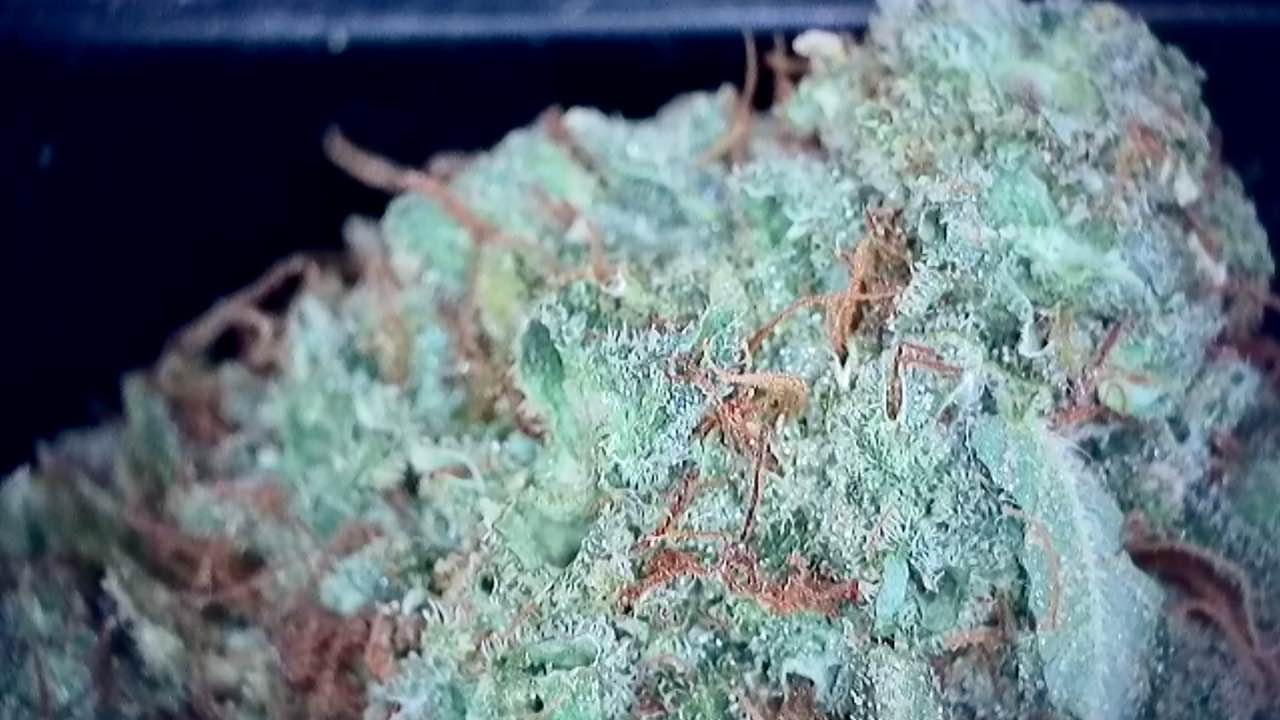 Some macro shots
a year ago
Made some sour gummies so good 😊
a year ago
Made nice supply of cannabis butter out of an zip of the harvest and when the malic acid comes tmw some will be turned into sour gummies can't wait had some toast this morning with the butter and it was awesome 🤩
a year ago
Just ran the first go from the collection under the trim bin and got about 30% return of some fire rosin great color great taste and pretty damn Stoney 🗿
a year ago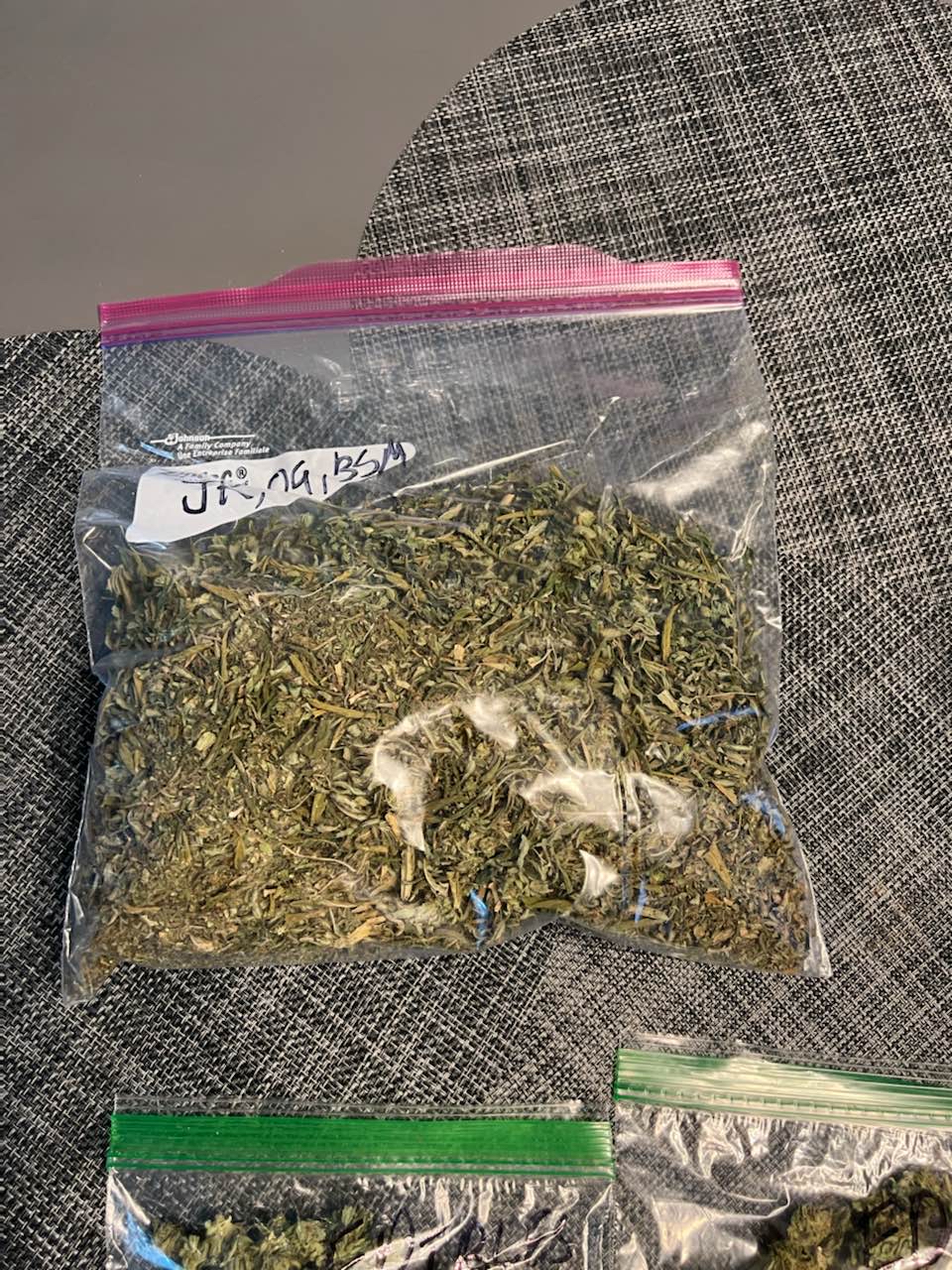 The ladies came down today and were trimmed and Jared they made it 10 days little shy of where I like them to dry by 4 days but I couldn't get the tent below 73 degrees so about 13 degrees too warm but the rh was good at 62% and it wrecked all day in the house of sweet candy and gas ⛽️. The pull was solid weighing in at 479 grams of solid nugs so 1lb 1oz not to shabby and if I add the the runt I harvested two weeks before these three I had 506 grams so 1lb 2oz. The break down goes like this Jagg Kush 218 g, The White OG 132 g, Black Sugar Mama 129 g, and the little Gunit OG 27 g I also had 92 g of shake/trim and 27 g of larf or tiny buds that I'll make gummies with tmw. Killed this one if I may say so myself. Put a fork in this one it's done! ✅
a year ago
This run is done and there is some weight in here😎 nice root system didn't fill the container though so could have gone smaller. Some of the branches were so heavy once the scrog net was completely gone they snap in half from the weight awesome. And even with the carbon filter my whole house stinks like sweet candy and gas crazy good stink. Chopped hung and done ✅
a year ago
Went into darkness this morning next time they see the light it will be with a hatchet 🪓 lol goodnight ladies hehe
a year ago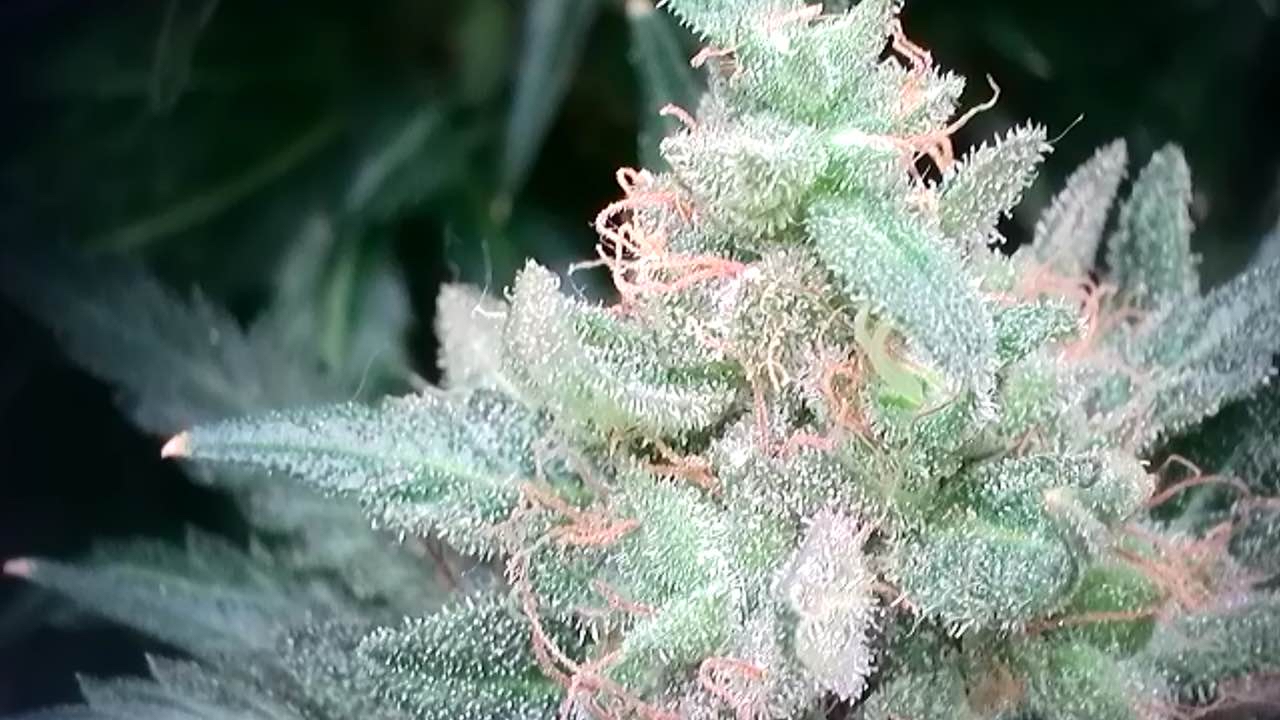 Just a few macro shot before their nightmare begins, lol #2448
a year ago
Last regular day for these girls then the tent will turn into the house of horrors for these bitches, they will go through the twilight zone of 24hrs light then plunged into 48 hrs of darkness while the temps go way down and ice 🧊 placed on their soil. Then come Wednesday morning once they see the light again off with their heads lol 😂.
a year ago
This home grown is attracting some pussy 🤣 happy growing,4days and counting til #2448 here we go 😎
a year ago
Coming along right on schedule 2 more days til the 24/48 and then chop 😎
a year ago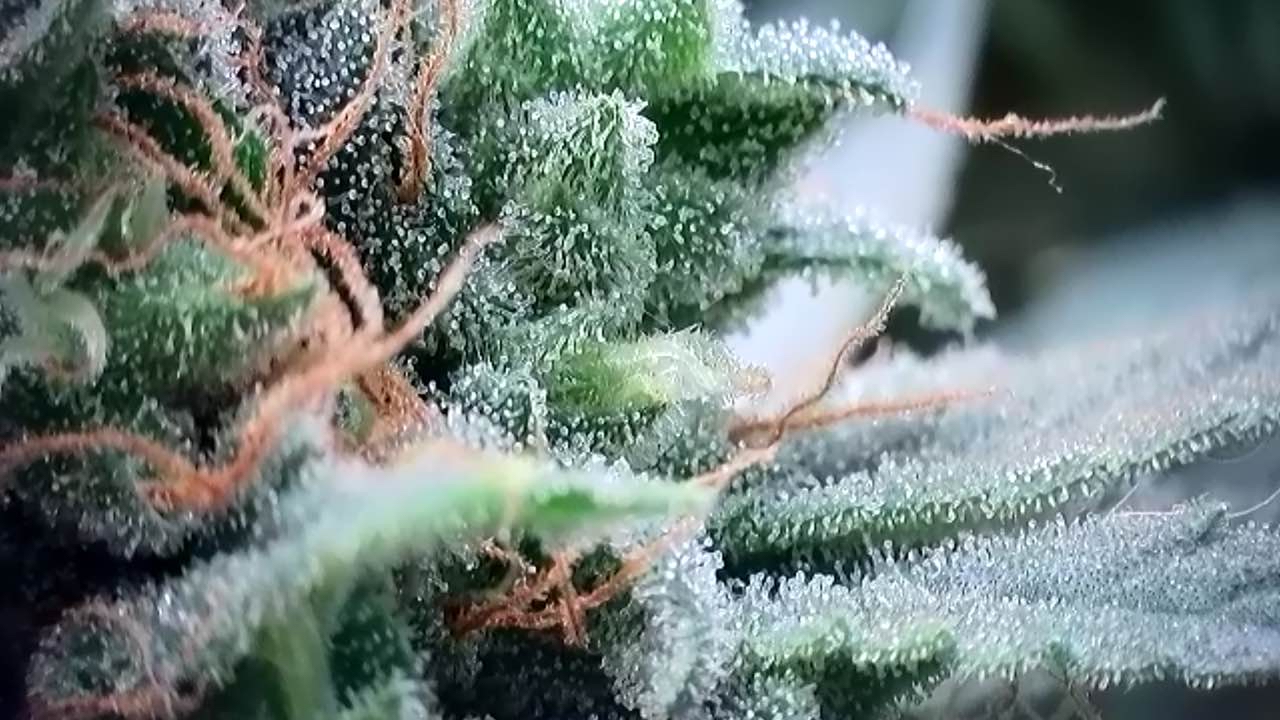 These woman got their final flush today 5 gallons each and Sunday we will start the #2448 and next Wednesday they will get chop. This grow is just about done ✅ 😎
a year ago
Fade is coming in nicely and the trichs are cloudy ☁️ so we are in the home stretch 6 days and counting 😎
a year ago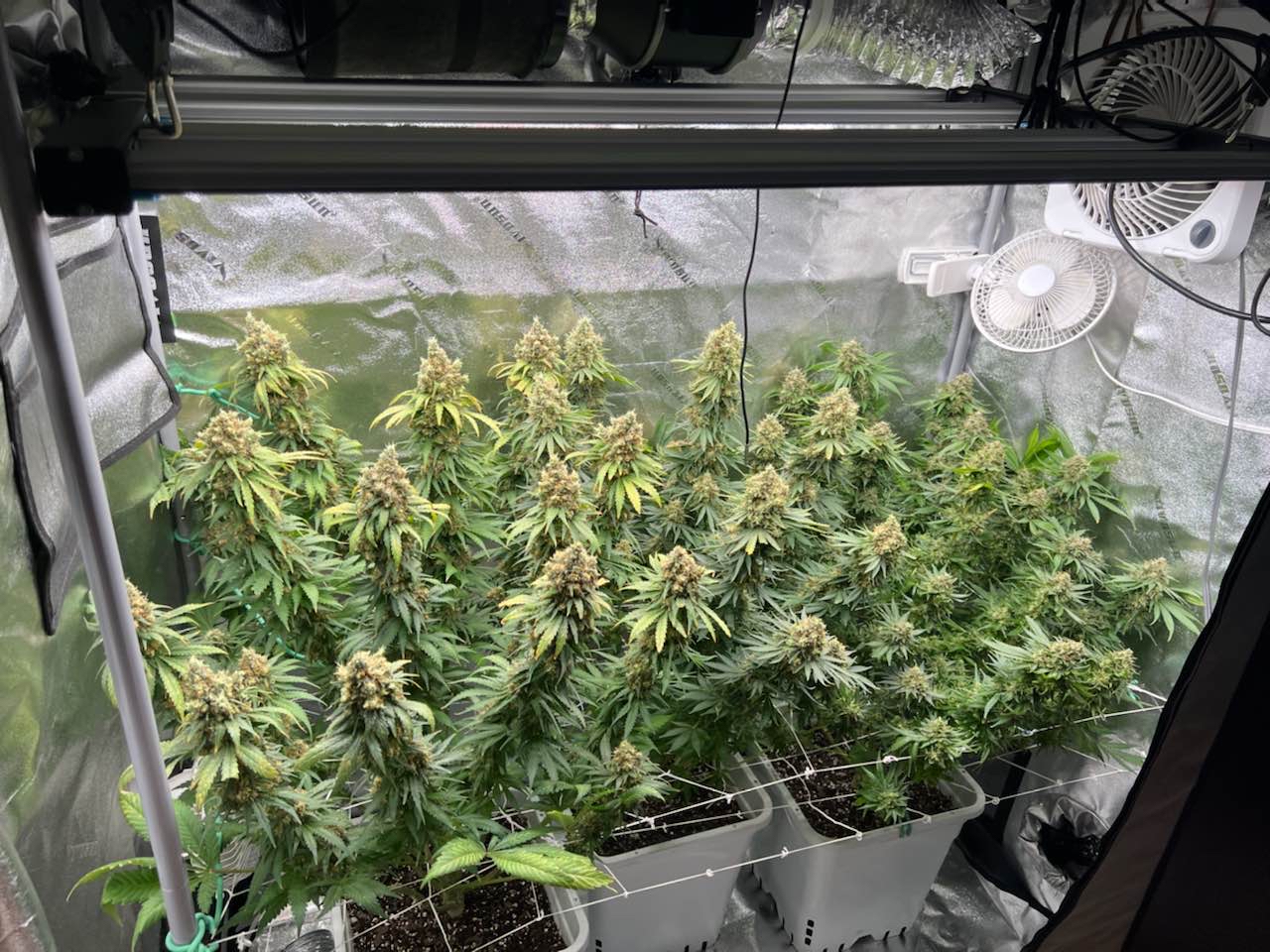 Getting down to their final days I'm pretty much set on chopping a week from tmw from the looks of the trichs that should be the sweet spot.
a year ago
Their getting there the chop is coming soon, they are about to get some more pure H2O. Here is a couple macro shots😎
a year ago
Day 61 of flower and they are still going pretty decent still drinking a bit though all they have gotten is pure H2O and quite a bit of it about 3g per plant the last to waterings which is every 3 days yet their soil is drying up quickly so as much as I want this one to be closing out it may still have another week or so 🤔
a year ago
Day 58 still just sitting on my hands and flushing with Pure RO water phd to 6.3 2gallons per plant every 3 days
a year ago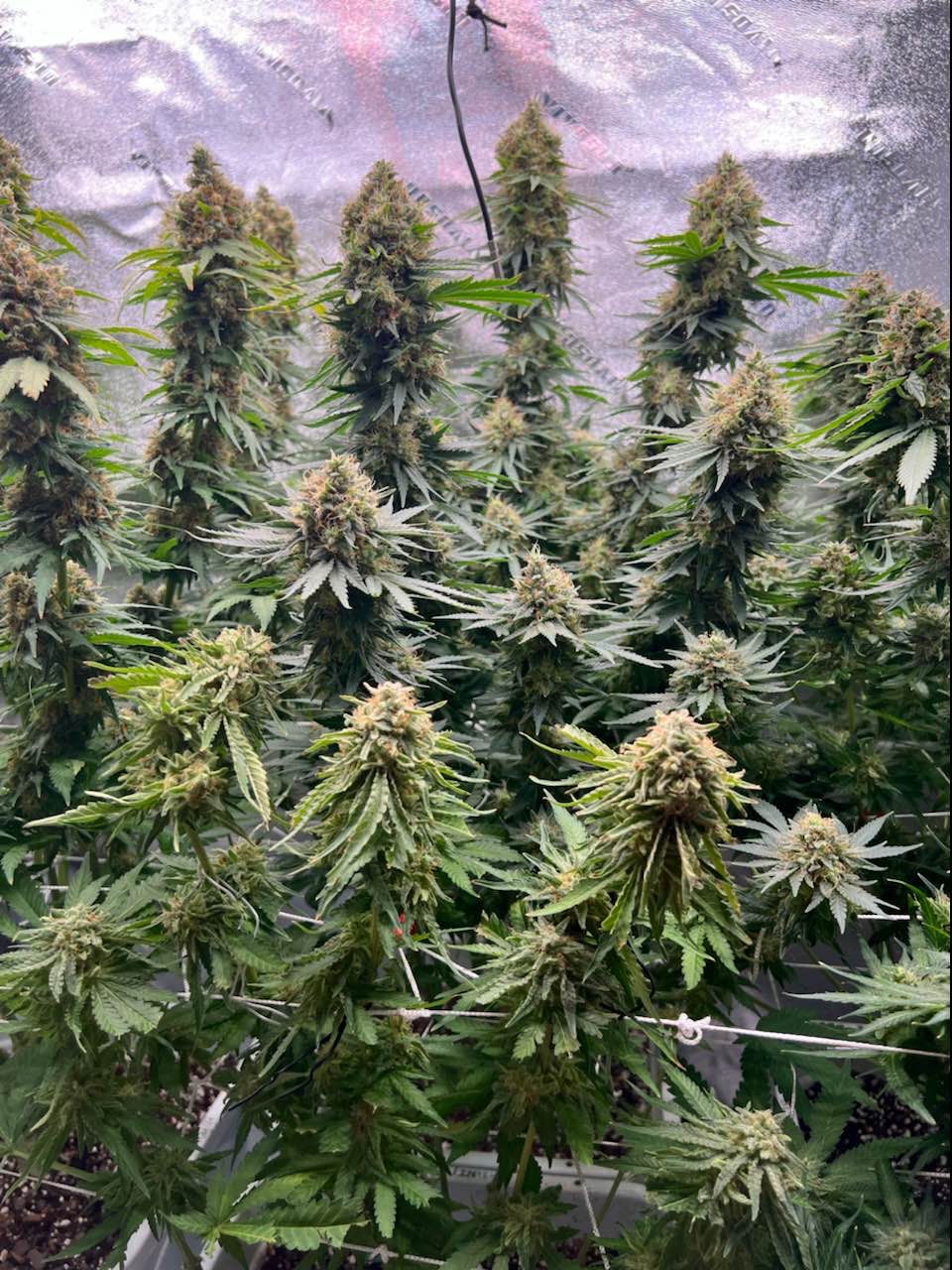 Day 55 just cruising along still fatten up and two r full into ripening so all should be done in 10 days or so give or take. 😎
a year ago
Just cruising along at day 53 of flower it's just straight H2O from here on out, lots of 🦊 tailing happening on the colas. The light has been now dimmed to 65% from 85% for the remainder of their lives and I am going to do a couple of controversial things at the end cause I have been doing two of them for ever and I ain't going to change. So when they r done I'll be doing discs #2448 now I have always done 48 hrs of dark and I'll also be dumping ice bags on the top of their soil during the 48hrs of dark. And I'm thinking from the looks I got 10 days to 2weeks left my original projection is Aug 9th so we will see how close I was.
a year ago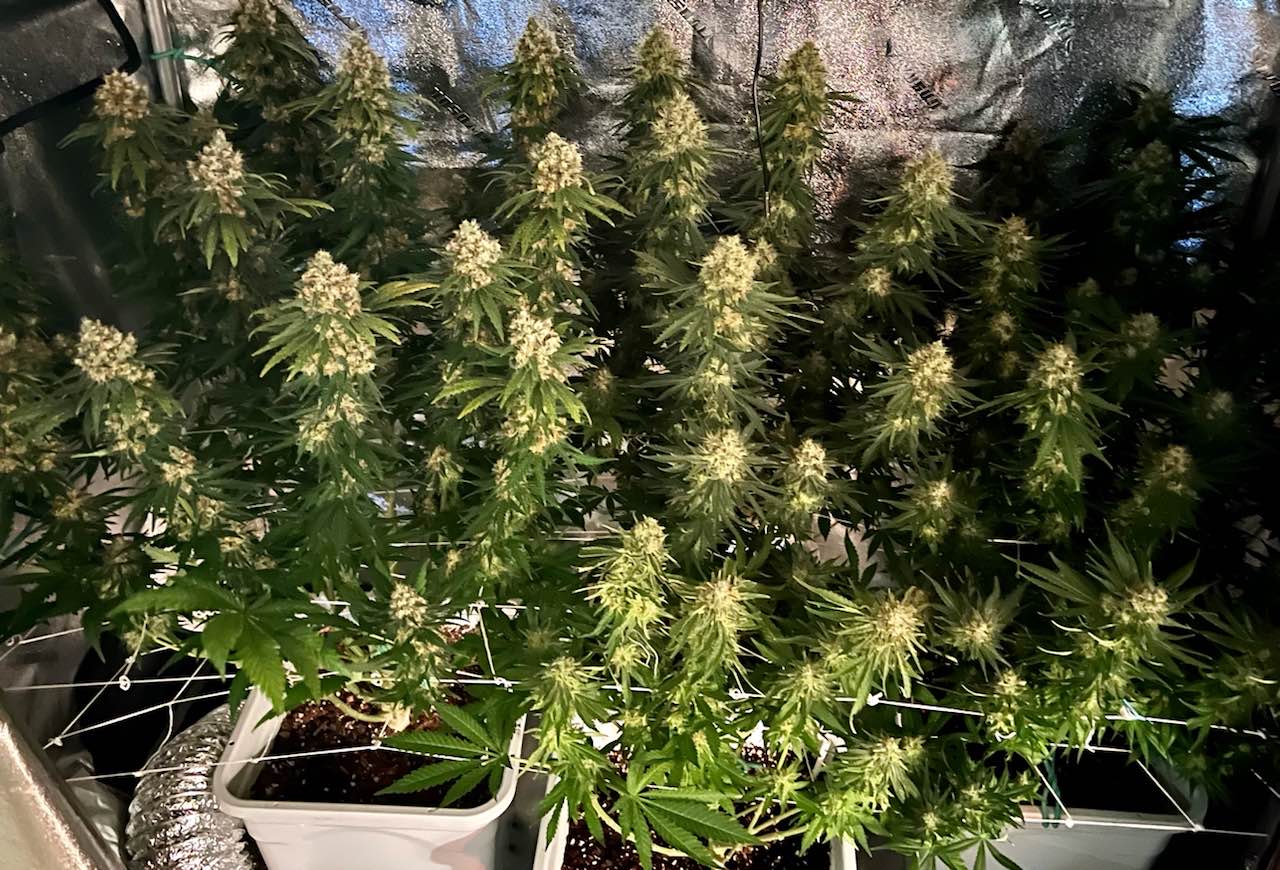 Day 49 last day of week 7 so we r moving into the beginning of ripening stage so the frost should really start coming in the next few days and then it's just a waiting game lol
a year ago
Not much change just cruising along beginning the ripening stage 😎
a year ago
Just a few pics before bed 😎
a year ago
Tmw is the last day of week 6 and these ladies are really putting on some weight now.
a year ago
Just a couple close ups on day 39 😎
a year ago
I was just tucking some leafs and pulling a couple that were covering bud sites and the light went out so I grab a couple picks before I shut it. 😎
a year ago
First day of week 6 and I knew there was some difference in flowering times but I was hoping it was going to be marginal when all was said and done but it looks like one is already starting to ripen and then two more rt behind it but the kush looks to be still in full bloom phase still I see new pistols everyday so unless it changes overnight at some point it will go quite a bit longer so I have a choice either harvest at different times pain in the ass, harvest when the three are ready and the kush will be early or go with three couch lock and one perfect. I think I'm going with door #3 but maybe door #1 not sure yet 🤔
a year ago
Day 35 tmw starts weeks 6 of flower getting closer and just cruising along, happy growing!😎
a year ago
Just some cool BW shots with the new cam from yesterday! 😎
a year ago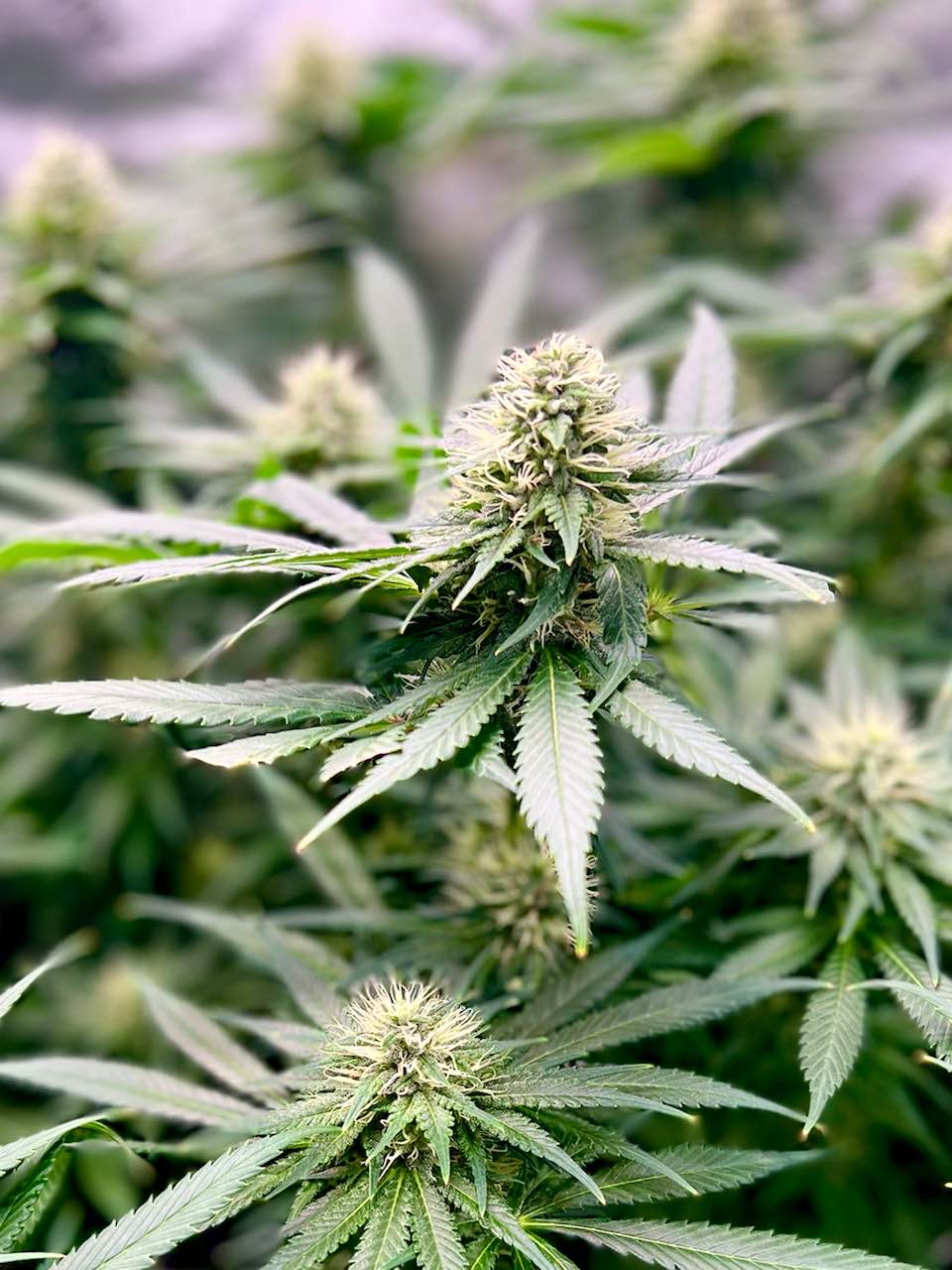 Just some bud pics mid-wk5 flower!😎
a year ago
Day 30, 2nd day of the 5th week of flower. And I got some dope pics playing around with the new camera has some sick features like portrait mode (Bud porn) Happy growing 😎
a year ago
Day 28 last day of week 4 of flower 🌸 and they are extremely happy and healthy and showing it with explosive growth and already putting on some trichomes. Happy 4th of July!
a year ago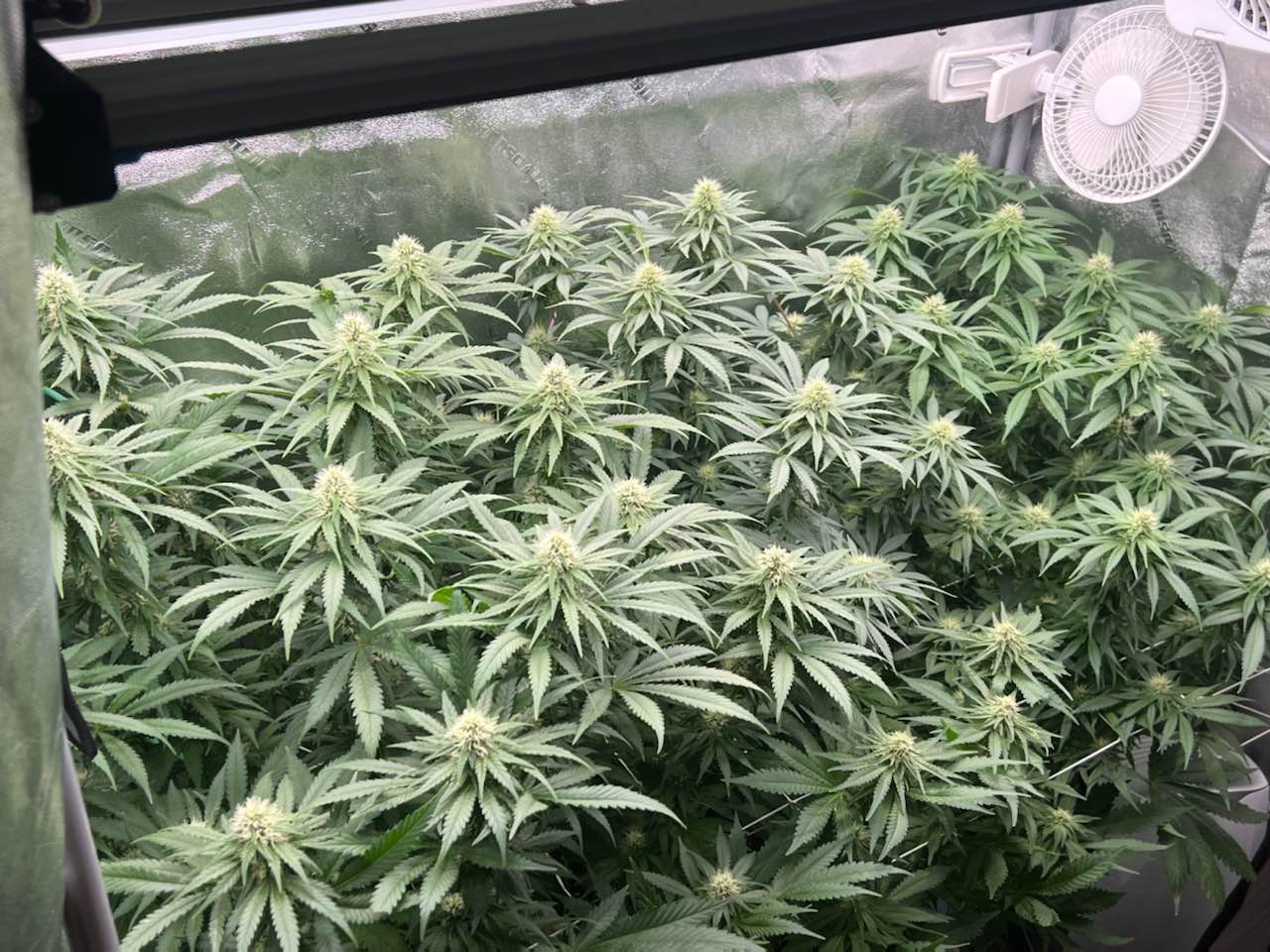 Week 4 day 25 and they are blowing up and have started putting trichomes already😁
a year ago
Just some dope pics from this morning happy growing growmies!😎
a year ago
The node stacking on this run is insane I'm loving these genetics 🧬
a year ago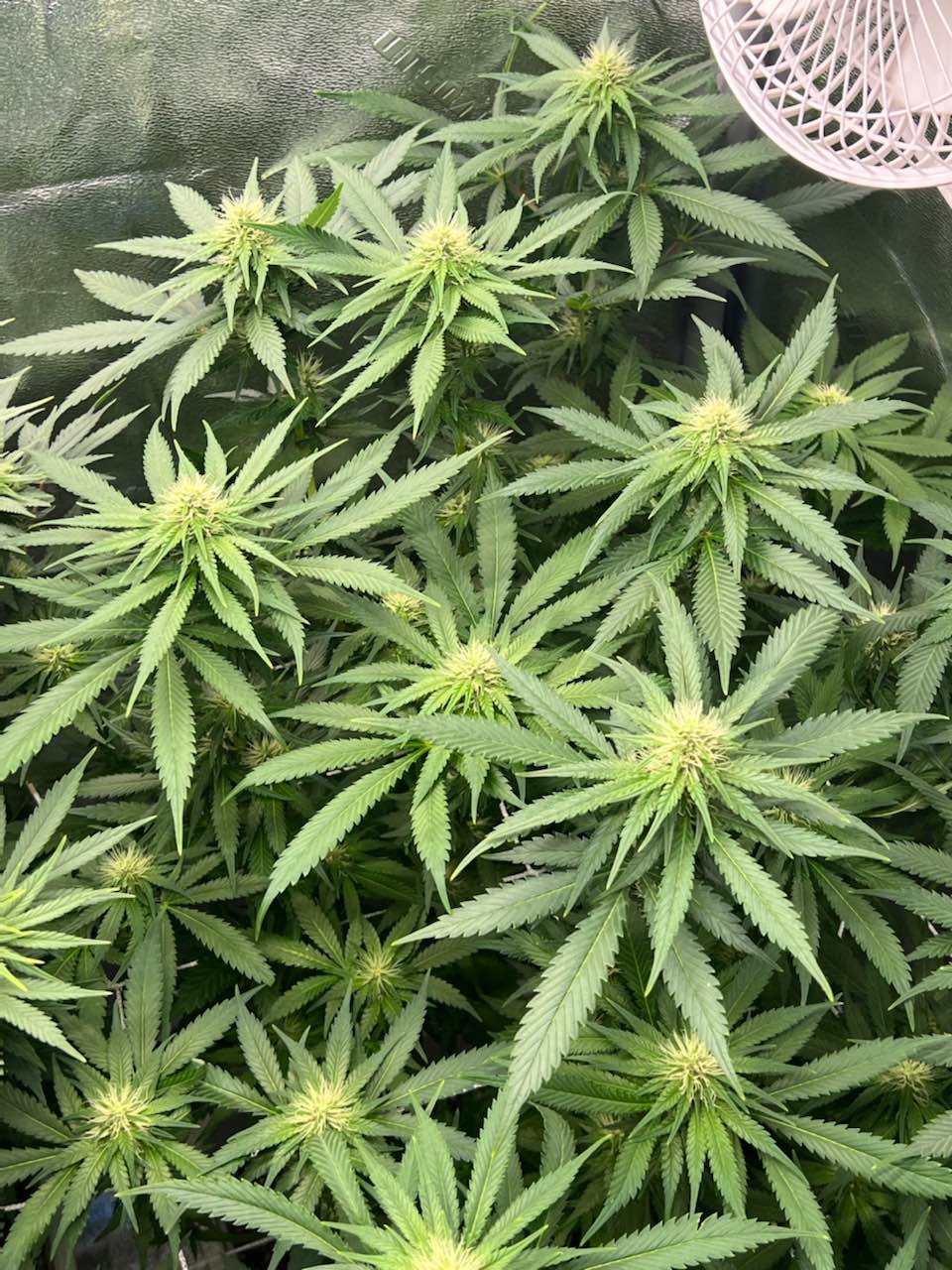 End of week 3 of flower day 21 and these girls have finally finished stretching there legs and are now ready to let their hair down. Looking good if I don't mind saying so myself.
a year ago
Just got back from vaca and wow have these girls blown up, Damn gina, lol 😂. So they are now 15 days into the flip and they needed there beginning of flowering stripping to get light down to all the nugs and get that airflow flowing good again. And my pot pug made an appearance. Now the fun begins and man it already has a fantastic aroma. Wait for it….
a year ago
HeritageSecretGarden Thanks this run turned out pretty good for new genetics 🧬 except the seed of my buddies cross I'm not a fan though it had a rough start it never recovered but it wasn't doing much before it's disaster so I'll see how the smoke is but this far I think I will recommend he tries again lol
bonojohnson That's why we have homies test seeds man gotta give the brutally honest feedback. I'm about to be master grower of a 106,000 sq ft greenhouse 36,456 plants full and we're going to try and do 8 sections of autos it's all hydro and automated sorry lol I'm just excited and it's blowing my mind to be planting a few hundred of the same strain the pheno variation at that scale is going to be crazy because we're going to try autoflowers from seed and no clones
View 26 additional comments
The Pot Pug Ziggy seems to approve day 15 of flower.
a year ago
View 1 additional comment
Day 16 and the morning after their beginning of flower stripping and they have recovered already and looking fantastic. And the internode spacing is super stacked this is going to be a great run.
a year ago
Discpimp Bro this is top top and gonna rage! Excited to see it rock the fuck out man!! Not sure those could be any more happy or healthy.
HeritageSecretGarden Thanks gentlemen I greatly appreciate it and @discpimp yeah they blew up over my vaca crazy but I too am excited to see how this run finishes out
View 5 additional comments
Slowly but surely they r filling up the top Scroog net but the bud development is fantastic for only being 10 days from the flip. And I can't remember who but someone was asking how stable is my environment pretty stable that pic is from lights on.
a year ago
HeritageSecretGarden Look whose trolling my shit lol thanks for bringing the hateraide lmao whose on whose post I think your lost but your always welcome to hang out and admire the garden
HeritageSecretGarden No I got more class then to engage with a troll on someone else's post if u don't like people talking shit then don't act like a bitch
View 4 additional comments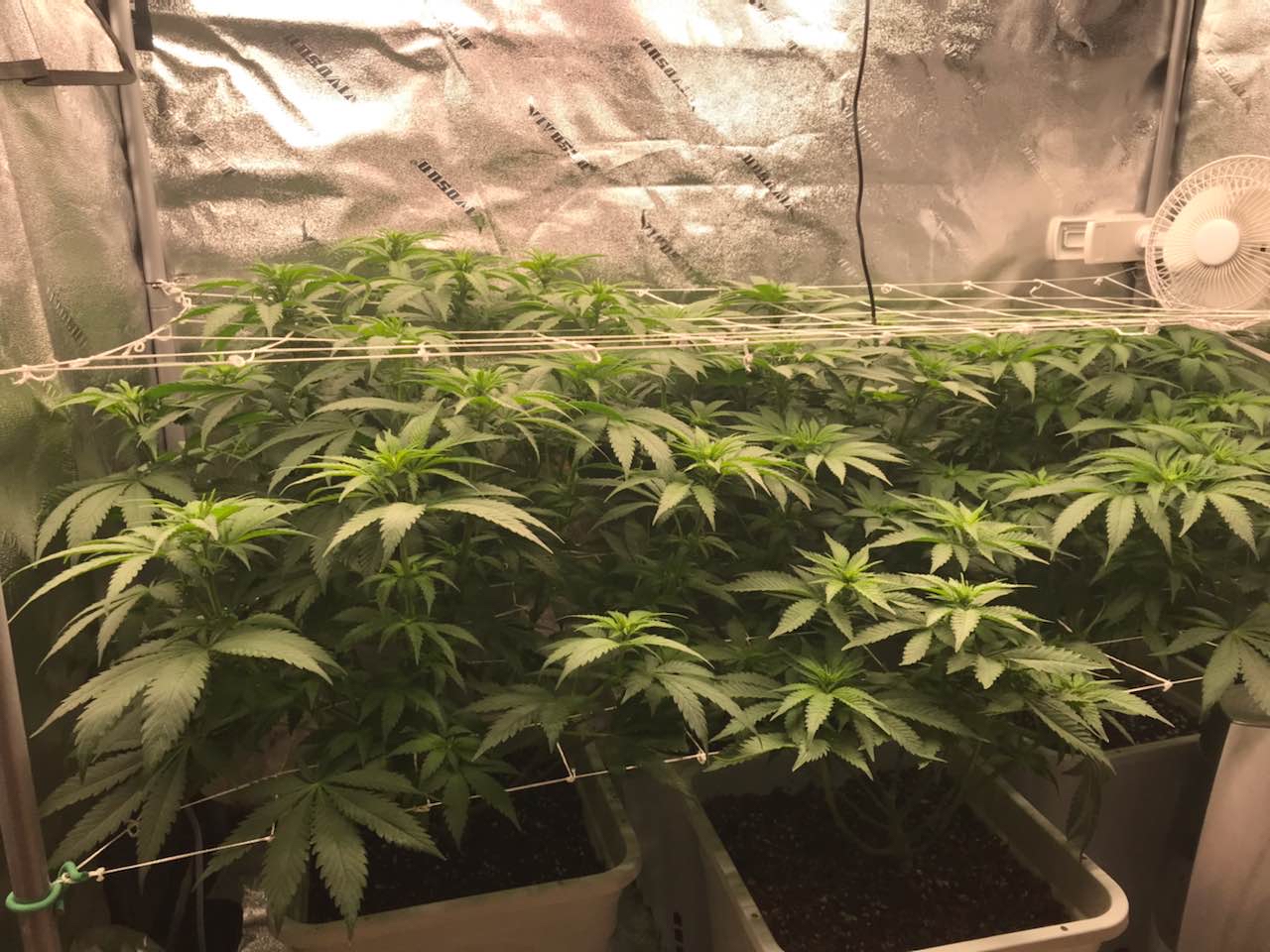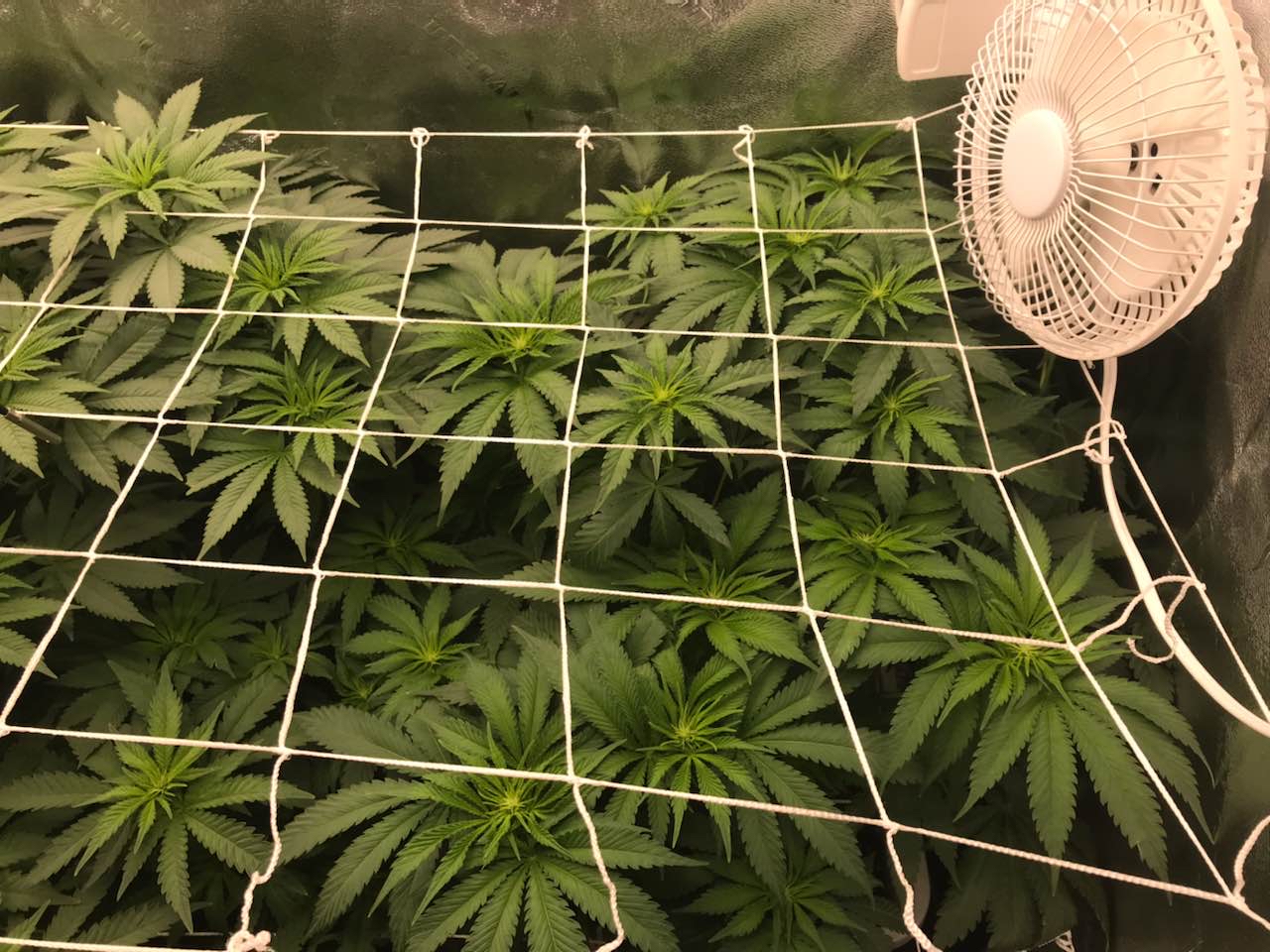 They now have cleared the second scrog netting and still climbing 🧗‍♀️ I may run into space issues, 😂
a year ago
organic_grower Those are going to be some thick girls! Pulling up a chair for this one! 🍿
View 6 additional comments
Normally I try to stay humble and steer clear of drama not my style but today I can't help myself. Does this garden look like it needs any help or advice from Joe Biden Jr. ?
a year ago
Caliban Hi Heritage. Your canopy looks great. Only minor advice is the lower 1/3 hard to see how open it is but I would put a fan down there to keep the under foliage well ventilated. Also have you tried Co2? A big garden can get warm and co2 can help boost growth. Otherwise you look great all around. Good for you to ask as not everyone has the confidence to ask for advice. 👍👍
HeritageSecretGarden Thanks Caliban yes I have a fan down there for good circulation and it's been lollipopped below the first screen and nope honestly never got into co2 but thanks for the advice I may have to give it a try in the growroom when it's finished and up and running again. Good looking out brother
View 7 additional comments
The girls got all cleaned up yesterday for the days photo shoot 😁 and they are looking fantastic and already showing some little buds with hairs only 7 days into the flip and already pushing thru the second scrog I may have to tie this girl to left down lol this is going to be a great 🏃‍♂️
a year ago
View 7 additional comments
I know I updated yesterday so you can compare for yourself but these girls are raging at night they are now brushing the upper screen which is a Ft above the lower they have grown a ft in 5 days that is super fast and look at the internode spacing super tight, this grow is going nearly perfect knock on wood but damn Gina, lol. Grows like these are why I do it. Happy growing friends😎
a year ago
HeritageSecretGarden Does anyone know how to get rid of comment gnats, they r resilient little fuckers
These are for comparison 2 pics are from June 2nd days one in the tent and 5 are from today 10 days later 5 days into the flip and you can see they have filled out and grown significantly, I can say without a doubt that the addition of infrared led light bar is definitely worth it in your grow setups gentleman I can clearly see a difference in growth, I highly recommend it.
a year ago
xVADERxTOKERx Oh man! They're growing so fast!! Looks like Heritage has the secret formula!! 🤤🪴👏🔥
HeritageSecretGarden I just told you what it is brother it's the addition of 70 watts of pure far infrared led light bar it's a game changer brother
HeritageSecretGarden Use my discount code at forever green indoors HeritageSecretGarden and you'll get a discount and you' lol be helping out my channel and operation 😎
View 3 additional comments
Well in 3 days they have nearly reached the second scrog net which is a ft above the lower screen so they are growing like 2inchs a day and I know they are health cause when I pulled a couple fan leafs that were covering bud sites I found a 13 finger leaf now that's the most fingers I have found on a plant under 3 ft tall, yeah buddy we are looking at the beginning of a glorious canopy this my break my 2x4 record, only time will tell 😎
a year ago
organic_grower Looks awesome!! Very lush what are you using for feeding?
HeritageSecretGarden I use mills nutrients medium strength with calmag+ and some advanced nutrients supplements EC to roughly 1600 ph 6.2 just shy of a gallon in each twice a week now and one water and calmag+ once a week plus they get foliar feed twice a day all thru veg with seaweed extract and vitalize mix and I let the soil dryout about a half inch down in between waterings and then I shoot for 81 degrees 68% RH so my VPD is 1.25ish.
View 4 additional comments
If that's not a sight for sore eyes I don't know what is. Got there first feeding with preflower nutes and they look rt on schedule should have all of the bottom net full and 75% of the top net filled by week 3 of flower.
a year ago
xVADERxTOKERx Looks amazing Heritage!! Really blew up since the last post!! 🤙🏻 keep up the booming work! 🔥🔥🔥 aloha! 🌺
HeritageSecretGarden Yeah they r just like woman the more you ignore them the hard they try to please you lol these ones are on autopilot at the moment they are going through the beginning flower stretch so they should grow a lot over the next three weeks
xVADERxTOKERx Hahahahah!! That's so well said! 😂🍻 I love that! 🔥🔥🔥 I'll be right here stoked for you big dog!! 🤙🏻
View 1 additional comment
Day 2 of the flip to 11/13 and the flowering stretch has begun😁
a year ago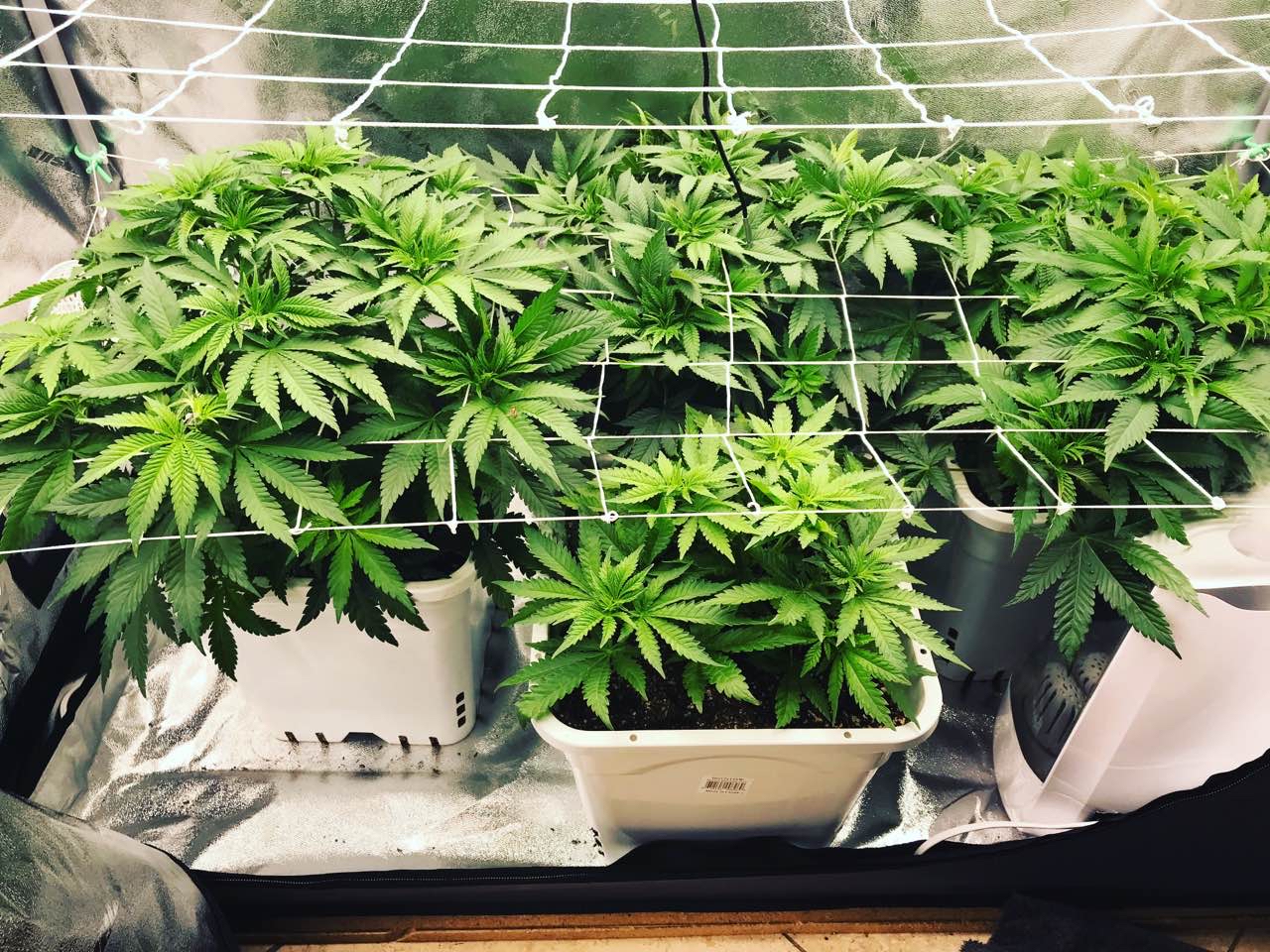 Just flipped these to 12/12
a year ago
HeritageSecretGarden Funny you checking your math or mine lmao it says 16 days ago in the lower rt corner of this pic so again whose triggered by who lmao your all about results great, pull up a chair grab your popcorn 🍿 and you can watch the play by play
HeritageSecretGarden You think a guy like you will chase me off you are too funny 😂 whose the troll on whose post keep projecting cause everyone can see you all over my shit and they know as well as you it's a fantastic run going so keep hating calls your judgement into question buddy so by all means keep trying to convince yourself my grow sucks and I don't need any help from you bro and I'm sure that pisses you off lol cause that's all you keep saying so by all means keep blowing up my post just makes my shit look even better haters always hate on shit they envy