marlinman
1st grow
Newbie
1st grow. Full hydro. Started in water. Then to Cyco grow A and B. Moved from the window sill to a converted fridge. 1000w Chinese cheap light. 3L bucket and airstone. 3 plants done this way. Went well for a while didn't know i had to do water changes. 2 died. After research realised bucket to small. Transplanted to 27L container a nd gone nuts. Used Cyco xl for the last 2 weeks. Changed to Cyco bloon on 17/5 now out of control and defoliated some and will switch to 12/12 in the next 2 days.
Oh shit. Dont know whats going on. Was a bit cold down to 17 deg but looking kind of ok. I put a home brew fermenter band on the dwc that got it back up to 22. Did a water change but after it started looking sick i checked the ph. 8.2. Something with the tap water. Its usually 5.5-6. I did a water change yesterday with water at 5.5 and 20 deg but it looks worse overnight.
2 years ago
Slowly getting there. Think the dwc temp got a tad low. 18deg. Thats been temporarily fixed till my home brew fermenter heater turns up.
2 years ago
Had a small issue with cooling and it got a bit of light burn. Fixed the cooling fan issue( pluged the cooling fan back in) hopefully not to much damage. This one is taking its time. Day 44 of flowers and this is where its at. Oh well good theing come to those who wait.
2 years ago
Start to but up.
2 years ago
Day 27 if flower. Looking good just a little slow
2 years ago
Some update pics little slow on the flowers. Ooppsss. My bad. I love looking at them. But my 12/12 is set to 5pm to 5am. Winter here. My fridge vents through the bottom on a temp controller. It suck air in the bottom and out the top freezer part. So ive figured the everything will stay at a good temp for the day. At night light on warm everything. The day is not to cold and everything stays at a general temp. BUT im hme from work sometimes at 3pm. So i need a little look. Light leaks. I hope i dont hermie it. This plant has been through a lot
2 years ago
Nothing new to report. At the end of this week its 3 weeks into flower and ive got Cyco XL to give a go.
2 years ago
End of week 2 flower
2 years ago
Day 7 flower and all looking normal
2 years ago
Only 4 days flipped and stacking up well
2 years ago
📀Golden Ratio 📀 Hey! Our plants 🪴 seem to be very similar- could you take a look and say if my grow is female. Can't see any sacks of pollen but no hairs either almost 3 weeks into 12/12 🤔
Today is a flipping good day
2 years ago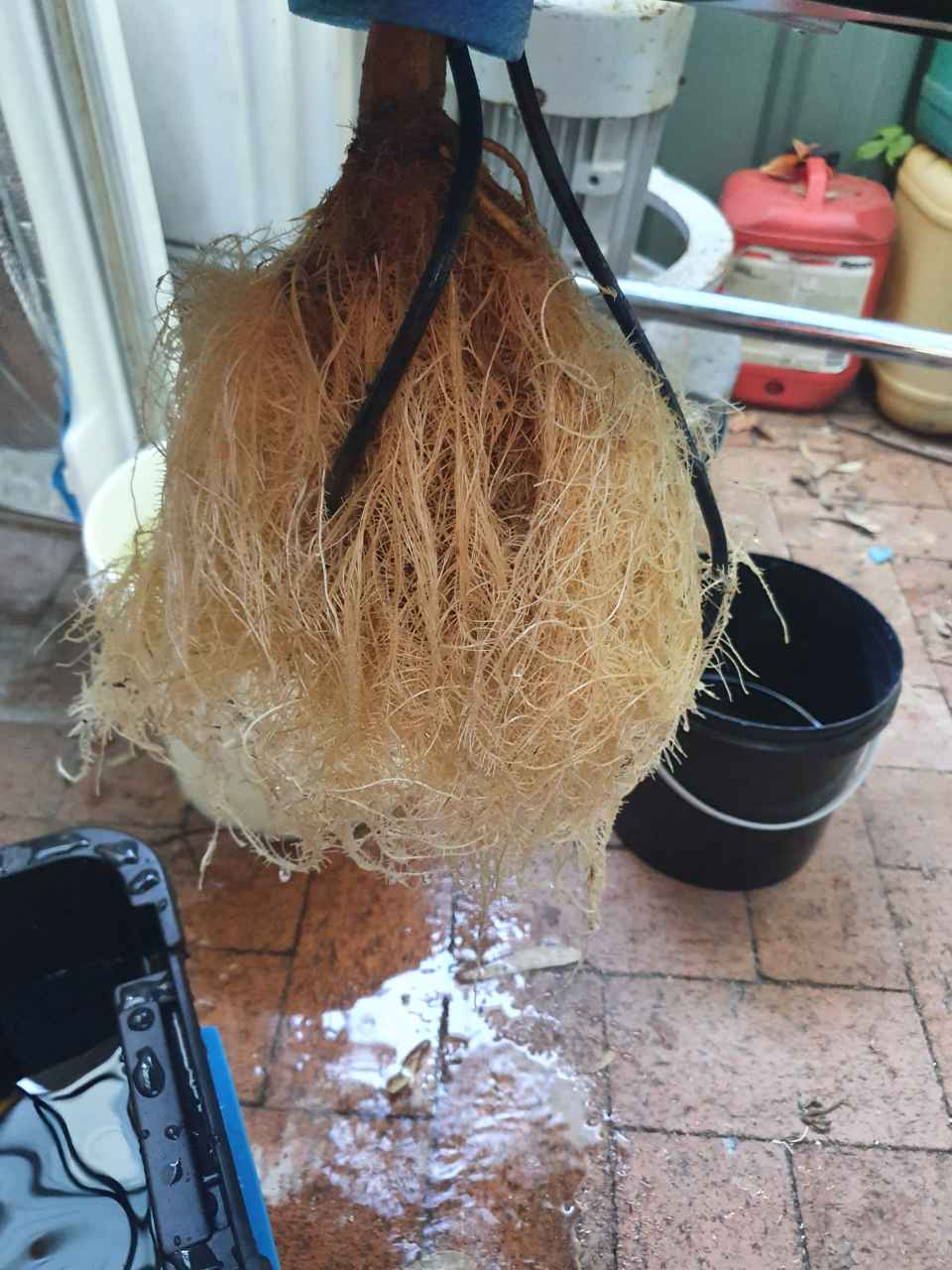 Pic of roots and plant when i cleaned the DWC bucket for the change to bloom.
2 years ago
Mystrain420 Can roots look tasty? Idk but they healthy af 👍🏾