bsobiz
Blueberry
July 2020
3 blueberry, my second attempt at growing. Miracle gro organic & natural soil 32"x32"x64" tent Wills 600w LED light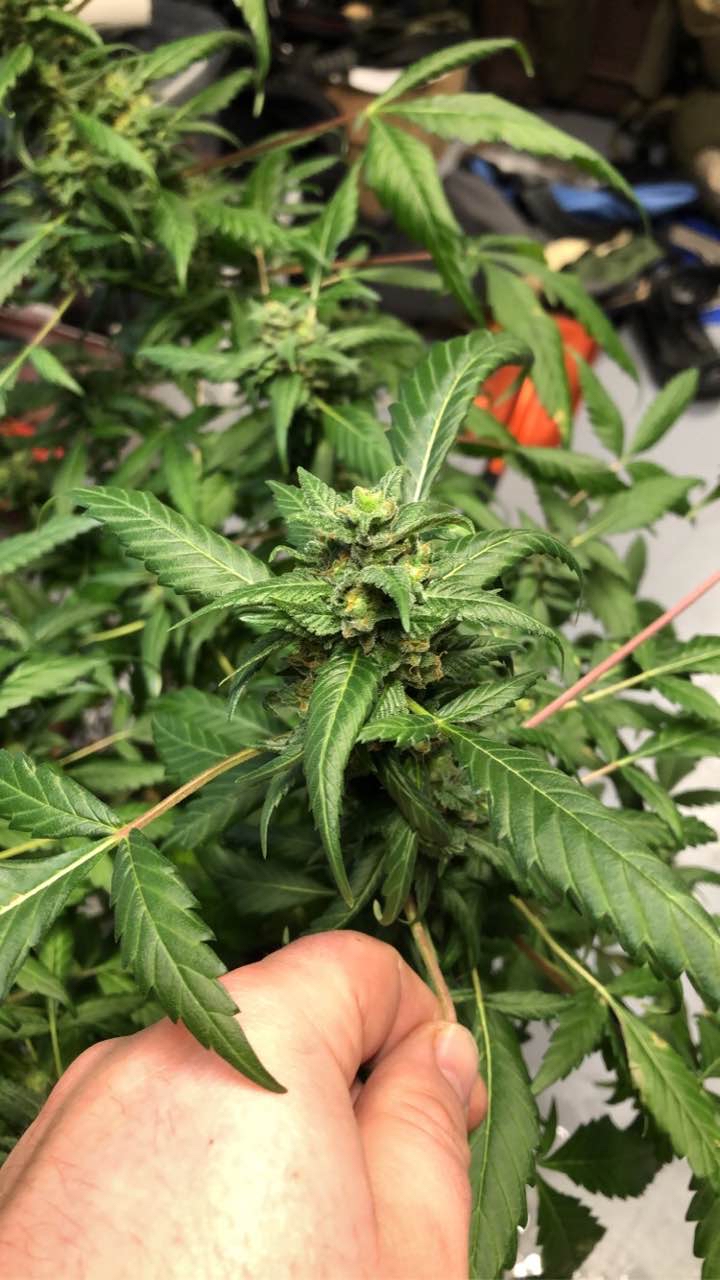 It is Saturday 28 Nov. Day 3 Week 8 of flower, we are doing well however the smaller lady is definitely a week or two behind. Making me nervous for harvest as the big girl is looking like she will be ready shortly.
2 years ago
Girls are looking great. I am in week 7 day 3. I am noticing that the smaller lady is behind by about a week/ week and a half.
2 years ago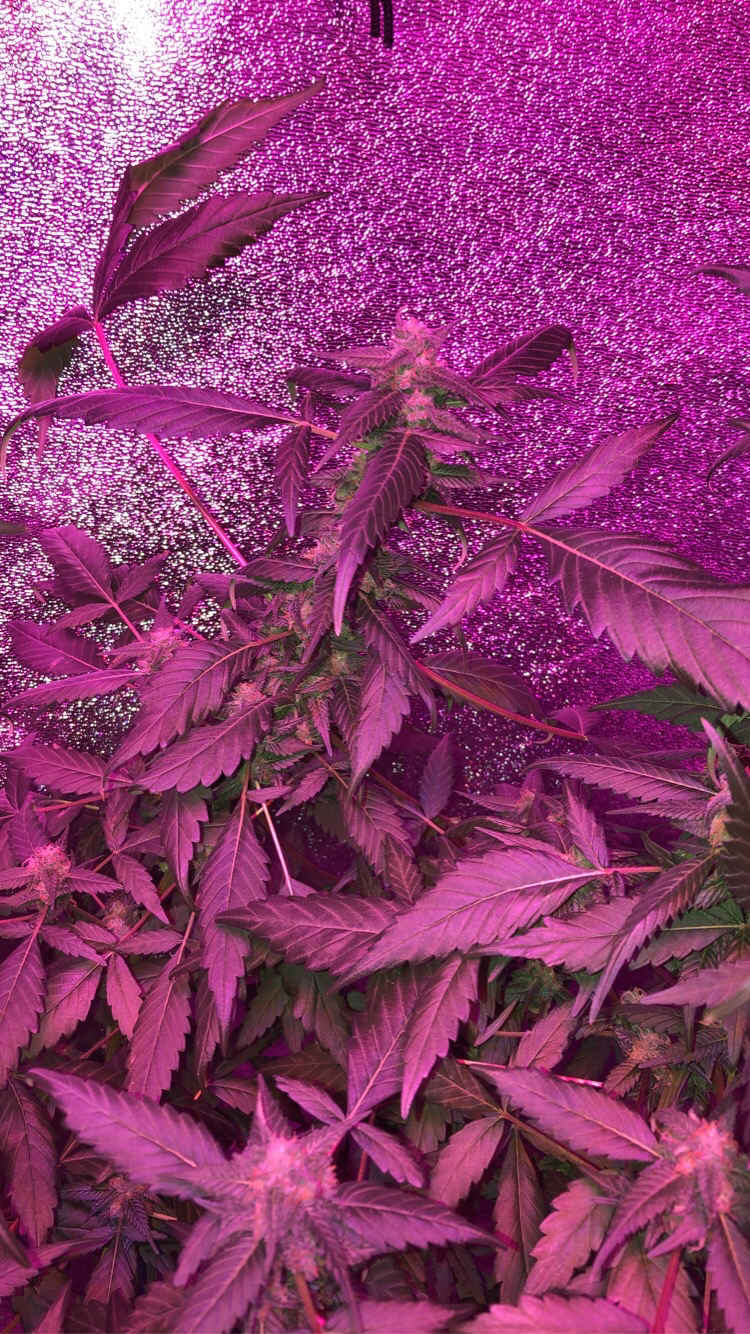 Currently in week 6 of flowering. The buds are looking great.
2 years ago
Currently in week 4 of flower. Looking great and healthy. I've been nursing these girls lately as I'm scared the PPM would remain high. After the switch to flower my PPM lowered by about 1000, so each girl was sitting in the 900-1100 PPM range. End of October I gave them some 2-8-4 power bloom. Seems to be going well. I've got some tea brewing, I put some molasses, kelp meal 1-0-3 and worm castings to help out. Happy growing
2 years ago
Currently in week 3 of flower. Ladies are happy and healthy. Happy growing
2 years ago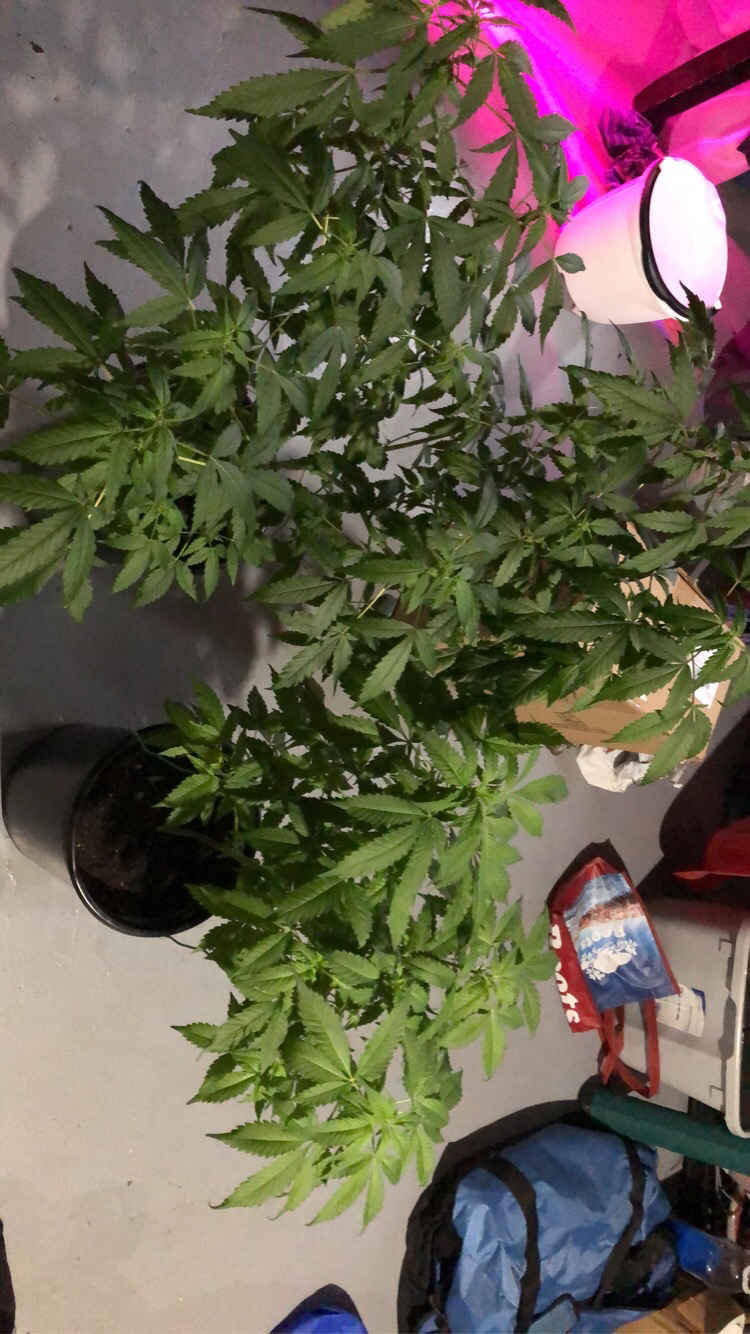 16 October Start of Week 2 Flower Girls are looking great, my smaller plant has just exploded and grown which has me excited! Happy growing.
2 years ago
October 8 2020 Day 1 Flower So I went ahead and put these plants into flower. I added a bit of my 2-8-4 mix to them both despite the high PPM. Hopefully they will really start to eat up those nutrients, here's to all or nothing!! Hopefully the excess won't stress them out too much. After 80 days of vegging I am growing tired of waiting. I've learned a lot through the last while so let's see how this goes. Happy growing!
2 years ago
So I tested my PPM to see what my nutrient level was in my soil around day 70.. my PPM meter said roughly 1900 PPM. I wanted to start flowering on the 1 October but I'm nervous given that the last feed of compost tea is still rich in nitrogen. I don't want to stress my girls out with the wrong nutrients heading in. Anyhow, when my soil dries up I'll try and flush some of the nutrients out and reamend with some Gaia Green Power Bloom 2-8-4 mix. 2 October I decided to clean up my canopy. You will see some before and after photos from today. Happy growing!
2 years ago
Please ignore the promix bag, not the soil used in this grow.
3 years ago
Did some defoliation off the bottom of the stem. These ladies are looking really nice so far. Fed them some tea, I lowered my ratios to try and prevent more nutrient burns.
3 years ago
Just a quick check in on my girls. Noticing some really nice growth, did a light defoliation at the bottom of the stem (not in photos). Happy growing!
3 years ago
Plants are looking great. Decided to try some Low Stress Training on those main stems. Let's see how it turns out!
3 years ago
It has a been a few days since my last update, but here we are on day 52. I've successfully topped my plants and now there are two main stems. Looking great!
3 years ago
Noticing some deficiencies, I think I have too much Nitrogen in my plants. Between my amendments and the teas I've given too much N, my next watering will be just water at the appropriate PH level. I'm going to aim between 6.3-6.7 Pots are still quite heavy so I decided to wait on watering. I've also topped the plants, I've been itching to do this lately so I did. I've been waiting for the right time to top these.
3 years ago
Ladies are looking fine this morning!
3 years ago
Looking good! Got some tea brewing today, 26 August. One week since these ladies' first drink of tea, they are loving it.
3 years ago
So I brewed up some compost tea for my plants. I put in some worm castings, alfalfa meal 3-0-3 and kelp meal 1-0-2, and finally some organic, unsulphered blackstrap molasses. I brewed this up for about 36 hours. PH down to roughly 6.7, I am worried my calibration is off..
3 years ago
Both plants are doing well after adding some Gaia Green amendments. I put some wire to help the weaker plant to stabilize and help it grow sturdy.
3 years ago
Re-potted my plants. Added some organic nutrients today so I'm excited to see how they will react. I am hoping these nutrients will make these plants nice and happy.
3 years ago
My 2 blueberries are coming along nicely. Unfortunately the strawberry cough didn't make it. I've been trying different things lately, trying water with proper PH levels. I recently watered with a PH of 6.5. I applied some nutrients to help start up the roots and evidently i did not measure my nutrients correctly as one Blueberry is showing the consequence. Having lots of fun learning and watching my cannabis grow!
3 years ago
Blueberry plants are coming through nicely. I noticed a little bit of a deficiency on one of them, but we are doing well!! Strawberry cough is popping through so I'm happy about that! Added some Canna start to it, help get those roots going. Also I started aerating my water to dechlorinate my tap water. PH is sitting at 5.9 after adding some PH Down yesterday on 6 August. Cheers.
3 years ago
Added some Canna Start to try something that was recommended at my local hydroponics shop for root growth. I also planted a seed of Strawberry cough I found in my weed the other day. So I'll keep tabs on that as we go. I don't expect anything from it honestly, planted 1 August.
3 years ago
Coming along. Unfortunately one plant didn't make it.
3 years ago
Trying to germinate directly in the soil. After 3 days I've noticed they're starting to breakthrough.
3 years ago