kpgnomad
Blueberry Auto
nutrients this time on ocean forest soil
Under new niello lights
43 g, took a while in less than dry conditions to dry out this batch-now begins the cure
4 years ago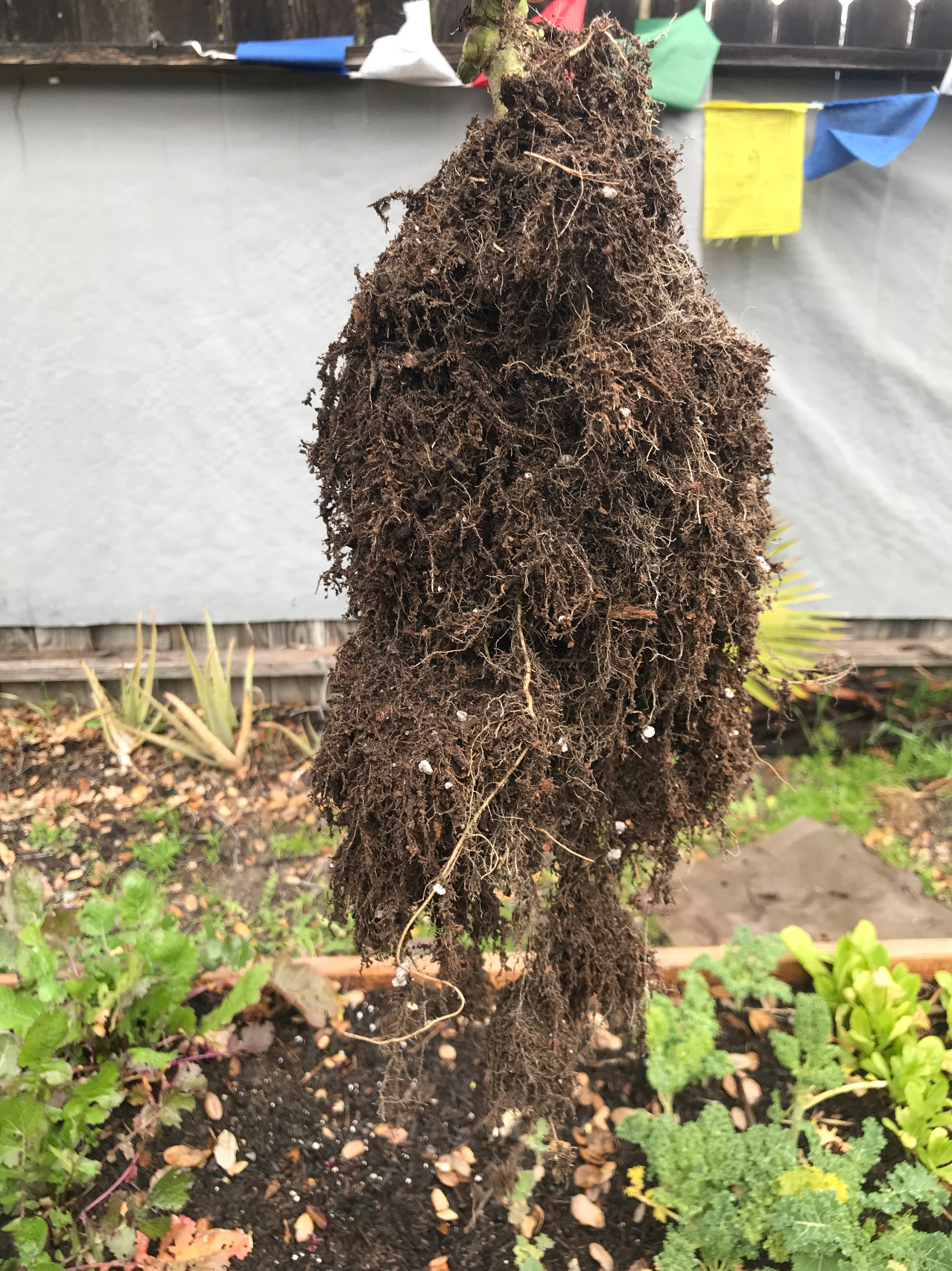 Roots, the roots grew extensively after cutting it and transferring to fabric pot. Well spread out. Here's proof that one can transfer an autoflower even well into middle of flowering stage
4 years ago
Harvest finally-noticed many brown trichomes. I'll check roots tomorrow.
4 years ago
Yellowing leaves
4 years ago
Burple off, trichomes still glassy. This 12/12 Switch due to lack of space may have stretched this harvest by a few weeks. Nothing but rainwater flush going on into 3rd week soon
4 years ago
Kpgnomad Haha it's that burple led I need for more warmth in the tent
I'm liking this
4 years ago
Looks better with the flushing
4 years ago
Leaves yellows fast but buds don't look like they're on time?
4 years ago
Watered nutrients with a little added bloom kick one last time before flush
4 years ago
Kpgnomad I am puzzled by this one, the leaves are turning yellow indicating end is near but bud seems to be fattening slow and smell is not that strong. Could the trauma of soil change be catching up?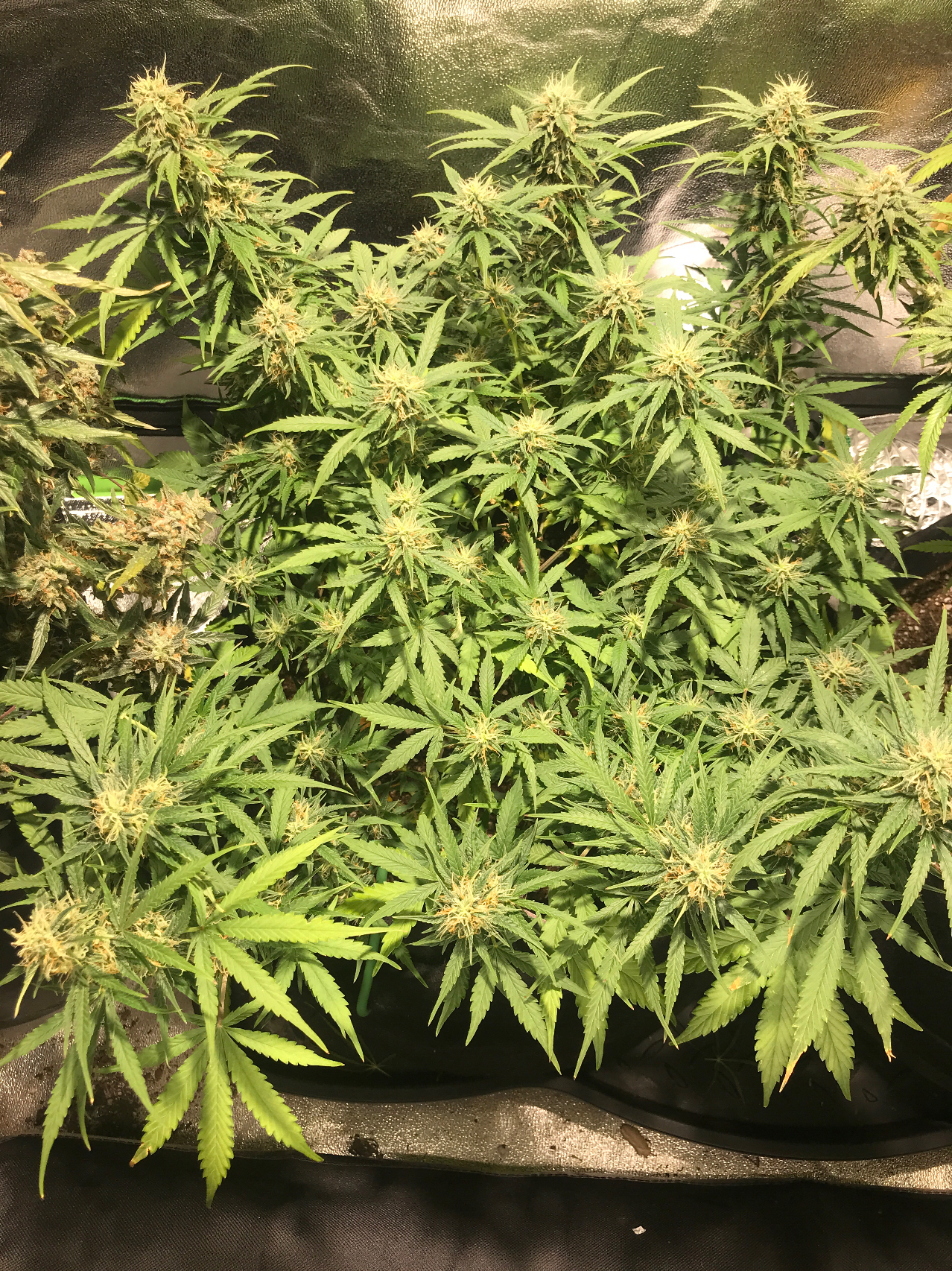 Staying healthy
4 years ago
3 freaks. #1 bbeery auto, still feeding adv nutrients base, but feed once a week? Soil holding onto water well and always perky. Harvest delayed prob due to all the trauma. Switch to 12/12 tent as there was no room in 18/6 space
4 years ago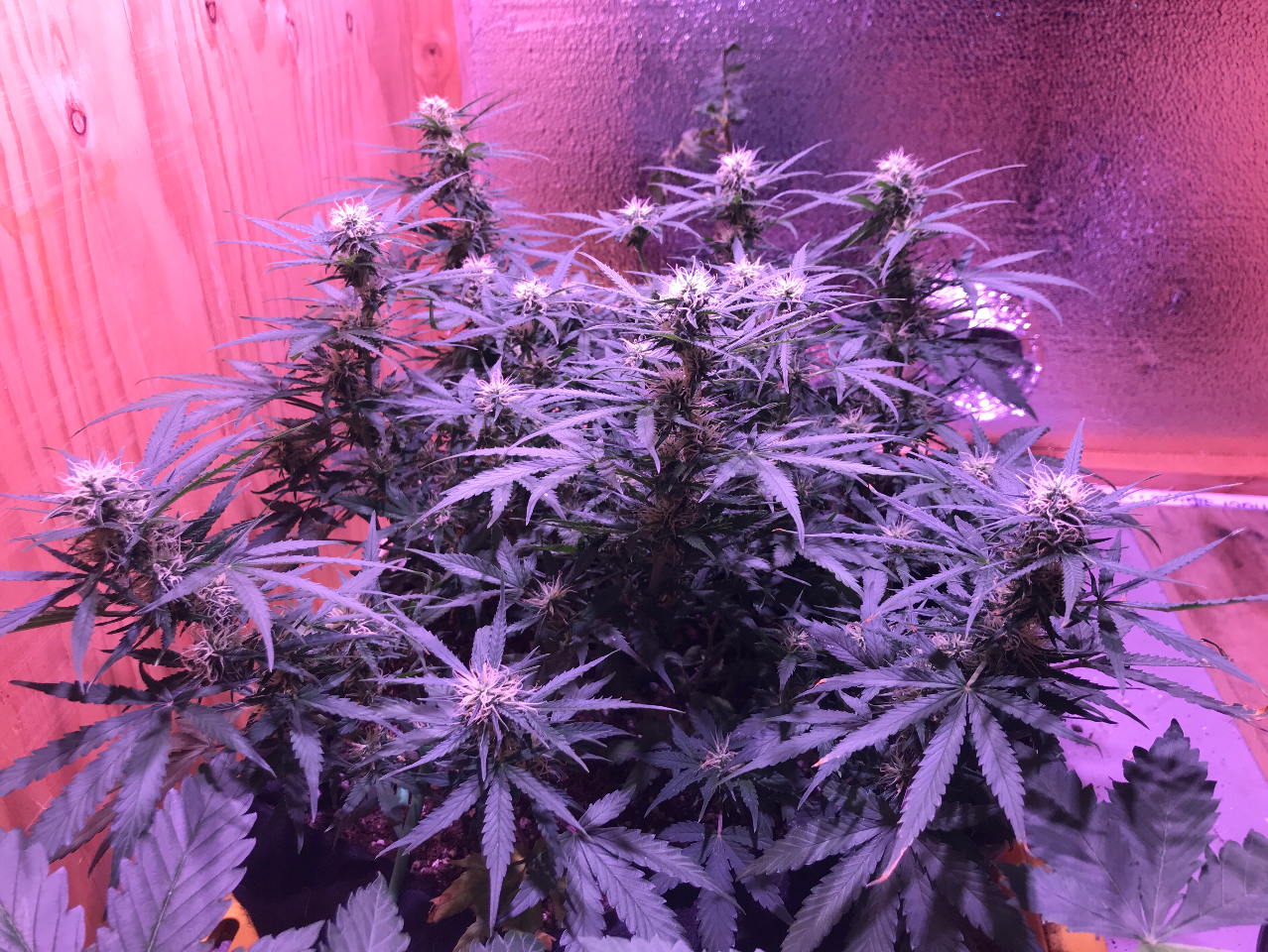 This plant deserves a day 69 award for thriving in changed soil
4 years ago
ClandestineWestOz Hell yeah great gardening mate! I can't even germinate autos so to transplant one when it's highly frowned upon is great work.
Scuba How did you get it so big usely they start right away
Ducatiboy Excellent job! Transplanting was on point!
View 4 additional comments
So you can take an auto flower in flower from a plastic pot, cut it's root 1/3 off, put it in new soil and it survives. Autos do get truncated due to all of this for sure but it also tells you one can be a little experimental with auto flowers and they won't necessarily die on you.
4 years ago
WrightHulme_17 xD I get so worried when I lose roots during transplanting haha thanks for the info, looking great aswell👍🏼
Kpgnomad It's difficult to tear apart a plant after tending to it carefully, but I had to do it and it paid off! 😃
Happy frog soil is clogging water by itself, pulled out of plastic pot and put into coco/perlite/happyfrog mix in fabric pot. Either it'll die or perform a miracle or just behave like a typical weed. Noticed huge areas with no root action halfway down pot. Very wet and hard. I know some of you like that stuff 😂Had 2 layers of roots-one below surface and one near bottom of pot(which I had to pull out). Also leaves we're turning dry brittle. So it has to stretch into new soil mix and grow new roots. Let's see if this kicks this to another level. It my plants ain't abused they ain't trying enough.
4 years ago
15 hrs later, still alive, these auto flowers are tough
4 years ago
Bit of an over watering situation again even though I hardly water. Soil only ocean forest not good option. Must try coco perlite ocean forest mix next time.
4 years ago
Healthy but short, works well to keep plants short in a 2x4 tent
4 years ago
Breathing room
4 years ago
Maybe I'm getting my seeds all mixed, this is showing similar behavior and looks like the Blueberry auto which just went into flower day 75 on my other plant. Maybe this is actually a Blueberry. It just keeps leafing up.
4 years ago
Inspired by some LST methods on YouTube
4 years ago
Turned out topping wasn't good enough took out another node and began last. Snapped one top branch, previously I'd chuck it but I held it back into place without tape and it cured itself
4 years ago
Removed top fan leaves
4 years ago
Slowly coming along
4 years ago