ikaika
Northern Lights
Heatwave 2020
Northern Lights - Autoflower - Growers Choice - #1 3x3x6 Grow Tent, 1000w Viparspectra, General Hydro Flora Series. Seed will start in Fox Farm Light Warrior and will be transplanted to Fox Farm Ocean Forest for Veg. 2 gallon fabric pot. (Originally planned to grow in 3 gallon. Changed to 2 gallon based on recommendation)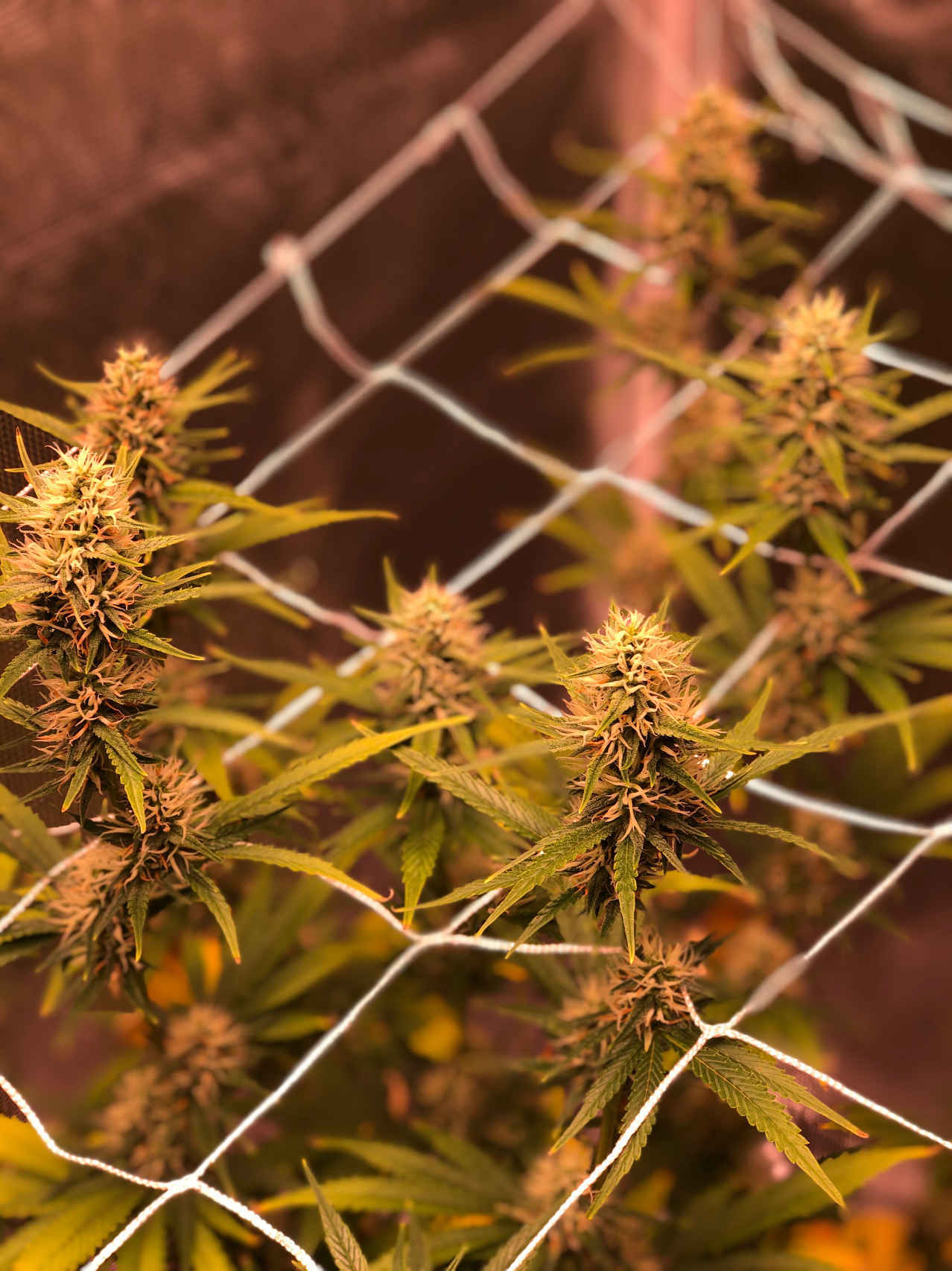 So the yellowing was just the natural process of the flowering. Autos are a lot different from Photos. Autos seems to go through stages a lot faster than photos. The yellowing and nitrogen deficient signs had me stressing out. It came on so sudden. But the plant is doing okay. I'll start flushing her out this weekend. And probably harvest within a few weeks. 10/20 0744
2 years ago
anhel Do you think it could just be light nute burn from the OF soil?
Been feeding on an adjusted dose. She's been accepting of the change and has been healthy. I believe I said it before, but I really think she has stopped growing height wise. Noticing trichs slowly starting to come in. Bud sites are getting fatter and starting to connect down the stem. She smells beautiful, especially when she's just waking up. Learning a lot with this grow. Feels like this is my first plant. Always learning something new. 10/11 2140
2 years ago
More bud sites presenting themselves. Been religiously checking for mites. My first few grows had mite infestations in flower. Trying to prevent it this time around. Been spraying down the plant weekly, during it's night time, with Green Cleaner. Watered the plant with PH'd CalMag water yesterday. Not much else going on. 10/03 0905
2 years ago
She has entered her flower mode! Pistils started showing a couple days ago. Now they are pretty apparent all over the plant. Fragrance has become noticeably stronger. Plant is growing faster. Drinking water much faster, notice I had to feed about a day sooner than normal. Last feed gave full strength feeding of GH w/ CaliMagic. Okay... we're here! The fun begins! Real pictures will come soon! 09/29 15:22
2 years ago
Quick update. NL looks a lot better from when I LST'd her. Seems like she is in a growth spurt. I wondering if I'm going to need my trellis net. Not too sure how much taller they'll get in flower.
2 years ago
This plant has had some accidents. But it's a survivor. Still growing great. Even with main stem capped off. Lol.. Figured this plant has gone through plant hell and back, might as well keep experimenting. Got brave and lst'd it again. Now the center is opened to all the light it desires. Started giving light dose of Nutes. Basically to help with shock and bounce back. I'll most likely increase dosage during next feeding. 09/25 24:18
2 years ago
Accidentally topped the plant yesterday. Was trying to adjust the tie downs and ended up putting too much pressure on the top cola. Snap! Broke my heart man. Well l guess we'll see the outcome of all this eventually. Other than that, the plant seems healthy. It seems to be healing nicely. Hopefully it wasn't too bad for it. 09/29 21:29
2 years ago
Trampo It will be ok. Actually will work out good! Will grow 2 top colas now! It's still early in veg the plant will be good! Just spread the top 2 colas out when they get big enough. I would defoliate just a little so the light hits lower areas. Otherwise the plant looks good!
Ikaika Thanks man! I was worried topping an auto would cause it to flower early. Had me worried a bit. Lol
New colas slowly starting to come in. No need for watering yet. Plant is responding well to LST.
2 years ago
Noticing some burn on a few more leaves. I haven't given any nutes yet, must be burn from soil. It's growing well. Responded well to LST. 09/17 05:53
2 years ago
Plant is finally starting to his it's stride. New growth remains healthy. I've noticed some marooning in some stems, so will double check Ph levels. Started LST early and not as aggressive as my Icy Og grow. No watering, feeding. 9/14 06:13
2 years ago
New growth is looking extremely healthy. Seems like the plant hit a growth spurt. Day to day changes are becoming noticeable. No changes. Swapped out the humidifier in the tent. Shouldn't have an affect in the grow. Just a bigger tent, less refills. 21:26 9/10
2 years ago
Watered plant. New growth starting to look healthier. Seems as if leaves are going to be wide on this plant.
2 years ago
The yellow is still around, and seems to SLOWLY be infecting other leaves. I'm addition to the yellowing, I did see a small burn on one of the leaves. Did some research online and jumped onto a few forums. It was brought to my attention it could be light burn. I previously had my light set up to 75% power at about 13" away. I turned down the intensity to about 60% and will raise light to about 17 - 18" from plant. If this corrects issue. I will have to run my light at lower intensity through out grow or get a taller tent. I am not positive I have the height (2x2x4ft) to run the Viparspectra p1000 at full intensity. 9/7 21:22
2 years ago
Definitely had some type of stress. Still promising though when looking at new growth. Soil is starting to get dry. But still pretty to touch. Mist only tonight. Sprayed plant after lights out with Green Cleaner. Starting pest control early. Spider mites infested my first grow. I was able to get infestation under control eventually, but would much rather avoid the problem altogether. 9/6 21:21
2 years ago
Leaves seem to be yellowing after transplant. Haven't watered since transplant. Soil has been moist since. New growth have yellow tips. Assuming the plant was too young when transplanted into FFOF. Believe it may be nutrient deficiency, rather than transplant shock. Only because new growth has yellow tips. Issue noted for next grow. Transplant later. Maybe after plant shows 4-5 set of leaves rather than 1-2 sets. Tips and advice welcome. Thanks!
2 years ago
Transplanted into two gallon pot. Soil consist of 50% Ocean Farm, 25% Light Warrior, 25% Perlite. Transplanted about 3 hrs before lights came on. Hoping that being in dark for a few hours would help minimize transplant stress. Watered plant until the pot started to drip. Upon first look after lights on, plant looks healthy. Doesn't seem to have much stress. 9/2 21:30
2 years ago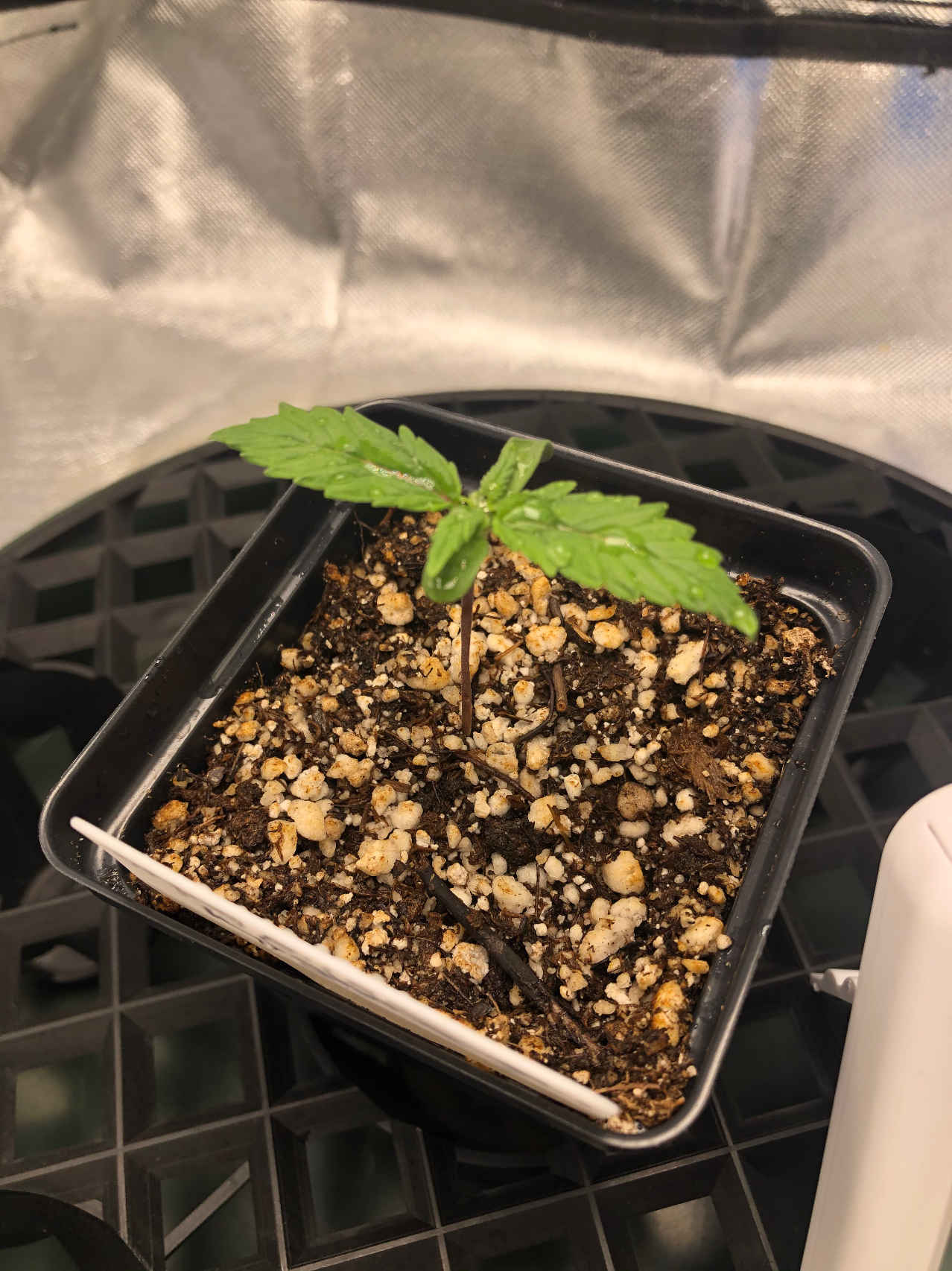 Not much happening. Got two now leaves coming in. Just been misting daily and watering every four days or so.
2 years ago
Growing out. Getting longer. I turned up the power on the lights. Don't want it to stretch too much. Going to keep it in Light Warrior until the roots are a bit more established. Then I'll transplant it into a 2 gallon pot instead of 3 gallon like was originally planned.
2 years ago
Sprout! NL breakin' the surface. Medium: Fox Farm Light Warrior
2 years ago
Germ Method - Damp Napkin / Plastic Bag.
2 years ago