jdabbs
First Grow - White Rhino
8/18
White Rhino started from seed
Seems like it still needs to cure a little longer. It's been a month but I'm going to give it another 2 weeks I think. Smelling pretty dank but still has a slight grassy smell.
4 years ago
Dukeshaba That's what happened to my first grow it's because it dried to quick before the cure
Jdabbs Did your harvest end up smelling/tasting better after giving it a longer cure?
pakalolo I like to use the Boveda humidity packs and add one in each of my jars. Those help a lot!
View 2 additional comments
Just bagged it up in a grove bag to start curing. Weighed in at 38 grams before the cure. Not a crazy amount but I'm more than happy with that for my first grow.
4 years ago
pakalolo Damn!! Nice nuggets man. I feel like I can smell them😂
She's all chopped up. Definitely learned a lot this grow. Overall I'm pretty happy with my first grow! Went with a wet trim due to my schedule. I'll shit a brick if this ends up being over an ounce. We'll see!
4 years ago
She's coming down tonight! I don't like that some of the sugar leaves are slightly yellowing and these buds look delicious. Mostly cloudy with just a few Amber trichomes. Also today is the end of 9 weeks of flower, so it's just time. I'll post a few Pics after the chop.
4 years ago
Getting close now.
4 years ago
Mystrain420 Not bad for a first grow.. 👍🏾 great job. Try some training techniques next grow to increase yield 👍🏾🔥🔥
Jdabbs Thanks, I've definitely learned a lot on this first grow. Will be adding more training techniques next grow.
Starting to see some amber trichomes. Hoping to harvest next week.
4 years ago
No sign of amber trichomes yet, but damn these buds look yummy!
4 years ago
Deanoz0ff88 Are you still giving nutes bro? Or you on a flush?
Jdabbs I'm using Sohum living soil so all I've done is water it the entire grow.
Jdabbs No need to flush with this soil.
Pistils are turning brown. I'd say around 30-40% are brown now. She's still got some time!
4 years ago
Trichome porn 🍆
4 years ago
Mostly clear and cloudy trichomes. Does anyone know much about giving the plant 48 hours of darkness before harvest?
4 years ago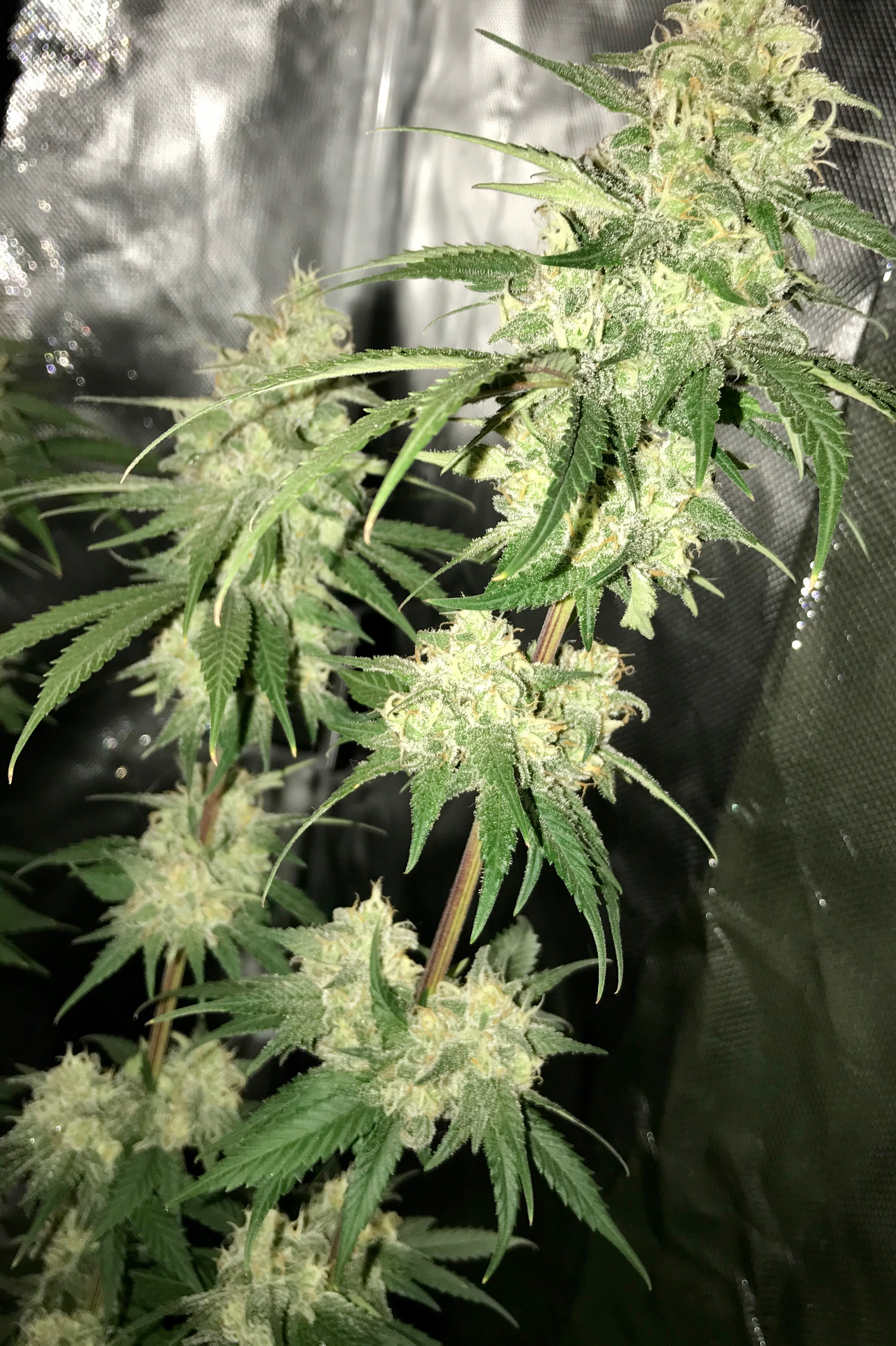 These buds are starting to fatten up!
4 years ago
No sign of any amber trichomes yet. Less than three weeks to go hopefully.
4 years ago
I can't freakin wait. These buds smell good! A little over 3 weeks to go.
4 years ago
New lens for the iPhone. Had to post some shots
4 years ago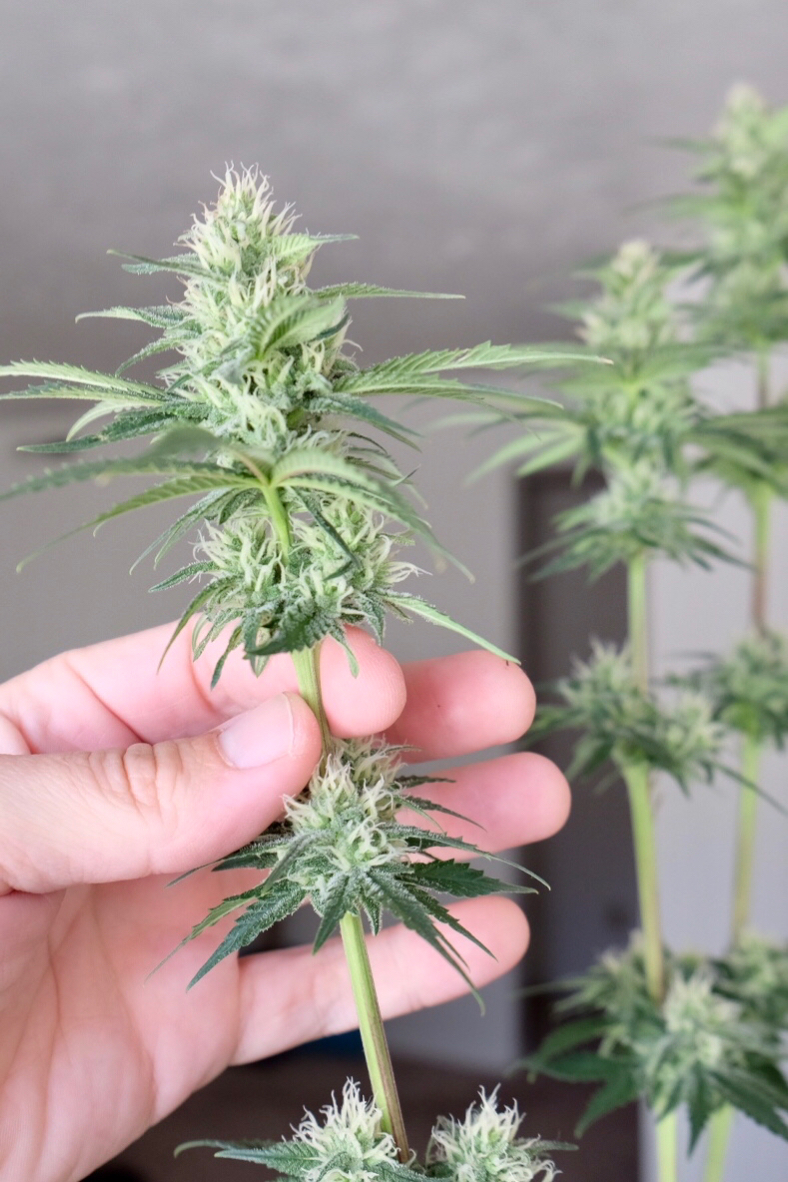 So now that I've been doing some research, I'm really hoping my 2 gal pot with Sohum soil will carry this plant to the end. 🤞 For now, she seems to be doing good. Watering every 2 to 3 days. Temp is usually 66-77 Humidity from 32-44
4 years ago
Flower day 30. She's had it rough, lost a couple of branches along the way, but she's beautiful to me.
4 years ago
Wish I could fast forward 40 days. Anxious to see how this goes.
4 years ago
Day 28 of flower
4 years ago
Lost a branch a few days ago so she's looking a little funny. Humidity is getting down to 30% so a humidifier will be here tomorrow. Hoping a day or two in low humidity doesn't hurt.
4 years ago
Buds. Still growing away in the sohum soil. Up to this point I have only watered with tap water and compost tea. No nutrients
4 years ago
Looking good, considering it started in a space bucket
4 years ago
Out of the space bucket and into a tent. Space bucket is a challenge.
4 years ago
Flowers coming in 👍
4 years ago
She's doing good
4 years ago
We may have a girl
4 years ago
Maybe I didn't defoliate enough, still looks pretty bushy. And unless I'm missing something still can't tell if it's female.
4 years ago
7 days into flower and still no sign of lady parts.
4 years ago
Been on 12/12 for 4 days now. I think I need to defoliate again
4 years ago
One more defoliation last night and switched to 12/12 lighting.
4 years ago
Watered with compost tea last night and she's loving it this morning.
4 years ago
I'm no expert and my bucket is ghetto but it seems to be happy.
4 years ago
Topped, defoliated and stared the low stress training within the last several days. Watered today also. Already smelling a little danky. Hoping I did it right, fingers crossed.
4 years ago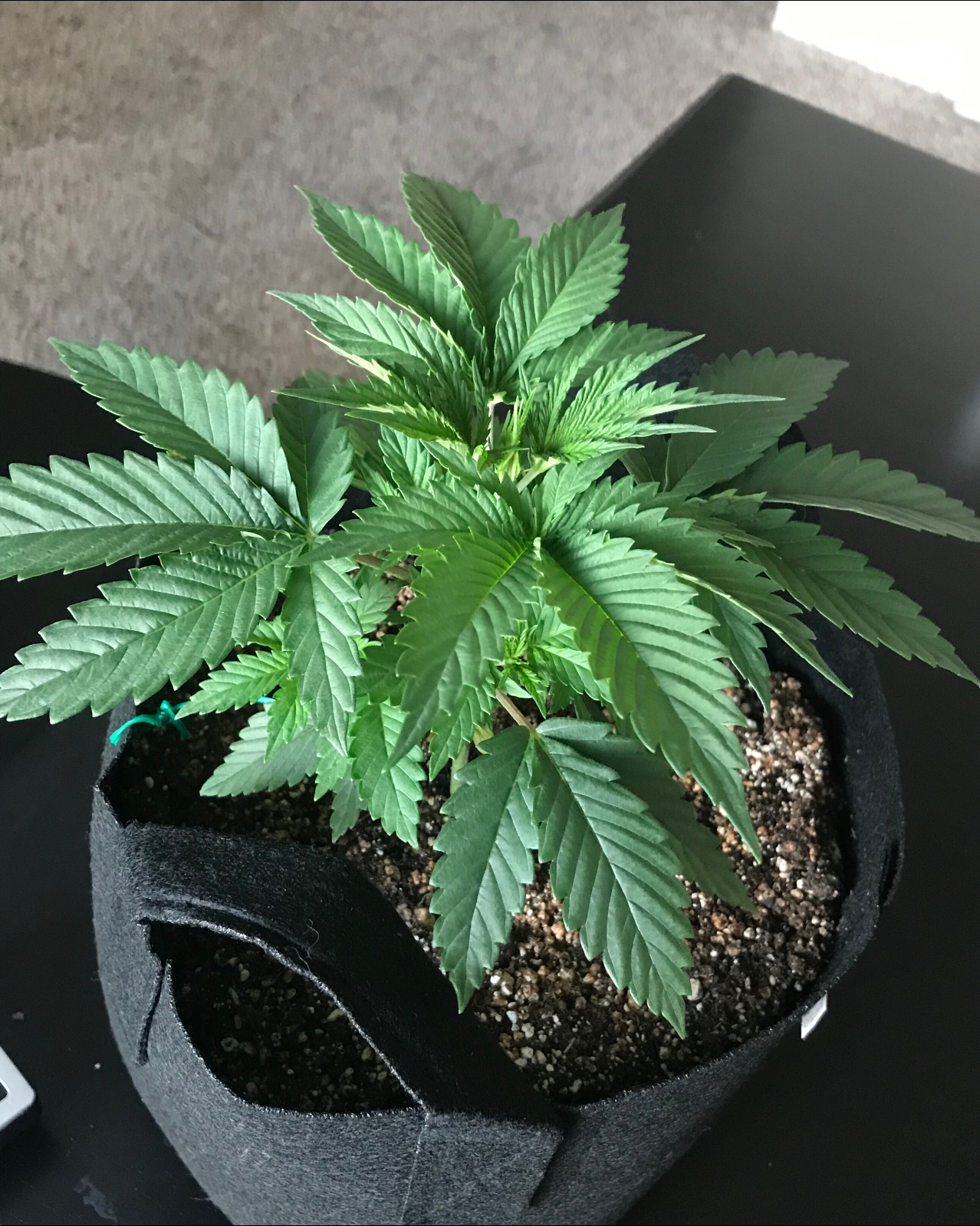 Love these fat leaves!
4 years ago
Not an expert here, but it's looking full and healthy.
4 years ago
Looks healthy. There's a little yellowing on the bottom leaves along the edges. Not sure if this is something to be worried about.
4 years ago
Lots of growth now after planting in sohum soil.
4 years ago
Starting new leaves, I'll take that as a good sign.
4 years ago
Plant seems to be loving the space bucket. Worried I may have stressed it by transplanting into the main grow bucket too early. Seems to be doing better though. Planted in SoHum soil and gave a healthy dose of compost tea.
4 years ago
Space bucket is set up.
4 years ago
Now watering with compost tea. Still only getting light in the window but will be transferring to a space bucket in the next day or so.
4 years ago
Planted in some regular potting soil just to see if it will grow.
4 years ago