Rebecca Bunch - White LSD
January 2021
One gallon air pot in coco coir. 2x2x4 tent.
Dried and curing. What an awesome grow. Thank you, Rebecca Bunch!
2 years ago
Chopped and drying!
2 years ago
Flushing! Saw some amber trichomes on the leaves. First harvest coming up, exciting!
2 years ago
Is it time to start flushing? Growing in coco. First time grower, advice very appreciated.
2 years ago
stoned All your trichs are still clear, it looks like it still could grow more if you're patient. I'd say just water normal and wait another week or two and just watch if she grows anymore
stoned Is this one also stunted?
buffy Yep! My oldest three were stunted, my younger generation is not! Thanks for the advice. Will continue feeding normally and check again in a week or so.
Just fed her. What do you all think, start flushing next week? First time grower!
2 years ago
Could anyone help me out with these trichomes? How far out from flushing/harvest? First time grower so much appreciated!
2 years ago
Kramerzcropz Looks like atleast 3 more weeks you have white hairs still
Stonedfaced Actually the hairs don't mean anything. Always go by your trichomes
420Stoner Your choice for amber color trichomes or white up to you !
View 4 additional comments
Feeding her a bunch. Opinions on these trichomes? How far out maybe?
2 years ago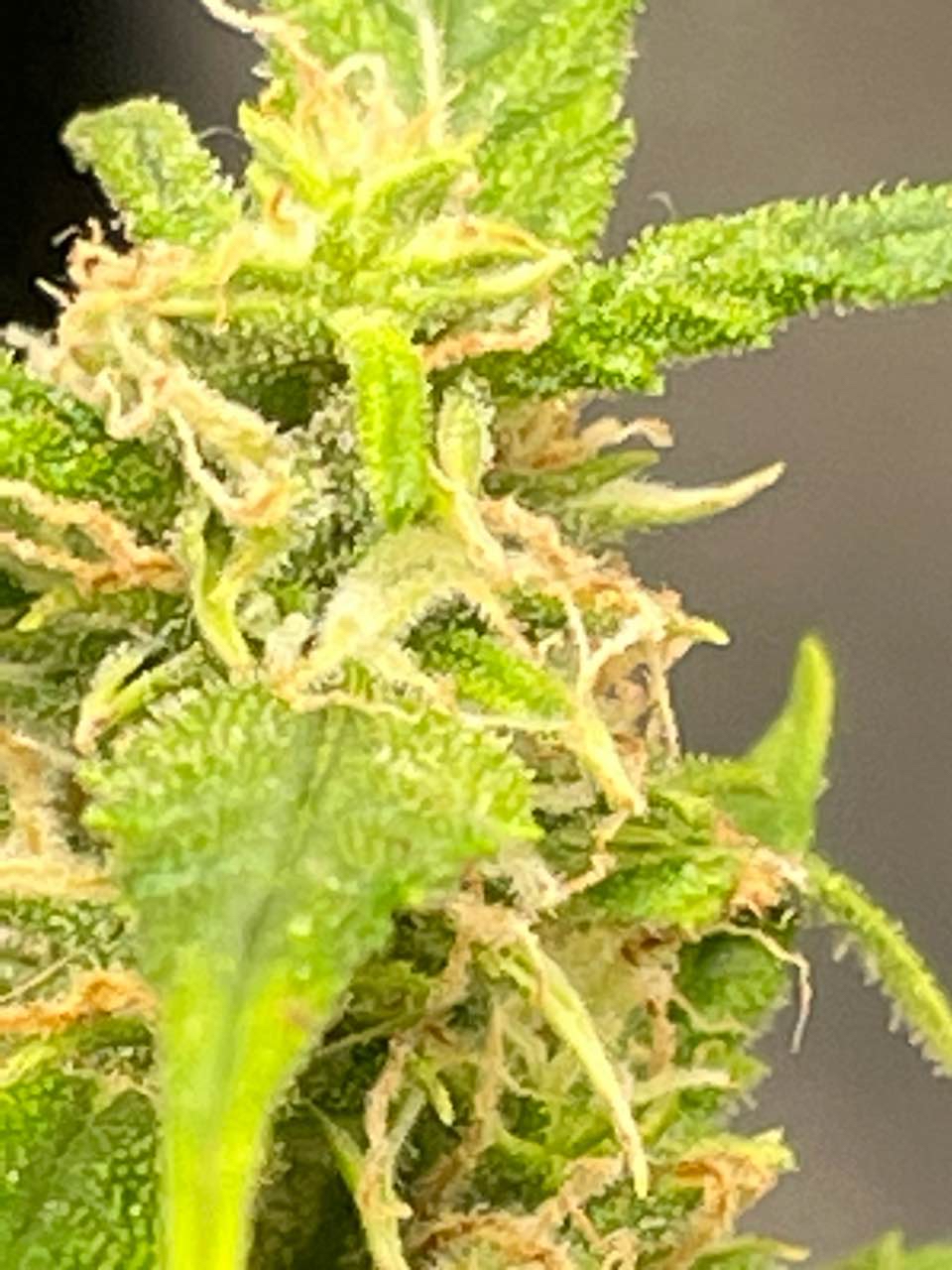 Is it time to start flushing? Help much appreciated. (And yes, this plant is a dwarf!)
2 years ago
french pony Hi ! I m certainly not the best to answer but for me it's look like to early. The best it's to check your trichromes ( evolution stage are: clear, milky = happy and brown = couch lock )don't start the flush before you have some milky ones at less 20%). I hope I could help but I'm not a professional grower.
buffy Thank you! Getting a jewler's loupe to look at the trichomes today, but based on my research I'm personally finding it difficult to discern between glassy and milky!
nobuddyatall I would say WAIT at LEAST a week... maybe two. There is still a significant amount of white pistils left to fill in and thicken up. Don't get me wrong — she looks amazing and you are doing awesome!! 👌🌿. Just be patient. Keep doing what you're doing and do a little research on trichomes! 👍
View 1 additional comment
Photo through jewelers loop. First time grower so need advice on how far out from harvest she is!
2 years ago
That's a nice bud site!
2 years ago
Beautiful flowers!
2 years ago
Beautiful white hairs!
2 years ago
combatmedic81 If she were mine I would get rid of all the stuff down low that is not getting light, all it's doing is eating nutes
buffy Good point. It's my first grow so it feels scary. Also it's an auto flower, if that changes anything. And how much of the stuff below were you thinking?
buffy Maybe I'll start off with some defoliating
Those beautiful white hairs! Just fed her.
2 years ago
First grow and first plant started flowering! Very exciting! Was surprised because she's so small, but it works out because I have a small space.
2 years ago
matishans She looks hungry (light green) make your feed richer and you should see her darken up and hopefully some explosive growth
buffy Just fed her last night. Will increase the nutes next feed in a couple of days! Thanks for the tip.
matishans Reading some of the other post on her. I would also lollipop the lower growth. She's small so your not going to harvest much off of her but it's good experience. Once you take off the lower growth it will want to focus all that energy into that main bud site. Just my two cents- still learning here too so take it as a grain of sand 😊-
View 1 additional comment
Getting worse. Not sure how to help her!
2 years ago
combatmedic81 How often are you watering? Is it coco or soil? Are you letting it dry out?
John wharton What you feeding looks like mobile nutrients like iron or boron those yellow and brown spots in flower so demands lol cal mag seems it's using it stored nutrients instead from roots
View 5 additional comments
Fed her a few days ago but she's still clawing and is getting discoloration. Thoughts?
2 years ago
combatmedic81 Looks like she is in lock out. Maybe try less nutes or straight water
Fed her a bunch of nutes but those bottom leaves are goners
2 years ago
What's with the yellowing and brown spots on the lower leaves?
2 years ago
stalepeep https://duckduckgo.com/?q=marijuana%20deficiencies%20chart&ko=-1&iax=images&ia=images&iai=http://loudclouds.co/wp-content/uploads/2016/07/marijuana-deficiency-chart-2.jpg
stalepeep Looks to be potassium and or manganese deficiency
View 1 additional comment
Second biggest plant. First time grower.
2 years ago