tres4_growsloud
White widow. Ailen dog
Indoor grow
Germinating 3 White widow and 3 Ailen dog. Using paper towel method. The White widows are fems from Growers choice seeds and the ailen dog are bag seeds from ten+yrs ago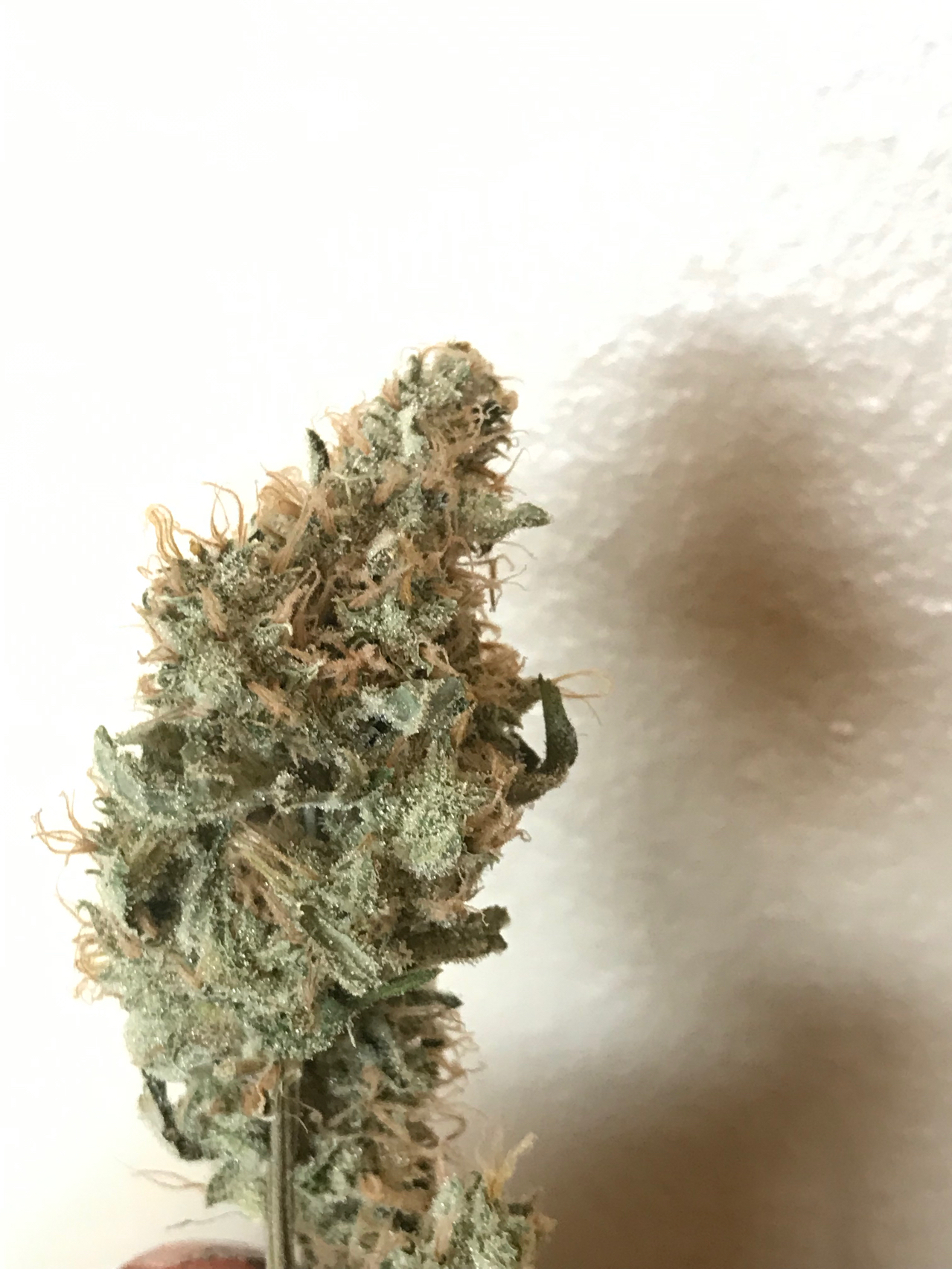 After 7 days of hanging these buds have been trimmed and are now ready for jars🥰
4 years ago
Finally put them on the judge 👨‍⚖️ #WhiteWidow1 =4oz #WhiteWidow2=2oz #AlienDawg(bagseed)=3.25oz Total= 9.25oz
4 years ago
After 48hrs of darkness these girls are ready to be chopped and hanged..
4 years ago
Day 65 of 12/12 will be the last day of light for these plants ,over they next 48hrs they die on the vine
4 years ago
Day 62 of flower.. the end is near 🔥🔥 and you know I had to take some testers 😋
4 years ago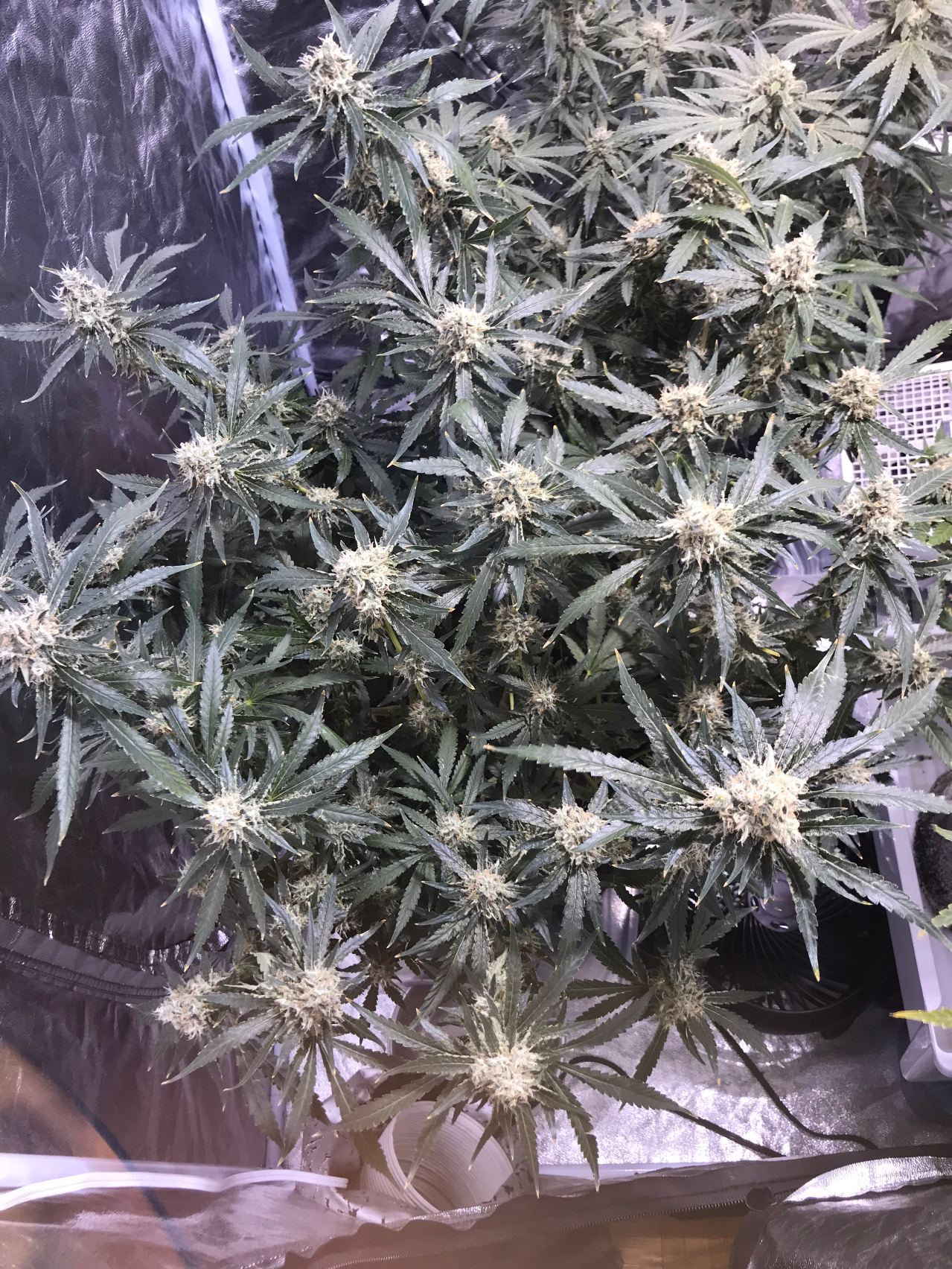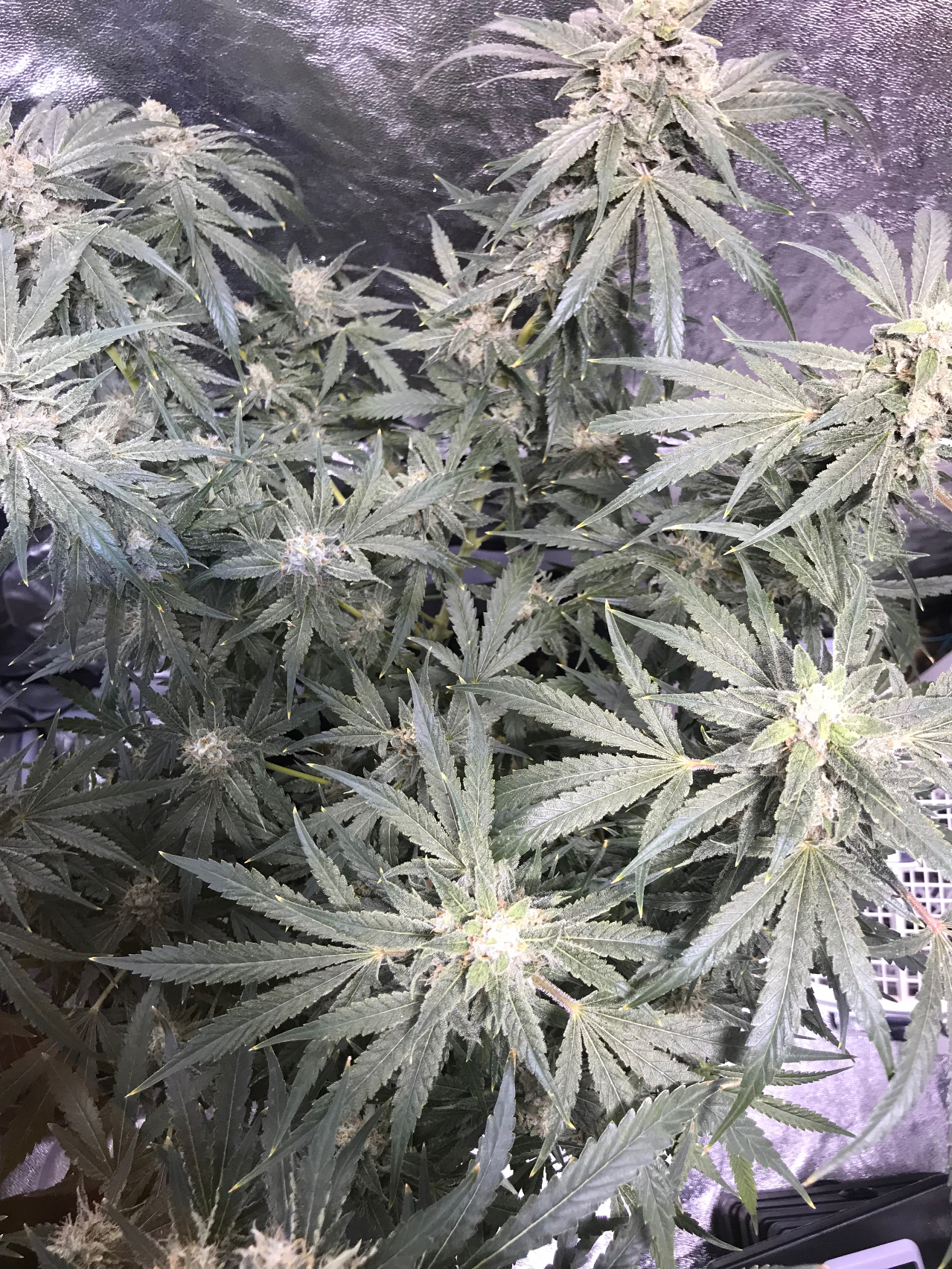 Week 9 of 12/12 , switched to 11/13 ,ppm down to 300 . Trying out some dry stressing techniques, only watering once a day when lights turn on
4 years ago
Starting to look a lot like fall in this ⛺️🥰 .. checking trichomes closely these days maybe 4 or 5 days b4 I start a final flush🤷🏽‍♂️I'll let the plant tell me👩🏽‍🌾
4 years ago
Looking for that fade.. shouldn't be too long
4 years ago
Week 8 day 3 👩🏽‍🌾🌱🔥
4 years ago
7 weeks of 12/12 jus finished.. looks like another 2 weeks🤞🏽
4 years ago
Closing up week 6.. time to slowly wean these girls off the salts 🧐
4 years ago
Week 6 bloom🤘🏾 looks like a bit of foxtailing on the white Widow in the 2 gallon🤔
4 years ago
Week 6....I swear these buds are growing overnight 😎
4 years ago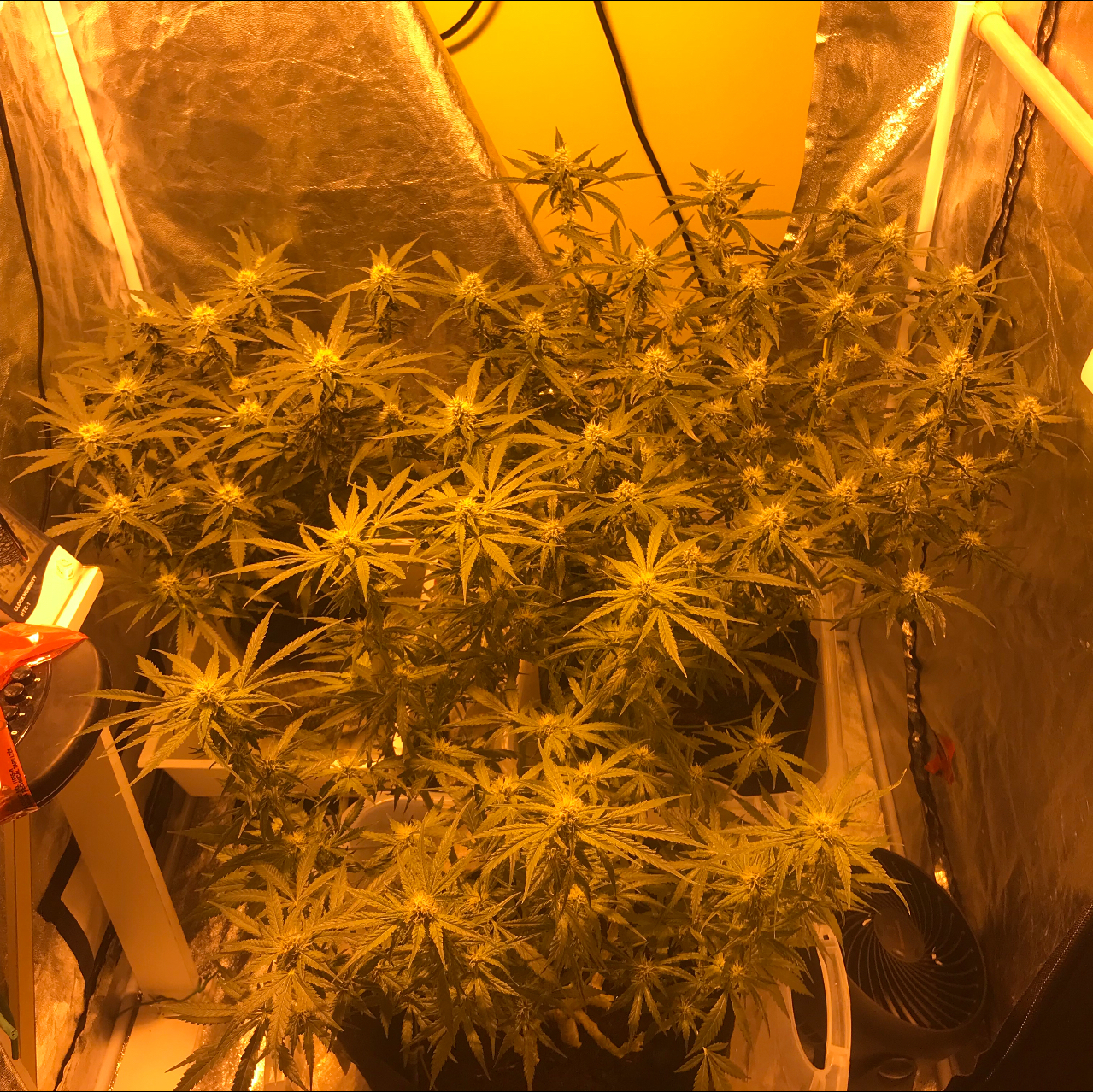 So far so good.. finishing up week 5 nicely
4 years ago
Bag seed is doing well🔥 (first 2 pics) then we got the white widow in the 5gallon and the white widow in the 2gallon
4 years ago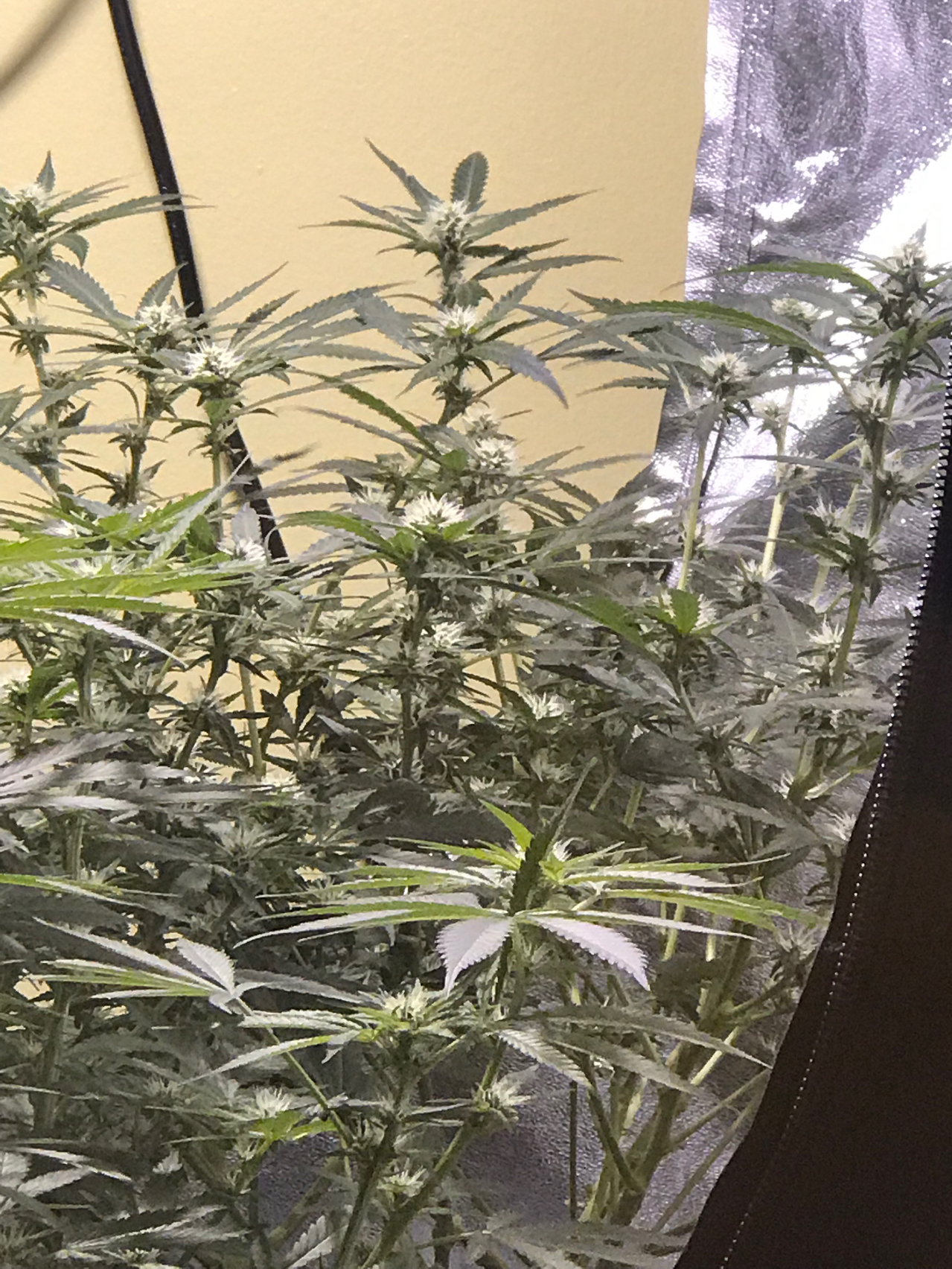 Keeping it simple👍🏾
4 years ago
Ahh the bag seed Ailen dog is catching up to these white widows , so far so good
4 years ago
Looks like girls may need another haircut soon👍🏾
4 years ago
Week 3 day 6 .. bloom baby bloom .. cut back on cal mag , now adding 3 ml of pk boost ( cheat code)
4 years ago
Girls got a hair cut.. week 3 day 2
4 years ago
Look like there done with the stretch.. 🤞🏽 official bloom time baby!🔥😎
4 years ago
Mystrain420 Nice👍🏽. Do u defoliate? And how tall are they now I see they're super bushy 👍🏽
Gocolts18 Yes he does. He's in flower now. Go back through his grow. He's done a wonderful job with LST.
Tres4_growsloud Aii respect ✊🏽 ...ya week 3 defoil coming soon. It's really necessary for me growing these beast in such a small space air flow, light penetration etc.. the jury is out on whether it actually helps increase yeild🤷🏽‍♂️
View 5 additional comments
Week 2 day 5 of 12/12😎
4 years ago
6 days of 12/12
4 years ago
I got 99 problems but a light leak ain't one.. first day of 12/12 begins today. I run my lights on during the night, good option if your battling heat or want to save on electricity.. wifey gonna kill me for this curtain though 🤫
4 years ago
Mystrain420 She won't kill u when she see that fire if she smoke and if she don't she'll just love to see u happy 😂
Tres4_growsloud Aii🙏🏽@bassman.. @mystrain you were right , it didn't go down how I thought it would😇
View 2 additional comments
Some pics of the girls before and after their haircut just before I switch to 12/12 in a couple days
4 years ago
Gocolts18 You're still gonna have two weeks of flower stretch. So they're gonna grow some more!!
Tres4_growsloud Oh ya! Then one more defoil around week 3, release the ties and watch the buds grow🤞🏽
Gocolts18 You gonna put in a screen? You've done enough LST to do it.
View 1 additional comment
Fixed up my exhaust and intake, heat is under control and so is smell(except once I open the tent) . Rigged up a fan I took from a range hood and I'm good to go!👍🏾 Gonna be flipping to 12/12 soon🤗
4 years ago
Gocolts18 I like the way you think, made it work! You gonna flower the WW at day 60? That's when I plan on starting mine. Are your showing their sex yet?
Tres4_growsloud Aii respect guys🙏.. ya they been showing sex . The 2 widows are fem seeds from Growers Choice, I noticed pre flowers on those At day40. Bag seed Ailen Dawg jus started and it looks female not %100 sure yet
View 1 additional comment
Gocolts18 Dude I know it's gotta be getting bad. lol My widow is stinking up the tent and it comes out when I water it. So I hooked up an irrigation system so I don't have to open the tent to water it. 🤣
View 3 additional comments
Can't keep my hands off this girl🥰
4 years ago
Don't want to flip till I get a proper exhaust fan for this tent.. ladies doing okay though
4 years ago
Gocolts18 Bet the room it's blowing into smells majestic. 😂
View 12 additional comments
Starting to get warm😢 gotta fix up my ventilation in this tent before I flip these ladies🥶
4 years ago
Untamegorilla31 Hey man can u look at my updates and tell me what gender plant i have going. I kinda know what to look for but im sure your better than i an
Gocolts18 Grows loud? You in the Carolinas? That's what they call it here.
View 16 additional comments
Had a lil ph problem.. got a new pen, should be good to go.. the White widows started showing signs first maybe a lil transplant shock as well🤞
4 years ago
Transplanted one of the White widows and the bag seed Ailen dog into 5gallon and also hooked up the hps in the ⛺️ . They seem to be doing okay😥
4 years ago
Tres4_growsloud Gonna upsize this weekend to 5 gallon..should be ready to flip not to long after.. around day 45 🤞maybe even as late as day 50depends on how the transplant goes
Mystrain420 Are u adding anything when u transplant or keeping it straight coco?
View 7 additional comments
Ailen dawg bag seed is doing well also
4 years ago
Aii jus cool nuh😎 taking shape nicely👍🏾 readjusting tie downs almost daily now💪
4 years ago
Mystrain420 She's looking nice😊 What happened tho I thought u was gonna mainline?
Tres4_growsloud Yea it's a modified mainline or maybe it's manifolding. If u look I already have my 8mains and I've only toppped twice. So this way it saves some time in veg.google nebula's mainline u can read about it , personally I think it's better than the original mainline
Mystrain420 Yea I've seen this b4 from grow weed easy..I think u can call it mainline still but idk if the energy distribution is the same.
View 9 additional comments
Train em while there're young🌱👍🏾
4 years ago
Transplanted and started to mainline these ladies.. check out the leaves on the Ailen 👀
4 years ago
Mystrain420 😊😊😊😊 yes I thought I was the only one here who knew about mainlining/manifold..I'm doing the same but partially because my retard of a cat. Good luck and looking good
Tres4_growsloud Nah I've seen some others here doing it as well. Oh shit 😱the cat topped ur 🌱... that sukz. Thanks🙏
Mystrain420 Yea it sucks but it's coming back good..I subbed so I'll b watching ur grow😊 how many colas u going for?
View 5 additional comments
Getting the coco ready for transplant tomorrow 🤓🤓
4 years ago
This Ailen dog from bag seed is 👀 kinda funky.. white widows are doing as expected👻
4 years ago
So far so good🤘🏾
4 years ago
Mystrain420 Looking good but can I ask what is the plastic for? I'm always tryna learn more
Tres4_growsloud It my homemade humidity dome, at this stage they like RH to be around 70%. There's this a thing called "VPD" you should look up
Mystrain420 Okay thanks for the info I thought the humidity dome was only necessary with clones
View 2 additional comments
My makeshift humidity dome 👌
4 years ago
White widow day 4
4 years ago
All six seeds were soaked for 12 hrs in water and hydrogen peroxide and then placed on paper towel covers with plates
4 years ago