westtxpilot
Blueberry Regular (indoor first grow)
Summer 2019
2x2x4 tent with fox farms ocean floor soil. Any tips would be great.
Been a very long time. Should be doing well, I had some nitrogen deficiency. Not entirely sure how many more weeks of flower I have left. Any advice helps.
4 years ago
Niktron The colour of the trichromes seems to be a popular method on the web. Plenty of good videos on YouTube that show how to identify. I'm new to this as well and would love to hear someone with a bit of experience give us some advice. Plant look great! Those look like some big buds!
Westtxpilot For sure, I'm thinking that it's a little more than halfway done with flowering. Only time will tell, I am growing impatient.
Niktron Ya man! So close to harvest! Hang in there.
About to leave her until June 1st... the girlfriend is going to take over. Hopefully she doesn't kill the plant haha.
4 years ago
So it seems as though I got 4 colas growing from where I FIMed it and then 2 extra ones growing from the bottom as well.
4 years ago
Watered her today and just ordered a new HLG 100 light so I'm pretty excited for that.
4 years ago
The white spots are just where the neem oil dried on the leaves. I'm ready for all the new growths to finally develop...
4 years ago
Looks like the new growth is taking off. Probably going to have to water tomorrow.
4 years ago
Looks like 3-4 growth areas from where I topped it. Anyone else with more experience care to help?
4 years ago
Whiplashpants Looks good. Start doing some lst to get some light on those lower leaves.
Westtxpilot Any tips? I'm scared the stems are still to fragile and will snap. It's still pretty short for the time being.
I think I may have FIMed instead of topped... I'll check later to see if the growths from the part I cut have made any progress. Otherwise doing fine I think.
4 years ago
ClandestineWestOz Do you just have the 1 plant bro? Just because it's not feminised I'd suggest popping another 1 in just in case it decides it wants to be a man.
ClandestineWestOz My very first grow was a feminised seed and it turned hermaphrodite in week 3 of flowering.... wasted a heap of money on electricity, nutrients plus my valuable time nurturing the plant. It sucked big time and I'd hate for that to happen to anyone else. More plants=more chance of success.
Westtxpilot That's what I'm going to do! I have some random bag seeds that I'm going to start at the beginning of June. Even if it's a guy I'll be okay because I eventually want to make my own seeds so I don't have to pay so much for them.
Seems to be doing okay after I topped it. Watered her some more today as well.
4 years ago
ClandestineWestOz Following along for the journey, if you need any advice bro just shout out. Looking great so far!
Decided to top after the third node based on what I've researched. Interested in how long it will take to recover. Still no nutes added since the Fox Farms Ocean Floor already has a bunch readily available.
4 years ago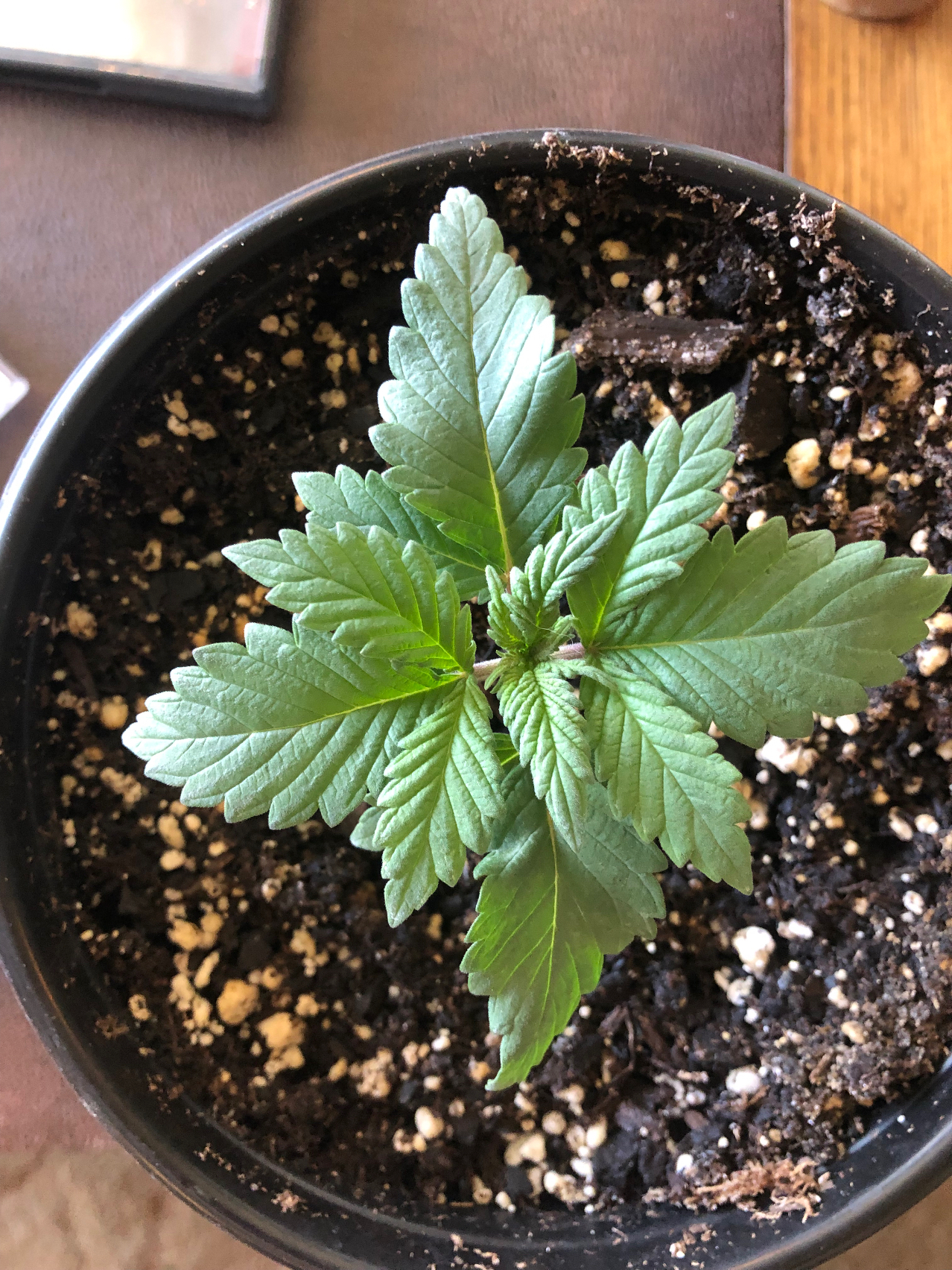 I turned off the "flower switch" and the temps are doing much better and it seems as though the plant is doing well. When should I start feeding the plant nutes?
4 years ago
Seems to be not stretching too much. Does anyone know about how much longer I should wait to top it?
4 years ago
I've removed the blumat to see how regular watering goes. The tent got up to 90 today so I'm going to leave a little intake open to see if that helps at all.
4 years ago
Starting to spread out a little more. I've watered some more but can't tell if I'm doing anything wrong.
4 years ago
Just chugging along doing plant stuff
4 years ago
The plant seems to be healthy enough. I've been just letting the blumat do the watering for me and it seems to be very happy with that for now. I'm having issues of keeping the temps below 85 F while my lights are going so any help would be appreciated.
4 years ago
I'm having a little trouble keeping the temp below 85 when the light is on, but besides that I think everything else is doing fine
4 years ago
Treated the plant with some neem oil just as a precautionary measure. Seems to be doing okay though
4 years ago
One of the secondary leaves is looking a little small, not sure why.
4 years ago
More little leaves are coming in!
4 years ago
Just watered her, no nutes. Having trouble keeping the humidity constant so it keeps going from 30-60% since my humidifier is kinda shitty.
4 years ago
Just chugging along doing her best today
4 years ago
Still growing! Haven't had to water any extra yet, expecting to in the next day or so. Also forgot to say that it's on a 18/6 light schedule with a 600W Phlizon LED light about 15 inches away. Only the veg switch is turned on.
4 years ago
Babywater1 I'm a first timer and we're about at the same point in growing. I have mine on a 18/6 light schedule but my light is about 10in above my plants. Should I raise the light up? It's a 600w LED.
Starting to work it's magic
4 years ago
First day from seed!! Germination method: I put the seed in about a half cup of water for about 14 hours. Afterwards I put it directly in my soil. It took about 2 days to sprout up to this. I don't really like the paper towel method for my garden plants and have found this way to be the more successful way to get plants to grow in a shorter amount of time.
4 years ago