Hells Glue - Photo Fem
September 2021
First time growing in a 4x2 tent. Has 1 VS1000 light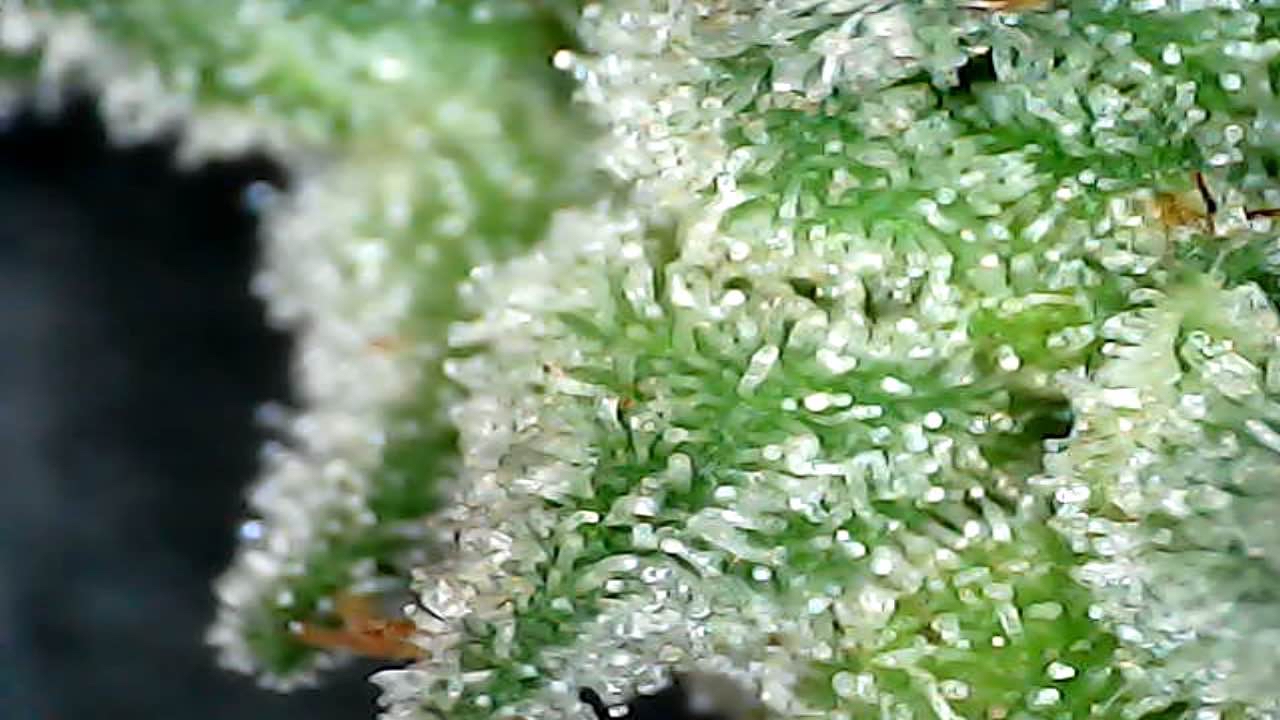 Probably going to harvest this weekend
2 years ago
Looking pretty crystalline now. Keeping a close eye on the trichomes
2 years ago
Probably the clearest picture of the trichomes I've gotten. She is thriving after the cut. Taking a closer look, it still has time I think, which means I hope the first half wasn't too underprepared
2 years ago
First half of the harvest produced about 22 grams, probably about another 14 left growing. Not too shabby for a second attempt
2 years ago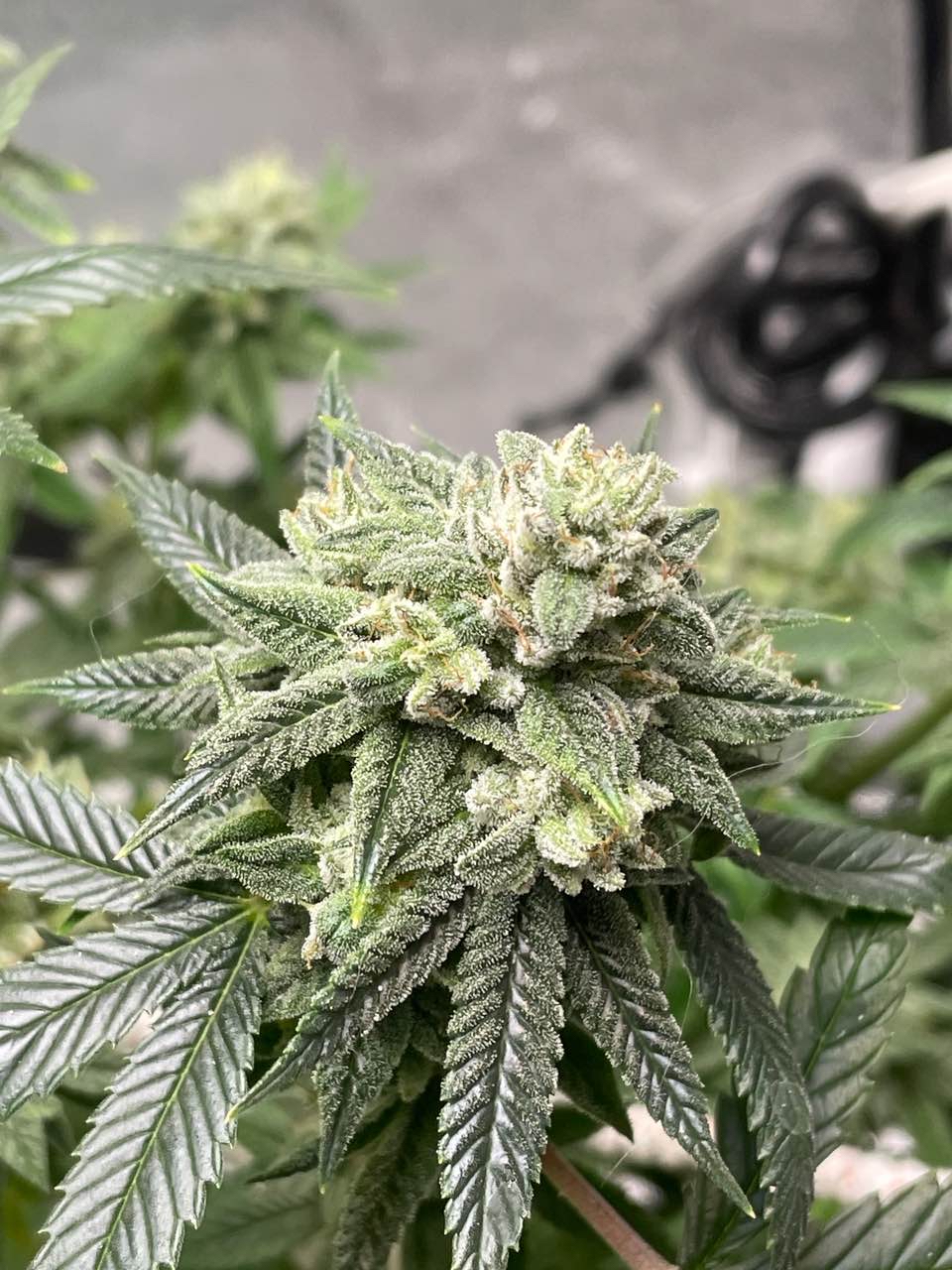 She is a lot better after that chop. The rest is now able to grow freely under the light and without all that stress breaking her stems
2 years ago
Thinking I should probably trim the top buds about now. They look pretty ready, and the trichomes seem pretty white
2 years ago
The buds are getting too heavy for the stems. They are just weighing down and snapping. Only the main stalk is thicc enough to hold it up. I keep checking the trichomes to see when I can harvest. There seems to be a lot of immature buds still, so I will probably harvest in 2 sections. There's also lots of mini buds that will be great for making edibles with
2 years ago
Had a huge mishap. Must have forgotten to water or something really dried her out quickly because I checked on her this morning and she looked like she'd been crying for water for days, and a lot of her stems snapped under the weight of the buds. I propped them up a little, but I think I may have to harvest (at least partially) earlier than expected
2 years ago
Holy wow! She has been growing beautifully while I've been gone. Been using fox farm fertilizer and she's been taking very well to it! Probably only a few weeks left on her, but also probably way underestimating
2 years ago
Well it's been awhile since my last update. Size hasn't changed that drastically, but she is in the beginning phase of her flowering finally. Can already tell she's going to produce much more than my last plant
2 years ago
So now that my autoflower is gone, I think I might switch her over to a 12:12 cycle to get her flowering already
2 years ago
Second round of LST. She had a bunch of twisted branches that were keeping her clumped together so hopefully this will cause a nice growth spurt. I also got some new FoxFarm Grow Big fertilizer and started that today as well
2 years ago
Still doing her thing. Ladybugs in full motion
2 years ago
It's a ladybug orgy up in here! They are going to town. There isn't going to be much of an aphid problem after these guys get to them
2 years ago
Getting bushier! I think the LST is working better this time. The aphids aren't attacking this plant as bad as the other. The ladybugs should be arriving today so I should get some defense going
2 years ago
Looking pretty good. LST working pretty good so far. Will likely need multiple rounds of it
2 years ago
Growth starting to pick up now. Found another mushroom this morning and picked it out. Kind of glad it's growing slower to allow my autoflower to be harvested before I even have to switch to 12/12 light
2 years ago
BunnyGrower Thank you, the mushrooms scared me at first, but I guess it's a good thing, but should probably be watering less. Can't wait to really see her get big
BunnyGrower Woah woah woah, no need for the negativity here
View 73 additional comments
Started some LST with pipe cleaners, hoping I did this right. Much easier with pipe cleaners
2 years ago
A mushroom started growing, so I guess that's a good thing. Still probably should keep an eye out for mold
2 years ago
annmiky That's actually a good thing it means you have a lot of living microbes in your soil it'll help the plant grow and provide CO2
BunnyGrower Oh thank god. I just immediately correlated it to mold
BunnyGrower After a slow growth, red stems (which after a little more research from the company that created the strain and found it's genetic), and overall rough start, I was horrified
View 3 additional comments
Stems getting more red, and growth doesn't seem to be doing to good. Not sure what I'm doing wrong, or if it's just a very slow growing photo
2 years ago
Slightly red stems, which I feel is due to either the increase in brightness from the lights, or is somehow super stressed because she is very small for being 28 days from seedlings (even longer for germination)
2 years ago
Looking cute or whateva
2 years ago
BunnyGrower I know right? Idk what is going on, she is much smaller than my other plant I started around the same time. I figured it was because she is a photo and my other is an auto, but I'm starting to think that's not the case. I got the seed for free from a seed company that was giving them away at a cannabis event, so it may just be bad genetics? I've done everything the same as my other plant, so I doubt it's environmental
BunnyGrower No, you know what I think it is? It's that time of year where there isn't enough light during the day. Normally a photo plant would be flowering at this time of year, and when I germinated it, it took a week to get into the grow tent (bad logistics on my end). So for it's first week of life it got roughly 12/12 light cycle. You don't think it could be trying to flower do you? I couldn't find any info online about this
Transplanted (probably a little early) to a 3 gal cloth pot. She was planted in Fox Farm Ocean Forest soil with nothing added. The only fertilizer I plan to use will come straight from the factory (my 2 bunnies droppings). I will soak their droppings and use the water every 3rd-4th water cycle
2 years ago
Growth seems a bit slower than my Early Miss I am growing alongside it. I think I made a mistake, as I now know this Hells Glue is not also an autoflower, so I am now growing 1 autoflower and 1 photo side by side. Any tips on how to handle that? Because the Early Miss does not need a 12/12 light cycle, and should flower much sooner than this, it shouldn't be too much of a problem right?
2 years ago
E-Lee-Te Kush & Co. No, I Had Both (Auto/Photo) In My Starter Tent you Are Gonna Have To Put Them On Two Different Cycles. Unfortunately
BunnyGrower What cycle would that be? I thought I would be keeping my autoflower on an 18 hour light cycle till it is ready to harvest. If I can harvest before I need to switch over to a 12 hour cycle, that would cause problems? I'd hate to have to choose between them since I only have 1 tent
E-Lee-Te Kush & Co. In This Case, You Can Keep The Photos In Veg. While You Wait For The Autos To Finish Flowering On The (18/6) Light Cycle …. Now with That Being The Case Right After You Will Have To Flip The Lights To (12/12) To Send The Photos Into Flowering, I Hope That Makes Sense 😅
View 2 additional comments
Going strong. Got the humidity and temperature up I turned off the humidifier this morning and kept only the wet towels to maintain humidity. With both it kept climbing slowly
2 years ago
Growth seems to be slowing down. On an 18 on 6 off light cycle, and added a humidifier that doesn't seem to be working. Been misting the environment but I can't seem to bring the humidity up
2 years ago
JG705 Do you have something you can use as a dome to trap some humidity?
JG705 Humidifier may also just be too small for the space.
BunnyGrower I have them in a 4x2 grow tent and if that humidifier can't make a difference in that, what is it designed to humidity? I put wet towels in and that brought it to 55-60%
View 6 additional comments
Starting to open up more under the light, hopefully it starts to speed up a little more
2 years ago
currently growing in a solo cup of generic potting soil (will upgrade to better soil during transplant later). VS1000 at 50% power
2 years ago