thepostman
Mix Grow - Nuke Heads
Kick off
2x Gorilla Glue Auto 2x Green Poison 2x Critical Kush from Midtown Cannabis. 1500 watt Bestva LED. Scrog method. Nuke heads Flower Power nutrients.
About 1 more week in the Green Poison. Will start flushing next week.
5 years ago
Poison maturing
5 years ago
Still one auto finishing up. GP looking great!
5 years ago
Harvesting the big GG auto tonight.
5 years ago
Harvested the trouble plant and 2 gg autos are just waiting for some amber to pop before harvest. Scrog the GP and put into flower. Gave full dose of bloom nutes yesterday.
5 years ago
Any day now on the autos.
5 years ago
Finishing up very nice. The thick mystery auto is looking like candy and is getting very frosty. The other temperamental auto is also putting in good weight and is starting to finish. Both smell wonderful. The GG auto is also packing weight and is already super frosty. The poison is just begging to go into flower. Pistols forming all over her.
5 years ago
AK auto is just about done. Scope will be here tomorrow to verify. GG auto packing on buds and is already very frosty. Really can't wait to scrog the green poison and put them into flower.
5 years ago
Still waiting for autos to finish so I can scrim the GP and put them into flower
5 years ago
Water with 3ml cal mag.
5 years ago
Wish I knew when these were exactly germinated. Need the autos to wrap up so I can Scott the green poison. One auto looks close. Dispensary stated that the seedlings were ~ 20 days old. Leave less than 2 weeks left. The one that burned previously burned again after feeding. I will only give it cal mag until finished. Thought about pulling it but it is starting to produce some dense nugs.
5 years ago
Everything's budding fine at this point. Just fed the autos a 1/4 dose of bloom with 2 ml of cal mag. Green poison got a dose of water and cal mag.
5 years ago
Only 1 got sunleaf damage but, has bounced back and started putting on a little weight. The rest are looking good also. Gave them a feeding yesterday of 1/5 dose of NukeHeads bloom and some cal mag with micro. Weight increasing on all plants.
5 years ago
Flushed with 2 gallons of water in each of the autos. Damage seems to have slowed/stopped. Will snag some molasses while out today.
5 years ago
Having issues! One plant started getting chunks missing from the leaves. I have been watching it closely but see no bugs or larva. I have attached pictures. The other 2 auto flowers have just now started also showing signs of this issue. I looks like it is eating itself.
5 years ago
Thepostman Small spotting forming in other auto's. Have only given 1 full dose of nutes about a week ago. That's the first they have had so not sure it is nute burn. Have been letting the soil get dry before watering. Soil is still airy.
SMEHTHESMEH Hey fellow grower! I've had this problem before. Not as bad, but I've rad that it was either to do with rust fungus or a deficiency of magnesium. I gave a 1/4 strength nutes and it seems to have remedied itself. Took a bit of reading to finish the info but the autoflower network and grow weed easy.com are amazing for finding info on most subjects. Hope that helps.
View 11 additional comments
Plants look the same after the feeding yesterday. No crazy growth spurts. Got the Viparspectra 650 today. Much heavier than the bestva. Got them both on with full spectrum. Temp increased slightly.
5 years ago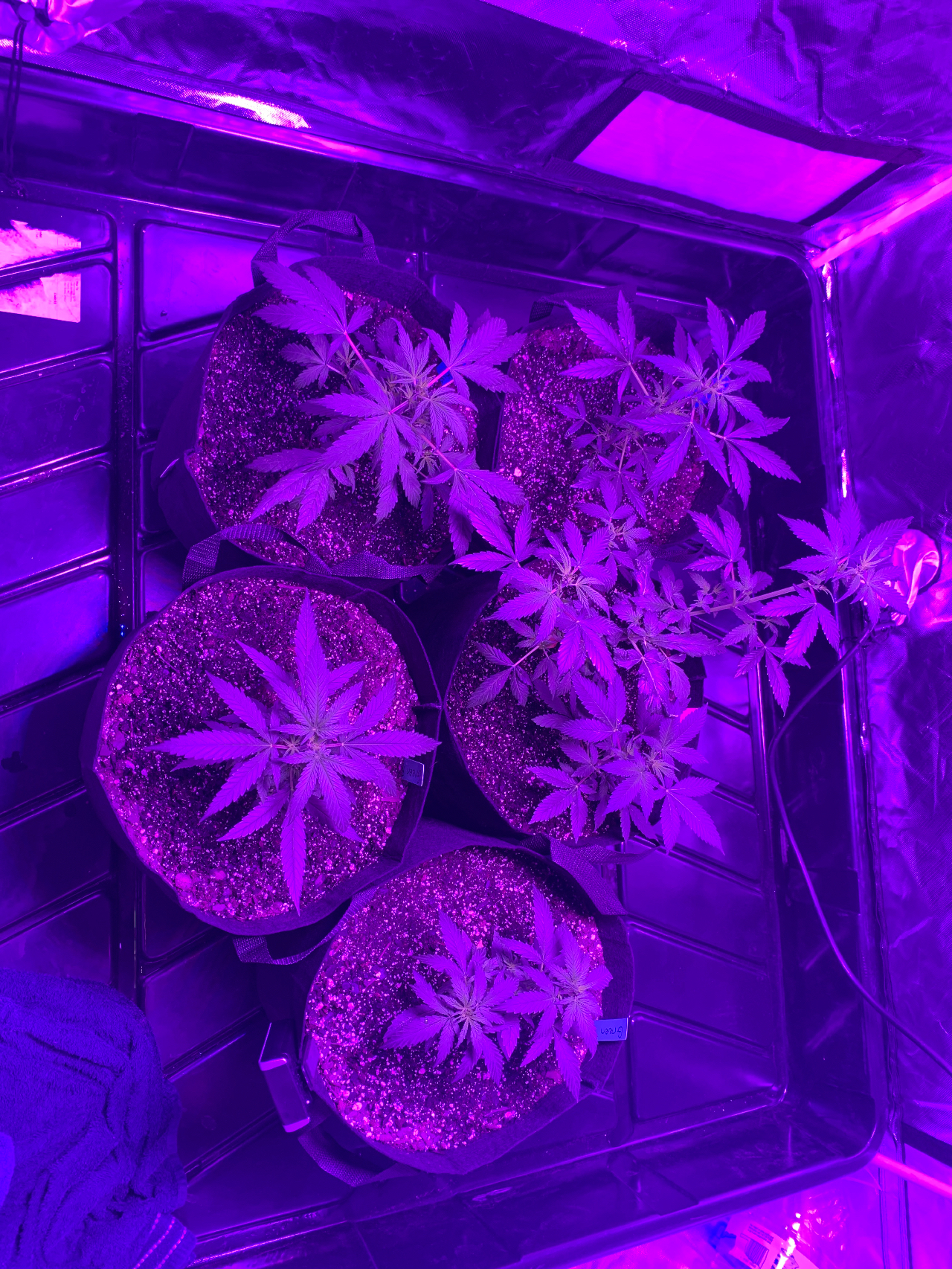 Still waiting on new light. Gave full dose of NukeHeads veg. at 6pm.
5 years ago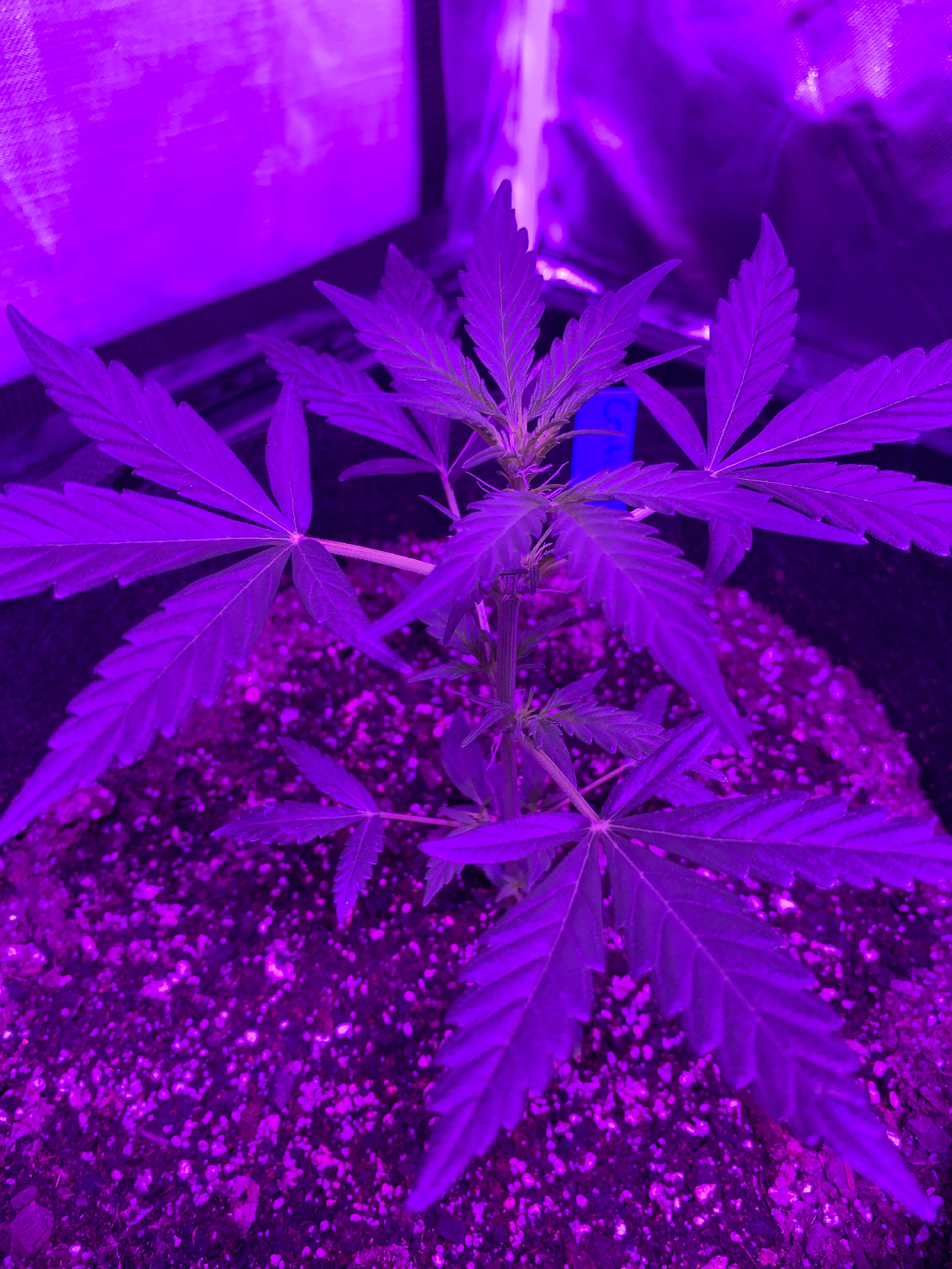 Just water and light so far. Will be adding another 600w led soon. The critical kush is popping hairs. I believe they were miss labeled and are auto flowers. Hopefully GG and not the AK47 autos they had. Now with 4 autos might have to do something with the normal green poisons.
5 years ago
Not sure if this discoloration was here or not. Will watch carefully. Plants seem about the same. Slightly larger
5 years ago
Gave them root stimulator 2 days ago. On to the first Nuke heads platinum 20-20-20 veg feeding. Still seedlings so went with half a scoop per gallon. Total of 2 gallons across the 5 bags until water started seeping from the bags. Stalks on most have grown. 1 CK and 1 GP still have wimpy stocks.
5 years ago
Got the 2 GG auto seedling and transplanted the lot into 5gal bags with fox farm oceanic soil. Hit them with high yield root stimulator. 6 tablespoons in one gallon. Fed after transplant. 16/8 cycle with the light as high as it can go. Current temps 79. Did get to 84 this afternoon.
5 years ago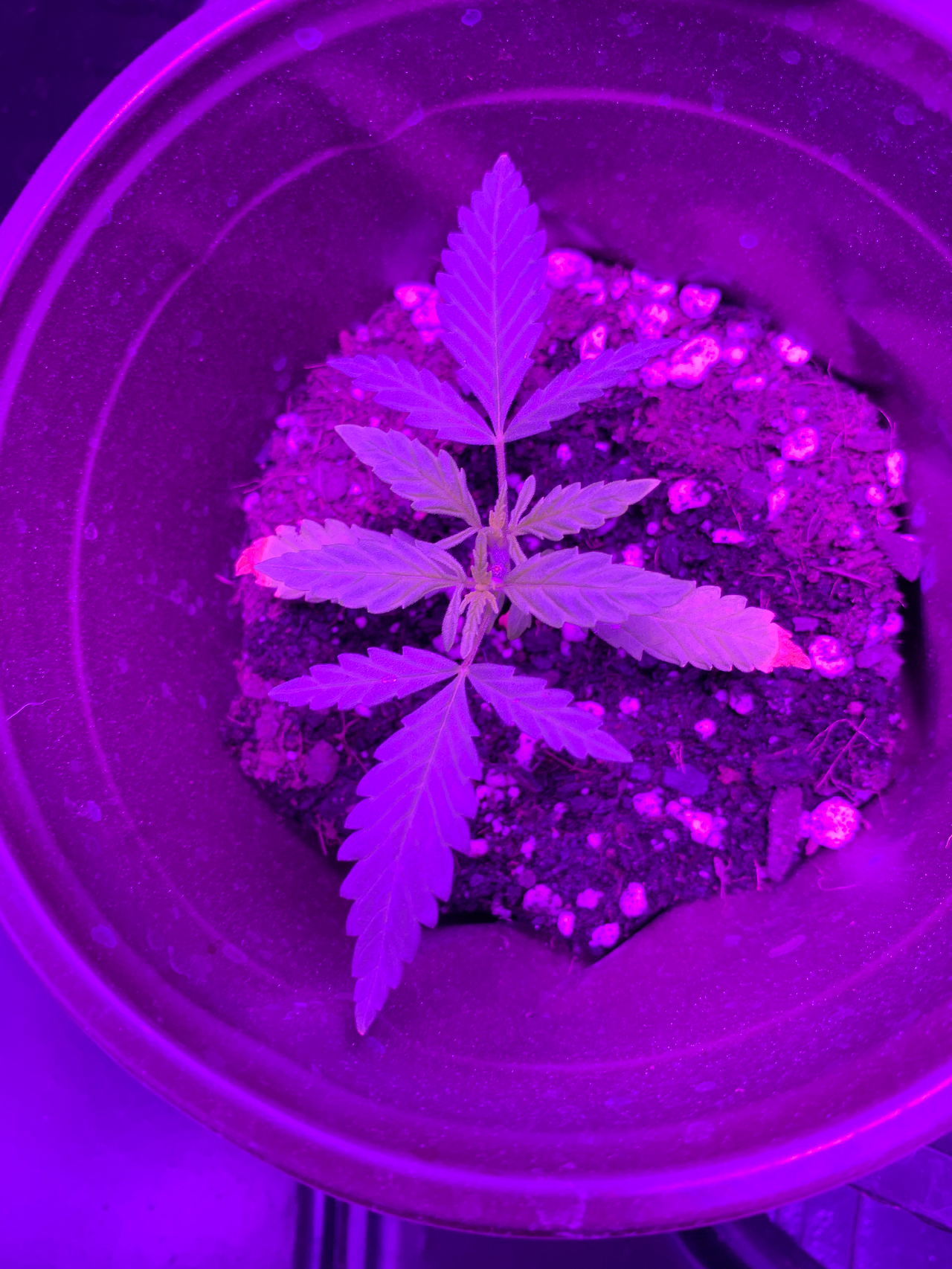 Picked up KC and GP. Got tent set up. 79 degrees and 30% humidity currently with light on. Current day number unknown but seedlings are young. Waiting to move to good soil and big pots.
5 years ago