purplechicken
pergatory x jacks cleaner 2
First grow
Grown in soil in a 15l pot. Spider farmer 1000led in a 4x2 tent.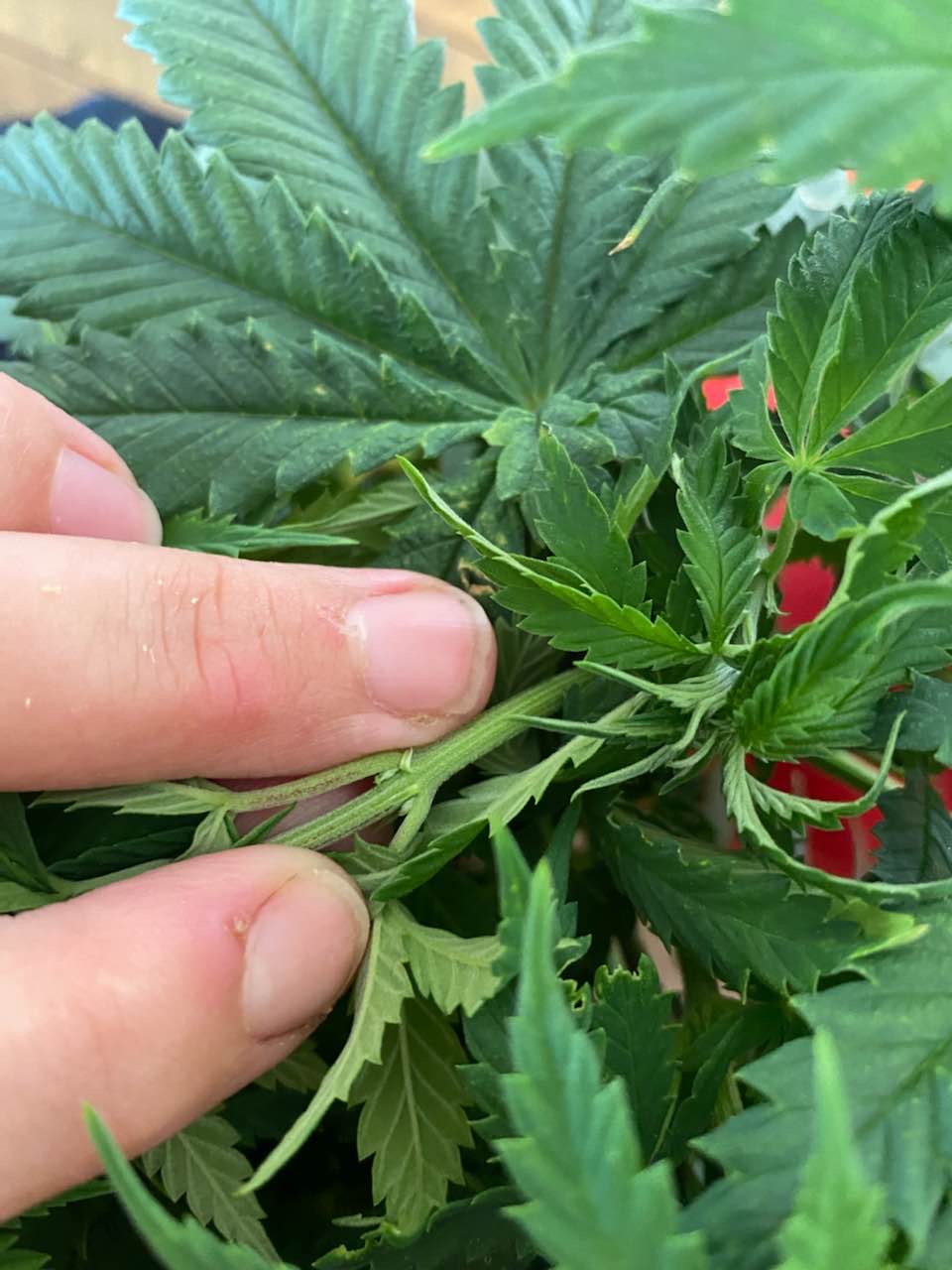 Still can't determine if ifs male or female. There's no hairs but nothing that really screams "balls"
2 years ago
View 3 additional comments
I don't know if I'm dealing with a nitrogen deficiency now? The new growth is VERY lime green, see on the left my other plant.
2 years ago
Can anyone help me gender this plant?
2 years ago
Peng Too early to tell I reckon
keithlovesrach I'd have to agree. The only thing that makes me lean toward female is the calyx at the top. It kind of looks like 2 pistils but hard to tell from the pic. I'd just keep an eye on it and if you see any pollen sacks get rid of it. Happy growing!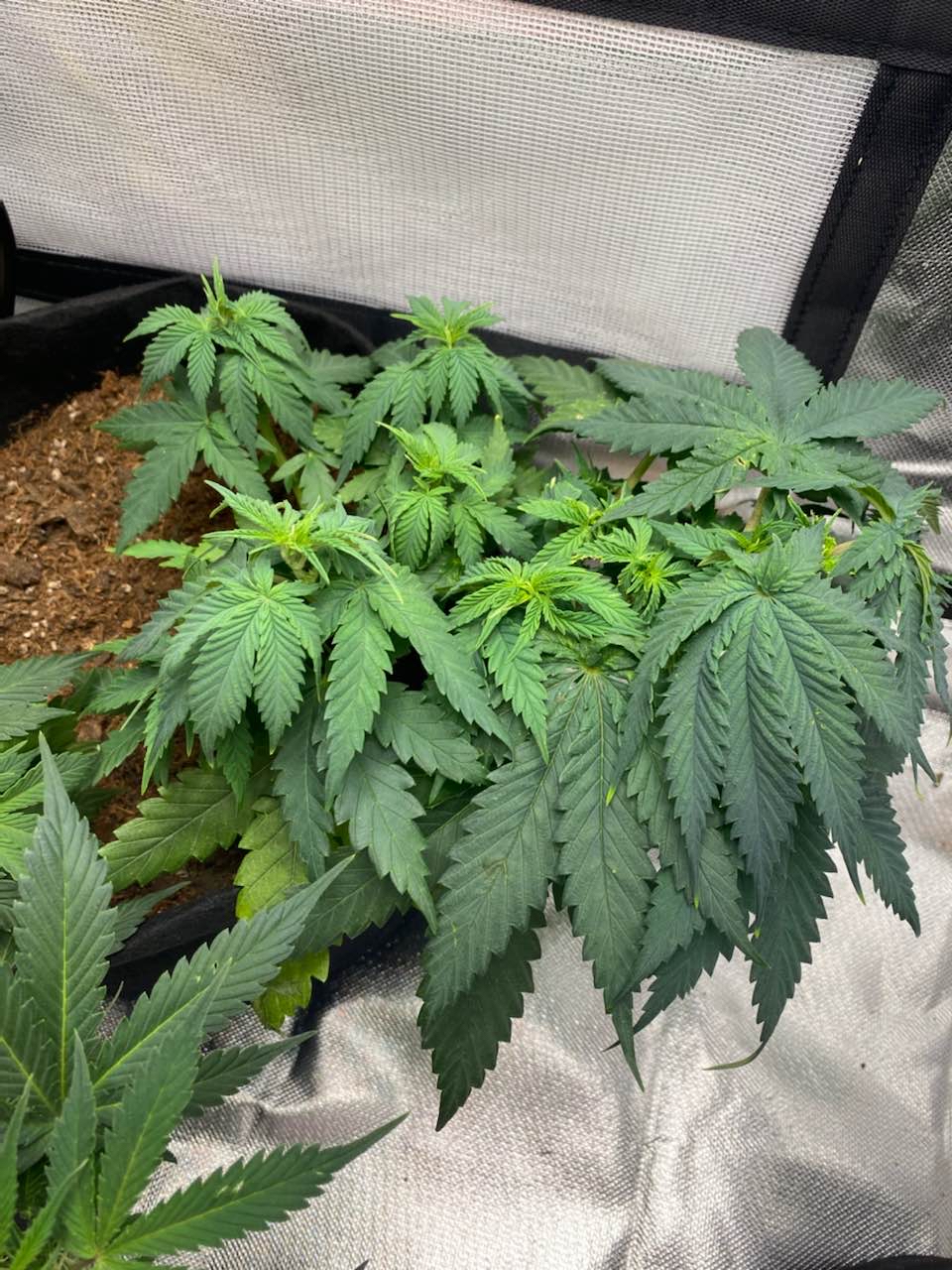 Other leaves starting to claw 🥲 just watering with pH water at the moment. Hoping if it is nitrogen toxicity it may wash excess N out. Kind of hoping it's Male so I won't feel bad if it's a flop.
2 years ago
Doesn't look happy still. Gave it drink just now with water. Any ideas?
2 years ago
purplechicken Thanks! Funny only this plant is doing it, but I'm using the same soil for all them .
View 1 additional comment
Nitrogen toxicity or am I overthinking it?
2 years ago
keithlovesrach They look a little droopy from over watering to me. Not positive but I over watered on my last grow and I had similar symptoms.
Cobe Overthinking things for sure man, you got some green plants w some super slight burn on the tips, I'd keep going the way you are if you're trying to maximize yield but that's just how I see it! Good luck broski!
DracoBEBO Dark green leaves, super minimal burnt tips…possible, but more picture of plant overall: seeing a single leaf or two doesn't do much for helping, unless dead obvious. How do the lower leafs, older and newer look? I do think you are overthinking. If it gets worse then yes, i would say toxicity. But that slight tip yellowing is minimal.
View 3 additional comments
Not sure what's going on! Couple of droopy looking leaves. Watered her today with ph 6.3 water. Topped her 2 days ago.
2 years ago
Peng Looks like clawing from too much nitrogen to me from that visual
Any idea the gender?
2 years ago
Growth has slowed this week. Gave some homemade compost tea 3 days ago. When do you know it's time to put into flower?
2 years ago
Pretty happy how it looks!
2 years ago
Started LST yesterday. Looking good so far.
2 years ago
Can't see any "balls" yet, hoping female!
2 years ago
Still going good. Had a drink of water. Hope I'm watering properly
2 years ago
Mystrain420-@eaegifts Where'd u find these genetics? I have a Roswell going now from some old seeds, I'd love to find more of his genetics
purplechicken Hey man, I'm in Aus and this was actually a free seed with my purchase ! I got a pack of 3. Maybe I should have planted all 3 at once and bred to get more seeds. No idea what gender this one is yet
Mystrain420-@eaegifts Yea the breeder only made regular seeds when he was alive. Tbh he's like my favorite breeder, if it's a girl you'll be very happy because his strains tend to have very high terps. My Roswell swell great now and it's still in veg
View 1 additional comment
any ideas on female or male?
2 years ago
Is it too small? Possibly could have stunted growth because I didn't have the heating situation sorted after germination.
2 years ago