Alchemist710
Tropicana Cookies
Ta all Virginian home growers-AVOID COMMONWEALTH CANNA SOIL
These clones were brought to me by The gentleman that owns Commonwealth Canna because I purchased his soil / nutrients combo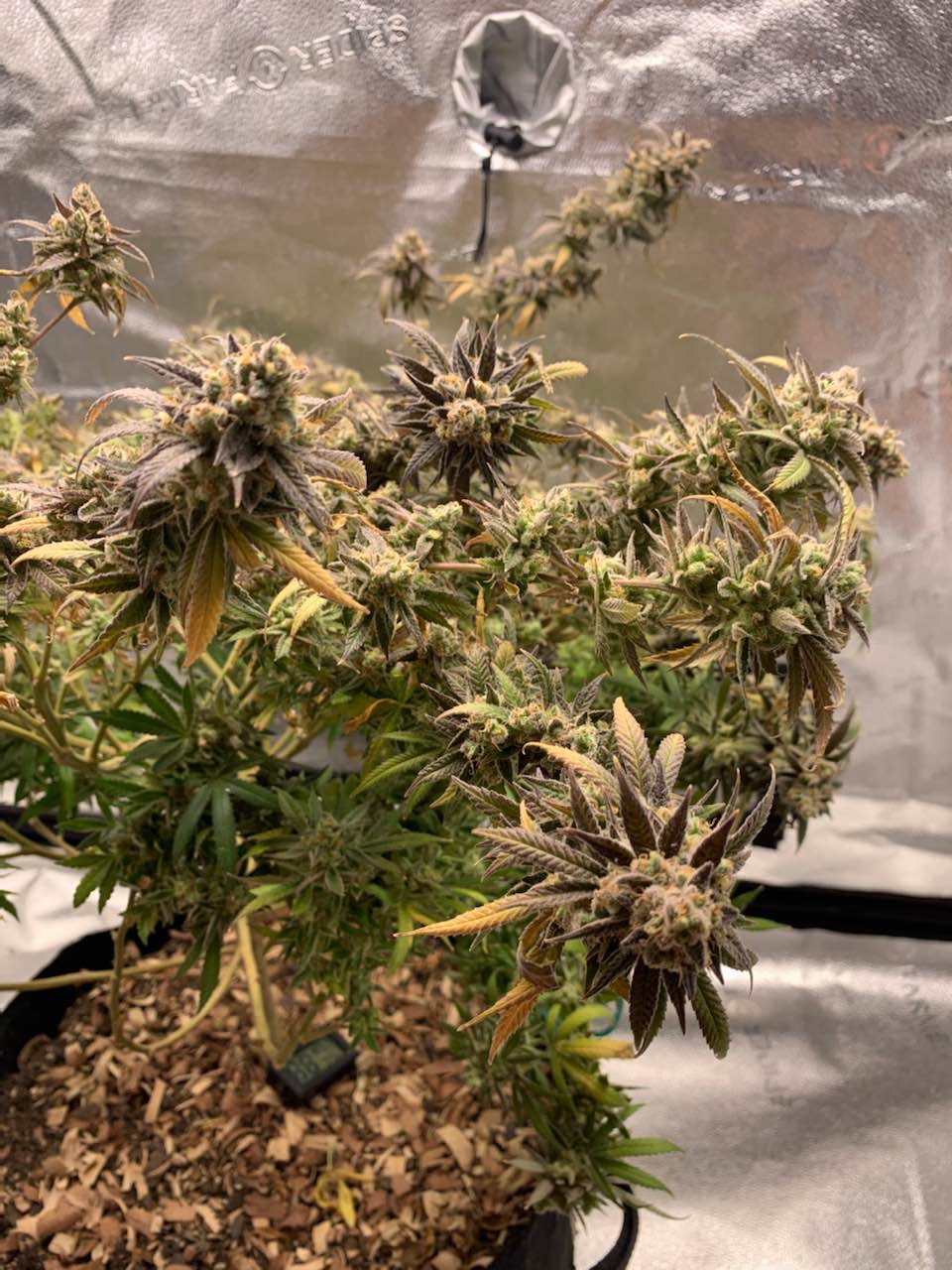 Does anyone know if the trichomes will mature during 48 hrs dark?
4 days ago
She's getting the chop soon
9 days ago
How much longer? Week 9 or 10 of flower.
16 days ago
This girl is almost ready😍
23 days ago
Cosidering putting the first one outdoors to finish cuz I still haven't successfully eradicated the spider mite issue
a month ago
Caliban Green cleaner day 1. Neem oil day 2. Captain Jacks spray day 3. Spray undersides of leaves. Then when everyone is over it will take 20+ days of no plants in the tent to rid them completely even w alcohol wipes. I got infested last year and it was a battle that I finally won.
These best pay off, they've been growing for an eternity lmao
a month ago
I've got one healthy plant and one plant that's barely hangin on. A few big shoots, exciting. Did a compost tea with added unsulfured molasses yesterday and covered each pot in cedar chips. Hoping it will help control this mite problem.
a month ago
Reckless Do you think you could benefit from a web?
The plant on the left has a spider mite infestation but the one on the right is clean as a whistle 🤔
2 months ago
ig:@eaegifts Some plants are mold and pest resistant while others aren't
It's bittersweet but I'm glad those sativas are gone because these are stretching out way more than I expected
2 months ago
5 days into flowering and I find mites 😡 just a few on the plant all the way to the right, but we all know how fast infestations can spread with aphids and thrips. I have them under 10% light and treating with a combination of Dr.Zymes Eliminator and a green foliage spray juice of tomato leaf, garlic, and abut of cayenne pepper . Treatment day 2, here's to hoping the garlic spray works
2 months ago
organic_grower Good luck man! Sucks finding bugs.. but beautiful plants though.
First day flipped 12:12 I should had a scrog but there are 2 plants of different strains in the tent
2 months ago
I don't see these getting much bigger, I think it's time to flower
3 months ago
Does this look like powdery mildew or just mineral residue from water?
3 months ago
These indica girls are about 3 ft tall, with lots of tops. The fist one has a place where it got a little light burnt and I don't think it's going to catch up to the rest. Do y'all think these are ready to flip to flower? How should I defoliate before flowering? Do I need to take off a lot of fan leaves?
3 months ago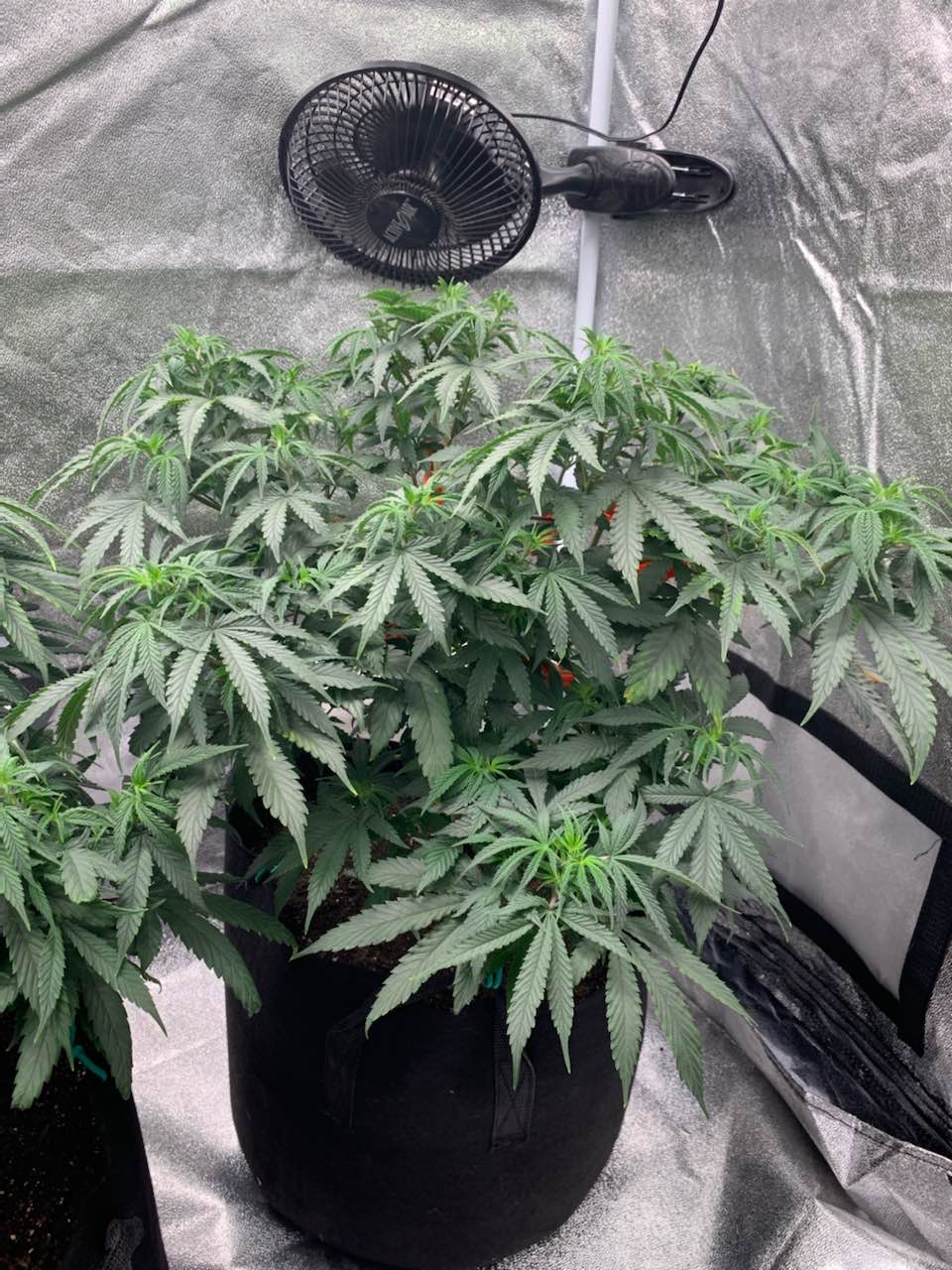 These tropicanas are just down right beautiful, that classic bushy indica look , the leaves a dark green with purple veins, giant spread on each and hella tops. I think I'm just going to give them another 3 weeks to let that light burnt side (picture 4 and 7) continue to bounce back but I am finally happy with the way these look
3 months ago
Defoliated the burnt leaves, added a 3rd fan in the tent, dimmed my 200 watt light to 80% because there are some new leaves showing signs of light burn. Idk why this plant is more susceptible to light burn than her sister clone
3 months ago
Wtf is going on?!!! Thi was all green 2 days ago. Only the side of the plant facing the light directly is affected, but all the other plants are fine. I just topped dressed these with EWcastings and Gaia Green 4-4-4, so nitrogen deficiency doesn't make sense with a Ph of 6.6. Help?
3 months ago
Could this rust be caused by light burn? It appeared to affect the top of the plant more than anything
3 months ago
Defoliated the super burnt fan leaves, cranked the SF2000 down to 75%. Here's to hoping that that fixes this sudden issue
3 months ago
So excited for these Tropicana cookies, after the top dress and feed these our growing with vigor! It almost looks like I mainlined but it's all just LST
3 months ago
This one is even bigger. I have 2 of each 3 strains in here. Maybe I should move my autos outdoor in my new miniature green house. I'm not sure if that would keep away the bugs or not
3 months ago
Allow me to demonstrate what these Tropicana cookie clones have performed for the last 76 days. As you can see, this clone didn't really start to grow until I transplanted them into 5 gals because the soil I bought from him must had been the same he planted these jiffy-pod (I hate those jiffy pods) germinated clones into to give me in the 1 gallon grey pots. I'm happy they were only one gallon, because it made transplanting int the 5 gallon pots an easy decision. Now the r boomging with at least 6 main tops on each. I plan to top dress with earth worm casts and Gaia green 4-4-4
4 months ago