splifswiftns
Star wars grow #1 (deisel auto)
Indoor to outdoor
These young ladies will start indoors, then move outdoors once the sun shows up.
37.42g after a wet trim and quick dry in the dry box. (Dry box is ambient temp with a fan in a cupboard with exhaust. It's been quite warm, hence the quick dry). Final trim is done, curing in glass jars using a 62% boveda pack. Stems weren't quite at snapping stage, but I didn't want to dry too much in this heat.
4 years ago
Splifswiftns Taste test 10 days into cure. Smells like diesel, tastes like diesel, works like diesel. Citrusy-pine smell and taste. Has a bit of bite to it, but still early in cure. Could be because of faster dry. May be better to vape. Nice mellow high, which slowly tapers off without the crash. Good daytime puff.
Harvested today. She's sticky and smells great. Stinking up the garage dry box. Trich's are good and milky, and just starting to turn amber. Could have waited a bit longer, but didn't feel it would need too much. Hairs are 75% orange as well. Results to follow.
4 years ago
The flush is on. She's looking great and my backyard stinks. Still little in the way of amber trich's. Gonna trim some of the dying leaves in hopes of upping the resin production for the final push. Go Diesel, Go!
4 years ago
Just starting to see amber trich's. looks like this one wins the race, and will be the first to harvest. I'll give her another couple of days still.
4 years ago
I think I love autos. Takes maybe a bit longer than advertised, but the results are awesome with such a quick turn around. Having said that, only a handful of amber trich's, so still more time left.
4 years ago
Keepin an eye on things. Gonna start flushing now. Just water from here on out.
4 years ago
Things are moving along nicely...
4 years ago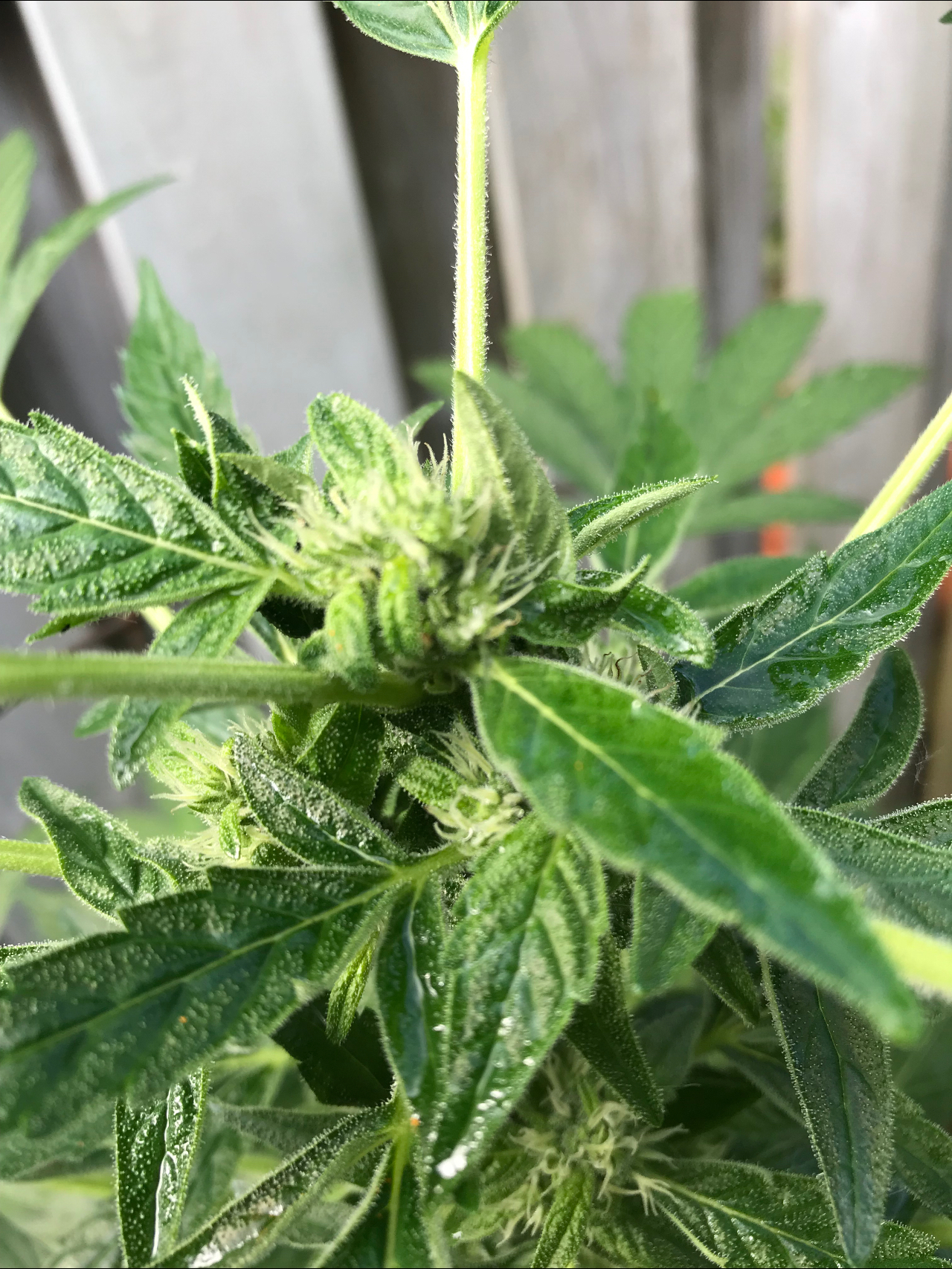 Buds are stacking up. Last dose of monster bloom. Off to the races she goes. Hopefully.
4 years ago
Gave her some monster bloom about 5 days ago. Seems to like it.
4 years ago
A little more growth to see here. Topped at around week 3, hopefully not too late for an auto strain. We'll see in due time.
4 years ago
Got a bit of fertilizer today She's happy so far.
4 years ago
Only one of the diesel autos hatched, and here she is, outdoors and in a new 7l air pot.
5 years ago
Little sprout started yesterday. 1 seed hasn't popped so far. I'll give her some more time.
5 years ago
The plant is currently no inches tall.
5 years ago