RichMcflyy
Northern Lights
1st dwc grow
First ever Dwc grow!! Excited to see how it turns out!!
Decided to chop her down 🤧 Having mixed emotions about this girl smh!! I feel like it's an accomplishment because it was my first plant EVER 💪🏾💯 But we ran into some problems later on in flower. The buds are airy, but it smells sweet asf 😏🤷🏽‍♂️ I'm blaming genetics though only because the OG plant that was grown right next to this plant has a pretty nice bud structure. The buds on the OG are dense and fat, these buds aren't but the trichomes are definitely there 💚🪴 All in all I would consider this a success!! Now I'm just waitin on the next run 😎🤟🏾💯
10 months ago
Started flushing, the nute burn kept getting worse. I think I caught it in time for them to finish up nicely 💚🪴 Removed all the fan leaves that were too bad to be saved ( week 5 day 5 of flower)
a year ago
She's still growing any producing a ok amount of trichomes 😎💯 Gave her a tsp of tiger bloom and a tsp of grow big 🔥🔥 Got some issues going on with the leaves, but nothing enough to make me worry. For some reason the leaves are curling up 🧐🤨 I figure I'm doing everything properly with the environment so it has to be a nute issue 🤷🏽‍♂️ Starting to see some pretty colors though 🤩🥳 I keep it between 70 and 80 degrees in the tent with around 55% rh, any suggestions? (Week 4 day 6 of flower)
a year ago
Flowering nicely 🔥🔥 Fed again lastnight, 2 tsp of tiger bloom 🐯🪴 Starting to see some trichomes 🤩🥳
a year ago
Gave the girls another feeding today🪴💚 also a defoliation, now they can breathe🔥💯 Not sure if I should put the scrog net back on or if I should just let them do their thing 🧐🤷🏽‍♂️ Both girls are throwing pistols and looking like they are going to produce nice buds 😎
a year ago
Fed her her 1st taste of flowering nutes today 😎🪴 2 tsp of tiger bloom 🐯🌹 Let's see how she reacts (pic 1 is a white hair I spotted earlier 🔥🚺)
a year ago
I think these might be the first signs of flower 😏🤟🏾🪴 Can we confirm the gender on this one 🧐
a year ago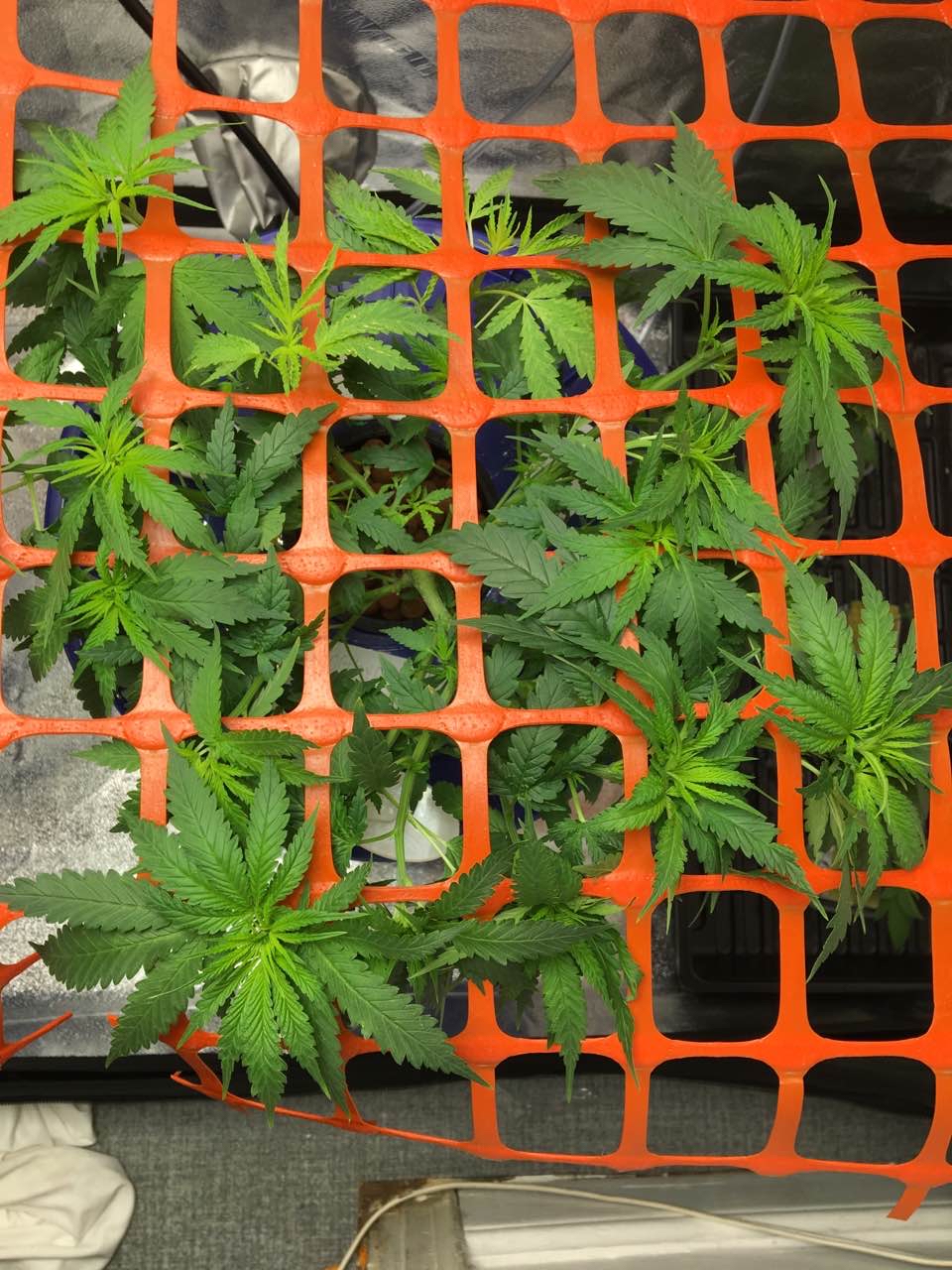 Day 7 of flower 💚🪴 She's getting bigger 😏
a year ago
Second day of 12/12 🤟🏾🪴 We finally made it growmies 👊🏾😎 I'm super excited frfr, can't wait 💯 But I did a bit of defoliation on her yesterday, just kinda prepping her ig. I didn't tk too much bcuz I didn't really knoo what I was doing, but I'm comfortable with how she's turning out 🔥🔥 I gotta surprise for my growmies too, stay tuned for the next update 👊🏾😏
a year ago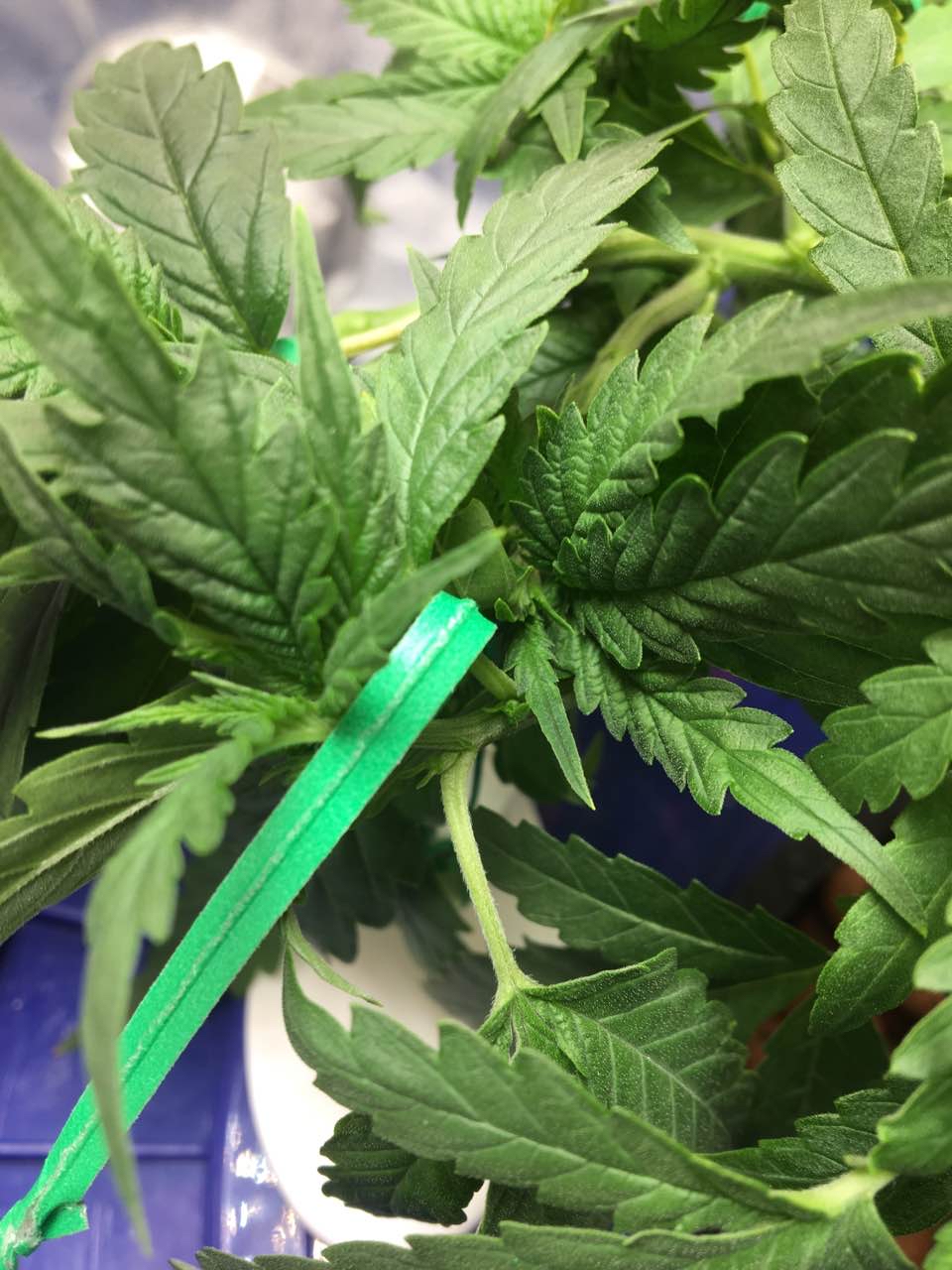 Adjusted ph, tightened Lst, stuck'er back under the scrog 💪🏾🔥 I'm going to let her stretch through the net when she flips, gotta 2nd net waiting on em 😎🪴 Thinking about flipping after I can figure out how to keep it cooler in the tent, I kinda want to let them get bigger though 😅💯
a year ago
ig:@eaegifts Nice growmie, I'm scrogging mine also but I'm gonna train her through the first net some then flip. How do you change your res when she's in the scrog?
RichMcflyy Ngl growmie, it's some work 😂😅 But I tk a picture before I start so I can kinda remember where they were in the scrog. Gently raise the scrog, my plants are barely through the net so it wasn't really that hard but it still took me twice as long than it usually does 💯 Im expecting it to be a lot more difficult in the flowering stage 😬 But right now it was pretty smooth, just gotta tk your time working em out of the net 😎👊🏾💚🪴
Continued Lst on her 💚🪴 I'll just keep adjusting the Lst until the other plant recovers from the topping she's about to get 💪🏾😏 I need my growmies to give me some feedback on this "scrog" net I "found" 🤣🤣 Iknoo there are better things to use, and I plan to have them by the time the next beans pop!! BUT WILL THIS WORK AS A SCROG NET 🧐🤔🤨 (changing bucket water tonight)
a year ago
Topped again 💚🪴 She's growing how she's supposed to now 👊🏾😎
a year ago
Thanks to my growmies I found the solution to a major problem 😎🤟🏾🪴💚 I needed a new air pump and the girls are loving the bubbles 🔥💯 And their new light 😏
a year ago
RichMcflyy Ayyeeee 🤟🏾 Jus the growmie I was talkking about 👊🏾😎 Goodlooking w the air circulation tip bro 🪴🔥💯
@eaegifts No problem, looking forward to seeing them thrive growmie 💪🏾💪🏾
View 1 additional comment
It finally came! And I spotted the first 5 point fan leaf 😏 Hoping to see a MAJOR change in how fast these girls grow, I got this far using an $8 grow bulb from Walmart 😂🤷🏽‍♂️ But other than that no news, continued Lst, changed water in the bucket, gave 1 1/2 tsp of bloom nutes, ph'd water back to 5.5
a year ago
@eaegifts Doing good bro, they bout to go nuts under the mars 👍🏾👍🏾
View 57 additional comments
More Lst 💚🪴 Still waiting on the new light, not changing the water in the bucket until it arrives. Only adjusting ph 💯
a year ago
RichMcflyy Thanks Organic 👊🏾😎 She's doing great under these cheap ass lights lol I can't wait for the mars hydro to finally get here 😤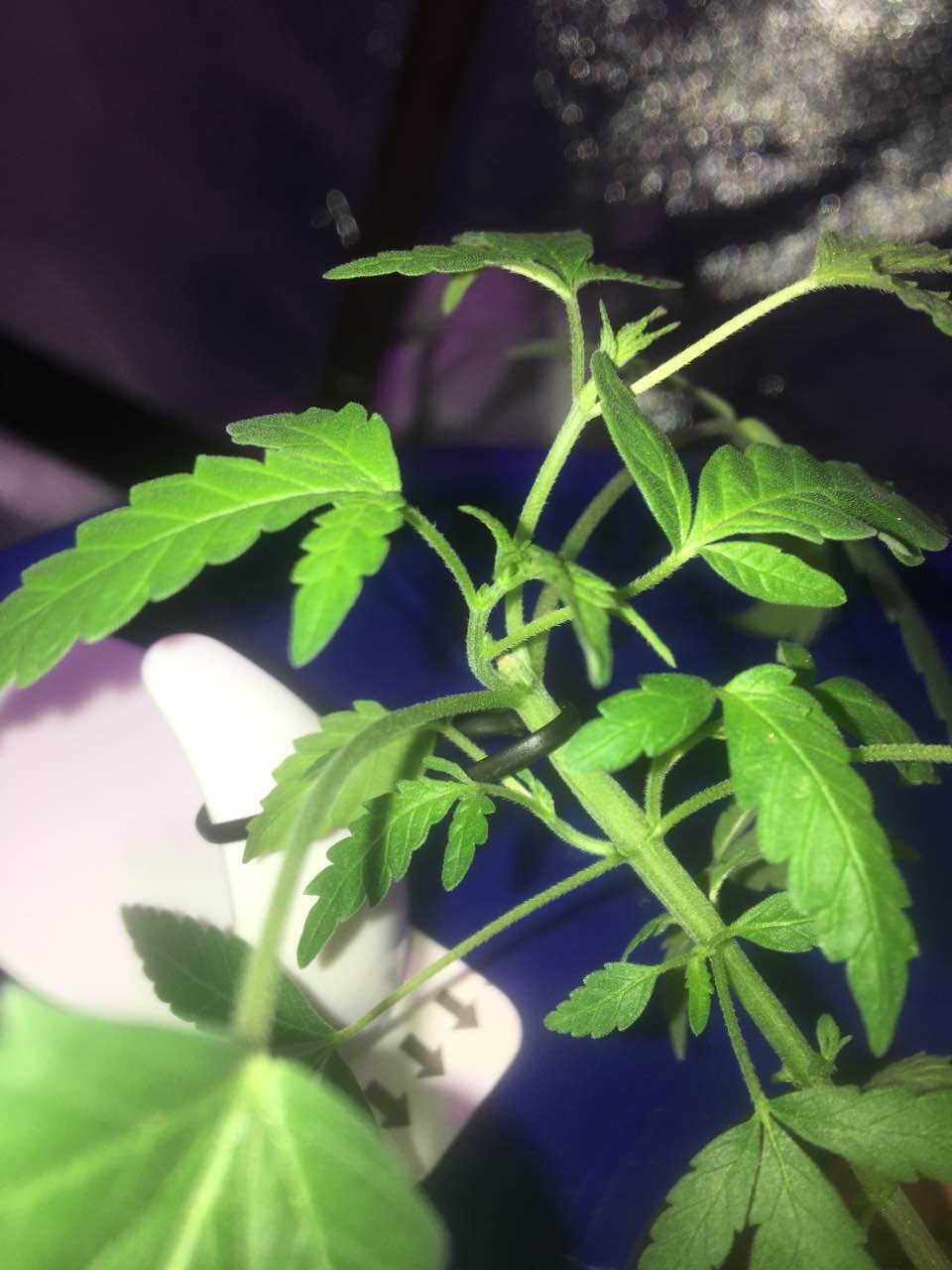 Tons of new growth 💚🪴 Mars hydro ts1000 is expected to arrive on the 18th 😎🤟🏾
a year ago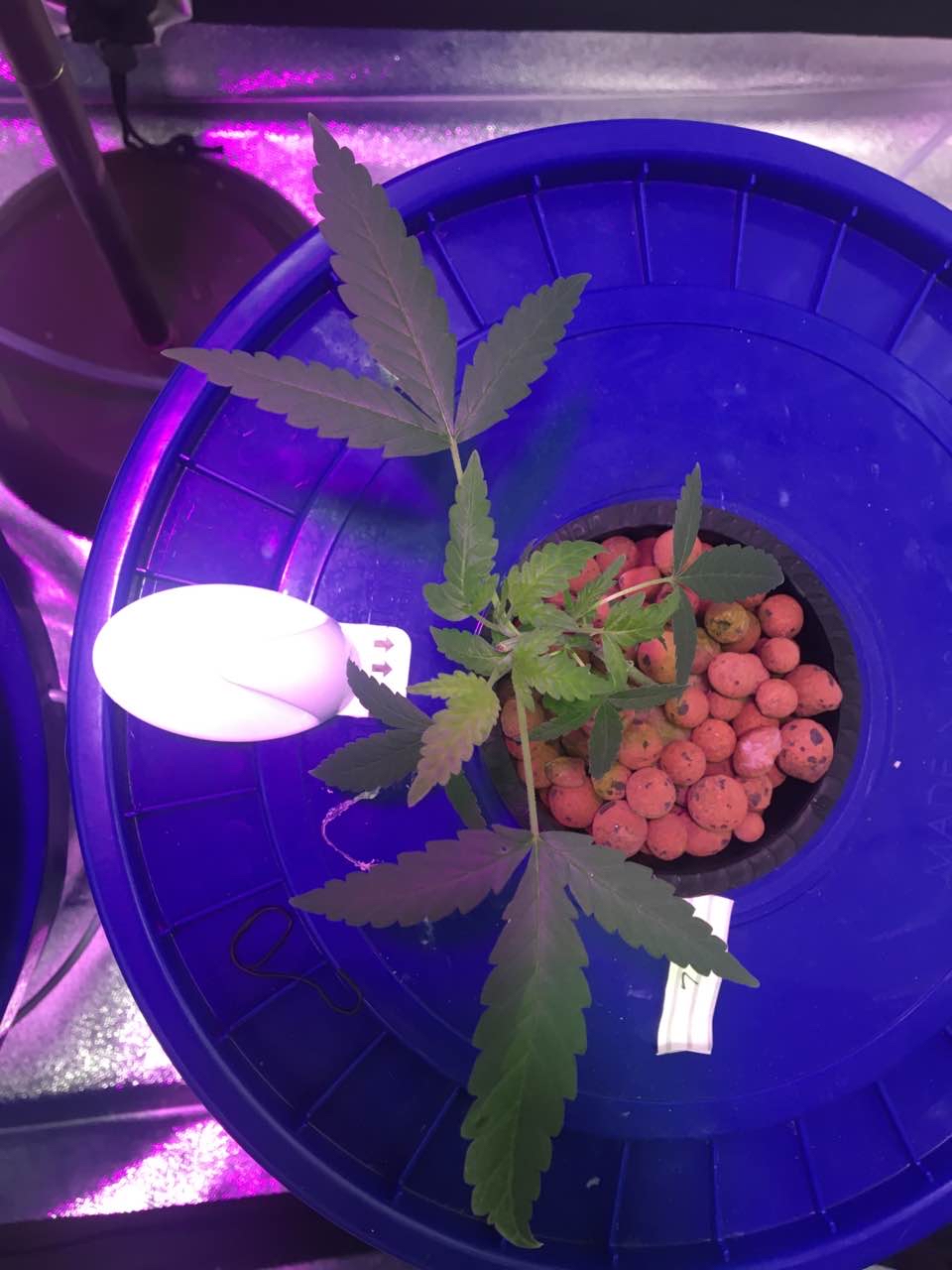 Her leaves were a lil droopy so I untied her and let her stand up on her own, we'll continue LST after she perks up.. Good growth though 😎🪴
a year ago
View 1 additional comment
She responded amazingly to being topped‼️ Good growth in all of the spots I was hoping to see it 😏 other than that I've just been adjusting her tie down every few days. Quite the journey forreal, still learning so much 🤟🏾🪴💯
a year ago
KOW88 Oooh man looks like she has taken flight and you got a few kinks worked out hella growth last couple updates, I topped and started my LST the same way and at this moment I couldn't be happier!
RichMcflyy Good lookin growmie 😎🤟🏾 I'm still working on getting an official light, but I'm definitely making the best out of what I have until then.
NMcannabisGarden Dwc is awesome! Nice job 👍🏽 ! My dwc was an experiment but I think all my autos will be from now on! Happy growing!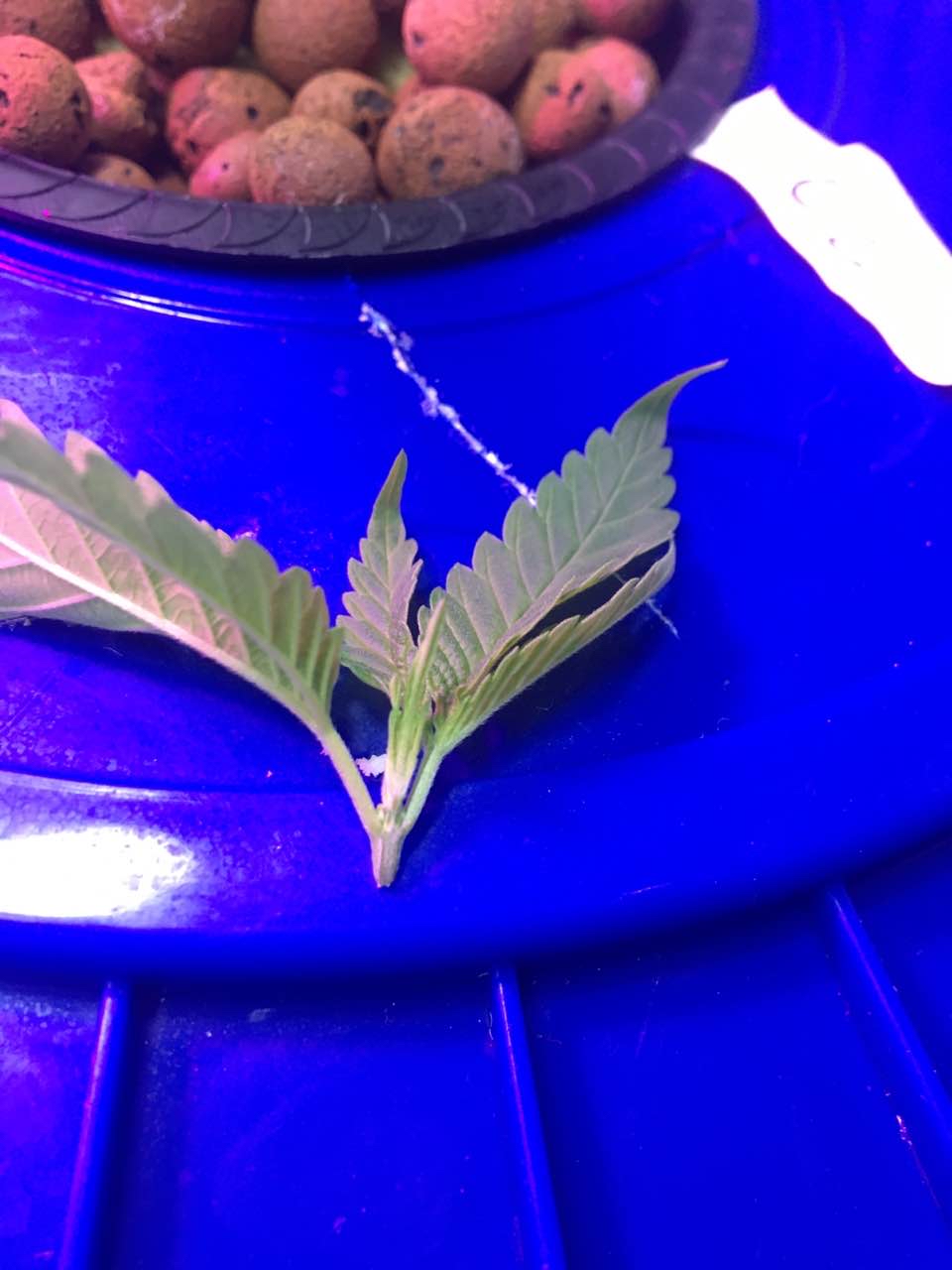 Just topped her! Hope she recovers well 💚🥺 Felt like I needed to start bringing some life to those lower growth sites 🤞🏾🪴
a year ago
View 1 additional comment
Slow n steady 🪴
a year ago
Changed out the water and gave the girls their first full seedling feed of "grow big" 🪴 I started training on this one cause she was getting a little tall. I'm fully aware that it might be too early but, I tied her down a few days ago and I'm already seeing growth so I'm not that concerned 😅 Learning a lot on my first run 😎🤟🏾💯
a year ago
kissofthewolf88 Weather it's the first date or 5 months in the all like being tied up… next time I don't think I'm gonna top and see if I can just achieve the same results as my citron… I'm a couple of days behind ya I just popped a fruit punch from Green point good luck!
RichMcflyy Thanks Growmie 😎🤟🏾 I might do the same thing to my lil Og plant, would you recommend topping 🤔
BlazinVape I would wait long for root structure to develop Rich. Keep in mind the roots are not held like they would be in soil. It is very easy to damage critical root mass early on slowing your progress. I would recommend reading this guide and topping prior to any stress training. https://howtogrowmarijuana.com/topping/
View 1 additional comment
My stupid ass had the rock wool cube touching the water in the bucket, water was basically drowning the plant 🤦🏽‍♂️🥺 There's now about 3in of air between the net pod and the water, since I made the change I've noticed a change in the rate of growth and the leaves are definitely getting bigger as they come in 😎💯 These plants are so resilient, I learn something new everyday 😂
a year ago
Still waiting on the actual grow light, I'm going with a mars hydro ts1000 😎 But I was going to start another grow once it arrives, might let these girls finish out their run though 🤷🏽‍♂️
a year ago
Mr.Tee Sweet man ..! 😮‍💨👌, ur gunna have sum real good results using Mars's TS-1000 from (seed2harvest) on about 4 plants in a 4x4 …Wuts ur setup or grow operation space that you'll be using the ts1000 on..?
RichMcflyy Thanks Gromie!! I have a 4x5 tent right now, nun special atall really lol right now I'm just using some regular bulbs I had around the house 😂😂 It's my first grow, I'm learning a lot lol dwc is definitely for me 😎💯
TRAGGICC Ts is a good grow light indeed but for $30 I'd get a AC infinity T22 .. has a lot more of a red spectrum that promotes flowering. Also the light comes with a built in digital timer. Look it up and compare
View 4 additional comments
Still steady growth on this one. She took to the nutes nicely. Since the other plant got burned a bit and I started noticing some yellow, I changed the water in the bucket and only used a fraction of the nutes (a couple drops). Got her ph bk down to 5.6
a year ago
Gave the girls their first taste of nutes today 😎 I didn't realize until afterwards that they weren't "technically" the correct type of nutrients, but I don't think it matters much. Atleast I hope it doesn't lol 😅 Along with the nutes I made sure the ph was correct, it's now at 5.8 (it was at 7. something based off the other plants reading) and threw in a little humidifier to keep the girls happy! Hoping to see a change in their rate of growth. She's coming along nicely 💯
a year ago
RichMcflyy I'm not sure, but up until yesterday there was zero humidity in the tent. I'm waiting on Amazon to send me the temp n humidity reader.
Danny Bravo In the mean time, go to a Dairy Queen or Walmart and get the clear thin plastic lid to a cake container . Stab a couple holes in the top and throw it over your plant! Humidity is very important at that stage! Good luck 💪🏼💪🏼💪🏼
View 1 additional comment
Steady growth but for some reason I feel like they're growing slow. This is my first grow so I have nothing to compare it to lol, but I think it could have something to do with the lighting. Any suggestions on when I should give them their first taste of nutes?
a year ago
I noticed that the leaf on the bottom is looking a little yellow. All I do is spray them a few times when I think they need it, nothing major at all. Should I be worried?
a year ago
D B Those bottom leaves are called cotyledon and they provide what you seedling needs for it's first few days. They naturally yellow and fall off as the true leaves start photosynthesis. I wouldn't worry it's all normal.
Her name is Polar 💫 I was worried that I might have moved her too early, but now that she's growing everything seems cool 😎
a year ago
Got her in the bucket,, hopefully not too early..
a year ago