Amnesia Lemon Fast Coco
First coco grow
Using AN and GH
Trichomes 75% milky with rest between clear and amber. Colas are 18" long and plant only 25" tall 🥰
2 years ago
Would've gone another week if leaves had enough juice to fuel it but still not bad... 18" colas... not bad for an auto flower
2 years ago
curt.brown How did you get them to grow the same height?
dannibis I started low stress training at 4 nodes height and bent the stem to get the break the apical dominance. Once the other branches reaches the height of my bend, I released the training wire. Then throughout the grow I defoliated a bit to help the light reach em all. Honestly I think the success of this was partly due to the seaweed supplement I use that contains natural growth hormones that encourage even growth. @curt.brown
curt.brown Thanks!! I'm in my first indoor grow and I see that I really need to do low stress training
View 4 additional comments
Chopped her down. Leaves were done. Ideally would've gone another week but can't complain about multiple 18" colas on an auto 😋
2 years ago
Should've snagged a pic before I accidently nute burned the shit out of her. One day fine 2 days later she's a lil crispy. Was going to start flush this Thursday since lower leaves were giving me my que - but washed out AutoPot res and tray and added one gallon of just water with a lil seaweed to try breathe some life back into her. Closed some vents and bumped humidity a lil because I let it slip too low which didn't help.
2 years ago
Doing good. Love blue planet nutes and autopots
2 years ago
Starting to get sticky
2 years ago
Just started blue planet two part base and continuing to use their supplements. Filled res with 4gal week 3 bloom nutes - 1300ppm 5.8pH
2 years ago
Refilled the res and upper the nitrogen and transition nutes. Looking happier and regaining her color
2 years ago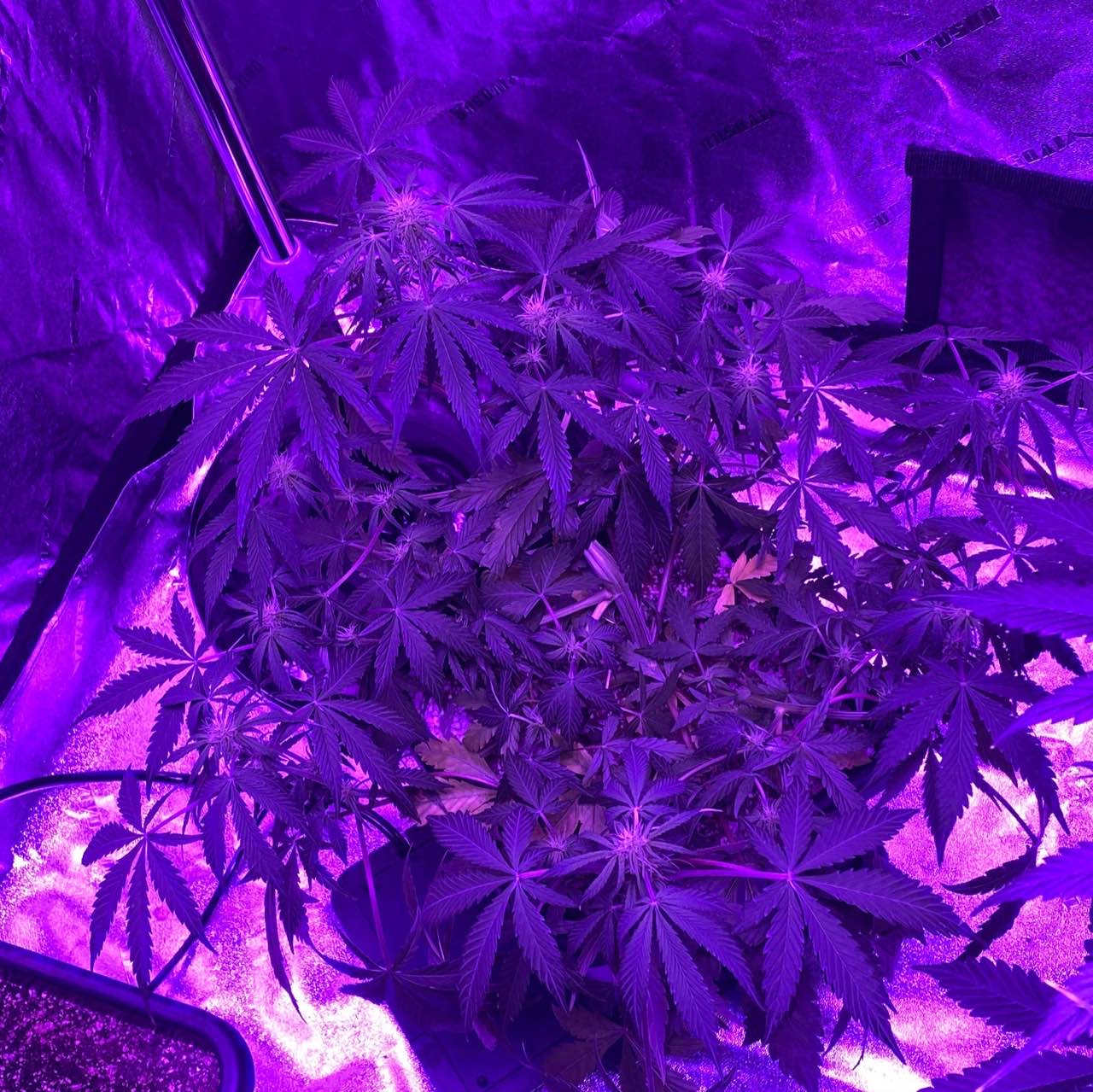 Refilling res soon will up all nutes
2 years ago
Untied and just leaf tucking now
2 years ago
Darkened up a lil since adjusting ph.
2 years ago
Responding well to training
2 years ago
Started flowering woo
2 years ago
Been away 3 days. Will turn autopot on tonight!
2 years ago
Think it got it's footing now. Will definitely not plant straight into Coco again. Rapid rooters going forward. Probably turn on pot in the next few days
2 years ago
Starting to pick up a lil
2 years ago
Very slow growth.... About an inch tall
2 years ago
Starting to grow first fake set
2 years ago
Just put in autopot 2 days ago
2 years ago
1/4" tap root - just transplanted to coco - added rapid start
2 years ago