Harvest time. Hang drying in the grow tent 70d 40%h
2 years ago
gumby2000 Just cut them I'll let you know when they are dry
Another week and they should be ready
2 years ago
They are getting closer, probably another week or two before I harvest. The Hermie on the right pollinated itself on several buds and is about a week behind so I will have to cut it the same time and I'm guessing i'll get a different affect. 
2 years ago
Tricomes are starting to come good. Hoping to flush once they get a little milky.
2 years ago
The sisters are back together after pulling the Hermie out for a couple days to remove pollen sacs and colas. Still finding them occasionally but removing immediately. So far it doesn't look like anything was pollinated. 
2 years ago
Had a surprise yesterday with three colas from the weaker purple stemmed sister turned Hermie. They started dropping pollen sacks everywhere so I isolated the good plant but not sure what to do after chopping off colas and removing as many pollen sacs as I could find.
2 years ago
gumby2000 It was so healthy and lush so I figured it must be genetics not stress.
Small trimming
2 years ago
1 week into bloom
2 years ago
They rebounded from their trimming and watering. Switched on the flowering light today and adjusted to 12/12 lighting
2 years ago
Minimal LST, both are getting bushy
2 years ago
Growing well now
2 years ago
Multiple colas coming up after topping, tried FIMimg second one but didn't take. Topped it a week later
2 years ago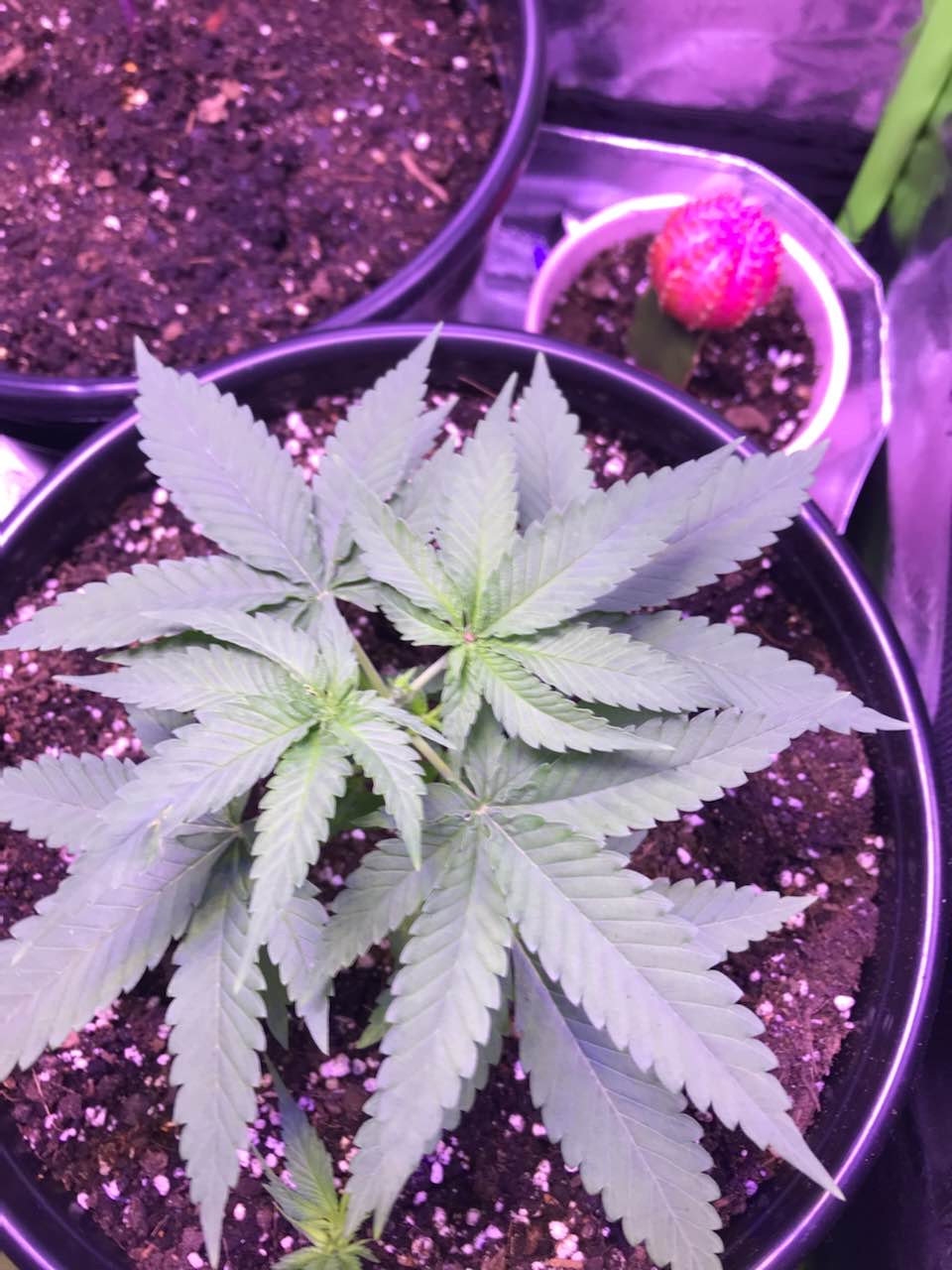 Topped the bigger one today. Second one still hasn't grown enough
2 years ago
Repotted yesterday, the one on the left is still lagging behind, lacking color and now its stems have turned purple. I assume stress but hoping it rebounds soon.
2 years ago
Increased the fan to build a stronger stalk as it was too top heavy. Really putting on the leaves now. Bumping it up to 19 hours of light
3 years ago
koryc Time will not increase the plant size. Just saying
Extended light from 16-18 hour, reduced humidity after questionable white spot on fan leaf
3 years ago
Growing well second one is a bit behind
3 years ago
gumby2000 Both captains cake planted at the same time and doing well
Soaked seed 48hrs until cracked then planted. Tap root formed 24hrs later in soil.
3 years ago