White Widow
Fall 2019
3 plants plastic pots, organic soil, tent 4x4x7, LED 1200 watt lighting
Leaving one grow another 3 or 4 days
3 years ago
Covered with crystals, will be harvesting soon.
3 years ago
2 weeks left till harvesting time. Only giving water no nutrients any more.
3 years ago
Less than 3 weeks from harvest. I was hoping for larger buds by now. We shall see how this turns out!!
3 years ago
Looking good, a few white hairs here and there have turned orange but still a long way from harvest.
3 years ago
End of week 3 of flower it is very cold this week 2 days in a row of 17 degrees at night grow room temp staying around 70 lights on 67 was the coldest it has gotten at night in the tent. Everything looks go other than nitrogen poisoning on a couple leaves.
3 years ago
16" inches tall only about a 4" stretch. Today is the beginning of week three and I did my last defoliation
3 years ago
Grow room temperature around 70-75
3 years ago
Switched to flower 13 days ago. It took a full week to show flower. Almost 2 weeks into flower and it is looking great. I defoliated a little to much last night on one plant but I think it will be fine. The other plant looks much more beefy like it can hold weight.
3 years ago
Trimmed fan leaves off and switching to flower. Also flushing with straight water.
3 years ago
They are 1 foot tall. I will probably switch to bloom 12 x 12 hour light schedule this weekend
3 years ago
Start of week 4
3 years ago
They seem to be growing faster now in week 3 of Veg
3 years ago
Still feeding with Foxfarm big bloom, and yesterday I added Foxfarm grow big. There is a crazy difference in the sizes of each plant. The smallest of which is one week behind the other two.
3 years ago
Transplanted 2 plants because the roots were growing out of the bottom of the cup
3 years ago
Seem to be coming back from topping and trimming well
3 years ago
I went ahead and topped them today. I'm going to try three different types of training techniques. Feed with big bloom
3 years ago
2nd feeding of Big Bloom from Fox Farm
3 years ago
Waiting for one or two more sets of leaves before topping
3 years ago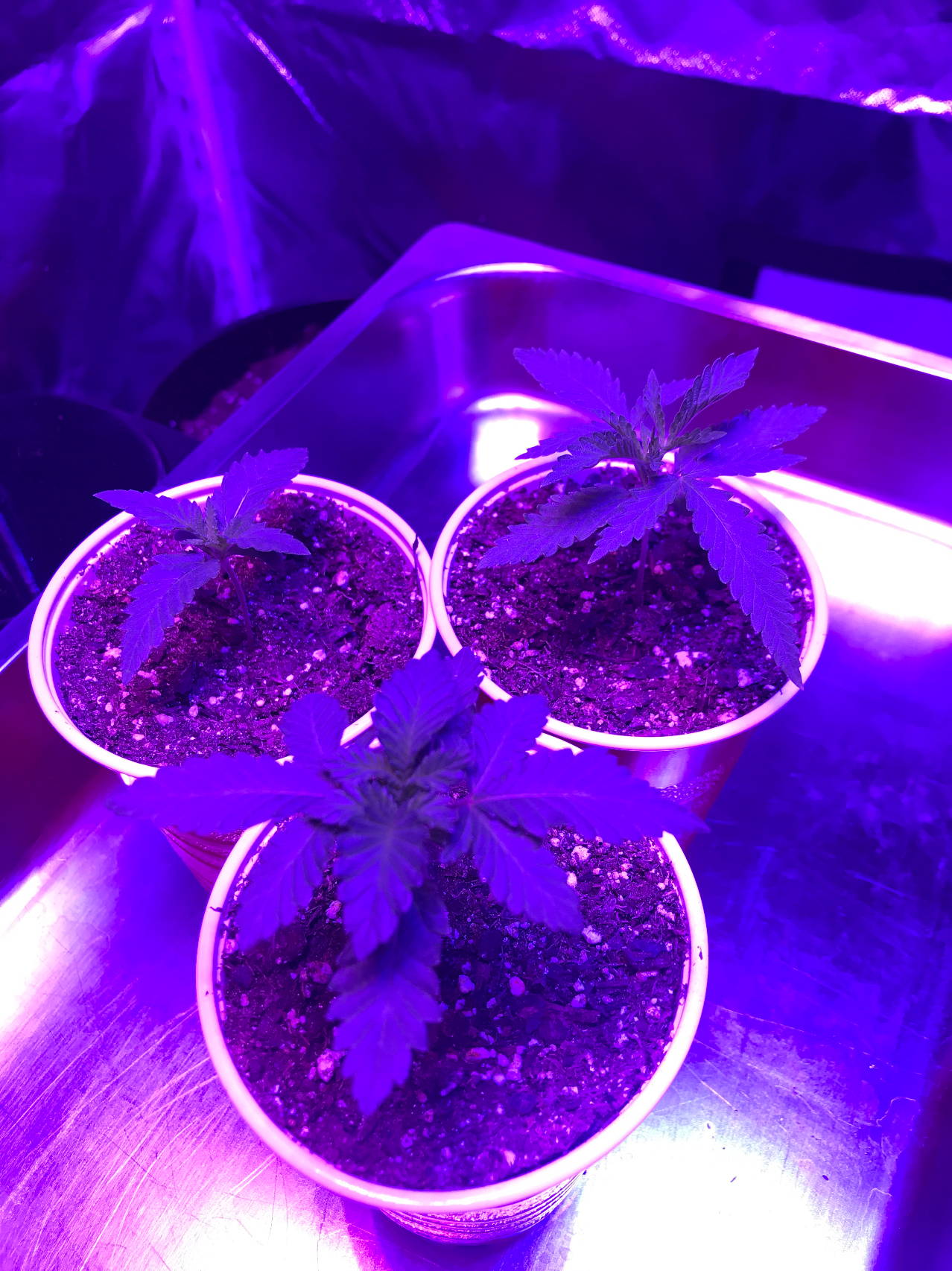 1st Fox Farm feeding. Big Bloom. 1/4 teaspoon per solo cup water
3 years ago
18/6 hour lights
3 years ago
2 1/2 to 3 inches tall. Still no nutrients given. But I am anxious to start. It got up to 95 degrees in the tent today. I'm not set up for high temperatures since it's a fall grow.
3 years ago
1 And 1/4 inches tall no nutrients given.
3 years ago