Cement Shoes & Canuk Cookies
Birthday grow
1 fem seed, clones to be taken to fill out grow
Cement Shoes and Cookies Fem by Canuks seeds
mikki1time I will be implementing something similar, quick give it a name
Bigbritishbuds Oh cheers homie I've made a few updates to this setup but I call it the double decker veg tent 🏕 lmao
Moving on up to 5 gals and into scrogged 2x4
2 years ago
Thinning out the tops
2 years ago
BigSluice How are you liking the Canuck seeds this is my first go with them
Bigbritishbuds I love them done quite a few grows with them now and always a solid hit and easy grow! 👌
BigSluice That's great. I have the same humidifier they are the best. What size tent and lights are you running? I'm pretty excited I'm growing Gorilla Zkittles this time around.
View 4 additional comments
All excellent and healthy should be ready to go straight to flower next week once flower tent is free
2 years ago
bradtc I just sprouted a cement shoes and I'm finishing up some canuk cookies. Good choices.
Bigbritishbuds Cheers brother! How's the cookies looking? I'm pushing the veg in a scrog in a new grow log here. Not sure if I should flip ASAP or in a week or 2 it's filling out pretty fast
Excellent B1 has save colours
2 years ago
Cookies moved out!
2 years ago
kev1115play What nutrients do you give when they are young seedlings!!!
Bigbritishbuds I've been using MoKOKos blend and Mystic Growth seems to really be worth the price
Picking up! Almost ready to transfer
2 years ago
Super cropped yesterday recovering well
2 years ago
Potted up another cookies! All watered and looking perfect
2 years ago
All potted up into 2 gallons for now
2 years ago
Man that was a busy session! Down sized the moms and got the rest of the clones potted up killed off a few weak ones to make room and rearranged the tent
2 years ago
Amazing all rooted and starting to shot up!!
2 years ago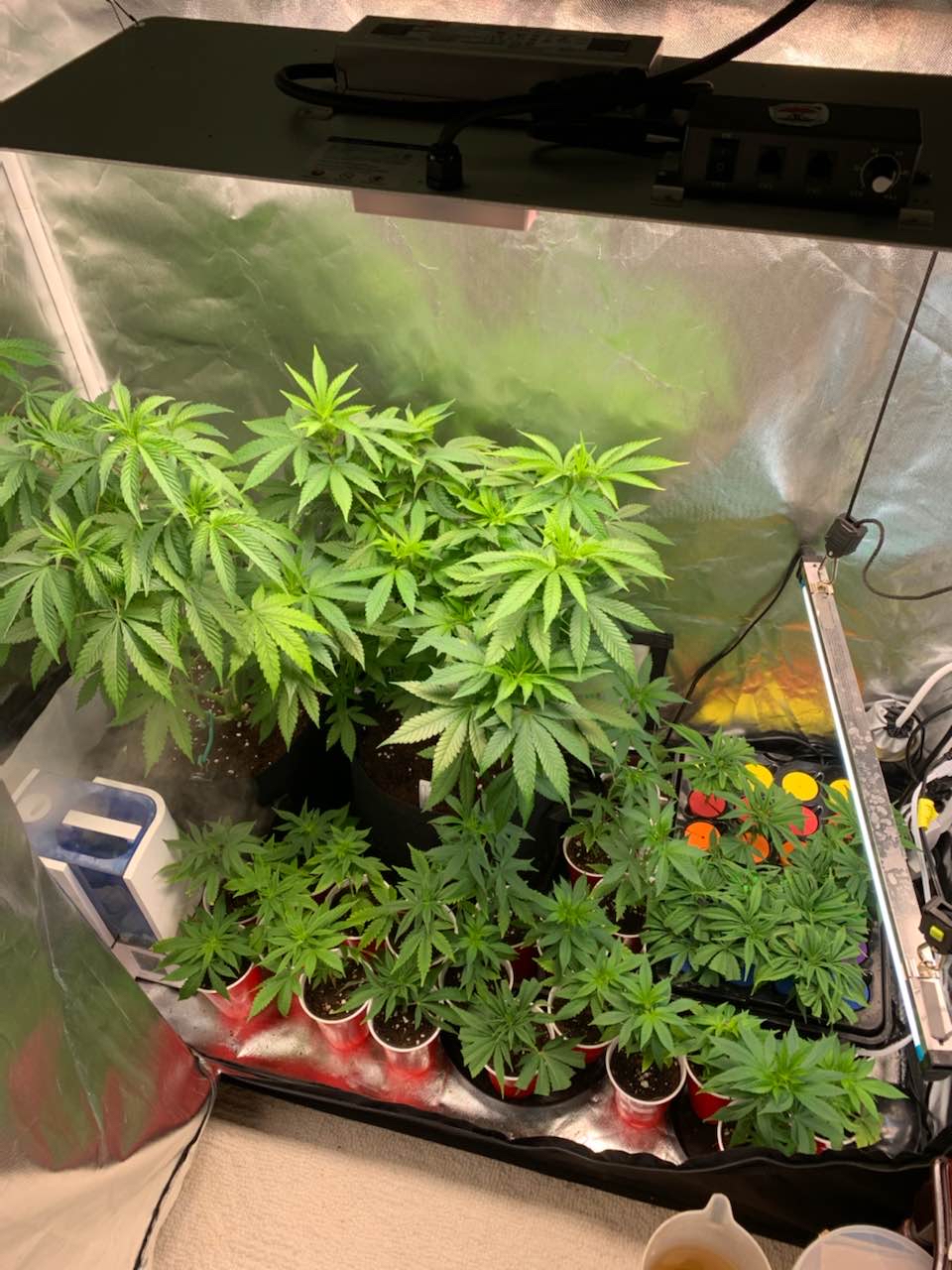 So many clones! Wasn't expecting 100% success
2 years ago
Getting 100% success with the cloner after 7-8 days going to be going a SOG in the 4x4 and some presents for the holidays
2 years ago
Potted a few more clones today all looking healthy on the moms after chopping them back
2 years ago
ken1992 💪🏽💪🏽💪🏽 you are working working!
Well that was hard to do!! But we have loads of clones and manageable moms now 🤞
2 years ago
Excellent potted up 4 of each!
2 years ago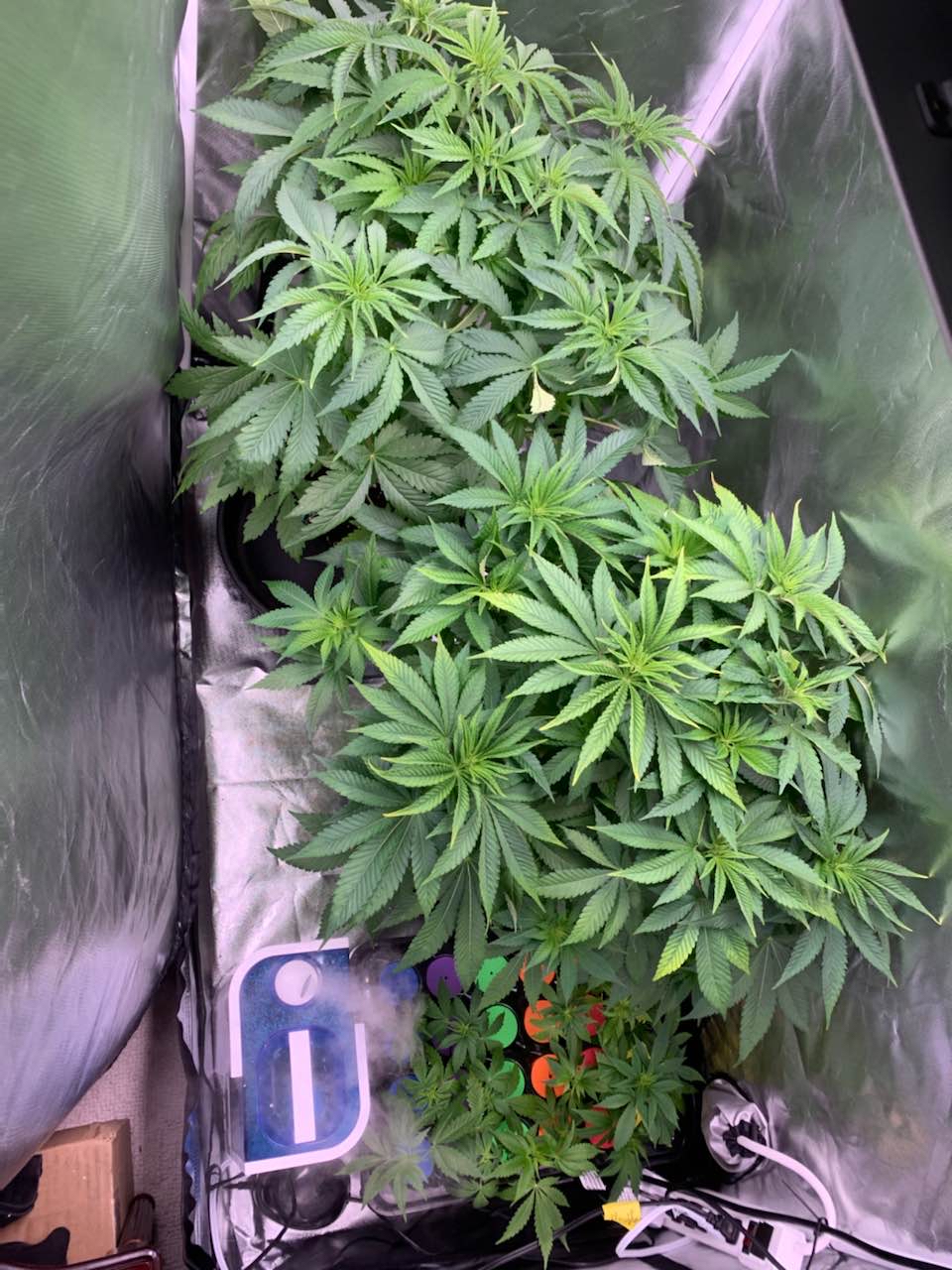 Got some starts of roots after 6 days, couple looked very weak as I'd taken too small a cut so taken 3 new of each
2 years ago
Watered the moms and clones looking healthy 24 hours in no signs of roots yet
2 years ago
Cloner setup and 5 clones of each taken
2 years ago
Freed up space
2 years ago
LST the cookies need more room
2 years ago
Going well for cookies quite big leafs removed and CS looks ace
2 years ago
Looking great ready to take clones
2 years ago
Topped both and removed large leafs both really nice and thick
2 years ago
Removed a few larger leafs as blocked lower growth looking excellent
2 years ago
Added mystic bloom and root to feed
2 years ago
Thickness but short raised the light a little
2 years ago
All potted up and fed
2 years ago
CS needed calmag fed fully today
2 years ago
New home and transferred
2 years ago
Looking great! Not fed today as still damp
2 years ago
All great first light fed today
2 years ago
Looking good cookies out the ground too
2 years ago
Looking great cookies still under ground
2 years ago
Cookies germination yesterday
2 years ago
Looking perfect topped up coco and watered 10ml each
2 years ago
Looking great
2 years ago
In pot germination worked fine
2 years ago
Seed germination started
2 years ago