OG Veg Progress
Feb 24 2023
I'm going to let them veg for another week or two before switching light schedule to bloom. Room temp steady at 75'F & Humidity 50%
~Just flipped her to 🌺 after a magical # of days in veg.
2 months ago
Update: Going into the 7th week of veg
2 months ago
UPDATE! 💨💨🌬 Week 6 of veg, started a Pre 🌺 preparation for this baby. Fresh nutrients, readjusted ph, before & after pics of a very light defoliation. She's lookin a lil bald 👩🏼‍🦲underneath but will fill out in bloom.
3 months ago
Did a lot of stretching upwards over the past couple of days. 13" as of now
3 months ago
Quality>Quantity Anyday😎 -Going into the 5th week of Veg. Sanitized my work area & changed out nutrient water. Stem continues to thicken as new roots & root ball begin to form. 💧🌡 - 69.4 degrees F. Room Temp- 75 degrees. PPM- 832 PH- 5.8 Humidity level- 55%. Happy Growing 🌱!
3 months ago
Stem continues to thicken && smaller leaving starting to fill in the plant.
3 months ago
Next water change will be in a few days, veg continuation.
3 months ago
Day 21 of 🌺 && I must say, pictures don't do this beautiful plant much justice. Amazing come back, most burnt ends are completely gone, she's stretching like a weed and even showing initial bud growth. Just paying attention to the plants responses to determine full flower time.
a month ago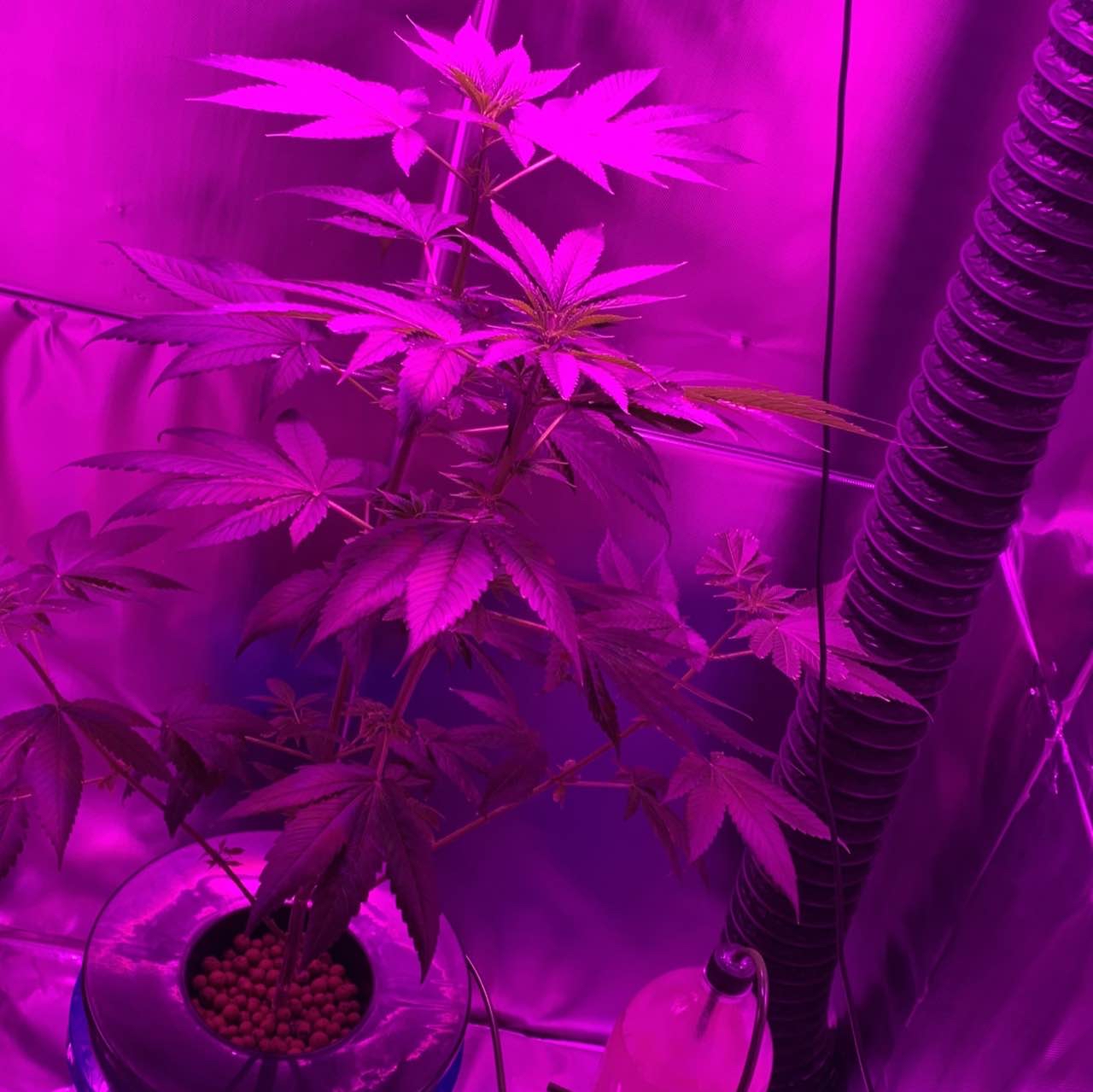 Me and this lady have spent the last 2 weeks recovering from nute burn during her 1st week of flower. This will be a 2 in 1 update starting with the present day going backwards. I've gotten rid of most of the droopy foliage towards the bottom of the plant, trimmed as many burnt tips as I could & cut back on nutrients significantly. Hopefully I caught this issue in time for it to NOT affect whether or not she'll bud 😭😭but she's still growing so I'll continue to nurture her to see where this goes. Currently around 32"
2 months ago