Lilac Diesel LST
2021
Two Lilac Diesels planted in Fox Farms Ocean Forrest
Looking, smelling and tasting amazing
a year ago
bigbzkidd Did you send you herb somewhere to be tested or is that an app?
Chopped the Lilac Diesel today left the gelato to go for a while longer
a year ago
They are getting close to done starting to see some amber trichomes
a year ago
Looking great 😍
a year ago
Hoping to harvest around the end of may but we shall see
a year ago
felonyking Im waitin on mine to be done at 169 days smh
CraigBengfort Biggest plants at my home grow which I just recently started growing at home. Your the one with "all this experience" growing baby ass autos
Biggest plants I've had so far, the lilacs are 3 foot tall and the gelato is 2ft. I had to start tying up branches that are flopping over from weight
a year ago
CraigBengfort It's 5x5 and yeah because the floor gets too cold for the root zone dumbass. It's clearly not any google pictures here but keep telling yourself that to make you feel better 😂
CraigBengfort And 3 plants almost taking up a 5x5 for my second grow at home. I don't give a single fuck whay you have to say I'm doing great 😂
2 weeks into flower
2 years ago
Flower is going well, power went out yesterday but thankfully after lights off
2 years ago
They are looking happy and healthy
2 years ago
Can't believe it's finally time, swapped to the 1000w hps at 60% and started 12-12 light schedule
2 years ago
Gonna switch to the 1000w HPS at the start of flower
2 years ago
I'm unsure if when I flip to flower if I should keep going with the 630w CMH with 3100k bulbs or if I should switch to the 1000w HPS I have. What are your guys opinions?
2 years ago
Bigbritishbuds Stay with the 630 think the 1000 will give you heat issues and overkill for plants that size
CraigBengfort I plan to grow them too 20 inches and then flip them and I have no issue with heat I have my whole apartment AC vented into my tent 😂
Bigbritishbuds Alright nice in that case veg them out and get the first few weeks of flower under the 630 then I'd say week 3 step up to the 1000 once they can handle it
View 2 additional comments
It was time to repot these lilac girls were getting root bound and some root rot, they should be good now that they are replanted
2 years ago
Before and after lolipoppoing
2 years ago
The growth is amazing under this SunSystem 630w, I Switched to the Phillips 3100 Agro because I hear it's the best all around. I'll switch to a 1000w HPS for flower
2 years ago
Did a good defanning of the older leaves and ones stacking on top of each other.
2 years ago
CraigBengfort They look a little droopy because I let them dry out a little too much watered this morning and they should be perky again by mid day
Girls are doing amazingly, growing about 1.5" a day
2 years ago
I got a new 630w CMH fixture, these are the numbers it's putting out at 2.5 feet away from canopy
2 years ago
Both looking fantastic the one on the right is by far the best
2 years ago
The girls love the training both boucning back already
2 years ago
CraigBengfort The second I had to re-tie this morning it pulled it's tie out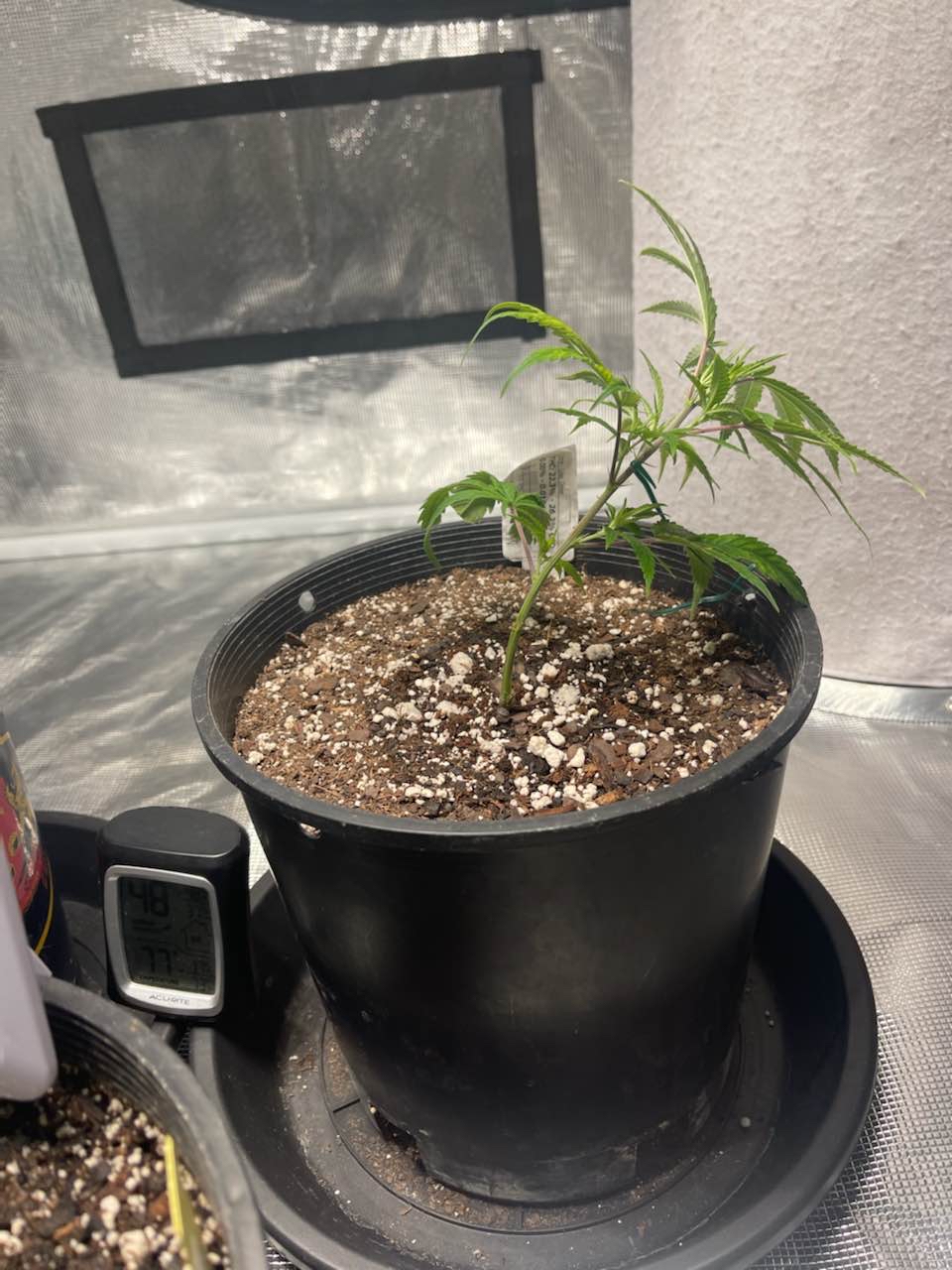 Did some LST on the girls today
2 years ago
The new growth coming in is starting to look much better!
2 years ago
Upgraded to a much better and bigger 5'x5'x7'11" Gorilla grow tent and moved the clones over
2 years ago
Got these clones from Medicine Man, they don't look great but I will bring them back
2 years ago