Mota Hari
Mota Hari from Brothers Grimm Seeds
In glass of water w splash of hydrogen peroxide Plan of attack is: Veg 2 mo under MH FCE3000. Transplanting from Solo-1gal-5gal. Sunshine Pro #4. Gaia Green Power Bloom, AP444, Glacier Rock dust.
Plants look overall healthy. However, I have some leaf tips which are clawing down (mostly on the right hand plant) I believe this is due to the adding too much worm castings. I plan on watering tomorrow, but from what I have read, it is something that you have to just "ride"out with organic grows. I don't know how to fix. Plant on left is always looking good overall, right side plant often seems a little droopy. After watering she'll perk up, but seems to begin to droop when other plant is ok. With organic, I know soil is to remain moist but I'm a bit nervous about overwatering I may not be keeping soil moist enough.
14 hours ago
BINAII Bruh, don't sweat it. Best thing I've done is grabbed some Ecowitt moisture sensors from Amazon to monitor my soil moisture. They kept me from wondering when I should be watering. Should look into it.
Did some more chopping today. Plants look good, nice canopy and good airflow underneath it. Happy with how girls are looking. I took off a few questionable bud sites that I just didn't think would really produce much. Happy with my decisions😊
3 days ago
Topped dressed today w GG bloom/AP/glacier dust and watered w a little CM. One plant was a little droopy but not too bad. I was afraid to water yesterday but prob would have been fine. Tried to adjust more branches into net squares. Net is about ¾ full with branches in holes
5 days ago
Flipped to flower yesterday and today did a decent amount of defoliation. I wanted to just keep going taking off leaves and small branches but I chickened out on a few sites that hung kinda low under canopy but may reach once plants stretch up a bit. I'm pretty happy with the decisions I made and will probably cut more in the next weeks.
7 days ago
zer0applied I started pruning my bottoms after constantly seeing your cute bottom area lol.
zer0applied I'm serious. I usually let them roll natural but I started removing the first 6 inches or so, even a little more on my momma depending on soil compaction etc.
View 2 additional comments
Watered and did some light defoliation. I also put in trellis net but I'm sure it'll need adjusting after i flip (tomorrow maybe…). I kinda started spreading out the plants to fill in net. Plants are kinda short but that's ok.
10 days ago
NateTheSnake Normally if plants are shorter that means their either indica or mostly indica hybrid. It's just in its genetics and by looking at how much wider those leaves are than sativa, it's definitely indica dominant. Makes for a nice spread out and easy to spread out canopy.
cookredeyed Thanks to both for comments!! It looks like these will have a nice canopy the way plants are developing. I've been tucking on top and will start snipping on bottom! W my last photo grow I had a bit of popcorn that I wanna avoid this time. I plan to be a bit more aggressive w my defoliation and lollipoping
View 1 additional comment
Took the auto out of the flower tent. Still on an 18/6 cycle tho. I will flip next week. They seem a little small right now but I know they'll get a bunch bigger when I flip. I plan on putting trellis net up again but will be a bit more aggressive with my defol/lollipoping this time. I think I'll need to take the tower fan out when net goes in.
11 days ago
Did a light defol on both plants. I plan on flipping soon. Once my auto gets her room back I will prob flip.
12 days ago
Watered w molasses and a little calmag
14 days ago
(2 in back). Brown spots are not getting worse, thank dog! I can't wait for these gals to have their own tent! Even tho they are a little small I am planning on flipping to flower as soon as my OC x HJ is dry (in my veg tent) so I can move seedlings into it and put my Purple punch back in the auto tent.
17 days ago
Watered yesterday w a small amount of calmag (nonorganic) and molasses.
19 days ago
Topped again. Both plants are looking pretty good. The plants sap is like blood! I was tempted to taste it, but I didn't.
19 days ago
Overall girls look good and I'm wanting to top once more soon. 1st pic looks a little droopy but pots still have some weight to them. I'll water tomorrow. I was also thinking of adding calmag (advanced nutrients) because I think I have a little bit of a calcium deficiency. Some bronze spotting on some of leaves. My concern is that my cal mag is not organic and has some other additives that I'm unsure will go well with the Gaia Green.
21 days ago
amithus Oh yeah I watched a past podcast with MrGrowIt and and a few of his guests including the Utah Dr. of horticulture and he said that synthetic nutrients can be used with organic as the organic biosphere breaks the stuff down to those base synthetic molecules so as long as you're not pounding in too much and causing an imbalance, you should be ok. https://youtu.be/W-3ZZJyk5lc?si=OAUhSgpkoVZpeJPl That's the link to the pod.
amithus You could foliar spray cal mag too if you don't want it in your soil. Again I'm brand new to cannabis so ymmv but I have used foliar cal mag sprays on my bonsai trees for years.
View 4 additional comments
Transplanted today instead of tomorrow. Got off work early so I figured what the hell! Two girls are in their final home: 5g pots w Sunshine Pro #4 (60%), worm casting (20%), perlite (20%). Amended w Gaia Green Power Bloom, AP444, Glacier Rock dust. Dusted heavily pot hole with mykos and Azos. I'll water today but will be adding organic blackstrap molasses soon to my watering. Lots of roots. I also added an oscillating tower fan.
24 days ago
cookredeyed Hey thanks!! I always get a little anxious right after transplanting.
Moved into flower tent w my auto at an 18/6 cycle still. I'll prob push into flower once oc x hj finished drying and auto goes back into the 2x2.
23 days ago
Nyçrølyñiuis The plants are growing to fast leaving yall'dv with an eight. Which isn't an oz
cookredeyed Dude, what are you talking about? These plants are in veg and one in front is an auto just starting flower.
LeChron James At least he/she/it said something other than "bammer". Just block that clown. Seems to enjoy littering useless negativity everywhere.
View 3 additional comments
Pots were light, gave a little bit of water. I am anxious to transplant. I almost did it today but I think I'll still wait for Saturday. I'm hoping on seeing a lot of roots when I take them out of their pots.
a month ago
Gave a little water today. Just until runoff. Plan is to transplant on Saturday. They def look ready.
a month ago
These two are really growing strong it seems. The one plant was a little droopy yesterday, but seems fine today after watering. I will prep my medium today to be ready for transplanting into 5 gal pots. My next run will be only one plant in a larger pot 7 or 10 gal. With this run, my plan is to be heavier in the defoliation/lollipop to avoid the larf I'm seeing on my OC x HJ. I prepped the pots for transplanting. Hope to do it by next Saturday.
a month ago
Came home yesterday after several glasses of wine and impulsively topped both girls. Looks good
a month ago
amithus How many nodes did she have before the hair cut? You're like 2 weeks ahead of me and I am leaning a ton from your posts
cookredeyed I cut them both at the 5th node. I just let the wine be my guide on these this time. Usually I stress for a few days and then make the cuts!! Lol!!
cookredeyed I usually top 2x but idk if I'll too twice or not this tome
View 5 additional comments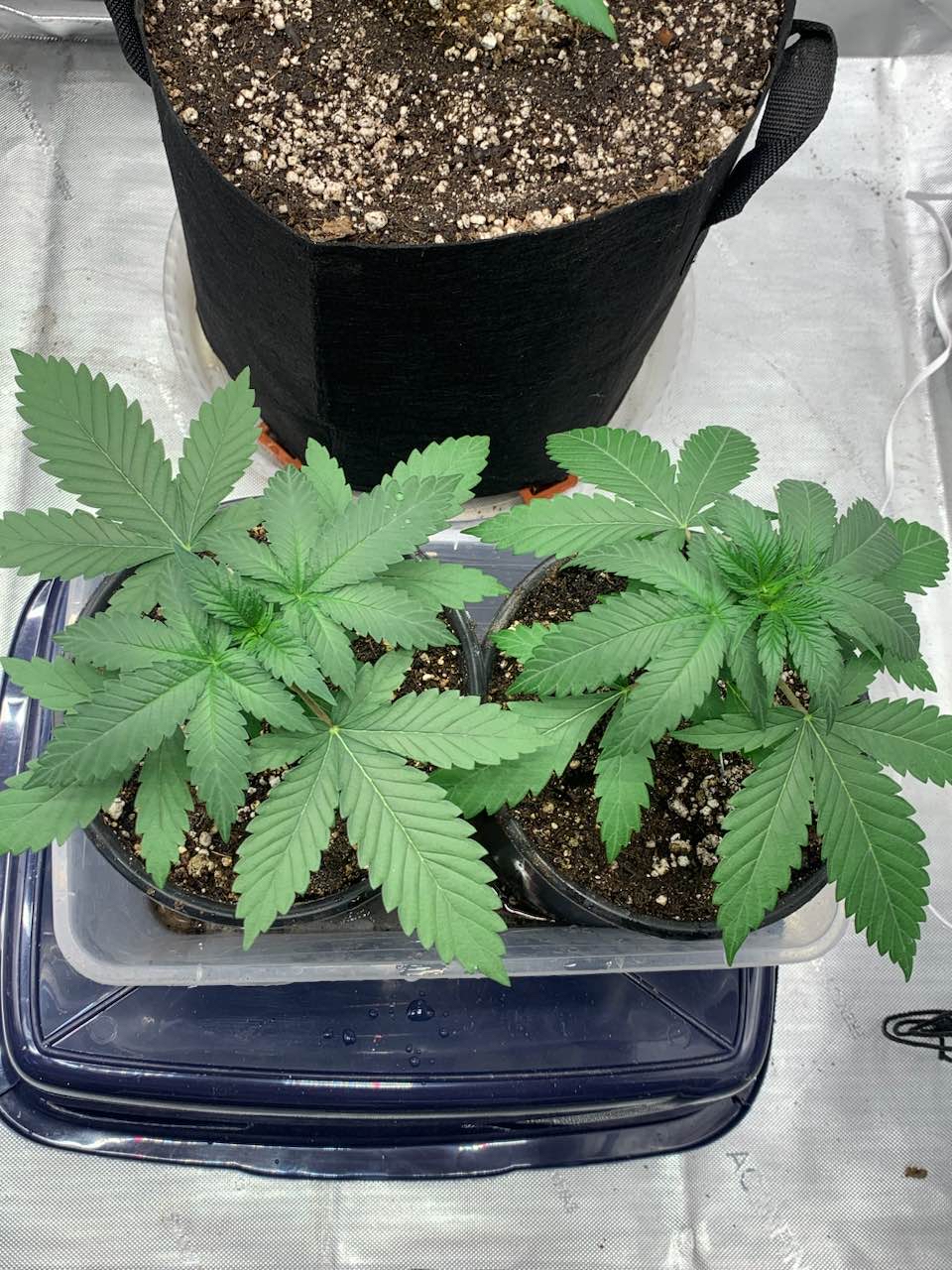 Watered. I'm planning to transplant late next week. I'm hoping there will be some strong roots that are showing by then. I really want to give them a healthy dose of mykos when transplanting
a month ago
Medium is still wet. Gonna let them dry out a bit more
a month ago
I'm pretty happy w how these gals are looking. It's only been a few days and they already look like they need to be transplanted again! Lol. I'm going to wait another 1.5 weeks at least before transplanting I want to see a root ball that I can really dust w the mykos and azos.
a month ago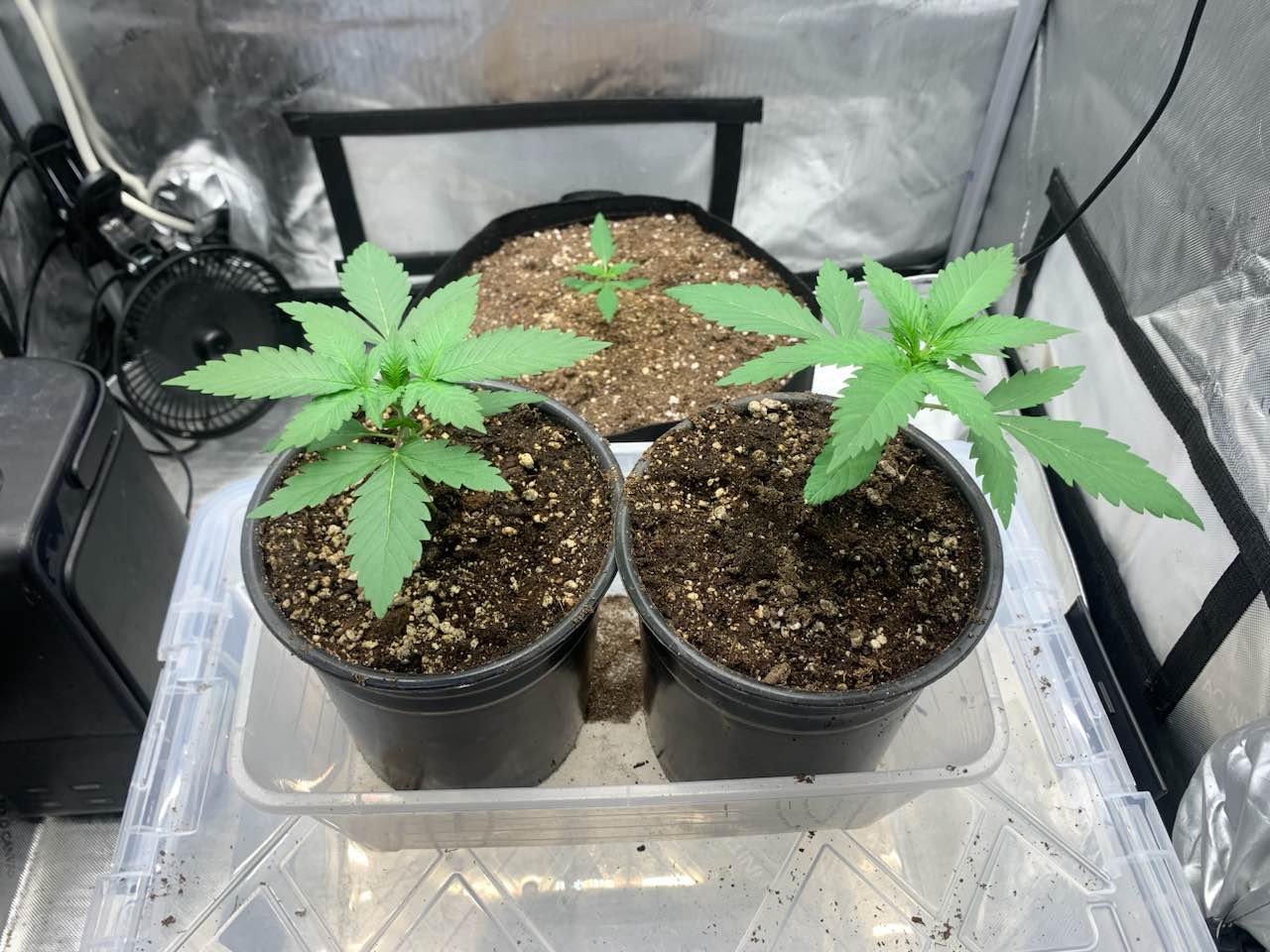 I transplanted yesterday into 1gal containers. I mixed aprox 60% SS pro #4/ 20% worm casting/ 20% perlite. To this I added Gaia Green: 444 (4T),Power Bloom (2T), Glacier Rock Dust (2T); the. In hole for transplant, I sprinkled Azos and Mykos (I also sprinkled on roots I wish I got pics! Grrr!! 😡) I watered with R/O water since my regular water wasn't dechlorinated yet.
a month ago
Day after transplant and looking good. Can't wait to do it again!
a month ago
These 2 pretty girls are ready for transplant. I am waiting until tomorrow (poss Wednesday) for my mites to arrive. Originally I was going to continue w the drip hydro nutes but instead I'll be switching to Gaia Green AP/glacier rock dust/bloom. I also plant to do about a 75/25 SS pro #4/worm casting. To this I will add additional perlite as well (no plan as to ratio, just until I think is good is my plan).
a month ago
amithus What's a 75/25 SS pro #4? I'm very new and trying to soak up everything. :)
cookredeyed 75/25 was the ratio I was planning to use for my grow medium. 75% Sunshine Pro #4 (I think it is similar to ProMix HP) and 25% worm castings. I just transplanted these two yesterday to a 1gal pot and I pretty much stuck to the 75/25 but I also added a solo cup's worth of perlite. I am trying my first organic grow so I stirred into this mix Gaia Green All Purpose, Glacier rock dust, Power bloom. I hope it works out!
Looking good! I can't wait to transplant these beauties! Still watering a plain R//O water.
a month ago
Seems to be doing Pretty good , haven't seen any roots popping to the bottom yet though. I hope I can transplant next week.
2 months ago
TrpX Sure looks like they are heading towards a transplant next week!
DeniGrowHouse I was thinking the same with my plants! We're basically on the same schedule lol
View 1 additional comment
Looking good. Still just watering with R/O water from a sprayer. I hope to transplant next week or week after. I have began prepping my 1 gal pots. Just bought Xtreme Gardening Mycos and plan to use with Azos at transplant.
2 months ago
These 2 seem to be growing faster than my auto (they are 2-3 days older however). Auto just seems small in comparison. These 2 seem happy even tho one has brown tips (not concerned). Watering w R/O water out of a spray bottle. Can't wait to get these girls out of their solo cups.
2 months ago
amithus Hey I've followed some of your past grows and I'd love to know what your light schedule is for these, do you have them under 40%, 50%? What's the distance from the plant, etc? I'm doing my very first grow and yours seem to be taking off faster than mine. I have been growing bonsai trees for the past 6+ years and I have a PAR / PPFD meter and mine are getting 200mmols/s. I'm running an 18/6 schedule and I'm growing an auto flower from royal queen seeds. Potting soil is Fox Farms Ocean in the top 70% and the bottom 30% is a mix of fox farms and Natures Living Soil Autoflower blend. I've been careful on the watering and I think I've got that down. My tent is running between 65deg F in the night and 78 deg F in the afternoon with RH around 72-75% Just wondering what your lights are, what your preferred soil and what you're feeding them if anything at this stage? Thanks for all your posts, you've already helped through watching your other grows.
cookredeyed Hey. Currently my light schedule is 18on/6off. These two plants have really taken off! However my auto is going a lot slower (Purple Punch), these two are fem photoperiods. I used to only use Fox Farms Ocean, but I think it was too rich in nutrients and dense for the auto flowers I was trying to grow; I had several plants that were really stunted; however I had a few which did really well in the FFOF too! These seedlings are in a small 3x3 under a Mars Hydro FCE3000. Good luck with your grow, you can check my Purple Punch journal too; the Purple punch is very small, and I keep thinking she is too small, but I think im just tripping and she will have a growth explosion in the next 2 weeks! Cheers
amithus Fantastic thanks for sharing. That's a good point about it maybe too hot nutes wise because the 3 I started in Rockwool are wayyy bigger than the ones I started in the soil mix. I'm so intrigued by the subtle differences between what seems like a small change but is huge in practice. Appreciate your input and feedback.
Took dome off today. I have humidifier going in tent. I have humidifier set to 70% and average rh in tent is 64%. I upped humidifier to 75. Been watering w a spray bottle. I just gave 12 sprays to each solo cup.
2 months ago
One of the girls is bending a little but the other is standing strong. Still have them under domes. I can't wait to be out of this 'solo-cup' stage. Thinking of putting a speaker in tent so plants have music to listen to.
2 months ago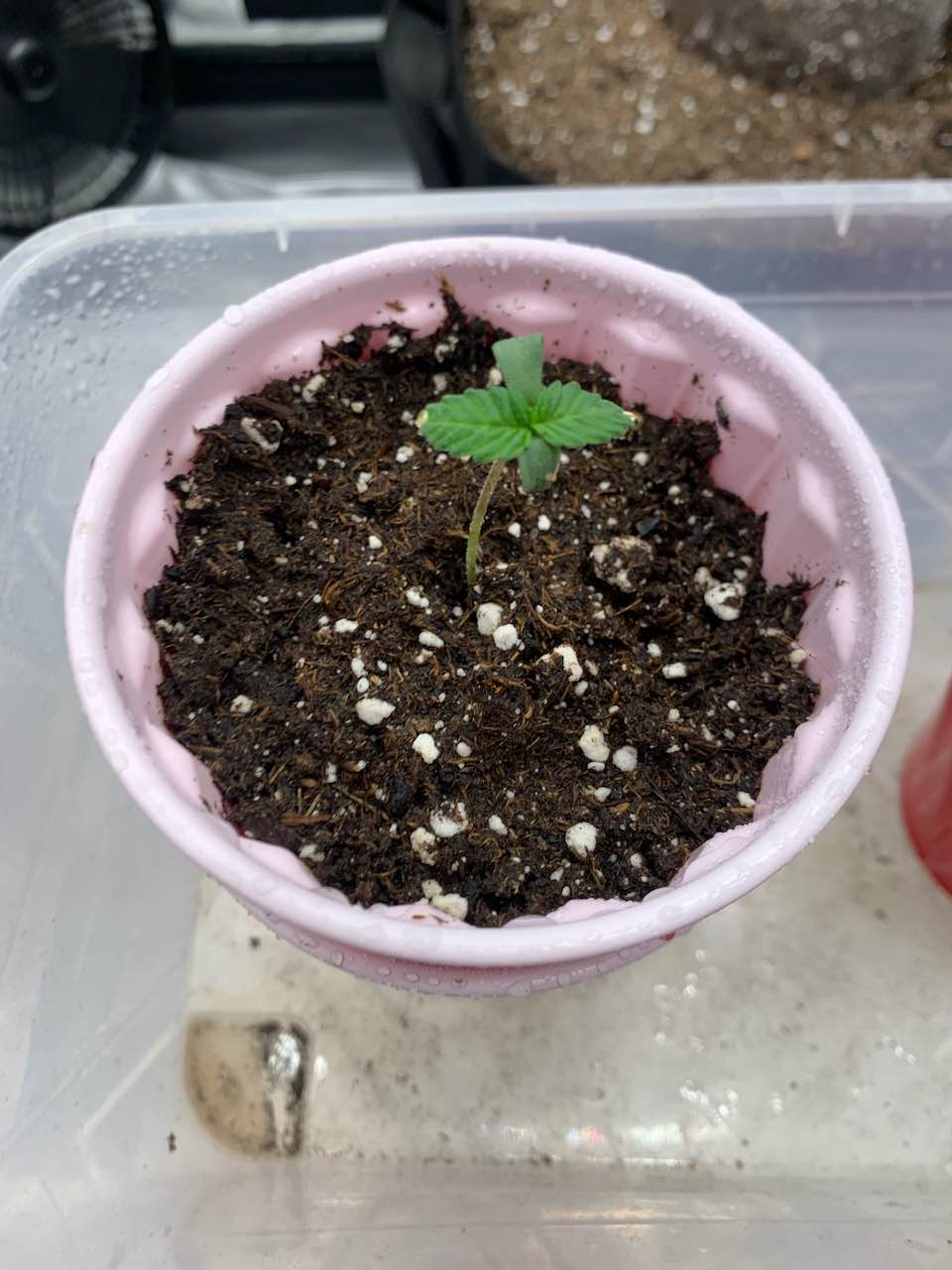 The little bent girl has straitened up and I can see another small set of leaves forming!!
2 months ago
Both MH have broken the surface 80°+/- RH around 68% in tent.
2 months ago
Here they are above the surface. Gonna let seed shell fall off naturally
2 months ago
SaviiBuds You got a baby helmet head! It'll probably shed it in a day or 2, but occasionally they need a little help. Congrats on your new little ones!
Soaking in water. 2 seeds. Will transfer to paper towel tomorrow for a day or two. Then into solo cups
2 months ago
2 in ground. Fingers X'd!!
2 months ago