pungweed
October 2020
Second grow
Photo: Cherry Gar See Ya x 2 (fem) Red Bone x 4 (regular) Auto: Pina x 2 (fem)
These ladies are 2 days away from the chop!! 😬😬😬😬 so excited!!!
2 years ago
Forty Two That looks fantastic!! Yes please🔥🔥🔥
We are getting close to harvest! We are thinking they'll be ready in the next 10-14 days.
2 years ago
Cut back on Megacrop since the RB in the back left was curling more. Still look great otherwise!
2 years ago
Feed night! These girls are looking so lovely! Slight concern about curling on back left RB but keeping an eye on it. We're halfway through flowering!
2 years ago
Fed the girls last night. Cut back slightly on nutrients since it looked like they were getting a little burn on the tips. The Red Bones were looking pretty thirsty so we will soil check to see if we need to try every 3 days for feeding. First pic is from this morning. Looking happy!! Also adding a pic from our Pina harvest. They have finished curing! It's a smooth smoke that's a little peppery on inhalation and fruity on exhalation. Hits the brain and relaxes the body. It's a good chill weed vs. doing stuff weed.
2 years ago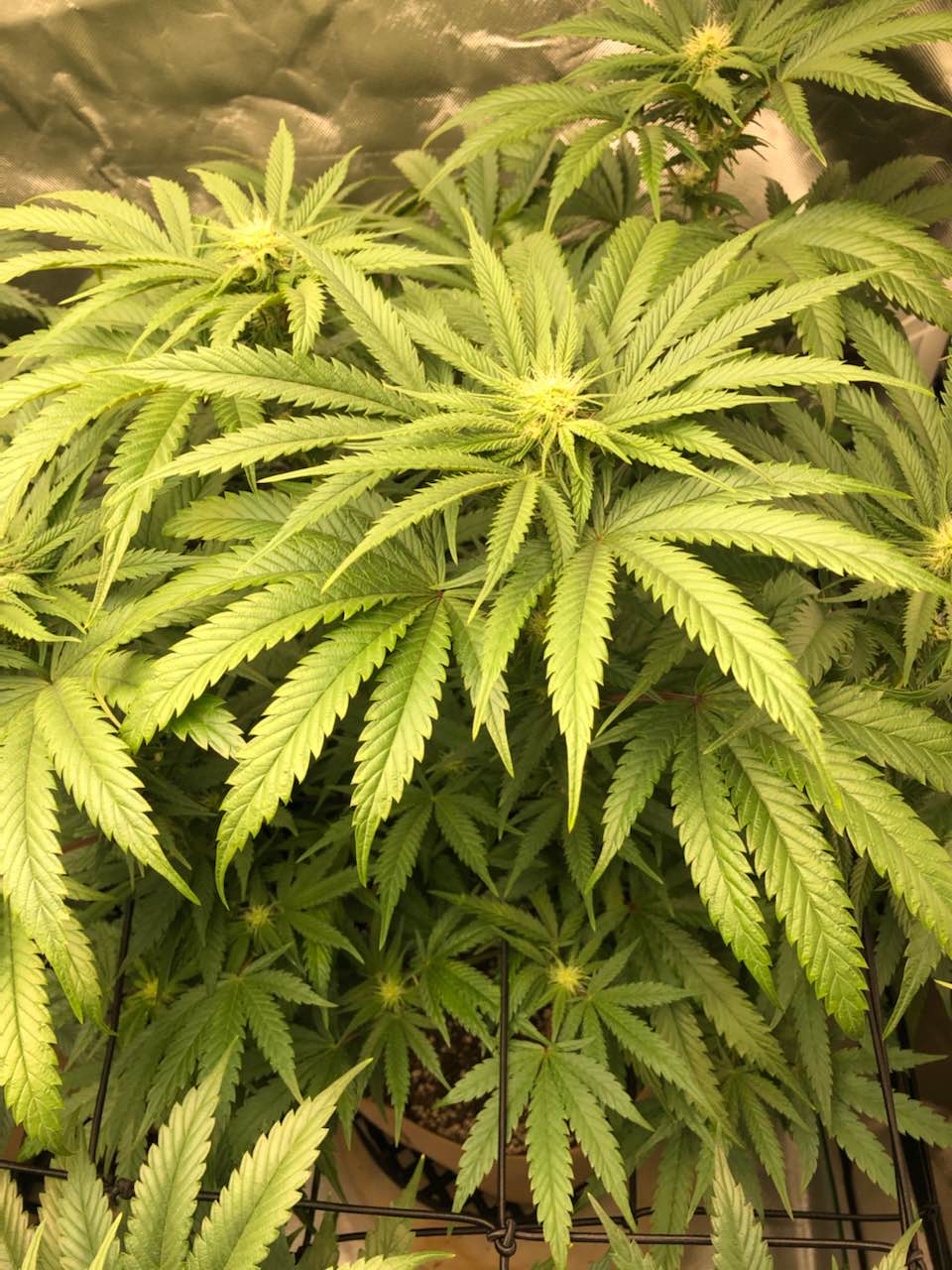 Consistently feeding every 4th day. Might cut back a little on the Megacrop due to some slight clawing on one of the Red Bones. Took this pic yesterday (day 109) but last feeding was 2/5.
2 years ago
Showing some flower! Put up the trellises. Added Bud Explosion to the feeding. Pinas are still curing.
2 years ago
Just a quick watering tonight. And it has to be since they go to bed at 7pm now! Looking forward to seeing some flowers!
2 years ago
Everyone has had their haircut and their training and another feeding tonight. We are flipping to 12:12 tonight! The Pinas are still drying but they should be ready for trimming tomorrow.
2 years ago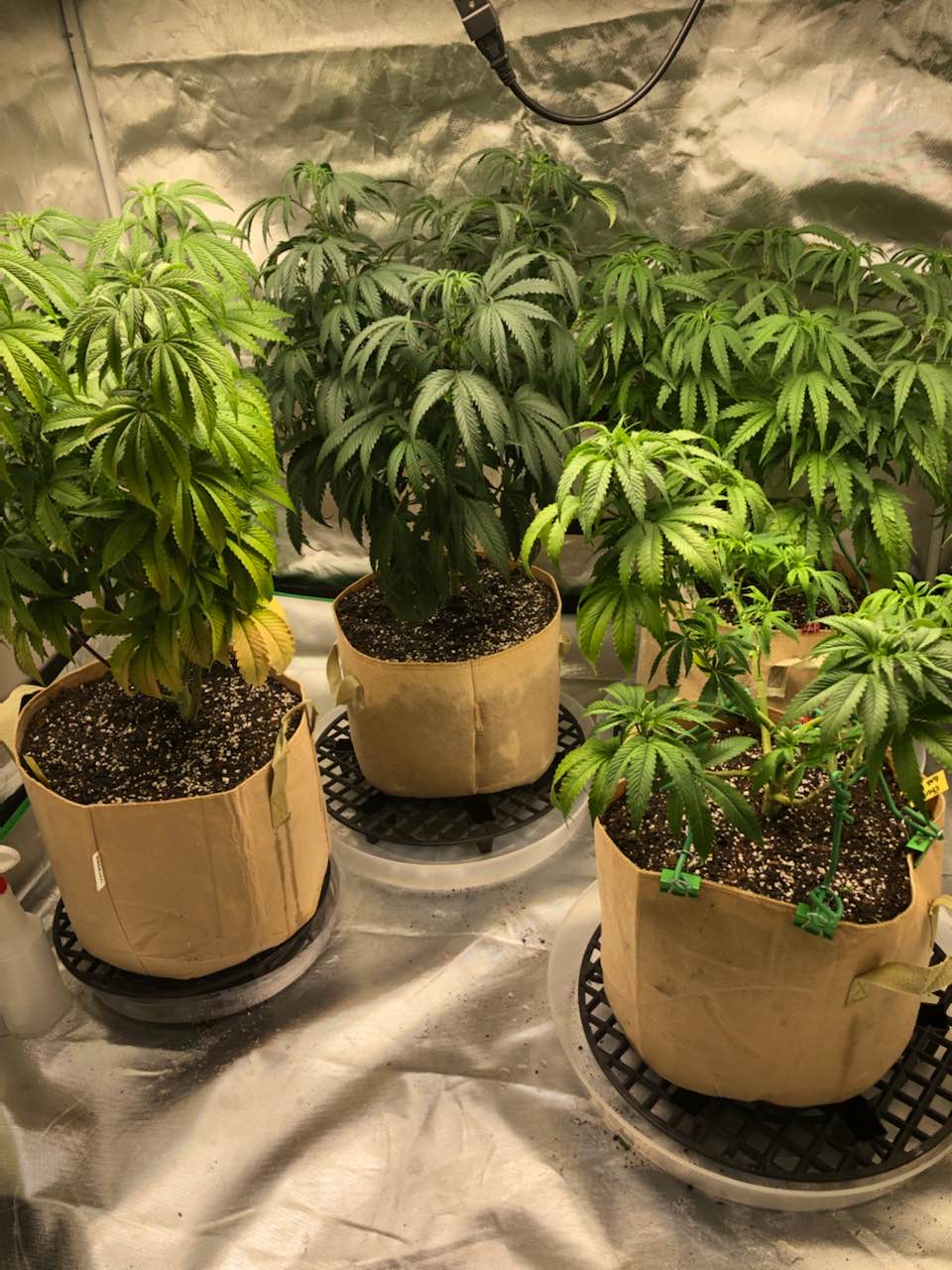 Harvested the Pinas tonight. We are letting the rest of the grow veg a little longer and then we will flip them to flower. Did a little trimming on the trained Cherry. Fed the usual tonight. Megacrop 25g, Sweet Candy 5g. Also topped off the pots with some more soil
2 years ago
Feeding today - Pinas will be ready in about 10 days. 5 gallons with 5 grams of megacrop and 5 grams sweet candy. Added 20mL of pH up.
2 years ago
Watering everyone tonight. The little Redbone went to her new family tonight. The Pinas are getting pretty fat! We're thinking about 20 more days until they're ready for harvest. We're gonna veg the rest until then.
2 years ago
The girls were watered today. (5 gallons 52% nutrient mix, 7mL Up) Exciting news! Both of the Redbones that were up potted are female!! Both the Redbones and the Cherrys are showing preflowers. We are mainlining one of the RB which is why it looks so naked now. The Pinas are flowering heavily. Still aren't sure of what we're going to do with the other RBs but likely rehoming.
2 years ago
Watering the girls today. Nutrients mixed at 1/2 strength to 4.5 gallons water and 3mL pH Up. Topped the Cherrys on 11/27
2 years ago
Up potted two of the Redbones. We think we had a problem with water being too alkaline and locking out some nutrients. Started LST on the Pinas. They are flowering! The Cherrys look very happy.
2 years ago
Up potting the Cherry Gar See Ya's and one of the redbones since it was in a small planter.
2 years ago
Up potting the Pinas. The plants have been a little droopy and we've been wondering if it's over or under watering. It's been challenging to keep the humidity above 30% since the weather is getting colder and drier. The rest of the plants will be up potted soon, but wanted to get the autos in their home pots for the remainder of the grow.
2 years ago
Look at these gals go!! The humidity has been dropping so we have a humidifier going. Something we'll have to keep an eye on since the winter will be much dryer than our summer grow.
2 years ago
We have 9 out of 11 sprouting. So far the C99 and Moby Dick haven't shown any progress.
2 years ago
7 of the seeds have sprouted! I love this stage when they're so little. It's amazing to see how quickly they grow.
2 years ago
We started some seeds in paper towels 2 days ago. All of them are growing taproots! They went in the dirt tonight.
2 years ago