FiddlerFarms
Zkittles #1 (Autoflowers)
25% perlite added half Ocean Forest half Happy Frog amended soil. 5 gallon vivosun fabric pot. Seeds from ILGM. Prescription blend nutrient line. 4x4 tent Tsw2000 mars hydro light
Going to be moving the girls into 15 gallon pots
2 years ago
Zeyberlin Hope your tent has room that's enormous
View 11 additional comments
Reacting well to lst so its more time for bend today
2 years ago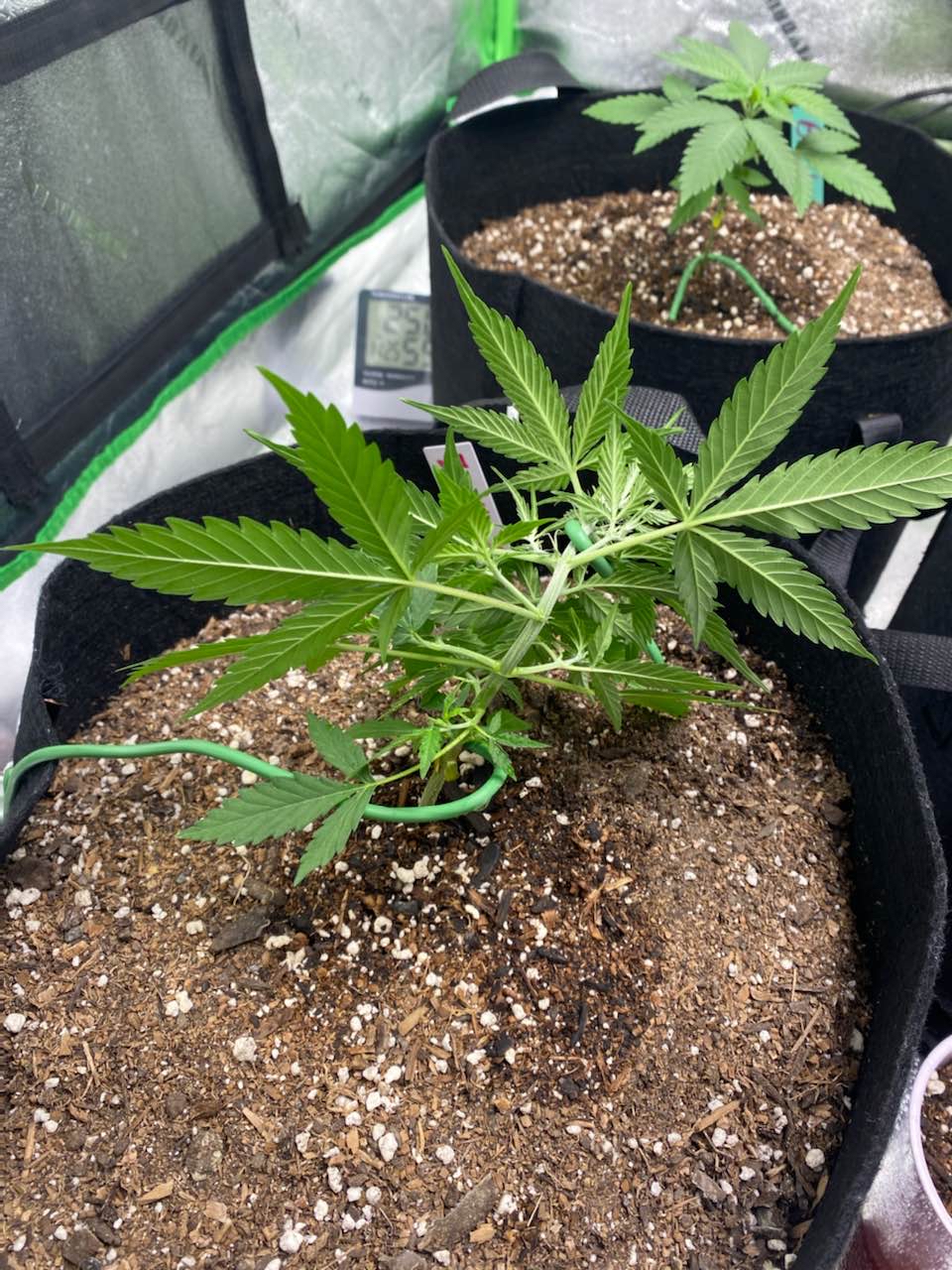 Going to start rotating the joint that is pulling the top down counter clockwise around the pot, my hope is that it will allow all the lower nodes to get light.
2 years ago
⚖️Golden Ratio 🧬 I am evening out a canopy and lst'ed my plant in a steep angle 📐, brining both main shots down to different sides exposed a lot of new areas to light and the bud sites are increased, the amazing part is that I did it just at lights on and both tied down mains almost fully rotated towards the lights 💡 which is amazing 🥲
Birdman18 Gonna follow this grow. I just started the same exact seed strain from ILGM. Very similar setup to yours too. Ocean Forest in a Spider Farm 2x2 tent. Did you attach the LST wires to the side of the fabric pot?
Starting to show signs of pistils/ pre flower, Id like it to get a bit bigger although i guess the timing seems right
2 years ago
⚖️Golden Ratio 🧬 Got one zkittelz laying around , a photo period one. Going to try to veggie this strain for abit longer and get a huge hydra at harvest. Like that strain a lot ✌️
Everyday ive been rearranging the leaves trying to expose as many bud sites as I can. Im not going to top this auto, there is so much controversy im just going to stick with lst, what do you think?
2 years ago
EtherealBudGoddess Mine just popped so I'm interested to see how they grow. I would stick with the LST
Started LST shes big and booshy
2 years ago
Lowered light about 2-3ft. Light changed from 25$ to 50%
2 years ago
Not sure which day this one is on but its doing good
2 years ago
My other zkittles auto baby forgot to mark start time but this one a week or twp later than the others
2 years ago