eatsleepbuds
Purple Romulan - Organic
First TLO grow
5 Purple Romulan Seeds, grown in organic living soil, using a TLO methodology.
Day 1 of flowering
3 years ago
Final defoliation and starting the flip to flower 🌹
3 years ago
Started the switch to 12/12 today
3 years ago
Watered today, they're looking great!
3 years ago
Jack_Karren Looking good! Your girls are looking very similar to my own
Plants looking better and better!
3 years ago
Think I've solved the yellowing, too much light 💡 dimmed them a bit and the plants are looking much better. Also added in the first ScrOG
3 years ago
Watered and trimmed today, also topped #2 again. Decided I would experiment with #4 and got rid of all the bud sites below the canopy to see the effects on the rate of growth.
3 years ago
Happy with the rate of growth, but noticing the top leaves turning lime green, trying to figure out the cause..
3 years ago
Watered today with plain R/O water. Also noticed some yellowing in the centre of the top leaves, thinking it might be light stress, so I dimmed them a little, and the plants seem to have picked up already.
3 years ago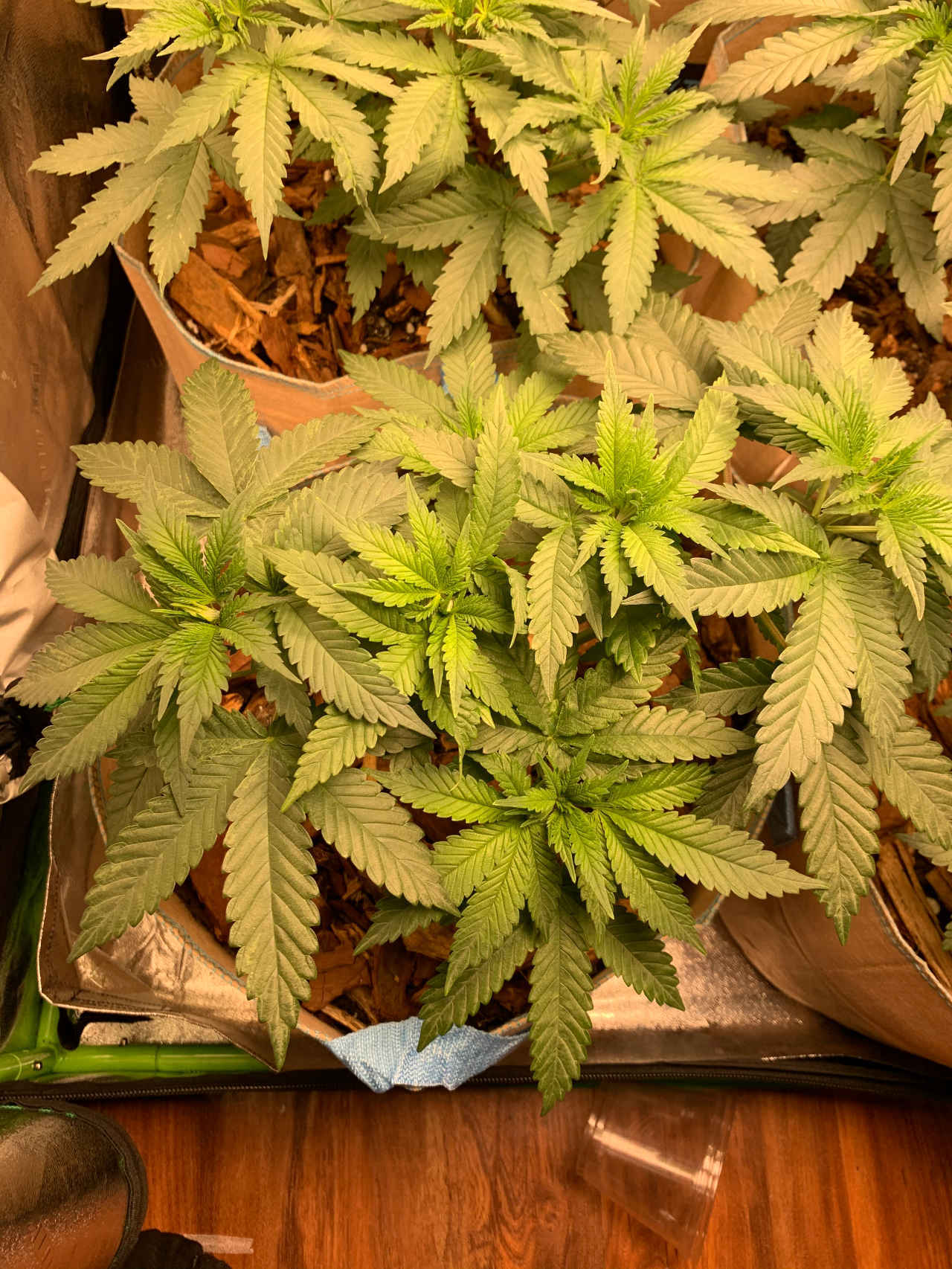 New Light Day!! Hence the lack of the usual purple hue.
3 years ago
Love watching these beauties grow, very happy with how the topping has taken, all gaps seem to be filling out nicely.
3 years ago
Think maybe the leaf deformities, and dry patches may be a boron deficiency, hoping this will be fixed in the new pot, going to keep observing and if it gets any worse take action.
3 years ago
Water day today, also raised up my fan to allow for more even air flow, and trimmed a couple of leaves to allow the new alpha branches space to grow 💦
3 years ago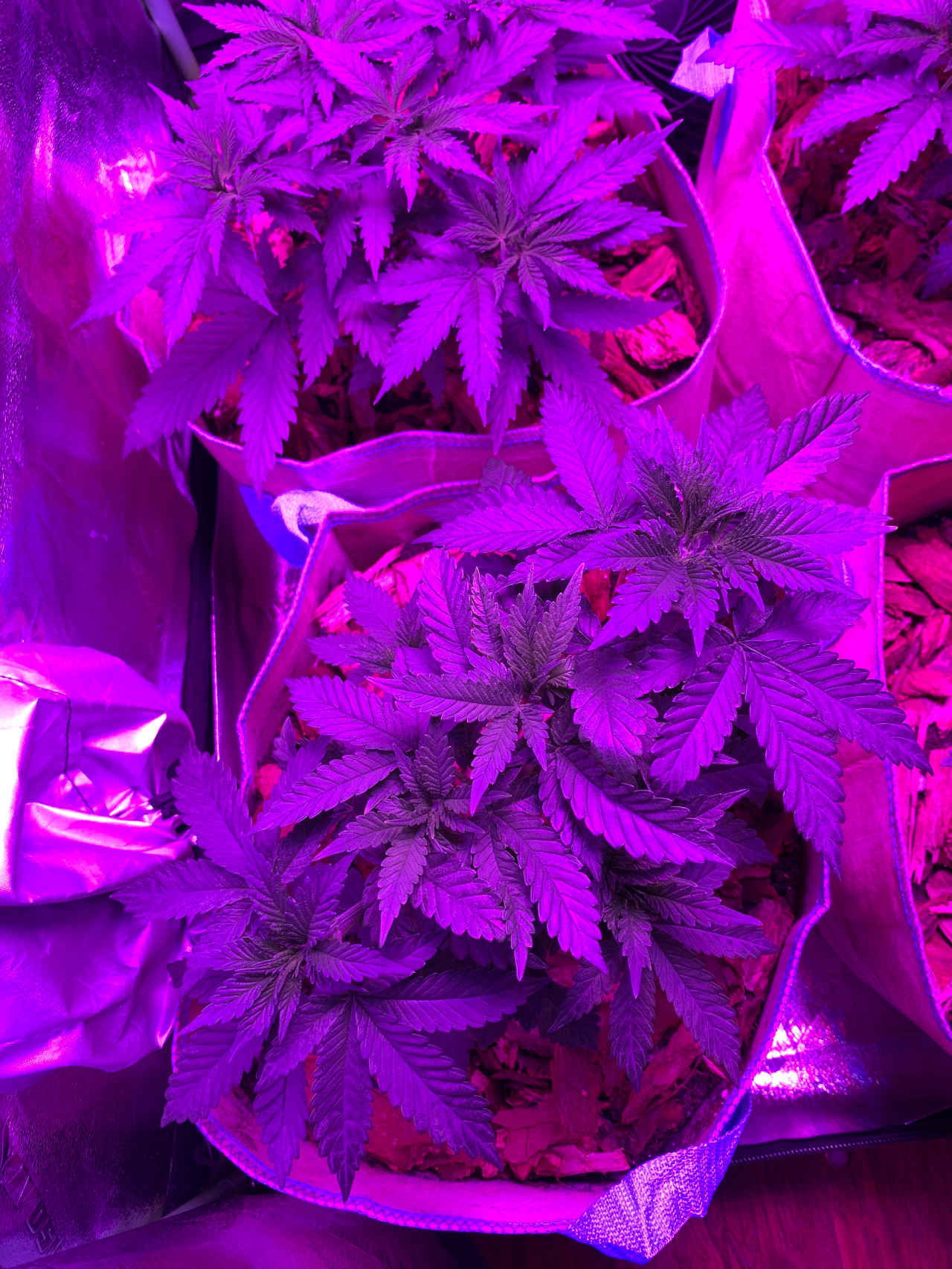 Starting to think I don't need the lst, I think these beauties will even themselves out. Rommy #1 has a really strong looking branch system already!
3 years ago
Looking like they are settling into the new home nicely, and the new main stems are starting to even out, thinking they may want a drink tomorrow 💦
3 years ago
#1 Filling out perfectly, lots of space for all 6 new branches, and growing evenly #2 Also seems to be finding space for each of the four tops left on her #3 Growing out big in one direction, but I'm worried the two branches on the bottom aren't getting enough light to catch up, think I will try some LST on the next watering to open her up # 4 similar to 3, will also try to give more space to lower branching
3 years ago
Still noticing some signs of distress, but new growth looks good, thinking it may have been a phosphorus deficiency, hoping that the steer manure in the new pots helps.
3 years ago
Chopped a couple more fan leaves to make room for the new growth today 🍃
3 years ago
Plants seem way healthier today, already starting to fill out the gaps with new branching and the leaves are standing right up!
3 years ago
Big changes today. The plants still didn't look happy with the concentration of the soil, so I mixed up an even weaker batch and got them into new pots. Also took the opportunity to top them.
3 years ago
The internal branching is starting to bust out on the girls now, gonna top tomorrow.
3 years ago
Definitely noticing the girls growing faster these days!
3 years ago
Plants are on their 4 set of nodes, thinking I'll top them next watering. Still noticing some abnormal growth on them, but otherwise looking healthy.
3 years ago
Gave them a drink today. Just used plain R/O water and they look pretty happy with it!
3 years ago
The humidity has started to drop, so I gave the girls a little blast from the humidifier today, and they seemed to love it!
3 years ago
Noticed a couple of fungus gnats running around my pots this morning, so I put down some sticky strips, and gonna do a nematode run on the weekend to get the little suckas under control. Also noticed #2 has grown 3 leaves from the last node, looks like a genetic mutation, nothing to be worried about, and looks quite cool!
3 years ago
3 weeks in!! #1 - The golden child 👶 Really happy with how this one is growing, she's picture perfect. #2 - Not noticing any new spotting as I saw on the lower leaves of this one, new growth looks to be ok, except it seems as though the main stem has twisted, as the new growth isn't perpendicular to the old. #3 - Has much broader leaves than her sisters, new growth isn't showing any deformities. #4 - Leaves still looking a little dry, but new growth looking better, and the leaves are permanently in the praying position so I think she's having a good time.
3 years ago
Hoping to have fixed the problem, noticed #2 and #3 have picked their leaves up since yesterday, also the veins on the new growth on all plants aren't purple anymore, so hoping to have fixed that too..
3 years ago
Plants seem to have survived their move. #1 Looks healthy, no spots, deformities, leaves praying. #2 Leaves seem to be twisting, and tips pointing down, yellow "burn marks" on the lower leaves. #3 New growth showing deformities, leaves twisting, faded patches on leaves. #4 leaves praying, some twisting and faded patches on leaves.
3 years ago
Did an emergency trans-plant last night, I noticed some abnormal growth on #3 and some yellow spots on #5, which I think confirms my suspicions that my soil may have been too nutrient heavy.. I scrapped #5 as she was whey behind her sisters, and re-potted the rest in 1 gallon pots, layering with perlite, some living soil, and around the root ball added just cococoir and perlite, hopefully this will allow the roots some breathing room away from the nutes, but allow access to them if necessary, will observe the effects and hope there is no lasting damage..
3 years ago
Plants looking healthy today! Leaves in the praying position, and good new growth
3 years ago
Burdi Looks beautiful! What ph are you giving those plants! And are you feeding them yet?
Eatsleepbuds Thanks 🙏 I'm using R/O water so it's around 6.5, and I'm growing in an organic living soil for the first time so the nutrients have been "baked" into the soil pre potting.
Seem to have picked their leaves up again, new growth looks healthy. #1 and #3 looking the best so far, but could be 2 different pheno's, as #3's leaves are a lot waxier than #1.
3 years ago
The girls look a little droopy today, nothing to drastic but probably could have waited an extra day to water
3 years ago
Watered today: R/O Water, 1/2 Marphyll Purple Stems: Maybe Genetics or magnesium/phosphorus deficiency Waxy Leaves: Maybe Genetics or possible over feeding Solutions: Will switch to straight R/O water and observe effects.
3 years ago
They seem to be enjoying having more light💡
3 years ago
Switched to 650w LED today, placed 12" from top leaves. Rommy 1,2, 3 & 5, showing 2nd set of fan leaves, Rommy 4 isn't looking as good as her sisters :(
3 years ago
Watered them today, and added a top layer of soil.
3 years ago
Rommy #4 isn't looking as good as her sisters..
3 years ago
All 5 plants sprouting well, about 2-3" tall, starting to show the first set of fan leaves 🍁
3 years ago
All 5 starting to show their cotyledons!
3 years ago
Rommy 1, 2 & 3
3 years ago
Rommy #2 the fastest riser 🌱
3 years ago
All 5 Seeds Germinated
3 years ago
5 Purple Romulan seeds - Germinating
3 years ago